Top 11 Must-Use Market Research Companies in 2022
What Is Market Research & Why Do You Need It?
Though many bemoan how 2022 (at least the first half) will be a stark continuation of the last year, it doesn't have to be. Brands and agencies across the spectrum worry that a large section of the consumer market will be without purchasing power, and thus lead to stagnation and lost sales for many companies. And although that's most likely true (don't want to sugarcoat the situation, it's not ideal), broadly speaking, marketing and insights professionals can alleviate the situation by shoring up their digital marketing campaign strategies through Market Research. But what is Market Research? Market Research, simply put, is the process by which individuals can find out vital information about a specific target audience and market through data-backed statistics and market analysis. Without market research, brands would have a much tougher time learning about the kinds of customers they need to reach out to, and how best to reach out to them.
The Benefits of Market Research
Tackling all of the challenges of 2022 for businesses trying to market to receptive consumers takes the right insights to deliver success. Remember that people across the US (though not all people) are now having to make important financial decisions that are not necessarily conducive to recreational spending. And whether your brand finds itself within an industry of necessity or not is irrelevant in 2022. So what's great about market research then, is that it provides the quantitative edge that many companies need to avoid wasting capital on the wrong markets, and instead focus on specific audience segments, like:
Gender
Age
Occupation & Income Bracket
Location
Preferences
Emotional Sentiments
And much more…
In comparison to other tools, or simply forgoing the use of any sort of research, Market Research is one of the most reliable methods of information gathering, pulling from a bevy of sources that can provide a 360° picture of the who, what, where, when & why for your target demographics and market. Below we will share our top 10 most reliable market research companies, so you can rock the new year with confidence for your next big marketing campaign!
CBINSIGHTS offers users a versatile platform with which to keep abreast of all the latest statistics on tech, innovation and business, all within the confines of a generous 30-day free trial. Part insights tool for market research, and part business building software, CBINSIGHTS is noted for its unique balance of market management and social listening tools. With such a robust offering it's no wonder that many specialists within the marketing and social media fields look towards CBINSIGHTS for tech-specific data that isn't presented with such organizational finesse, anywhere else on the market.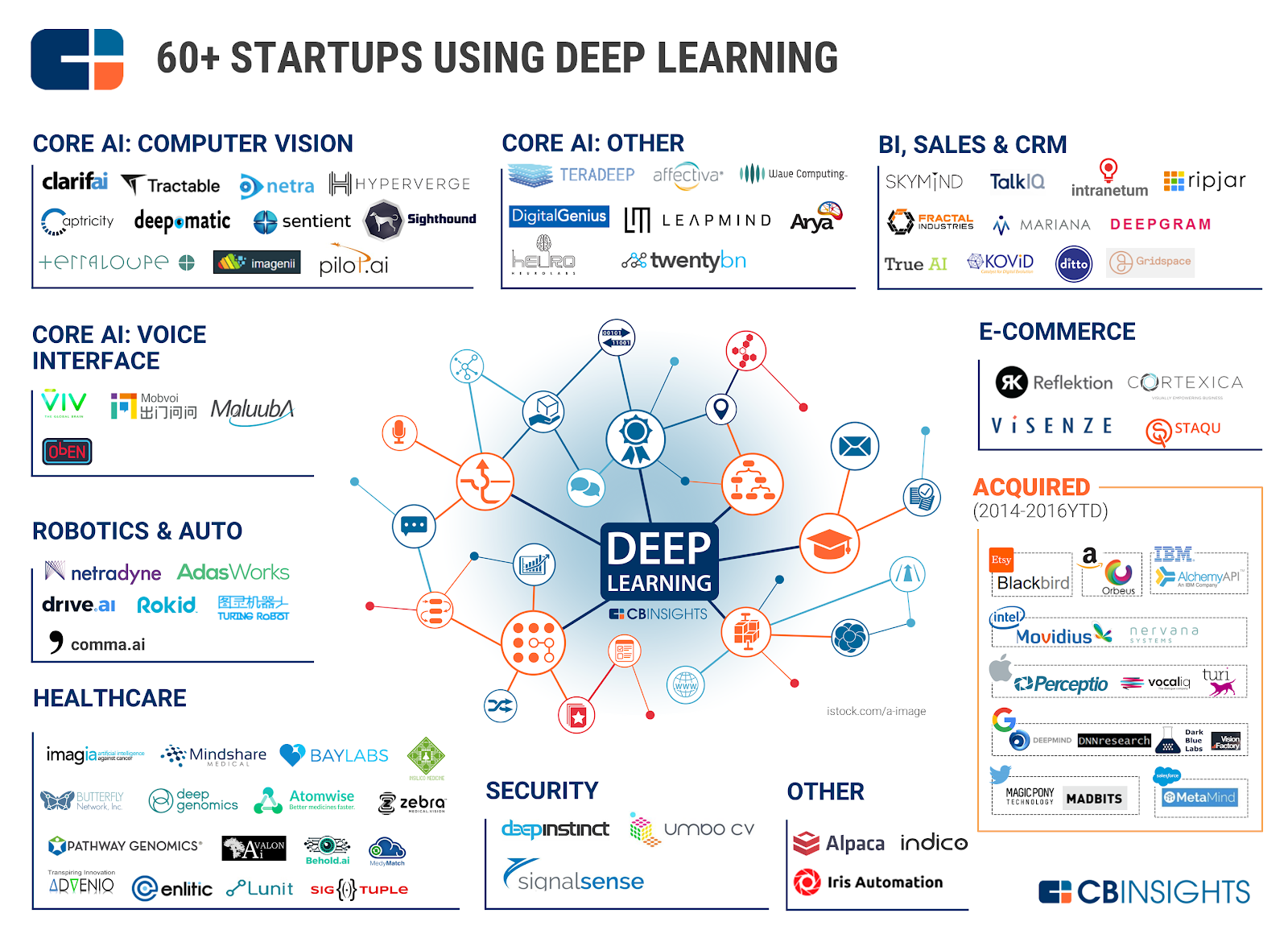 For those marketing and insights professionals seeking a discerning source of information that relies on both visual and numerical stats to help brands with their marketing efforts, they'd be hard pressed to find a more unique site than CBINSIGHTS. Learn more about their efficient market research offerings here.
Digimind stands out amongst the competitive crowd of social listening and market research companies with its superb user interface, accessible platform, and advanced, AI-supported software that allows marketing and insights professionals to not only follow and track conversations, trends, and content from specific key demographics, but also segment those very groups through research queries based on subject or even emotional sentiment. Having been named a Strong Performer in Forrester's 2020 industry review on social listening platforms, Digimind continues to shine as a favorite tool among marketers of any experience-level or background. It's no wonder that the likes of Audi, McDonald's, L'Oreal, Canon, Honda, Macy's, Nike, Danone, Lenovo, Roche, and more, utilize Digimind as a must-use market research service.
On top of all of that, Digimind and its partners, Hootsuite and Socialbakers, offers data-sharing integrations that allow professionals to enhance their marketing research efforts through analytical insights and seamless information transfers. Like you needed more reasons to use Digimind!
Coveted by brands and marketers within the advertising, tech, healthcare and business sectors, eMarketer shines as an example of reliable market research that always delivers useful insights on whatever your project may be. Functioning as an arm of Insider Intelligence, this research service has been noted by many as an all-encompassing portal for news, trends, and even important reporting on industries, ensuring that their impressive catalog of statistics is ever-increasing for your ever-growing marketing needs. With over 10,000 proprietary metrics on digital transformation and industry comparisons, it's no wonder that many clients stick with eMarketer and remain loyal for years.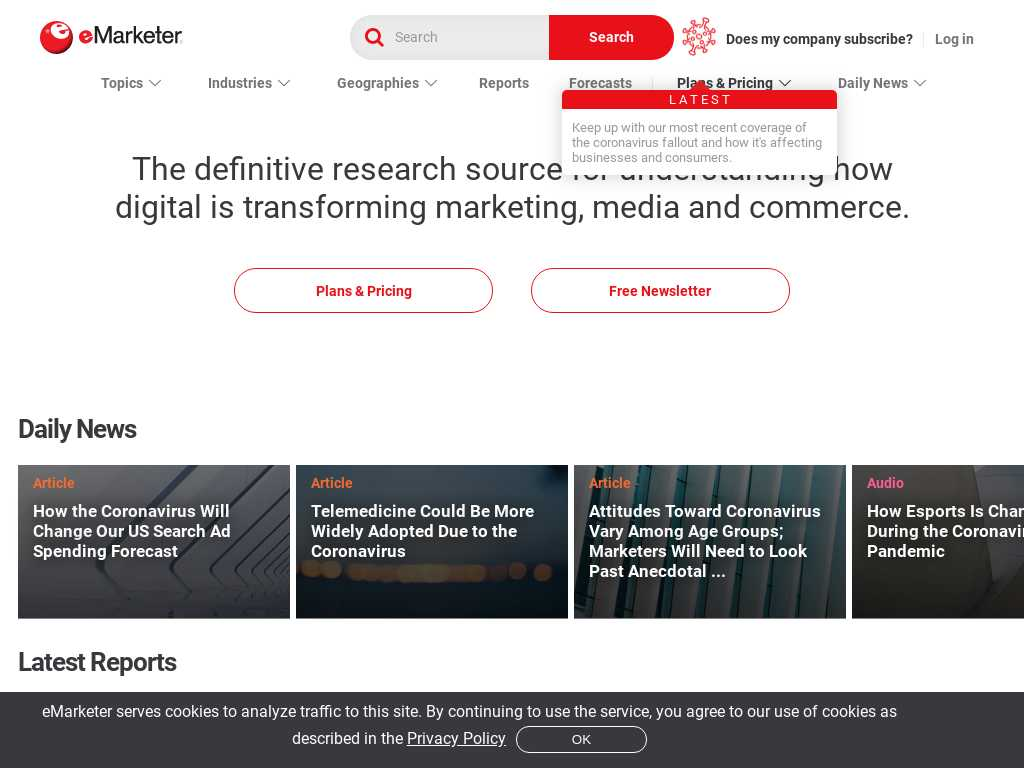 With coverage in all continents on the globe, eMarketer provides international market research assistance to anyone and everyone, which is something to be coveted in this international market of ours. You can learn more about eMarketer and what they can bring to the table for your next big marketing effort here.
GlobalData is an exemplary company on this list, providing a dense, and responsive market research platform that shines in ways that other companies have yet to. With databases filled to the brim with statistic-filled reports on a plethora of industries, such as consumer, insurance, resource extraction, power, retail, technology, travel and tourism, hospitality, pharmaceuticals, banking and automotives, GlobalData truly is the jack-of-all-trades tool. Trusted by many as a golden standard for data reporting and market-specific research, this company is up on par with a leading business, like Statista, in its comprehensive offerings.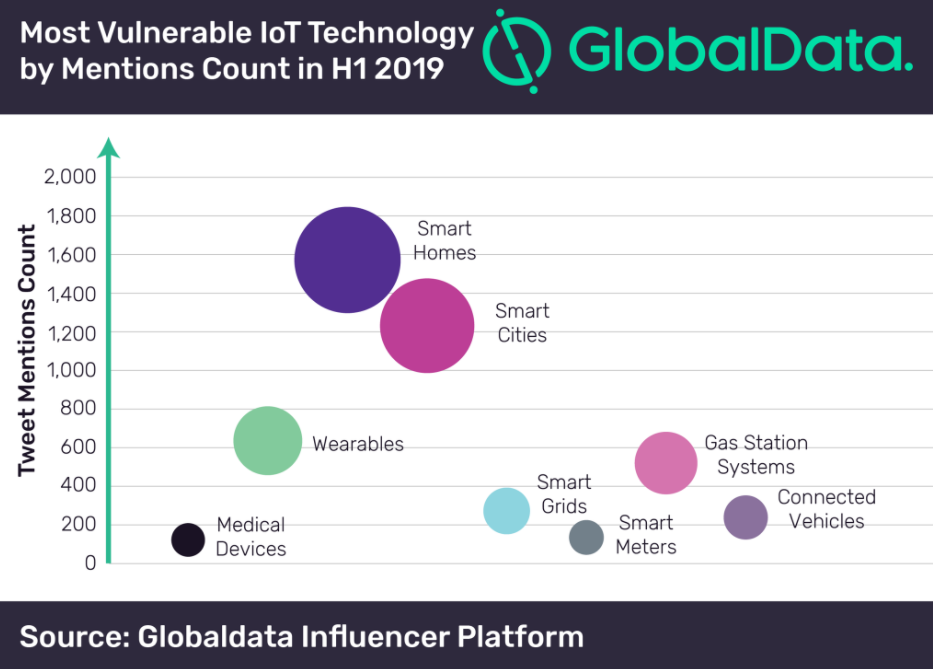 With a flexible pricing structure and an impressive body of reports, there's no question that GlobalData is one of the best companies on this list, on the market, and in the world. Research their site and learn all you can before making any concrete decisions, but know that your marketing efforts will be in good hands with the GlobalData team. Learn more here.
Unlike the other companies on this list, Google Public Data is a branch of Google Analytics, and is thus not only free, but widely available regardless of company reference. Though, since it's not an actual company that offers unique services related to market research, it still belongs on this list as a search engine that can root out statistics from other sites that marketers should take note of. Though not a market research company in the traditional sense, brands would be foolish not to take advantage of this overlooked service (kind of like USA.gov), and thus it belongs on this list if for no other reason that it works, and works surprisingly well.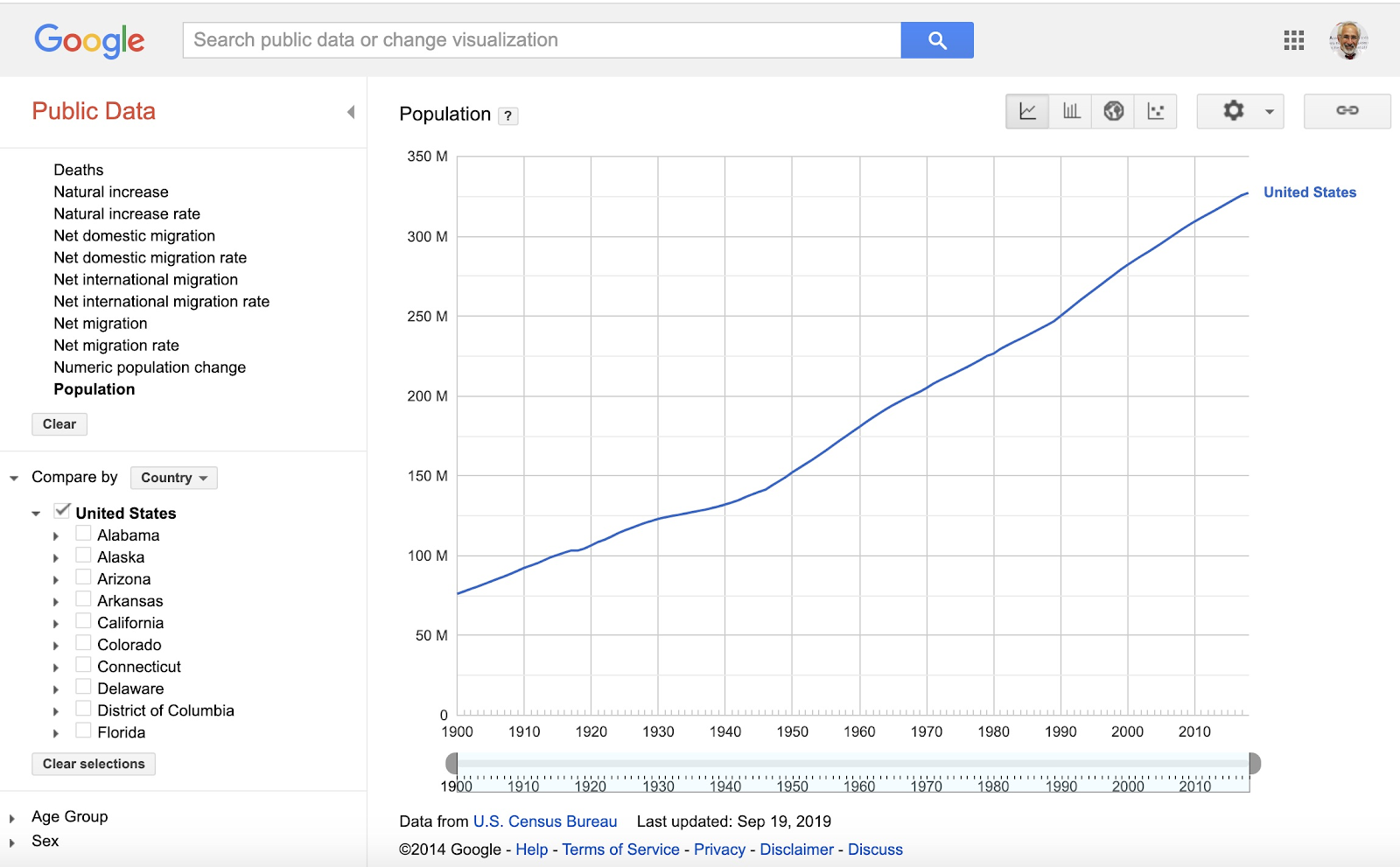 Check it out!
Like Statista, offering both public and private reports on a myriad of industries, countries, and consumer models, Knoema is certainly one of the strongest candidates on this list, and it'd behoove any marketer to do their homework and learn more about it. Trusted by multiple marketing teams and Fortune 500 companies, Knoema is definitely an institution in and of itself when it comes to the crowded field of market research businesses. Marketed as the "time-saving data company" Knoema certainly provides easy-to-use UX and scaling to allow professionals of any level to open up a free trial and start researching a specific consumer group or industry of their choosing. What's great about this tool is their ever-evolving database of over 3.9 billion time series that is supported by convergent machine learning, natural language processing, and integrated global date for faster results and stronger data.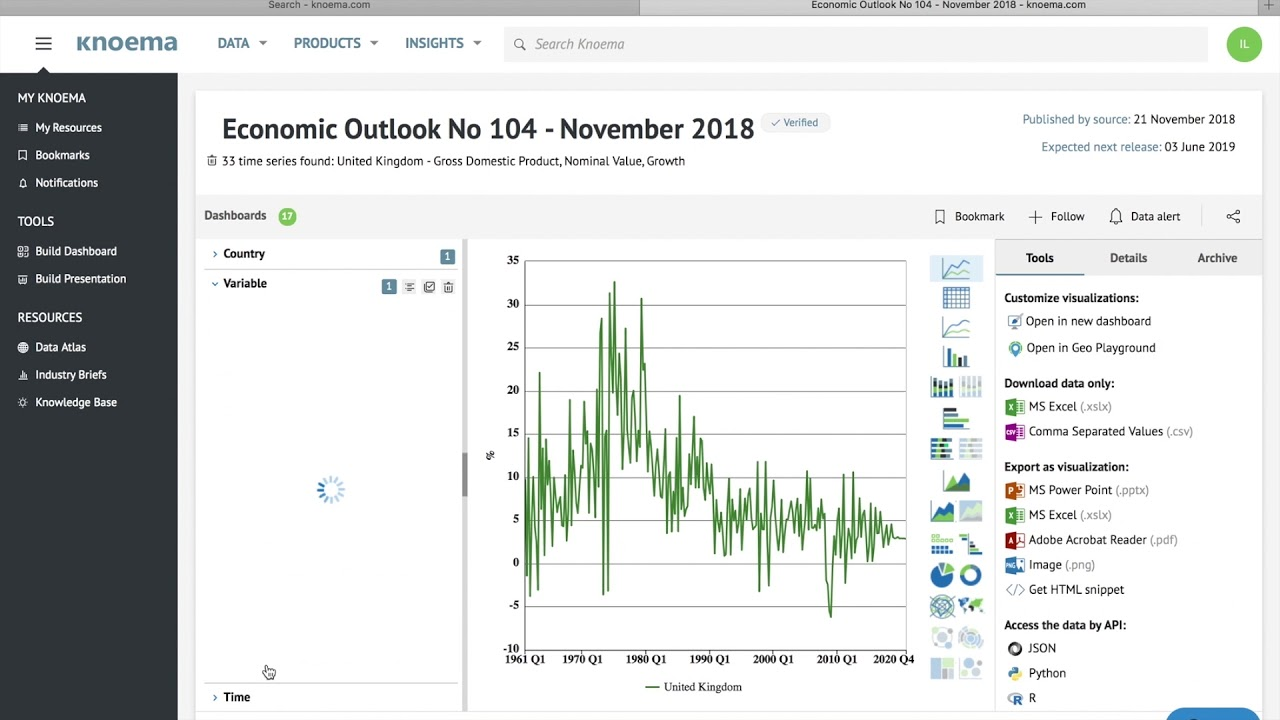 Do you and your team a favor, and look into Knoema, consider their fair subscription prices/models, and understand what you're buying when examining what you need vs what's on offer with Knoema's suite of services. You can start that process here for more information on their platform.
Market research services are only as good as the numbers they provide, and so in Mintel's words, they're pretty impressive compared to the competition. Registered clients that subscribe to Mintel's flexible pricing model can access over 38,000+ product tracking models, 1,345 reports published annually, 548 trends tracked overall, and 1 highly experienced consulting team to help advise brands on making heads or tails with the ever-changing marketing landscape that these market research reports exist in. All that alone would be incredibly attractive to marketing and insights professionals as is, but when combined with competitive intelligence, customer engagement metrics, and a bevy of other social listening tools on top of it all, you've got an unbeatable tool.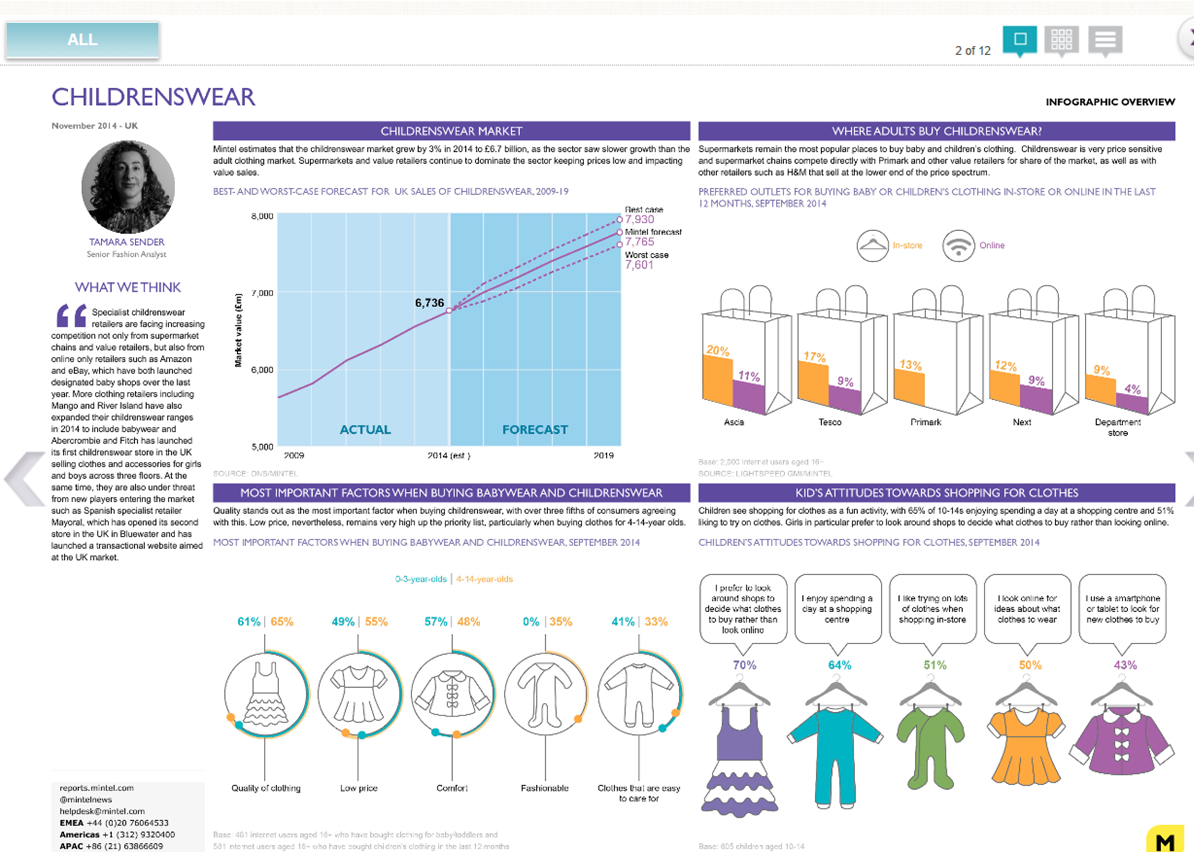 Mintel also offers supplementary offerings, on top of their primary market research tool, like Mintel Academic, a learning portal for higher marketing education, Compremedia, their social intelligence platform, and Mintel Global Consumers, for 35+ global insight services for consumer learning. To see if Mintel is right for you and your team, you can learn all about them here.
Bringing things back to the free-to-use databases, Qlik is a source for helpful reports and graphics that can enlighten your team on a whole host of important insights that could very well be pertinent to your target audience in real time. Qlik organizes its statistics in a way that is curated more towards those who prefer a hybrid company of both market research and data analytics, which can be both a blessing and hindrance depending on what your needs are. Ultimately, Qlik offers an extensive network of reports that's constantly being added to and finessed for all penny-pinchers. One noteworthy element of Qlik is their sources, which is impressively massive to say the least, thus ensuring that whatever statistics you come across during your free research on the site, you can be sure that it's accurate and safe.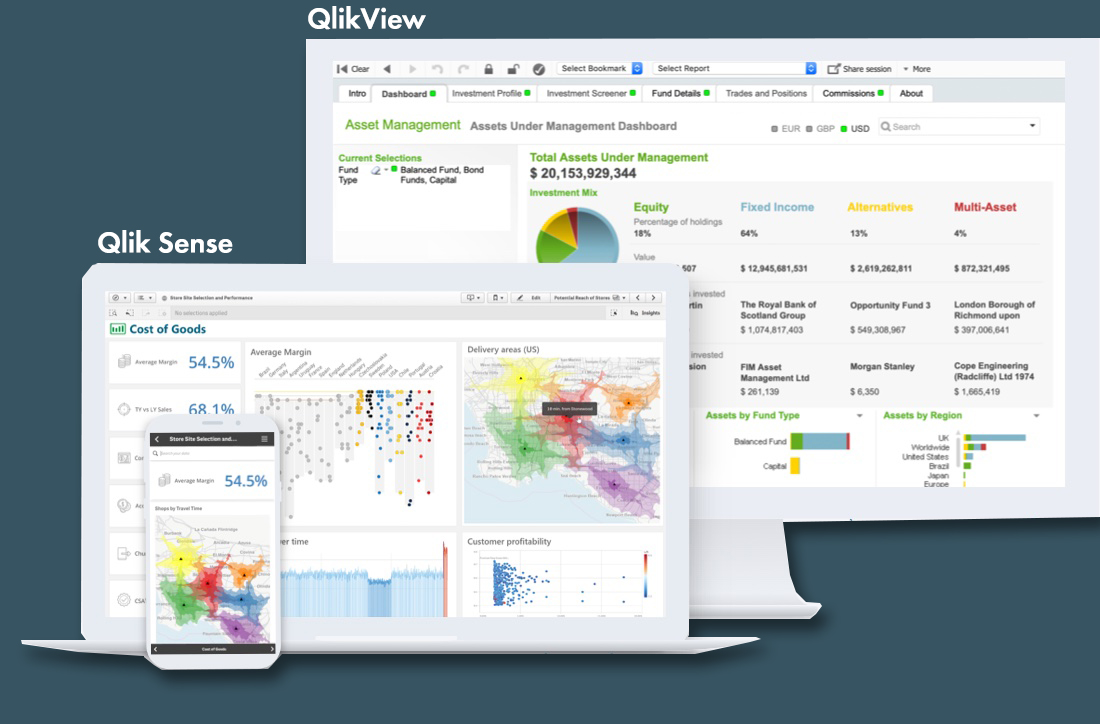 Check out Qlik's repertoire of services here.
ReportLinker prides itself on its AI-based network to deliver the slew of analytics and statistics that many marketing and insights professionals need to effectively engage in market research. Comprehensive, simple, and also affordable, ReportLinker has made a name for itself with companies that specialize in agribusiness, technology, media, consumer goods, heavy industry and more, and all while managing a helpful database of over 150+ million graphs and images to help illustrate most of their reports. Though not a public AND private stats company that can be approached by all facets of the general populace when it comes to market research, their dependability and impressive list of big name clients makes ReportLinker a service that shouldn't be overlooked.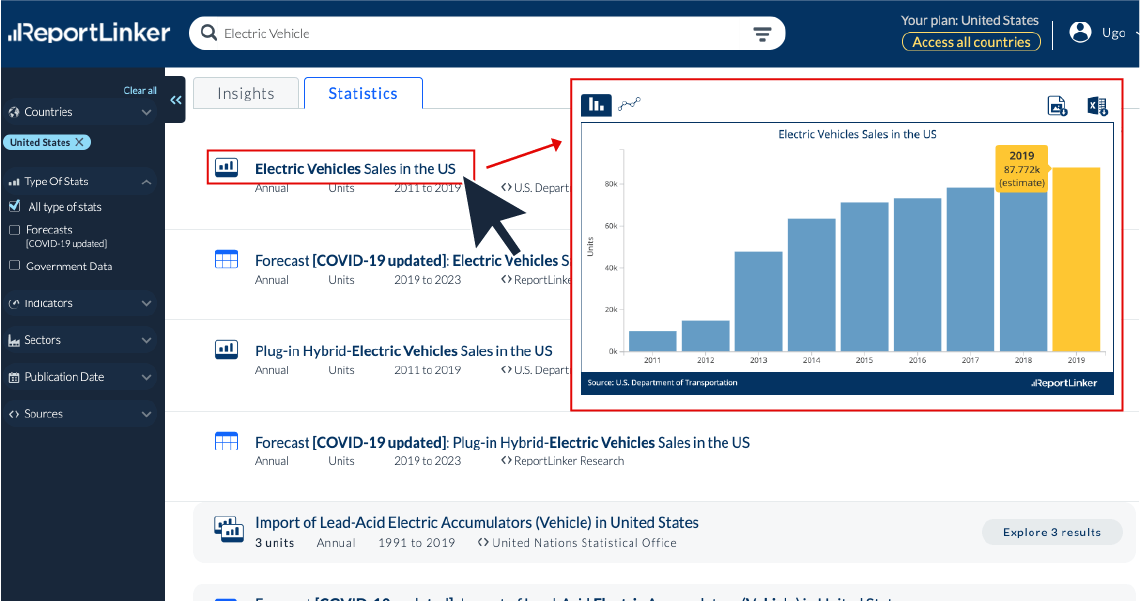 Always updating, and always improving their suite of market research options, ReportLinker is backed by a responsive team that can help all their registered subscribers in case of issues related to productivity or keyword semantics. You can learn more about their offerings and how their proprietary software can help your next project here.
One of the most top rated market research companies in the industry today, Statista stands as a prime example for what other market research services should strive to be. Whether its consumer goods, technology, telecommunications, retail, recreation, and everything in between, Statista has a wide range of reports and studies that can give marketers a leg up on their competition. Though some content is available to the public, the majority of their service is locked behind an affordable subscription service that is both flexible as a pricing model, but also fairly generous compared to other companies of similar size and notoriety. The greatest aspect of Statista is ultimately its approachability, with massive amounts of insights condensed into comprehensive, understandable reports that give way to intelligently displayed graphs and graphics that help even the most beginner-level account managers make sense of their respective industry.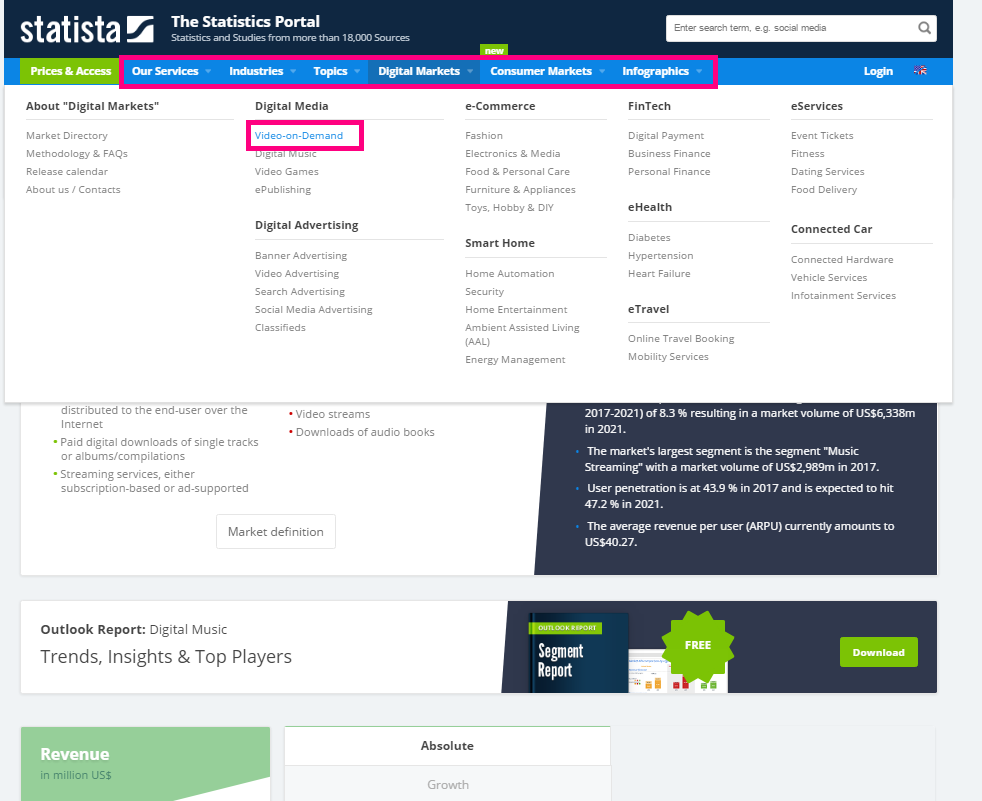 For those seeking a top-of-the-line Market Research platform, with over 150+ companies covered in multiple languages, then you need to jump on the Statista bandwagon to jumpstart your next marketing campaign strategy. You can learn more about their services and subscription offerings here.
It doesn't get more dependable - and most importantly, FREE - than USA.gov. This federal website on reliably collected data surrounding the United States and its populace has a reputation for being a go-to for both federal and private contractors, looking to acquire independently verifiable sources that can be the statistical standard bearer that all other data points are compared to. Whether it's information you need on budgets, populations, U.S. Census data, or legal info, USA.gov is definitely the place to seek out first before shelling out a few thousand on some of the other market research services found on this list. Though, admittedly it has its drawbacks, like being only for information and data collected nationally, and also having fewer industry-specific reports, you could do a lot worse than USA.gov when it comes to decent, accurate statistics that are undeniably well suited for most market research efforts.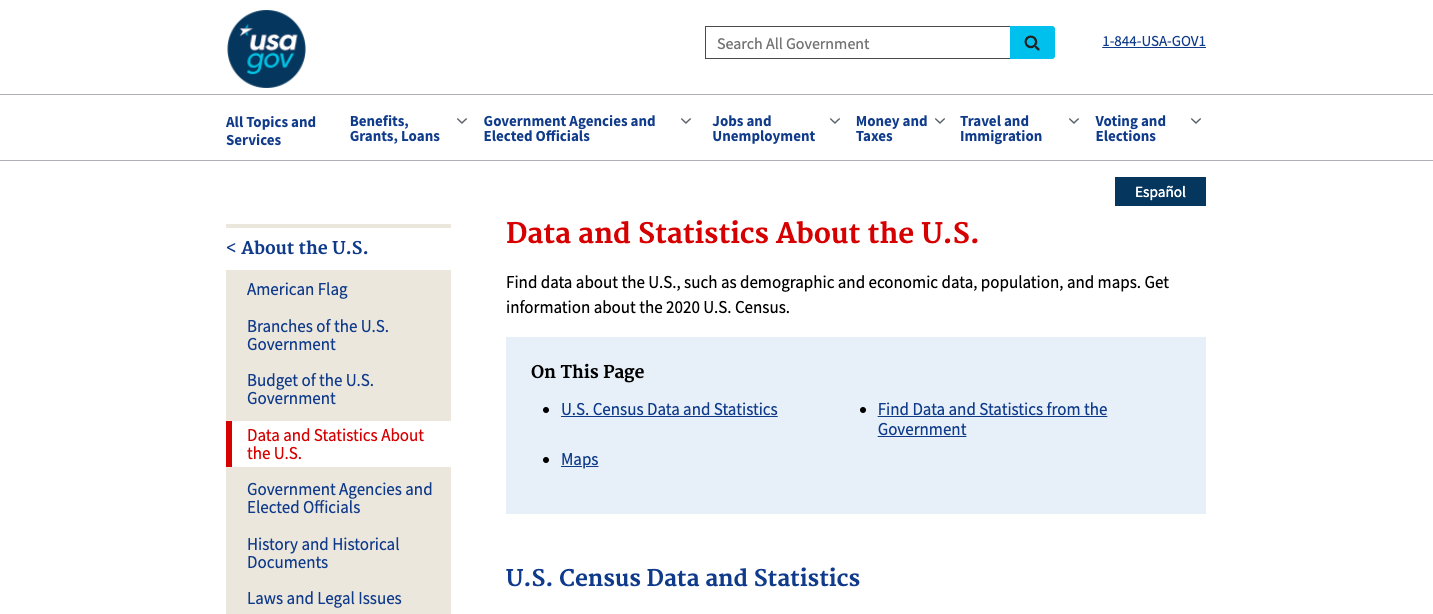 Since it's a cost-free website, you lose nothing by going through its extensive library of reports and pages before tackling any other industry outside the United States. Check out USA.gov here and discover whether or not they can also be of service for your next marketing campaign.
With a background in creative writing, advertising, and psychology, Micah is a copywriter in name and a Digiminder at heart. When he's not developing content for agencies, you can find him crafting novels, cooking and running around in Brooklyn, NY.