Kick Off 2021 With These 10 Social Media Management & Analytics Tools
We made it! 2021 is here, and it doesn't have to be a continuation of the last difficult 10 months that have plagued brands and agencies alike. Using Social Media Management & Analytics, marketing and insights professionals can take back their early 2020 successes and build new paths forward that include key data derived from the netizens online - particularly from platforms like Facebook, Twitter, and Instagram.
But what are social media management & analytics tools? And why do you need to include them in your marketing strategy efforts? Truth be told, there's A LOT of reasons, but, simply put, as customers shift more and more onto social media, and further voice their views, likes, dislikes, brand preferences, suggestions, and content stories with companies, the more important it'll be to 1) listening to their posts/tweets, and 2) understanding what that kind of engagement means for a brand. By taking advantage of these powerful methods, marketers can undertake the necessary steps to bettering their marketing position based on real world information.
How Do I Know If These Tools Are Right For Me?
They are. They're right for everyone and anyone that wants, nay, needs to stay ahead of the competition. Because if you're not listening to your loyal customer base - and potential new target audience - then your rivals will, and stronger user engagement is key for outpacing your business adversaries. Understanding certain elements of social media can help you:
Develop strong bonds with your consumers through valuable messaging research
Curate the best possible

influencer-brand partnership

for optimal marketing reach
Prevent potential

future brand crises

with careful analytical observations of general consumer emotional sentiments
Tackle current nagging issues in your company's marketing campaign history with an overall campaign health analysis
And much more!
Thankfully for you and your team, there's a whole industry of social media management and analytics tools out there on the market that can help your brand best socially listen to the people that comprise your bottomline on social media. Figuring out which ones will help you the most can help you save a buttload of time and resources that would otherwise be wasted playing the trial-and-error game. Don't play that game, especially with the new year upon us, and so many new opportunities available for you to seize this 2021. So below, we offer you a list Forrester Report-ranked social media management and analytics tools that you should definitely consider for your next big social media strategy…
We've covered the exemplary status of Clarabridge in a different article about social listening tools, but it goes without mentioning that this service goes above and beyond when it comes to social media management too. A jack-of-all-trades is too simplistic a label when covering the impressive amount of offerings that Clarabridge can provide marketers, especially when it comes to planning, scheduling, curating, sharing, developing, and ultimately publishing important social media content that'll help your brand engage like never before.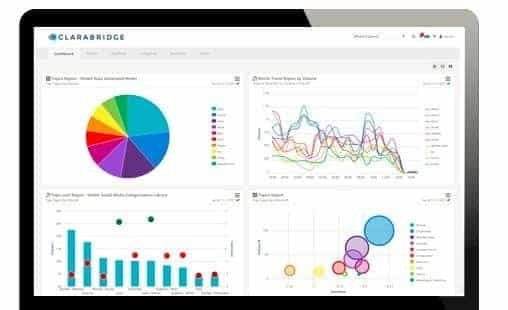 One of the best offerings on this list, you need to do yourself a huge favor and learn more about how this software can up your social media managing game.
Digimind offers marketing professionals and social media managers a perfect platform for scheduling, publishing and tracking content on various social media platforms through various 3rd party integrations that allow for the sharing of crucial social data. More specifically, Digimind's partner Hootsuite has the prefect integration for managing and posting stories, videos, images, memes, and more. Whether it's gleaning valuable insights from spikes in conversations online, to the overall emotional sentiment derived from key target demographic groups, Digimind is THE software for both social media management, social listening, and everything in between!
Manage your various posts and content with confidence when you let Digimind take the wheel. Companies like Canon, McDonald's, Macy's, L'Oreal, Audi, Honda, and more all have, and still do, rely on this software for a solid platform to make a marketing campaign into a marketing success!
With options to publish, advertise, manage, and monitor social media content with relative ease and confidence, Facelift offers marketing and insights professionals a clearer window into the emotional sentiments and preferences of both their user base, and that of their competitions'. The best part about Facelift is its multitude of report options that can relay trends revealed from your scheduled posts, to the overall health of your ongoing social media campaign, via engagement percentages.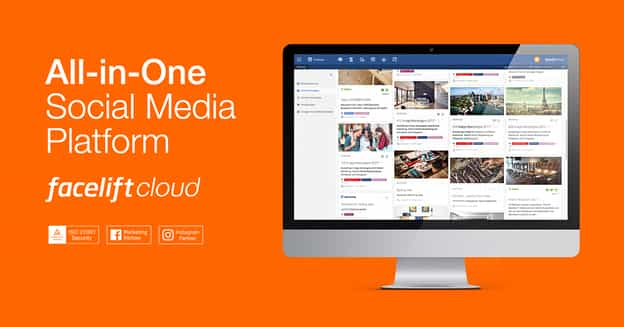 Well-balanced and perfect for teams of all sizes, Facelift offers a great tool for managing large groups of organized social media content, while maintaining a flexible UX that caters to professionals of any experience level. For social media management and analytics it's in your best interest to check them out and learn more.
Team communication is key for executing successful social media content campaigns that involve all the best elements of your collective talents. Falcon then is one of the more balanced picks for such considerations, with their across-the-board platform that simplifies the whole process of delivery and scheduling. A truly unique tool that helps marketing and insights professionals take full advantage of raw consumer data, Falcon offers one-of-a-kind options for two-way engagement that tracks how past posts could most likely affect future customer responses.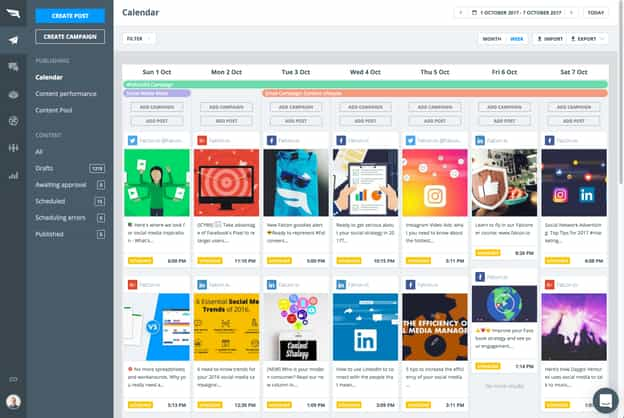 Take a chance on a lesser-known platform that offers the world of social media monitoring and analytics at your fingertips!
One of the leading social media management and analytics tools on this list, Hootsuite shines as an example of AI-supported software that plays off the strengths of any social media strategy, and provides a suite of powerful options to curate those strengths to increase engagement and build a better brand online. If that weren't enough to entice even the most stubborn of marketers, Hootsuite also gives its subscribers access to their Hootsuite Academy, a hub for social media management learning and trending lessons.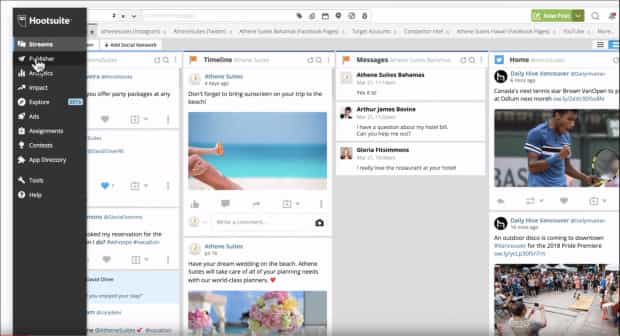 There's no reason not to do a bit of research regarding their basic offerings, and exploring their easy-to-understand pricing model, especially considering the benefits of unrivaled social media management assistance in the form of high-end platform integrations and top-notch publishing tools.
Nothing feels like premium service quite like professional consultations and strategy building with a real human being. Khoros differentiates itself from the pack by offering strategic services, professional product coaching, and more, when it comes to publishing, scheduling and planning out the strategy for your brand online. That, paired with an ever-updating platform that's helped such clients like Visa, Samsung, Spectrum, Microsoft, GM and AAA, and you've got a social media managing software that excels in both analyzing real time consumer data, and putting a personal touch on internal strategizing.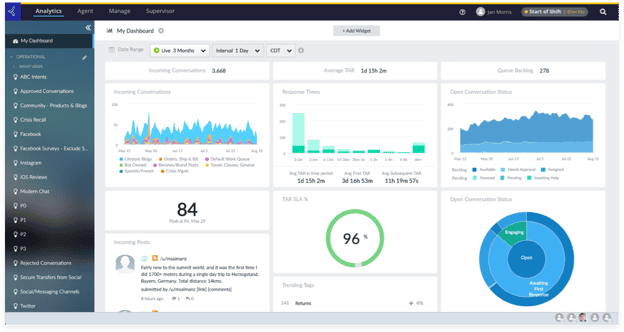 Khoros has over 5+ leading industry awards from such institutions as Crowd, Capterra, Inc. 5000, and more, all within the last two years. Though kudos alone a good social media management company does not make, it's certainly telling of their commitment to customer satisfaction, ever-improving services, and making the most out of digital insights.
Marketed as a window into the minds of a brand's consumer base, Salesforce (Social Studio) provides subscribers with a seemingly endless toolbox of options with which to monitor reactions to content, analyze the competition's social media strategy efforts, and fully understand the subtle changes of online. Platforms, like Facebook, Instagram, and Twitter. Salesforce (Social Studio) offers a world of insight that only a social media content publishing company of this magnitude can provide.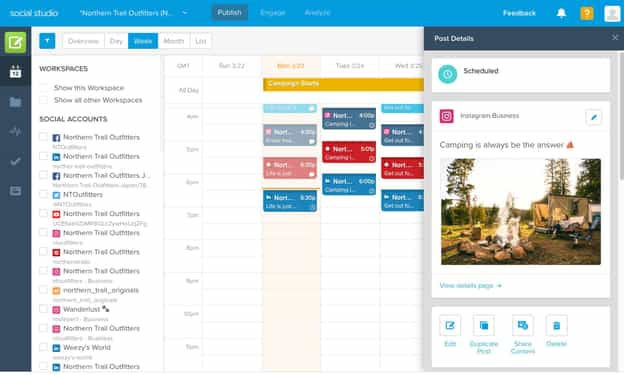 No need to sit around waiting for insights to fall into your lap. Take advantage of Social Studio and take back command of your social media management and analytics work. Salesforce is a great place to greatly improve your brand's standing on social media and beyond!
It's hard to match the incredible services that Socialbakers provides its clients. With the ability to manage all social channels from one platform, and analyze the various posts and content therein, this top-of-the-line company excels at providing teams with all the options they need for comprehensive social media management. What's uniquely special about Socialbakers service(s), is that their AI Analytics - built into the platform - helps serve research queries with the strongest key metrics available on the market. That, coupled with stellar customer service support, makes Socialbakers a must-adopt software that can adapt to most scalable project sizes.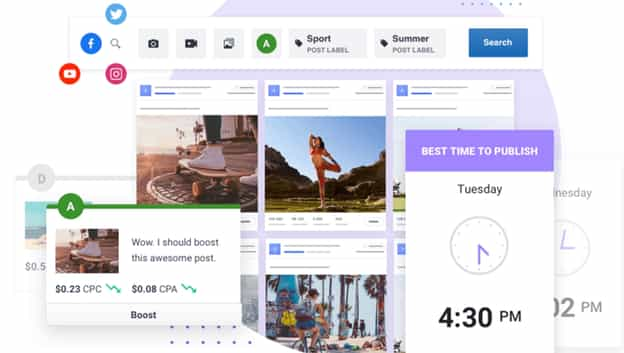 Whether it's helping high profile companies like Heineken, Samsung, National Geographic, and Walmart, or assisting smaller teams achieve their social media management goals, this company is not to be missed.
What do McDonalds, L'Oreal, Capital One, Comcast, Microsoft, Verizon, Honda, Marriott Hotels, Cisco and Allstate all have in common? They trust and depend on Sprinklr for their social media management needs, and effectively utilize the software to support their social media efforts, improve their user engagement, and enhance future content based on accurately developed reports that are provided by the platform itself. Researching and social media planning has never been this fully integrated and available as a market service before, and it's something to keep an eye on when deciding which direction you and your team wish to take your social media strategy.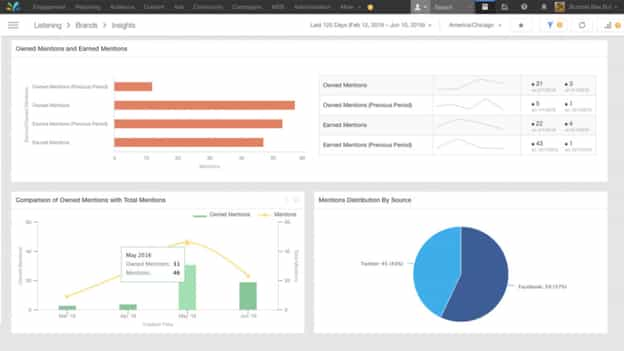 Another Forrester Report title winner from 2019 and 2020, Sprinklr is truly a spectacular place to start your big new social media endeavor going into 2021 - especially considering how often they update their suite of tools. Ultimately you have many options when it comes to social media analytics and management, but you can't really go wrong with a strong contender like this one.
User engagement is the name of the game when it comes to Sprout Social, another social listening, social media management hybrid platform that (though it's been stated quite a few times already) is one of the most prominent tools on this list. With an emphasis on how their service(s) can help grow your business and help you connect with your customers on a deeper level, Sprout's proprietary analytics platform makes strong use of its "integrations" tools, which make for social media site onboarding successes almost every time. Facebook, Instagram, Twitter, and even a few unorthodox sites are covered for in-depth insights, like LinkedIn and Pinterest. When it comes to social media and social listening combined, you'd be hard pressed to do better than Sprout Social.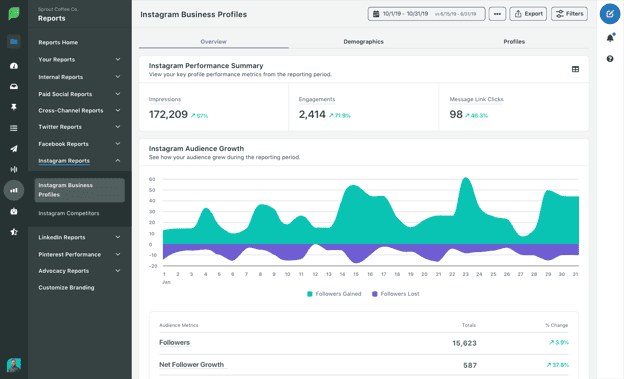 Big names like Subaru, Loews, Evernote, Edelman, Shopify, and more, all can't be wrong, so do yourself and your team a favor, and jump onto the Sprout Social bandwagon and discover all the incredible social media opportunities you were missing out on.
With a background in creative writing, advertising, and psychology, Micah is a copywriter in name and a Digiminder at heart. When he's not developing content for agencies, you can find him crafting novels, cooking and running around in Brooklyn, NY.