Staying Consumer Driven: The Big Reason Why Consumer Insights Is Key In Market Research
From identifying market needs to creating products and services that satisfy customers, the purpose of market research has evolved inherently towards enabling companies to be more customer centric.

At the heart of effective market research is consumer insights that are up to date and accurate. After all, consumer insights are consumer truths, and when you are able to glean high quality insights about your target market, that is when you can start to truly add value to your market research, other sources of syndicated data, in-house expertise, and even personal intuition.
Here are some key considerations for consumer insights as a vital cornerstone of your market research strategy:
Being able to build customer empathy from the ground up
Making a compelling case to stakeholders
Trendspotting key developments in your market
Putting context into existing data
The purpose for market research has evolved inherently towards customer centricity, with the aim to find out more about customer behavior, purchasing decisions, and brand perception. The end result is designed around a marketing campaign targeted at a key audience with the right message.
However, the difference between market research and consumer insights is in how the data is told. Painting a narrative based on your consumer data about the 'hows' and 'whys' for your recommended action – giving context to strategies that can otherwise be difficult or too far-fetched to execute. Top management and key decisions makers are more inclined to explore strategies gleaned from past consumer data, reducing the risks associated with business innovation by knowing exactly what consumers want in a product or a service.
The good news is while you might hit the nail on what market research is, how can you take a further step by turning consumer data into actionable insights? Here are some key considerations to why consumer insights should matter.
1. Building Customer Empathy From The Ground Up
Consumer insights do more than just provide an overview of who your consumers are, but can also be used strategically to pinpoint audience segments. A key objective of audience profiling is identifying and segmenting different groups of audiences to tailor your marketing campaigns, communications, and offers to.
Think about this: In order to be able to empathize with your customers and connect with them, you need to be able to understand their motivations and background.
By grouping your audience by similar attributes, whether it's their age, gender, interests, lifestyle, or even occupation, you can then adopt a personalized approach towards each group. This includes sending the right message that engages or resonates, or tailoring an offer that appeals or fulfils a specific need within each group.
In an age where consumers are empowered more than ever with different choices, being able to form an emotional connection is important for helping your brand stand out. It compels your customers to recognize your business as one that understands and aligns itself with their motivations.

Keeping customer empathy on top of mind through the market research process from start to finish, will go a long way in helping you define and develop solutions that are in touch with consumer problems. With consumer insights at the heart of your market research strategies, you can then start to improve things like conversion rate and customer retention.
2. Benefits Beyond Sales – Making A Compelling Case to Stakeholders
More importantly, vertically integrating consumer insights in your organization enables you to detect and leverage more opportunities to increase customer centricity wherever possible, and plug gaps in departments like research and development, customer success, and the like.
Frequent communications about your findings regarding consumer feedback, as well as changes in consumer trends can help your organization respond to problems quicker. Here are some examples of how you can anticipate upcoming trends and issues:
Giving more agility to stakeholders at the front of your business by answering important business questions before they even surface. This can be achieved by surveilling both positive and negative queries about your brand, market, and competitors.


Innovating your next product offering by anticipating customer needs from existing gaps and emerging opportunities.


Improve contingency planning amid rapidly evolving preferences by diversifying your offerings and services to fulfil the needs of consumers who may be outside your primary target group, but could eventually evolve to be a key customer segment.
The idea here is to give stakeholders access to these dashboards containing this critical information, so that key business segments can have a higher impact on customer satisfaction, by executing strategies that are informed by real-time data.
3. Trendspotting Key Developments
One critical benefit of consumer insights in market research that should not be overlooked is how it can be used competitively to predict future purchase behavior and trends. As for any ambitious market leader, it is never enough for your business to play catch-up to your competitors. To survive in a dynamic marketplace is to stay ahead and employ strategies at the top of the sales funnel so that your campaigns can maximize its market reach.
One way to spot upcoming shifts in consumer interests and habits, is to examine search queries around trending keywords, especially those that are of high traffic with low search competition. Since search trends are largely influenced by high-profile events, incidents, and movement, it's best that you stay alert on matters pertaining to your market and target audience, by paying attention to these shifts.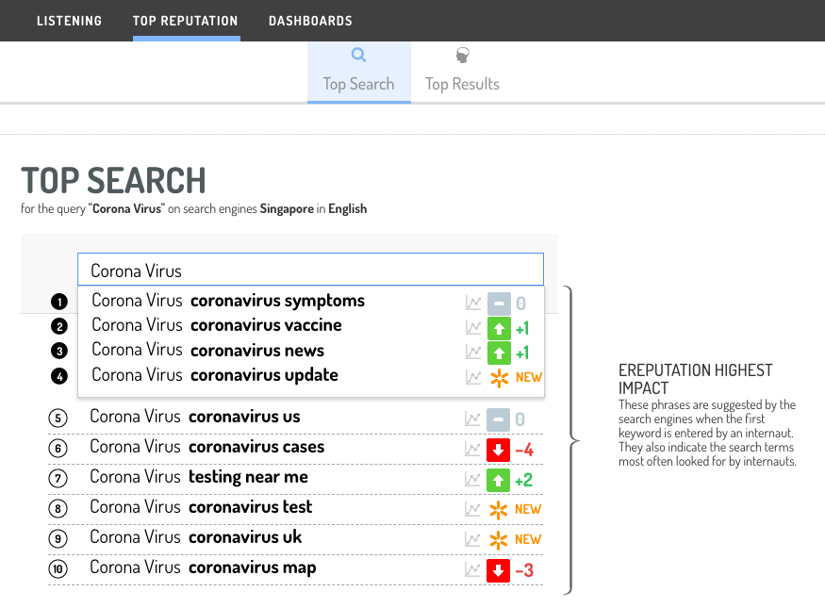 Digimind's Top Reputation Module
Aside from looking at search engine trends, having a social listening tool on hand can be useful for market research teams to detect data from a myriad of sources that provides an accurate forecast of upcoming trends in consumer preferences and behaviors. This includes forum discussions, and public social media posts and threads. If your brand already has a significant social following, you can even turn to your owned content's engagements, as a way of gauging customer reactions to things like product announcements and launches, and benchmark this performance against competitors.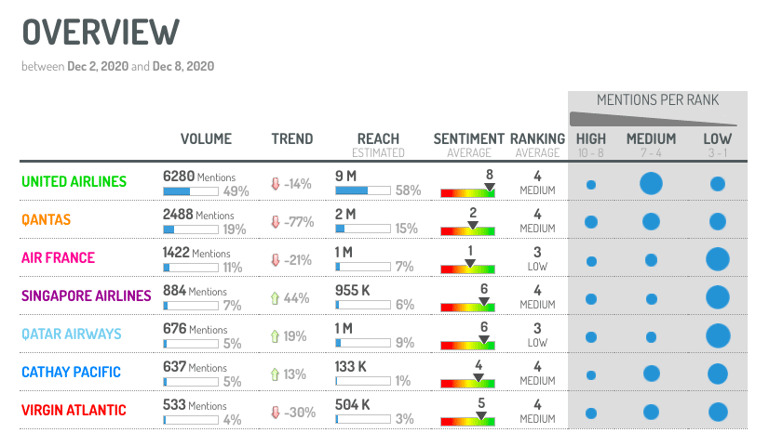 Digimind Social displays an overview of the volume of social mentions within a time period, along with an estimated reach and sentiment ranking.
Putting Context Into Existing Data
At the end of the day, the benefits of using consumer insights via social listening are multifold when complemented with data from traditional market research. By combining traditional data and statistics with a consumer framework, you can unveil a more concise version of your strategy with a well-informed course of action.
Consumer insights are best extracted from social media sources, where there is an unstructured biasness or freedom to make an opinion. Social media conversations can present a much more accurate portrayal of data compared to traditional sources, such as surveys, which may be structured in a way to glean certain types of responses. However, this does not mean surveys and focus groups are now obsolete. What consumer insights from social media listening helps you achieve is a more well-rounded perspective on the strengths and weaknesses of your brand and its offerings. This gives you an opportunity to better optimize your messaging, and innovate accordingly.
A social listening tool like Digimind Social can empower a richer marketing experience for your business and consumers alike, with a deeper understanding and visualization of the case beyond just numbers and statistics.
If your brand has a need to make consumer insights part of your future business strategy, take a look at what Digimind's Insights Lab are offering with a customized report on your brand performance in 2021.
Jared is a member of the APAC marketing team at Digimind. Besides hashing insights into content, he loves a good ol' sit-down of board gaming and film rhetoric. Catch him diving in other shenanigans on Instagram @jarrds