Same Same, But Different? Settling the Record Straight on Social Media Listening, Social Media Analytics, and Social Media Management
Social Media Listening, Social Media Analytics, and Social Media Management – that's a whole lotta terminologies thrown about these days.

Some of the most common questions we hear from clients are, "Is Digimind a social media analytics company?", "Can you help us create a social media strategy?", and "Can I publish a post on Facebook from Digimind Social?"
Though it may seem like the three are interchangeable – and they're no doubt, very much essential to any social media marketer's arsenal of tools – the actual uses and scopes that each covers are far from similar.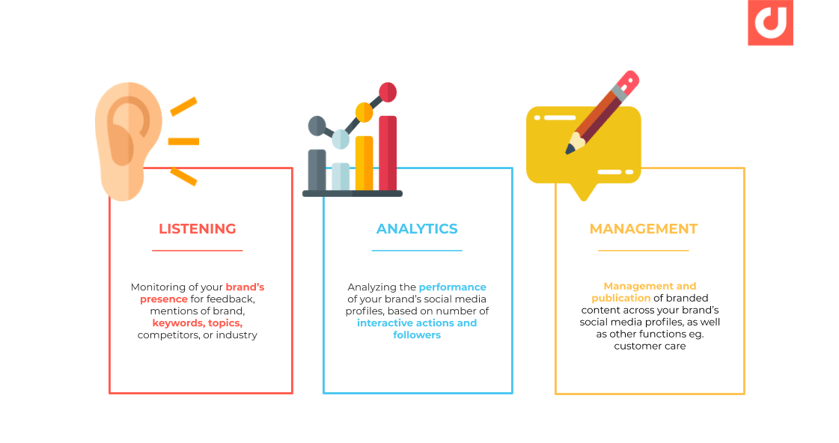 Pro Tip: When evaluating tools, look at the foundational strength of the offering and compare it to your priorities. Tools that offer a package of all three functions are usually stronger in one aspect than others.
Let us help you break down the very basics of these terminologies so you can focus on choosing the right strategy! But first, let's take a look at why companies across industries cannot afford to ignore social media in their marketing and insights strategies.
Social Media, the Key Marketing & Insights Arsenal for Businesses in the Digital Age
Businesses are putting their social media strategies on the offensive, with heavy emphasis on building engagement and resonance with their target audience. Meanwhile, customers are shifting from brand to brand in search for a product or service that meets their expectations – spending longer hours on social media getting fed with information and offers with each scroll and click.
Whether you like it or not, social media is here to stay and reinvent the customer experience, more so with 2020 marking the rise of the stay-at-home industry. With social media the dynamic environment that it is, what should you really prioritize when it comes to building a future-proof strategy for your brand?
Bonus: Thinking about your business strategy for the new year? Let's get you on board with a customized study to fill you in on how your business performed this year.
🎯 Social Media Management: Taking Brand Presence to New Heights
Social media management speaks for itself; the term alone implies taking charge of a brand's social presence, by analyzing, creating, and scheduling owned content. In addition, an executive in charge of managing social media activity has the responsibility of making sure the brand's social media channels remain active, by engaging with and moderating their audiences' interactions.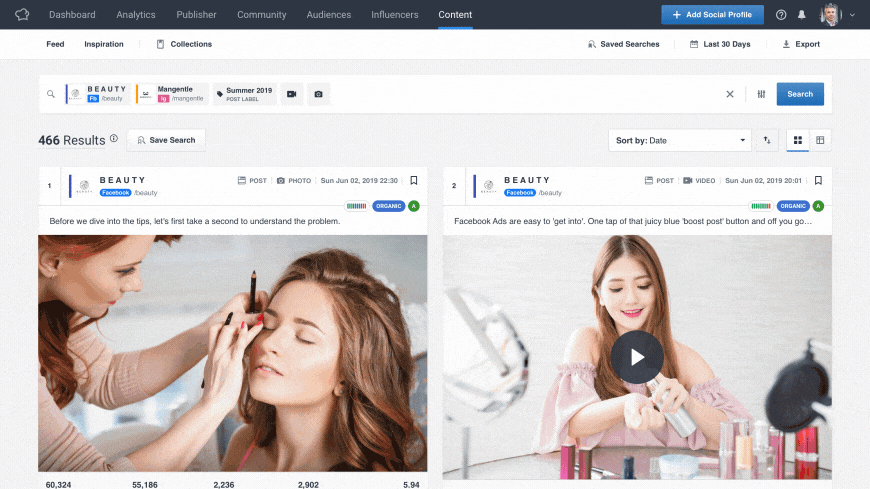 Source: Socialbakers
When it comes down to content, there are primarily two types of content social media managers are primarily concerned with, these are a brand's earned and owned media posted on social media platforms like Twitter, Facebook, Instagram, and Linkedin.
Owned media: Content that is posted by your brand on any social media channel.
Earned media: Non-paid content generated by external parties, including customers and influencers, about your brand in the form of guest posts, media coverage, reviews, mentions, among others.
Ideally, earned media should exceed owned media, as it indicates that your brand has high organic reach and visibility on account of a lesser volume of branded content. Owned media, however, is not to be neglected as it provides you with more control over your brand message, and is likely the first thing your audience will notice when searching about your brand on social media channels.
Social media management tools are an important facet of daily use, as most come with the added support of scheduling content ahead of time, so that streams of content can be planned weeks and months in advance. Doing so can bring efficiency and time management to their line of work, while consolidating data for performance reporting and analysis.
Bonus: Discover how AXA mastered a social media strategy that creates customer loyalty and trust.
📊

Social Media Analytics: Getting Analytical About Your Brand's Performance on Social Media
Social media analytics, on the other hand, is getting to the nitty and gritty on the levels of engagement on owned content. Social media analytics is about interpreting meaningful data on your brand's social media performance, audience interactions, and online trends from your marketing and communications strategies.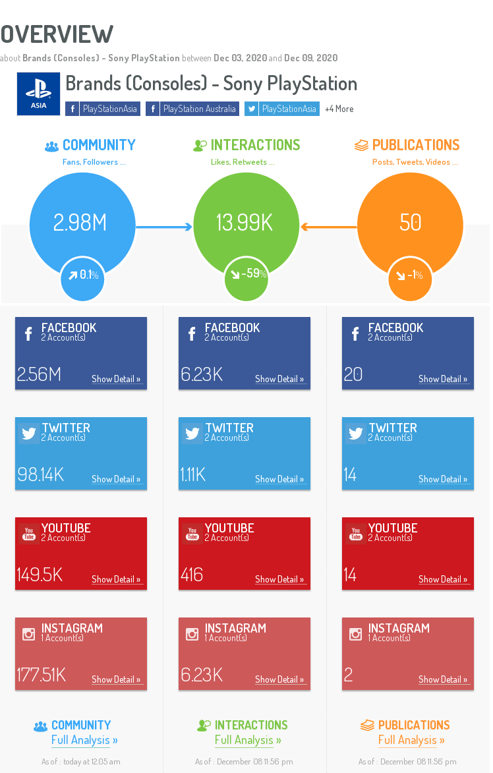 Digimind's Analytics Module can pull data off from a variety of social media channels


Although it is important to merge your business goals with the right social strategy, let us not forget that social media is made for audience relationship building. The fundamental purpose of a social media manager is to not only drive a brand's social presence, but also create an online community of fans that is thriving and ready to purchase from them. Thus being able to measure and deliver data on the brand's social channels is essential to clear goal-setting.
Social media analytics tools can help you to unlock insights into how your audience is interacting with your brand, which can be a challenge for most marketers to determine without the right tools and experience on hand.

Social media analytics is all the more vital for businesses who make social media an essential part of their marketing and e-commerce strategy, where gauging the success of your branded content is all the most important. Compared to social media management which helps you create and schedule content on a regular basis, social media analytics tools audit the same content, so that social media teams can make clear recommendations on where to best improve.
That being said, social media analytics enables you to minimize tendencies for error while strategy making as it relies strictly on data from your brand's social media pages. Your business can yield better output with fewer resources as social media teams are able to eliminate guesswork and increase efficiency.


Bonus: Align your social media strategies with the relevant KPIs!
🧠 Social Media Listening: Turning Big Data Into Smart Data
Social media listening, or social listening for short, has proven its value over the last few years as an indispensable asset to any marketer's arsenal. Even more so in 2020, as Covid-19 has impacted brands and organizations to steer towards digitalization to grow market share and increase brand visibility in the online space. In light of this, more businesses are gravitating towards social listening to bring up the most important consumer considerations and buying decisions and remain relevant, with social listening tools being the second most used tool for getting rapid information about consumers this year.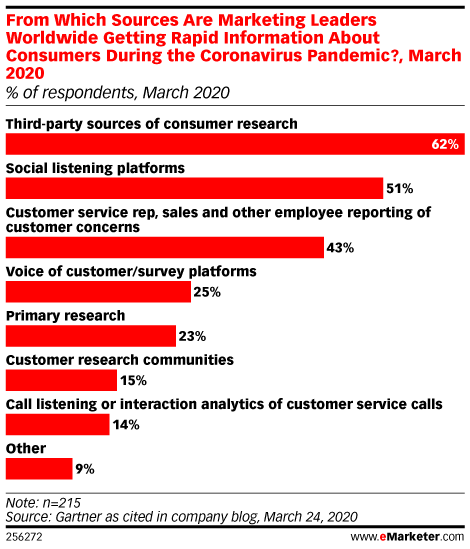 But First… What the #@%! Is Social Listening?
Social media listening encompasses the monitoring of your brand's presence for feedback, and mentions of your brand, keywords, topics, competitors, or industry. It can open a treasure trove of consumer insights that underlines what consumers are thinking, feeling, and doing. Ultimately, it is about learning what matters to your consumers and building a business strategy with that goal in tandem.
By using social listening tools, you are actively seeking to understand social media conversations about a specific topic, which are formulated as queries by a searched phrase, word, or vernacular. It utilizes data from many broad sources – not particularly exclusive to just social media – like blogs, news articles, forums, among others to find information about what people are talking about online.


Developing a Data-driven Approach to Issues
There is more to social listening than just having clarity on your brand health. It is just as important to remain aware of how your market and competitors are reacting to economical and social events around them.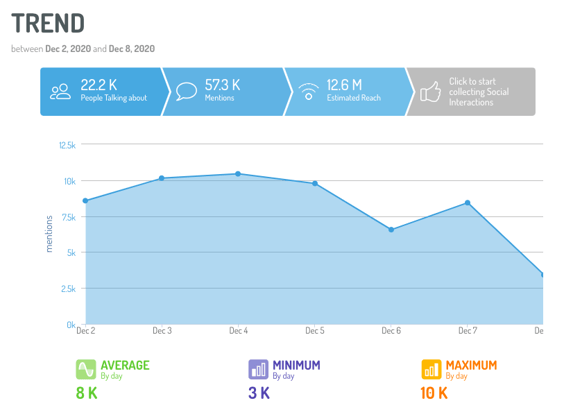 An example of Digimind Social's longitudinal display of social mentions on a brand over time
Think about spotting an anomaly in your customer journey: would you want to find a prevention for it yourself or wait till it becomes a more pressing issue? If you bet on the latter, the issue may cost your brand reputation more damage in the long run than if you were to raise the issue immediately. That is precisely what social listening is designed for, it enables real-time data collection so you can receive aggregated results of social mentions at a moment's notice.


Humanizing Business Engagements
Identifying audience sentiment is by far one of the most essential ways to unlock meaningful insights. By monitoring the overall sentiment of your brand or the desired topic, you can further tap into your audiences' perception and attribute positive or negative takeaways from the study.

Being customer-centric allows you to engage target audiences where they are at. It bodes well to process consumer insights proactively by delivering information across business segments, which includes relevant marketing teams to develop content and nurture prospective leads with the right messaging. From there, you are much better equipped at handling customer issues, disseminating customer-centered workflows, and simply providing solutions to where your business is most impacted.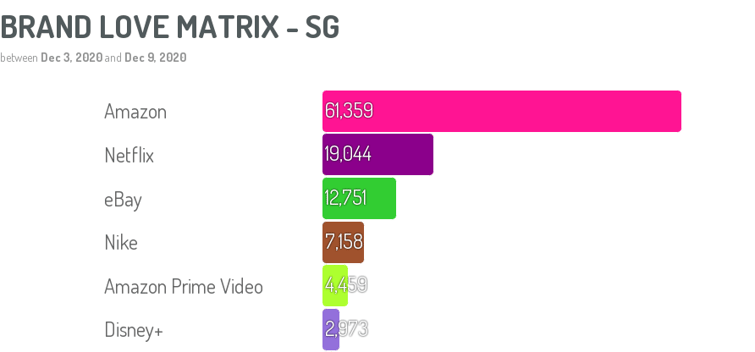 An example of Digimind Social showing the share of voice distributed among top online entertainment brands
As audience preferences are constantly changing, social media listening helps you to stay aligned with new consumer demands by tracking their needs and wants as expressed on online channels.
Pro Tip: With social media listening encompassing a wide variety of uses, it's important to be able to identify what features are important for your team's use. Benchmark potential social listening partners with this easy-to-use scoring template!
Investing In Your Consumers
Whether it is planning content, strategizing future developments, or prioritizing satisfaction, there is only one thing in the driving seat – your customers. With customer experience an all-time differentiating factor between you and your competitors, it is increasingly important to be aware of how they think and behave, so you can tailor one that is suited to their characteristics.

Social listening tools like Digimind Social work with businesses to build key trends into perspective and visualize consumer data through dashboards to deliver a more robust and informed brand strategy.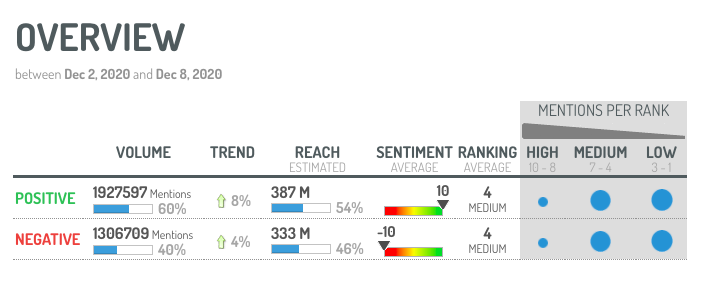 Digimind Social is able to display a comparison chart for easy visualization of positive to negative social mentions
The Future of Data-Driven Social Media Strategies
There's no doubt that social networks, blogs, and forums have become goldmines of real-time insights and opportunities to sell and engage. Companies have started to recognize the value of these channels, and adopt tools to better optimize, track, and evaluate their marketing efforts, competitive landscapes, and customer experiences.
Very often, companies with a thriving presence on social media that are also actively looking to leverage real-time data, invest in a mix of tools that tick these boxes of management, analytics, and listening. Tools like Digimind Social are able to offer a mix of functions.
When evaluating potential tools and partners, look at the foundational strength of the offering and compare it to your priorities!
Jared is a member of the APAC marketing team at Digimind. Besides hashing insights into content, he loves a good ol' sit-down of board gaming and film rhetoric. Catch him diving in other shenanigans on Instagram @jarrds