Luxury Marketing Strategies for Managing Brand Reputation on Social Media
Luxury marketing has long revolved around sustaining a brand's status as an icon of wealth and success. However, recent developments around the world pose significant obstacles to sustaining sales and driving growth. These include:
Anticipated economic slowdown which can lead to a drop in demand and spending for luxury products and services

Social media platforms facilitating accelerated changes in lifestyle trends and preferences

Consumers shifting from ostentatious spending to sustainable consumption
Brand reputation is critical to success and sales, and this could not be more true for luxury brands. But as the world of luxury retail is no stranger to controversies and challenges, how can the industry's leading players stay aspirational and desirable to consumers?
The Importance of Reputation Management for Luxury Brands
40% of purchases of luxury items are influenced by what consumers see online, according to research by Bain & Company. With millions of conversations taking place daily on social media, the impact of networks like Facebook, Twitter, and Instagram on a brand's online reputation cannot be understated.
Thanks to social media, brand advocates and critics have become more socially conscious and vocal. Consumer discussions on social media can also evolve and spread rapidly beyond a brand's control. Thus luxury brand marketing is faced with a challenging task of safeguarding the company against emerging controversies and potential fallouts with customers.
According to Digimind's report which analyzed key discussion trends around luxury brands in Asia Pacific, the top hotspots for controversy for the luxury goods industry are:
Sales of counterfeit luxury products or bootlegs

Re-branding or brand takeovers deemed too drastic by fans

Incidents of political corruption that involved luxury items as gifts or purchases
On top of that, branded content that is deemed culturally offensive can result in tremendous backlash from local internauts. In 2018, the world witnessed the impact of netizens on luxury fashion house, Dolce & Gabbana. The luxury brand was forced to cancel a flagship event in China and post a public apology due to accusations of racism in a promotional video.


And they're not the only one. As recently as February 2019, Gucci discontinued a sweater and apologized on Twitter, after receiving backlash for the product's resemblance to blackface on social media.
Gucci deeply apologizes for the offense caused by the wool balaclava jumper.
We consider diversity to be a fundamental value to be fully upheld, respected, and at the forefront of every decision we make.
Full statement below. pic.twitter.com/P2iXL9uOhs

— gucci (@gucci) February 7, 2019
In a bid to lead the market in fashion and lifestyle, luxury houses have always strived to push the envelope in product design and advertising. However in the age of the Empathy Economy, consumers are increasingly flocking towards brands that share the same socio-political values. Luxury marketing teams must then navigate a fine balance between:
Deploying tactical strategies to drive brand awareness, and

Showcasing their company as socially progressive and aspirational, while protecting their reputation from external threats
Using a social listening tool like Digimind Social, brands can quickly sieve through online discussions and protect themselves against negative comments by taking these steps:
Identify and mitigate counterfeit sellers

Analyze the impact of an external crisis on your brand

Evolve your brand while keeping customers close
1. Identify and Mitigate Counterfeit Sellers
Out of the six countries studied in Digimind's Insights into Asia Pacific's Luxury Goods Industry on Social Media report, reselling activity on social media is significantly higher in Malaysia and The Philippines. Louis Vuitton, Hermès, Prada, and Gucci are the most commonly advertised brands by resellers in these two countries, with a collective 65% share of voice.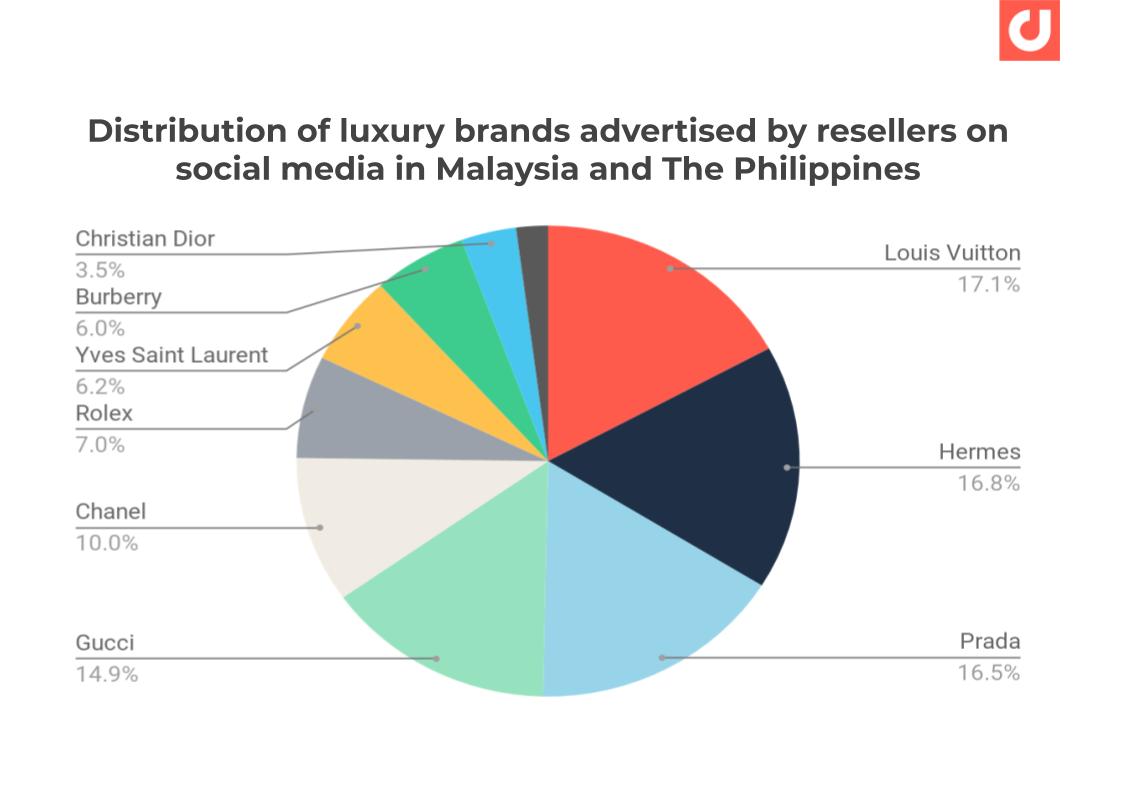 Luxury goods are highly sought after, as well as priced significantly higher than other consumer products. This makes them popular for reselling and even counterfeiting. However, unauthorized selling and bootlegging can damage a brand's prestige. In 2017 alone, online sales of fake goods made up 31% of total counterfeiting related losses, according to the 2018 Global Brand Counterfeiting Report.
It is therefore important to mitigate the circulation of counterfeit products on social media. Here are some steps luxury marketers can include in their strategies for brand reputation management:
Monitor and analyze posting activities and review history of online sellers to determine if they are selling counterfeit products

Ensure online sellers do not misrepresent your brand by delivering unsatisfactory customer experiences (if they are a shopping assistant or reseller)
Pro tip: To quickly sieve out reselling activity around your brand on social media, identify keywords used by resellers and input them as classification terms in your social media monitoring dashboard. Analysis from Digimind's report shows luxury goods resellers used words like "authentic", "vintage", and "good condition" to highlight the legitimacy of their goods and attract customers.
2. Analyze the Impact of an External Crisis on Your Brand
Between September and October 2018, the majority of controversies around luxury brands in Asia Pacific stemmed from reports of political corruption, or misconduct by government officials and public figures that involved their products:
While the brands themselves were not involved with the controversial figures in question, internauts nevertheless associated the two to some degree by highlighting the products mentioned.
Crises like these can have a long term detrimental effect on a luxury brand's online reputation and prestige, especially when discussions on social media develop into far-reaching controversies. To ensure local consumers do not perceive luxury items as symbols of political corruption as a result of such incidents, marketers should:
Closely monitor the development and focus of online discussions around such instances

Formulate recovery measures based on such insights if necessary
Pro tip: Use Digimind Social's conversation clusters to determine the proximity of your brand or competitors to positive and negative discussion topics.
3. Evolve Your Brand While Keeping Customers Close
According to global data from Digimind Historical Search, public discussions around Michael Kors and Versace jumped by approximately 80% between 24 and 25 September 2018. This happened when the former announced its takeover of the Italian luxury giant.
While this move marked Michael Kors' entry into the high-tier market, internauts around the world lamented the "death of Versace", and slammed the company's "cheap and tacky designer" for causing it. Ultimately, fans deemed the takeover unsuitable for the "iconic" fashion house on Facebook and Twitter.
Luxury marketing strategies are built on creating a sense of exclusivity and prestige around a brand. At the same time, the industry's need for modernization and growth amidst shifting trends and purchase behavior has created complexities for marketing teams. Too drastic a change could undermine a brand's status, especially in the immediate run.
Similarly, Burberry's first logo change in 20 years was met with online scrutiny. Internauts questioned designer Peter Saville's over simplistic logo, and compared it to its ornately illustrated predecessor.
Yes everybody, you totally caught us: the new Burberry logo is just Peter Saville picking a font. Took him 5 minutes & he got paid millions. You figured out our big graphic design scam — this is why all graphic designers are filthy rich and only work 3 hours a week.

— Mitch Goldstein (@mgoldst) August 2, 2018
It is inevitable that brands evolve their luxury experiences to attract wider audiences. However, it is also important to keep existing customers happy and enticed.
With social media intelligence, luxury marketing teams can manage consumer sentiments and optimize brand perception during times of change. Here are some steps to take on your social listening tool:
Monitor shifts in consumer sentiment in the immediate and long run. Are internauts welcome to change, or are they outrightly rejecting it on social media? Is the majority of related discussions dominated by positive or negative sentiments?

Understand the impact and magnitude of brand updates by putting them in perspective. Compare the volume of discussions related to brand changes against the total volume of earned media. Are consumer discussions on social media dominated by the former, or does this trend still rank behind daily occurring posts about your brand's products?
Based on insights gathered, you can consider your rebranding strategy a success, or a cause for concern that warrants recovery measures.
Bonus: Download Digimind's handbook on creating reports to understand your customers' opinions on social media.
In Summary
A luxury brand's online reputation can be vulnerable to controversies on social media, even if they do not directly involve the brand itself.
Therefore it is important to detect and manage them before they escalate. Social media monitoring tools like Digimind Social can help brands quickly sieve through countless mentions on social media to identify potentially problematic incidents online.
Melissa is a digital advocate who loves diving into the latest trends in digital and social media. Since joining Digimind's marketing team in 2015, she has written studies for over 15 industries in Asia Pacific. When she is not telling stories about data, Melissa can be found exploring her favourite cafes and hangouts on Instagram @chuepachups.