LinkedIn: The essential figures in 2022 in the UK
In the UK, in 2022, LinkedIn counts more than 34 million users, making it the 5th largest social network in the country. Globally, LinkedIn has 850 million members as of August 2022.

We'll be looking at the key figures and tracking the trends for LinkedIn for 2022: number of users, average age, gender, revenue, companies, social selling, influencers...in the UK.
LinkedIn figures in the UK
1. Demographics: LinkedIn members and users
3. Influencers on LinkedIn
LinkedIn statistics in the world
Demographics : LinkedIn members & users
I. LinkedIn's figures in the UK
1. LinkedIn demographics in the UK
Number of LinkedIn users in the UK:
UK is the 5th largest market in the world for LinkedIn, and the largest in Europe, by number of users.
At the beginning of January 2022, 48.6% of the UK population was using LinkedIn, with 33 200 000 users; it rapidly escalated through the quarters, and has now reached 51.1% of the country population, with 34 900 000 members.
In 2022, 56.3% of LinkedIn users in the UK are men, 43.8% are women.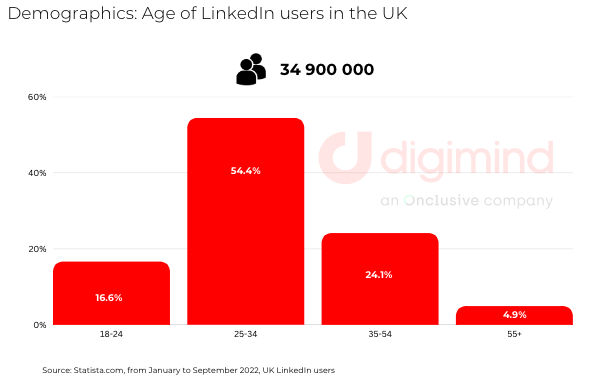 As of February 2022, there were 57.6 million active social media users in the UK; this amounted to an 84.3% penetration rate for social media.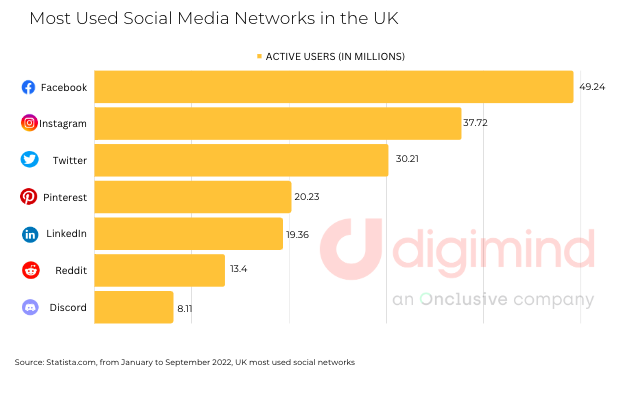 2. Companies and LinkedIn in the UK
In the context of professional activity, LinkedIn is the most used social network by B2B decision-makers in the UK (Executives of VSEs, SMEs, ETIs and large companies).
As a matter of fact, B2B activity generates all or the bulk of the revenue for close to 40% of UK businesses; and over 80% of B2B sales representatives in the UK are active or highly active on LinkedIn.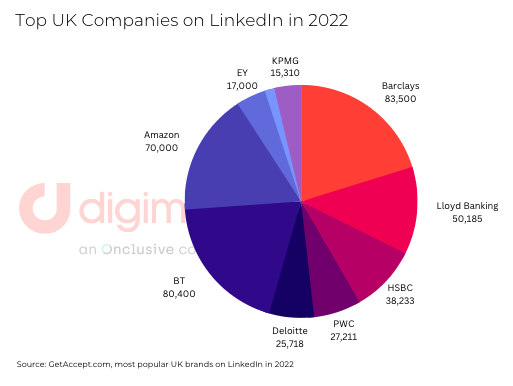 3. Influencers on LinkedIn UK
Each year, LinkedIn establishes its Top Voices UK ranking, which includes personalities who have succeeded in leading and advising very active communities among the millions of members on LinkedIn in the UK. To establish this ranking, the journalists of the LinkedIn editorial staff used a combination of quantitative and qualitative criteria.
The latest Influencers are listed below:
II. LinkedIn Statistics in The World
1. Demographics
Number of LinkedIn users :
As of August 2022, LinkedIn has 850 million members worldwide in 200 countries.
Including:
In Europe : +222 million

In North America : +211 million

In Latin America : +132 million

In the Middle-East and Africa : +47 million

In Asia-Pacific : +237 million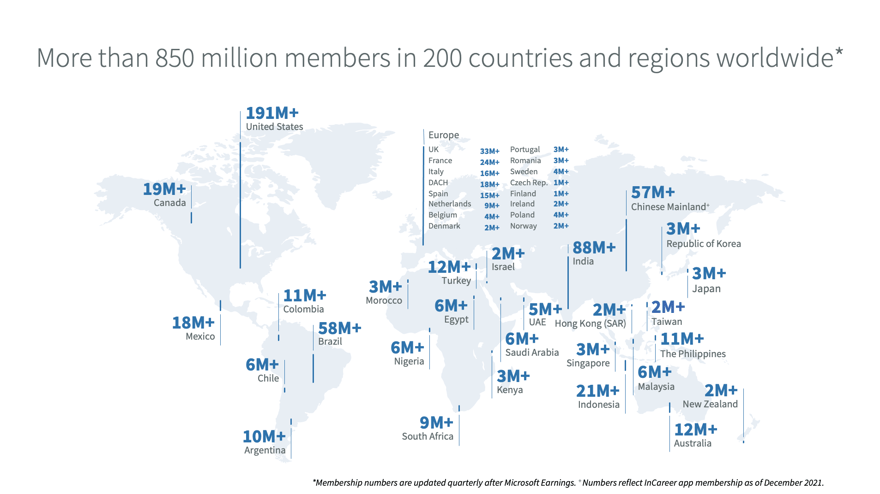 LinkedIn Members in the world as of Summer 2022
Monthly Active Users on LinkedIn:

LinkedIn only communicates on its number of registered members but not on its active users. The most optimistic external studies estimate the number of monthly active users at between 47% and 50% of LinkedIn members, i.e. between 390 million and 415 million MAUs. As a purely indicative figure, this would position it as the 15th social network, behind Pinterest and ahead of Twitter, within social media with very different objectives and business models.
Countries with the most members on LinkedIn:
The 10 countries with the most members in April 2022 on LinkedIn are the United States (188 million), India (88 million), China (56 million for the InCareer app), Brazil (56 million), the United Kingdom (32 million), France (24 million), Canada (19 million), Mexico (18 million), the DACH region (18 million-Xing has a strong presence there), and Italy (16 million) and Indonesia (15 million)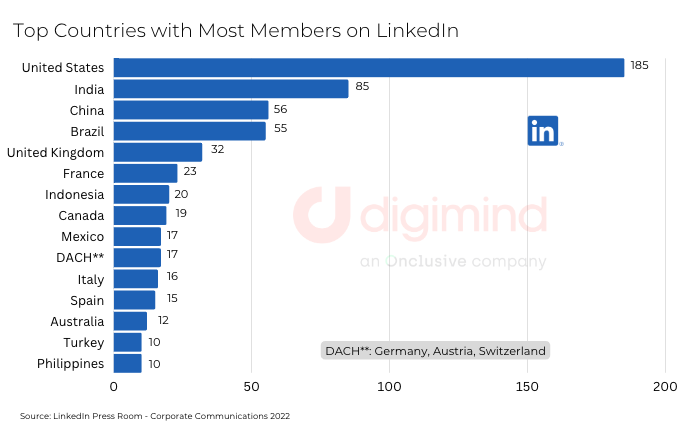 Top 15 countries with most members on LinkedIn in January 2022.
Age & Gender :
Globally, in 2022, 43% of LinkedIn members are women (and therefore, 57% are men).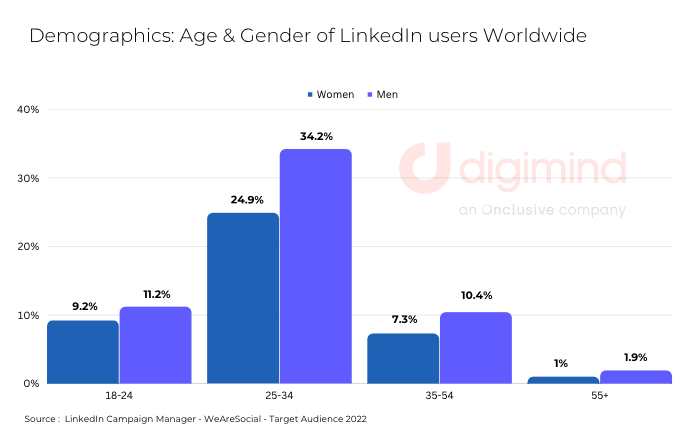 Demographics: Age and gender of LinkedIn users worldwide in 2022
In the world, at the beginning of 2022, the audience by age and gender is divided as follows :
18-24 years : 20,4% (11,2% men and 9,2% women)

25-34 years : 59,1% (34,2% M and 24,9% W)

35-54 years : 17,7% (10,4% M and 7,3% W)

+55 years : 2,9% (1,9% M and 1% W)
Nearly 80% of LinkedIn members are under 35 years old. Male users aged 25-34 are the most present on the network.
Among LinkedIn members, the professional network was communicating in recent years about:
180 million experienced influencers worldwide,

63 million decision makers,

10 million executives

17 million opinion leaders

6 million decision makers in the IT sector

3 million Master's degree graduates.

120,000 schools
2. Use of LinkedIn
LinkedIn is

2 million daily publications

50 million people use LinkedIn every week to search for a job

77 applications sent every second, 210 million per month

6 people hired every minute via LinkedIn

38,000 skills listed,

6,000 people hired every day on LinkedIn

More than 20 million open jobs on LinkedIn Jobs

Content shared on the platform

increased nearly 50%

year-over-year (as of June 2020)

1 million hours of training content viewed weekly in Q2 2021.

89% increase in Live Streaming since March 2020




According to Alexa

, LinkedIn users spend an average of 10' 20'' minutes on the site each day, for an average of 8.5 pages.





LinkedIn is currently available in 24 languages: Arabic, English, Simplified Chinese, Traditional Chinese, Czech, Danish, Dutch, French, German, Indonesian, Italian, Japanese, Korean, Malay, Norwegian, Polish, Portuguese, Romanian, Russian, Spanish, Swedish, Tagalog, Thai and Turkish.


57% of LinkedIn users

access the platform from their mobile devices.
3. LinkedIn for Brands and Companies
58 million companies, including 2 million SMEs, are present on LinkedIn, as well as 120,000 schools and universities.

LinkedIn is widely used by marketers (agencies, advertisers). Logically enough, due to its nature, unlike most other social networks, there is a marked difference between B2C and B2B.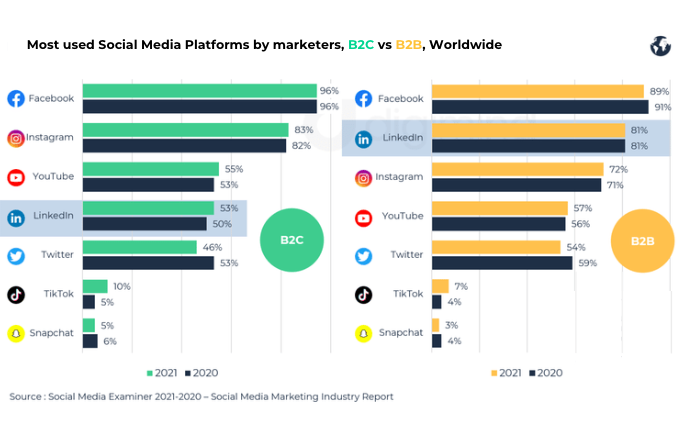 Most used Social media Platforms by marketers : B2C vs B2B
Indeed, LinkedIn is used by 53% of B2C marketers (+3% compared to the previous year) and 81% of B2B marketers, a gap of 28 points. You have to look at Instagram, to find a significant but smaller gap between B2B and B2C, this time in the opposite direction: 83% use in B2C versus 72% in B2B.

More than half of marketers (54%) plan to increase their organic activity on LinkedIn during 2021. 74% of B2B companies plan to increase their organic activity on LinkedIn, compared to 45% of B2C companies.
Ads
According to a study, the most effective advertising formats on LinkedIn according to marketing professionals and agencies worldwide are "Sponsored posts" (at 29%), "lead-generated ads" (19%), "Sponsored inMail Ads" (5%), "Text Ads" (4%), and "Dynamics ads". Average figures to be taken with hindsight, as the performance of advertising formats can vary greatly depending on the country (culture) and the sector of activity.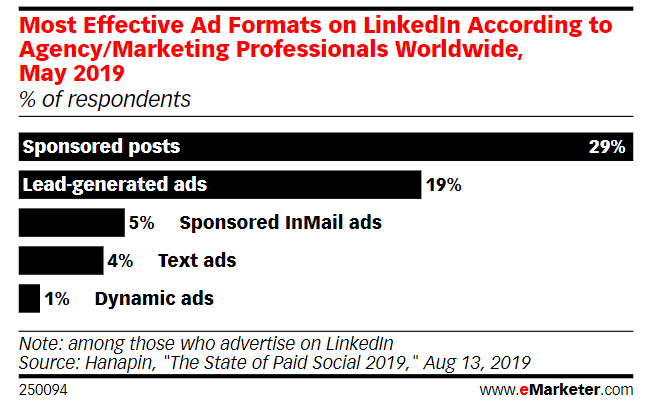 The most effective advertising formats on LinkedIn according to marketing professionals
Sponsored InMails have an average open rate of 52%.
According to LinkedIn, the message format via InMail (not sponsored) generates a response rate of 10 to 25%, which is 300% more than traditional emails.

On LinkedIn, the cost per lead would be 28% lower than on Google AdWords.
The social landscape is subject to rapid changes in trend and market. Being aware of trends can help your company better react to the rapidly shifting social landscape, learn more about your customers, and find new themes that may lead talks to your brand. Our business solution that focuses on Trend tracking & innovation highlights the key tools to help marketers stay ahead of the curve and stay current with topics that are important to their target customers and much more.
Hello, my name is Nour Nasr, I am from Lebanon. I'm a marketing intern at Digimind in the Paris office, and my work mostly focuses on the French market. Before starting this internship, I attended a Master in International Sustainability Management & Corporate Social Responsibility at Politecnico di Milano in Italy. I hope to combine both sustainability and marketing in my future experience and learn more skills throughout the way!!