Trending topics about the 2022 Qatar World Cup
The Qatar 2022 World Cup began a few days ago. The great event awaited after 4 and a half years, not only by soccer fans, but also by the general population, speculating about the teams, the culture of the host country, the artists who will participate in the opening and throughout the World Cup, and other events around it.
Discovering these tendencies in social networks and digital media enables brands to use the soccer news' booming and improve their sales, brand awareness, positioning, and reputation.
Let's review the social media and digital media trends related to the World Cup to help you maximize the potential of your brand or business.
The 2022 World Cup in Qatar: a trending topic
On the Digimind Social platform, we conducted a search during the 7 days prior to the inauguration of the Qatar 2022 World Cup, in which we were able to identify 8 words that Internet users have most related to this great global event.
The first word that has been on the rise in the data collection has not been a soccer team, a country, a soccer player, what has been highlighted in relation to the World Cup, has been the word Opening Ceremony, with this, we can get an idea of the high visibility that brands will have in the opening of the World Cup 2022, detecting that these words are the ones that people are relating the most in social networks and digital media. Also, this trend can be used by more local brands, not participating in the World Cup, to generate promotions, incentives, campaigns and other programs for their target market. How can you take advantage of this trend with your brand?
In addition, some of the top words that people relate on social networks and websites to the World Cup 2022 in Qatar are: World Cup, World Cup Qatar, FifaWorldcup, Qatar2022, and World Cup Qatar2022.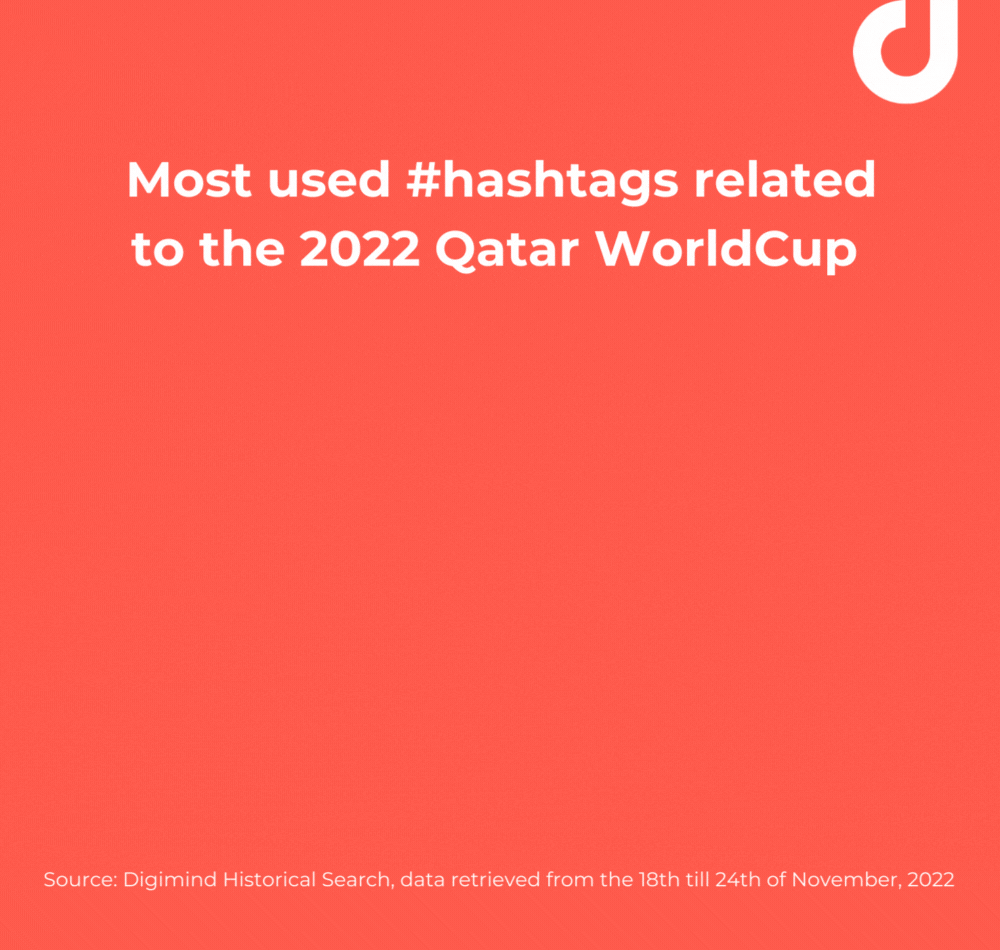 Where is the Qatar 2022 World Cup being discussed?
If you want to get the most out of the World Cup theme for your brand, we highly recommend that you relate the concepts mentioned above in your Twitter account. The Twitter platform is the social network that is having a very considerable advantage over all others, we have identified rising trends in mentions on this platform, so we can ensure that the passion of the World Cup Qatar 2022 will live afloat through it.
In second place is the Facebook platform, which has collected a higher number of mentions than other social networks, news, discussion forums and websites in general.
Needless to say that in other social networks such as TikTok, Instagram, Youtube, as well as Blogs, Websites, etc., the World Cup theme is also having a great relevance, however, Twitter and Facebook are the social networks and digital spaces that are having a great prominence. So, make the necessary adjustments in your communication channels and digital campaigns, to have a greater reach and gain greater brand awareness with the theme of the World Cup 2022.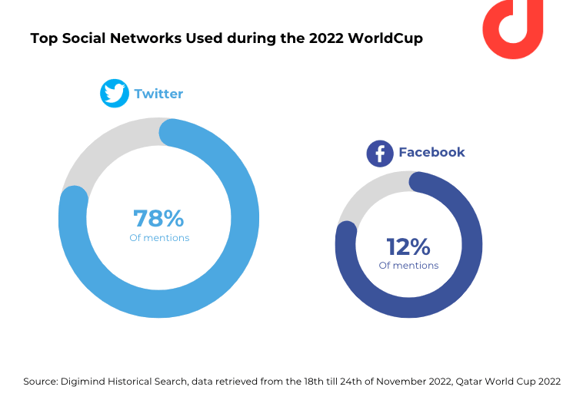 Which brands already have reached their goals at this stage of the 2022 World Cup?
If you need inspiration to boost your advertising campaigns around the World Cup, we invite you to check out the Coca Cola brand. The soft drink brand is sweeping the number of mentions related to the World Cup 2022 in social networks and digital platforms. Coca Cola has aligned its advertising efforts around this topic, which has allowed it to increase its brand positioning and reputation worldwide.
Coca Cola's advertising has always been characterized by appealing to emotion and feeling, and in its advertising campaign for the 2022 World Cup "Magic of Believing" this has been no exception, and it has also added a tone of humor in some of its spots. Undoubtedly, the brand is knowing how to play the pre-World Cup game very well, as its numbers stand out from other brands.
After Coca Cola, the two brands that are following it in presence are New China, the official news agency of the People's Republic of China, and the international hamburger brand McDonald's. These two brands are also implementing effective advertising strategies, which are allowing them to have a very good advantage, increasing their presence in the market.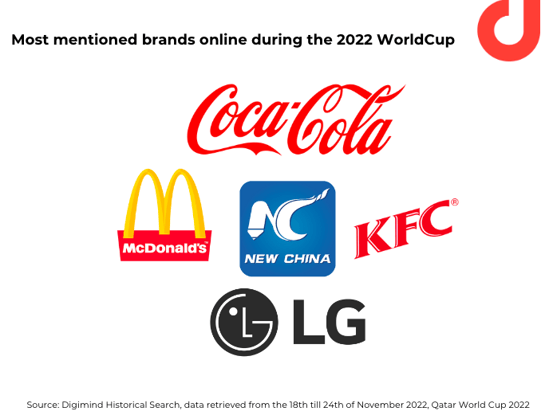 Knowing what they say about your brand, your competition, where your target market expresses itself, what they say, what emotions they share, will undoubtedly help you improve your advertising strategies, and consequently, will allow you to obtain more profitable results. We share with you a Social Media Intelligence toolkit to improve your digital strategies.
Which advertisements, strategies, and messages will your company use to boost its reputation the 2022 World Cup in Qatar? In this cup that the entire world is excited about, we hope your brand gets the awareness it deserves! We hope that the consumer insights we provided will help you be well-prepared for and successful at this global event.
Hello, my name is Nour Nasr, I am from Lebanon. I'm a marketing intern at Digimind in the Paris office, and my work mostly focuses on the French market. Before starting this internship, I attended a Master in International Sustainability Management & Corporate Social Responsibility at Politecnico di Milano in Italy. I hope to combine both sustainability and marketing in my future experience and learn more skills throughout the way!!