AXA Case Study: Driving Brand Loyalty and Customer Retention for Insurance Brands with Social Listening
While the growth of insurance weakens globally, APAC continues to be the fastest growing insurance market in the world. As the appetite for insurance products stays strong in emerging markets, insurance companies in APAC are wasting no time to expand their customer base.
With different companies offering similar products and services in the insurance industry, it is important for AXA to stand out in other ways. AXA's goal is to be engaged with their customers throughout their customer journey, and position themselves in a way that resonates with customers across generations. Discover how Digimind Social, our leading social media listening tool, allows AXA to stay ahead by delivering engaging content and experiences.
🏃🏽Stay Ahead: Cultivate Trust & Build Rapport
In a competitive landscape, AXA differentiates itself by cultivating trust and rapport with stakeholders, both internal and external.
Using Digimind Social, they are able to produce monthly reports and audits on share of voice, brand sentiment, and brand equity in a fuss-free and straightforward manner. This information gives internal stakeholders a clear and streamlined view of the company's performance, allowing faster and more informed decision making.
A social listening platform also allows businesses to leverage on trends and insights from social networks, blogs, forums and more, so they are able to better understand consumers needs, wants and pain points. Having access to such information allows them to build relationships and trust with their target audience by producing content or developing products that are relevant for users. That brings us to our next point:
🥇
Be
Customer Centric: Identify Needs, Wants and Expectations
Social listening enables AXA to gain a real-time overview of consumer conversations happening both online and offline. Knowing trending topics and key discussions amongst consumers allow AXA to develop quality, engaging and relevant content, campaigns and experiences.
With Digimind, the digital engagement team is able to pick up trends around questions that people have on insurance to nurture relationships and improve customer experiences. This allows the customer care team to develop FAQs for consumers to find answers to their questions and concerns easily.
In 2018, AXA launched their campaign, 'Bounce for Good', to promote healthier living. A post-campaign analysis on social insights and sentiments using Digimind showed that the campaign received a large number of positive interactions on Instagram. These insights helped AXA better strategize subsequent digital marketing campaign launches and focus their marketing efforts on proven strategies.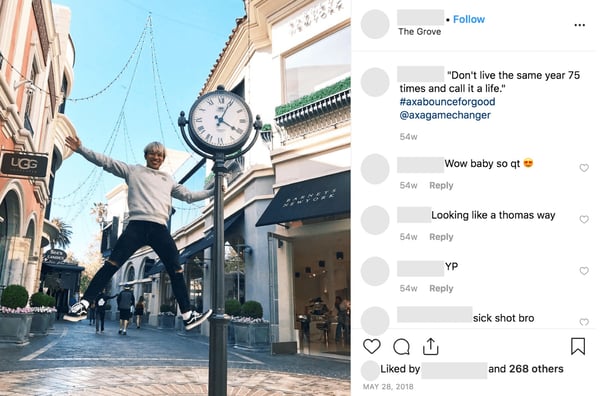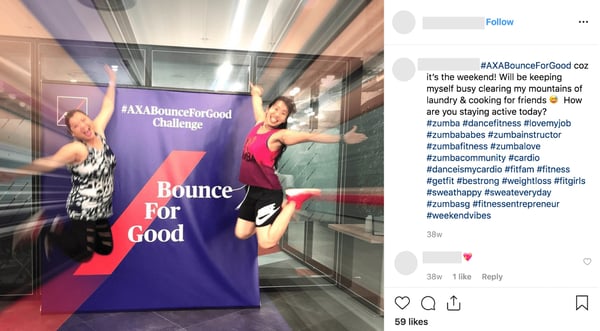 Examples of #BounceForGood
💃 Influencer Marketing: Identify & Engage the Right Individuals
Influencer marketing has grown exponentially in recent years and continues to play a paramount role in many companies' digital marketing strategies. An industry that is estimated to reach $10 billion by 2020, it now takes up a significant portion of businesses' marketing budgets. From improving brand advocacy and increasing awareness to reaching new audiences and pushing sales conversions, there are many benefits that come with influencer marketing, if you do it right.
AXA uses Digimind to identify internal and external influencers as well as macro and micro influencers that have high levels of engagement and interactions with the public. Top influencers often have great rapport with their networks which makes them great touchpoints to leverage on to increase the reach of campaigns and product awareness.
Download a copy of this case study for easy reference, and to gain further insights of how social listening can benefit insurance companies.
Interested to find out more about how your company can benefit from social listening? Schedule a meeting with our consultants today! 👇🏼