Optimize Your Content Marketing Strategy in 13 Steps with Social Media Intelligence
70% of consumer prefer to discover a brand through content rather than conventional advertising. So it's no surprise that more marketers are prioritising content creation, promotion, and measurement in their strategies. Be it online or offline, inbound or outbound, here is how you can boost your content marketing strategy simply by gathering and analyzing relevant insights from social media and the web!
Typically, a content marketing strategy consists of four broad stages: inspiration, creation, promotion, and assessment: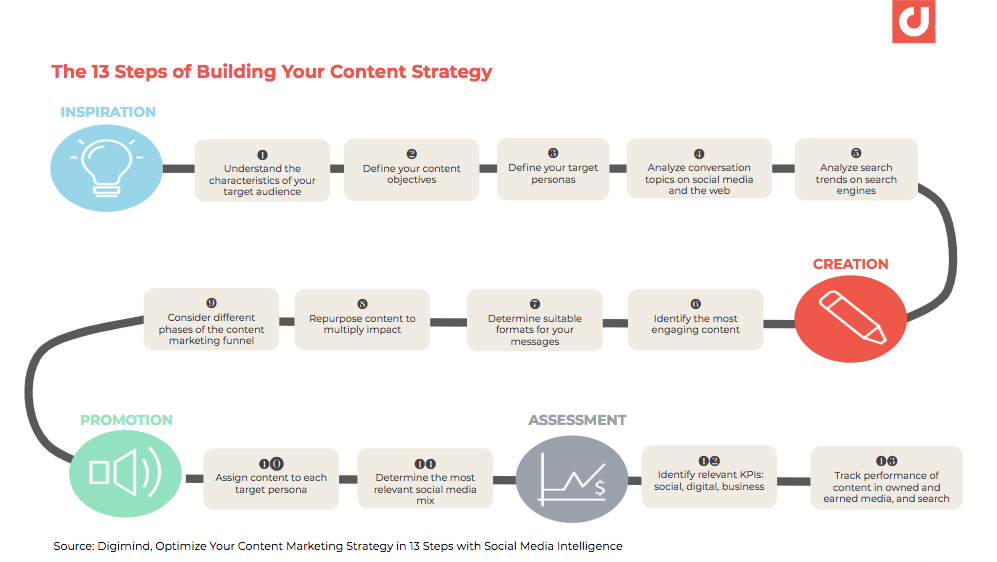 1. Understand the Characteristics of Your Target Audience
Before you can begin to create content, you first need to determine what topics interest your target audience. For this, it is necessary to collect and segment insights from social networks by conversation themes and other socio-demographic factors, such as age and profession.
For example, a campaign targeted at communication directors, aged 35 - 50 years, may want to consider creating content around key topics discussed like brand awareness, crisis communications, and social responsibility.
2. Define Your Content Objectives
What are the goals of your content strategy within the marketing funnel? Rarely can a single piece of content fulfil all your objectives satisfactorily, so choose the most relevant objectives, or, if you have the resources, create one content type for each objective. Some key objectives include brand awareness, lead generation, and sales support.
3. Define Your Target Personas
After selecting your objective, it's time to create your audience personas – imaginary profiles that represent your key target audience by function, objectives, and the content likely to interest them. For example, a social media manager in charge of strategizing and prioritising a brand's social channels, may be interested in brand performance studies on his or her industry.
4. Analyze Conversation Topics on Social Media and the Web
It's easy to detect the latest trending topics during the listening stage. You can collect consumer insights from sources like:
Market studies: consumer studies and opinions

Conversation topics amongst influencers and opinion leaders in your sector

Competitors: what are they discussing on their social pages, blogs, or website?
Bonus: Get insights and tips on detecting target personas for your content marketing strategy
5. Analyze Search Trends on Search Engines
Identify customers' needs and interests beyond social discussions by analyzing common search terms around your brand that users input into search engines. From there, you can to answer these questions and needs by using the data to form the key topics of your content marketing strategy.
For example, a B2C insurance brand can consider creating educational infographics and videos on the benefits of a life insurance policy, based on search terms like "how can I benefit from life insurance" and "advantages of life insurance".
6. Identify the Most Engaging Content
To optimize your creative process, it is necessary to identify the types of content that generate the best engagements with your target audience (likes, shares, and comments), such as short form blogs, infographics, or videos.
Eventually, the best performing content will be instrumental in achieving more KPIs such as downloads, qualified leads, and sales opportunities.
7. Determine Suitable Formats for Your Messages
At this stage, specify the most suitable format for the messages you want to convey. Content formats should appeal to your target audience based on their objectives and channel in which the content is being viewed. A 10–30 second video may be best suited for a Facebook page, while blogs and infographics can be distributed via retargeting to generate interest among website visitors.
8. Repurpose Content to Multiply the Impact
To boost profitability and and reap more returns on your content efforts, it is necessary to repurpose it in several formats. Additionally, you can also develop awareness among more people, while increasing the lifespan of your content and acquiring leads in the top, middle, and even bottom funnel. As a rule of thumb, you should spend about 20% of your time creating content, and 80% of it promoting it.
For example, an online shopping guide released by a retail mall can be repurposed into weekly vlog series for YouTube, and a Facebook album detailing various shops on site.
9. Consider Different Phases of the Marketing Funnel
It is important to consider which stage of the marketing funnel your content addresses. Start with the top of funnel, where you appeal to audiences encountering your brand or sector for the first time, then work your way through the middle of funnel, where your content will help attract customers who are considering your products or services. Finally, content at the bottom of the funnel should push prospects from evaluation to conversion.
10. Assign Content to Each Target Persona
In an age of hyper personalization, it is important to tailor content that specifically address your target audience's needs and interests. After all, displaying effort in delivering what customers are looking for, goes a long way in engaging them and building long-term relationships.
Choose one or more relevant content pieces or formats according to your objectives. You can make a matrix crossing contents, objectives, targets, and distribution channels.

11. Determine the Most Relevant Social Media Mix
Content is king, but distribution is the queen – and she wears the pants. To determine the most relevant and effect channel mix for content distribution, pay attention to where your target personas are concentrated in each stage of the marketing funnel. For example, top of funnel content is best suited to Facebook, where internauts head to to connect with friends and discover interesting content such as videos. More specific, target driven content for the middle and bottom of funnels can be distributed on channels like forums and LinkedIn, where users connect for specific reasons like fulfilling a need or obtaining answers.
Social listening tools like Digimind Social make it possible for marketers to analyze the conversation channels for their sector, by examining the breakdown of brand related mentions across social channels, blogs, forums, and more.
12. Identify Relevant KPIs: Social, Digital, and Business
KPIs are instrumental to measuring the ROI of your content marketing strategy. These can be classified into three broad categories:
Social: Number of brand mentions, engagement rate, reach, share of voice, etc.

Digital: Website and e-store visits, sessions, conversion rates

Business: Volume of leads acquired, cost per lead, volume of opportunities generated, sales, etc.
For an all-encompassing view of your content's performance, consider a mix of all three types of KPIs where relevant.
13. Track Performance of Content in Owned and Earned Media, and Search
Aside from matching the relevant KPIs to your content analysis, it is necessary to monitor your content's performance according to the following parameters:
Earned media: How much reach did you earn? Did your brand's share of voice shift as a result of your content? Monitor user and media conversations to evaluate discussion trends, shares, and reach.

Owned media: Which content performed the best on your brand's social pages? You can rank your content pieces by engagement, conversion, or both.

Search: Analyze the shift in search terms used in relation to your brand and content.
In Summary
When executed right, a good content marketing strategy goes a long way in helping brands build reach and reputation, as well as achieve concrete business objectives like leads and sales. With consumer insights readily available via online discussions and search data, it is possible for marketers to fine tune their strategies and targeting with greater speed.
Bonus: Start optimizing your content marketing strategy with social media intelligence! Get our guide to go.
Melissa is a digital advocate who loves diving into the latest trends in digital and social media. Since joining Digimind's marketing team in 2015, she has written studies for over 15 industries in Asia Pacific. When she is not telling stories about data, Melissa can be found exploring her favourite cafes and hangouts on Instagram @chuepachups.