A Machine-Learning Approach to Media Listening: Automatic Analysis of Unusual Peaks and Trends
A few weeks ago, we saw 4 examples of monitoring and social media listening technologies: machine learning, deep learning, etc. for automatic language processing, sentiment analysis, intelligent automatic classification, and visual listening. We are continuing today with innovations that enable social watchdogs, community managers, social media managers, and other digital marketing professionals to save time and gain precision for their analyses.
As you set up a watch or social media listening effort that generates a significant volume of mentions on the web, news sites, or social networks, you are likely to scrutinize certain data visualizations, such as the evolution curve of mentions over time. Potentially, you will notice "spikes" in mentions.
Peak analysis can be time-consuming and tedious
Social media managers and watchdogs know: analyzing the causes of spikes in mentions and messages can be time-consuming, difficult, and inaccurate, which can ultimately lead to bad decisions.
The evolution of mentions is very common in many monitoring and social listening applications, for example: detecting bad buzz and crises, tracking trends, analyzing media and influence campaigns, monitoring e-reputation, analyzing product launches, analyzing consumer opinion, and more.
A virtual analyst will help you with the causes of the spikes and the propagation factors
Today, "artificial intelligence" (machine learning) allows us at Digimind to offer you a virtual analyst who can automatically detect peaks in mentions and their causes, potentially multiple, saving you from reading numerous messages and articles.
You will be able to access these features in our interface:
Understand the "why"(s) behind a spike in mentions
Invest your time and expertise in deeper analysis rather than initial detection
Never miss a

break in trends

, a surprising evolution, a bad buzz, or a viral campaign affecting your organization and your brands.
The machine learning will indicate unusual peaks in your data and explain the source of these peaks: significant use of a hashtag, an influencer's voice, an unexpected level of interaction on a message, massively sharing the news on social networks, and a surprising volume of certain concepts.
Analysis of unusual peaks: reputation, crisis, and consumer insights
Let's imagine that you're monitoring the evolution of messages about an airline company. In a process of Consumer Insights and Customer Relations, but also reputation monitoring.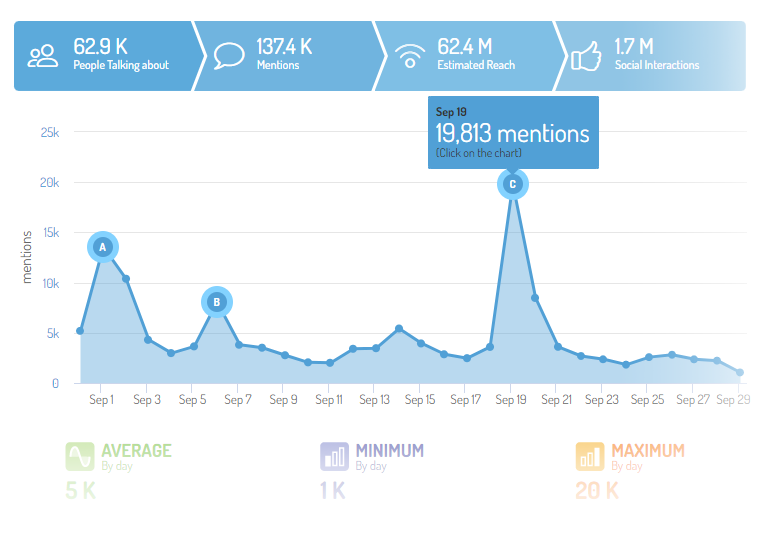 Automatic peak detection by AI Sense - Digimind SocialAutomatic peak detection by AI Sense - Digimind Social
Over the last 30 days, the virtual analyst will show you 3 abnormal peaks, one of which (peak C) at nearly 20,000 mentions for the Lufthansa company. The AI explains that the volume of peak C is 476% higher than the usual volume of mentions, 135% for peak B. If we look at peak B, the algorithm explains to us that the announcement of the resumption of the strike by the company's pilots (#streik) is the essential cause of this peak. Another lesson is the fact that 2 major media outlets like Reuters and Forbes took over this news and led to a multiplication of the volumes of messages. The virtual analyst, therefore, highlights the different causes of the creation of the trend and then its propagation to finish at its peak. On the sidelines, a controversy over masks for children on planes also fueled this peak (#dasfliegendeklassenzimmer).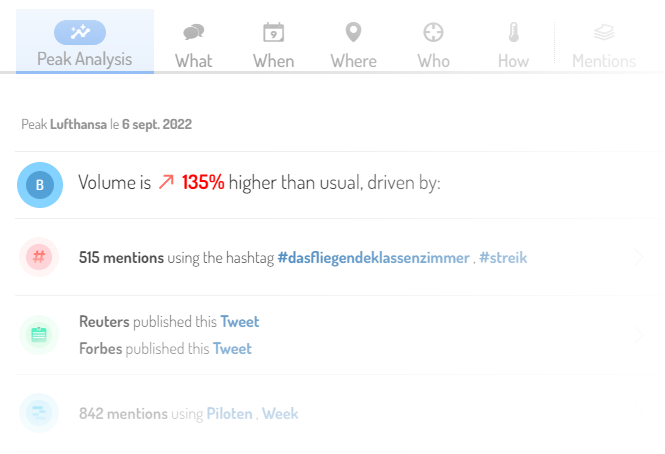 The different factors explaining the peak - by AI Sense - Digimind Social
Are other countries affected by this announcement of a new strike? One can easily explore the evolution of mentions in other languages. For the French, 4 peaks have come to enamel the messages on Lufthansa these last 30 days. For the most important peak, the causes determined by the AI ​​are always the announcement of the new pilots' strike and the recovery by AFP, BFMTV, and the sharing of the hashtag strike.
Campaign analysis via peak analysis
When running multiple social media campaigns, quickly analyzing peaks during the campaign period will help you clearly differentiate between organic mentions on your brand or community and the impact of sponsored mentions.
This is the case here for a video campaign from influencer Tech Marques Brownlee sponsored by the Linus Tech Tips community. The automatic analysis is clear: a peak of 35,000 mentions on Linus Tech Tips is generated by Marques Brownlee's sponsored tweet (29.5 K mentions using the hashtag #sponsored, 72.2 K interactions with the influencer's tweet). Other information: the campaign will have been included in more than 58,400 mentions).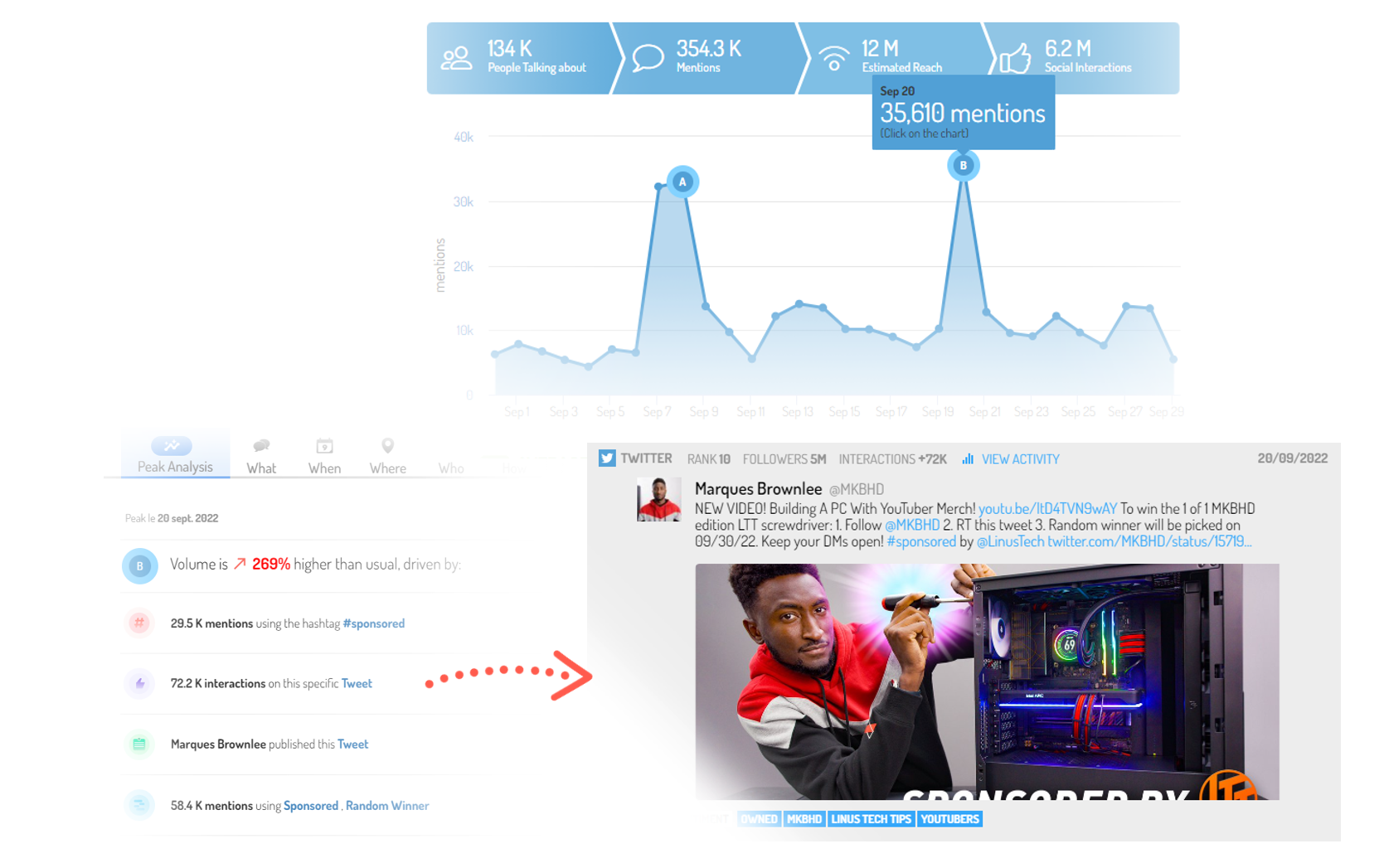 The spikes and their causes around Linus Tech's influencer campaign -
by AI Sense - Digimind Social
Examples of use cases for automatic analysis of mention spikes and their causes:
Understand factors about the

start of the crisis

and then the spread of the crisis (media, influencers, virality) and understand the causes of buzz occasions
Understand the concepts that create the virality of a crisis:

sensitive topics

Understand the most powerful

reputation drivers

through the analysis of spikes and their dominant concepts
Analyze the successive springs of a

campaign

: shares, hashtags, interactions
Understand viral or consumer favorite concepts around

product launches

Understand the creation and propagation of spontaneous popular hashtags: social and cultural movements, protests, and disputes
Seize the emergence of trends over several weeks and months through the progression of concepts and hashtags