3 Essential KPIs to Predict and Measure the Real Impact of a Crisis
Smartphone-based social media, as so many mobile users have witnessed, has led to instant propaganda and sharing, the importance of influencers, the virality of specific topics, and the polarization of speech. Discussions can flare up and spread across communities and borders, and a brand crisis can spread like wildfire.
How your brand reacts during and after a crisis (and how it has prepared for it, of course) can help or hurt your reputation, both digital and IRL, in the short and long term. Keeping a close eye on indicators such as conversation volume over time, as well as how customer sentiment evolves throughout the crisis, is crucial to help brands calibrate their responses in real-time.
Listening to social networks allows you to detect the warning signs of a potential crisis (or a little bad buzz if you're luckier, but you won't know in advance), and understand the impact of the situation so you can take the necessary targeted measures to protect and enhance your brand's reputation.
Taking the example of crises that some companies have faced, we will consider three crucial parameters to examine, to monitor, and manage the impact of a crisis on your brand's reputation:
I. Brand-related discussion volumes and related KPIs
An abnormally high volume of conversations about your brand (excluding marketing campaigns and operations) is an indication of an impending crisis- an incident that is gaining momentum or a topic that is generating discussion on social media.
To fully understand what triggered this unexpected spike in discussion and how it has evolved, marketers can analyze various factors:
When the peak occurs
The cause of the peak
The main topics discussed during the peak and by whom
The feelings expressed
How long did the peak last?
The moment when the discussions reached a peak
The point at which the discussions diminished
The variables of the audience, volume, reach, and interactions. The number of senders.
United Airlines, for example, had major incidents in recent years that provoked much debate online. Insight can be gained from studying these past airline crises.
Monitoring the discussions around the airline in February and March, we identified two significant spikes. Each lasted about a week before the conversations eventually died down.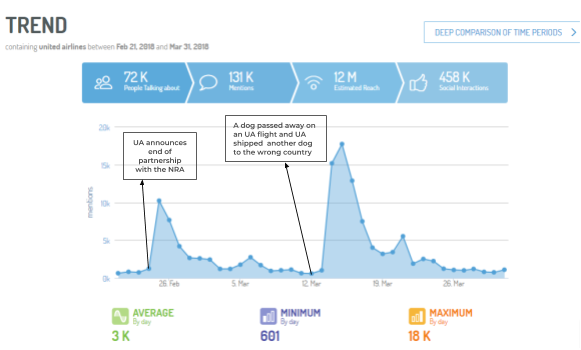 A graph showing how 2 crises of United Airlines had successively
developed over a short period, activated by sensitive subjects (animals and firearms)
The first spike may correlate to the United Airlines (UA) announcement on 24 February to end its partnership with the National Rifle Association (NRA) in response to growing calls from gun control advocates following the Florida shooting earlier that month. The bold move by United Airlines was strongly opposed by gun rights advocates at the time, who found it hypocritical for United Airlines to advocate gun control while continuing to donate to Planned Parenthood, the largest pro-abortion family planning group in the US.
In the two weeks following the NRA crisis, two "incidents" further tarnished the reputation. On March 12th, a dog died on a United Airlines flight after a crew member insisted on placing it in the baggage compartment. Another case involving a dog only added to the reputation crisis: on March 14th, United Airlines mistakenly sent a German Shepherd normally bound for Kansas, Japan. Both incidents caused outrage globally.
This is one of the most sensitive issues in crisis management, potential cruelty to animals (discussed in paragraph III below).
Given the short period (16 days) in which both crises occurred, it would have been helpful for United Airlines to monitor closely whether the discussions in the first crisis were still trending and thus, determine whether the second spike was related to the first incident so that their crisis team could respond accordingly. In the case of the dog crisis, the incident occurred on March 12th but was reported by news channels a day later, causing a spike in UA-related conversations.
With Social Media Listening solutions like Digimind Social, brands can pre-set alerts on their dashboard to automate and schedule notifications in such scenarios. Notifications are likely to be triggered by a developing event, for example, an alert can be set up to send notifications to the communications team if more than 1,000 posts per hour are detected globally or on a specific topic.
It's important not to focus on the volume of conversations alone. Why not? To avoid over-reacting or under-reacting. Indeed, companies that are regularly subjected to criticism or even crises must react sparingly, fairly, and proportionately. Not all companies are equal when it comes to the reputation and feelings of their consumers. For example, a luxury brand is less regularly exposed (we didn't say "never") than a telephone/internet operator, a retail chain, a food brand, and an airline.
You should therefore look at the 4 indicators on your reputation and/or crisis monitoring dashboard: audience, volume, reach, and interactions.
Indeed, a few hundred negative conversations emerging from accounts with little influence (or even bots) may have less impact than a dozen messages emanating from a handful of social accounts of influencers, important media, or opinion leaders. Hence the interest in translating any volume of conversations in terms of audience (cumulative exposure to messages on different media) but also estimated reach (people potentially exposed to messages). It's also necessary to look at the interactions around a message, or during a given period.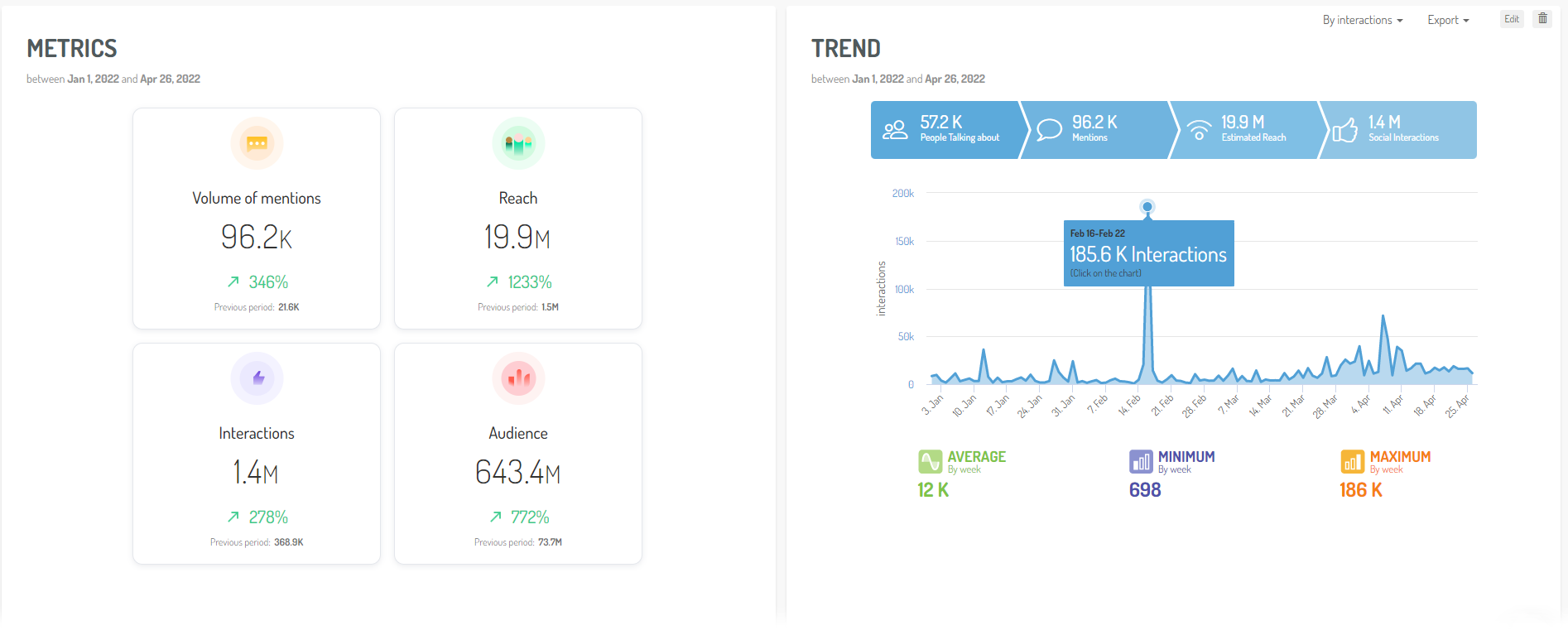 Dashboard for monitoring conversations with indicators of volume, reach, audiences,
interactions and numbers of transmitters for an airline company
II. Feelings and emotion
1. Feelings about your product and your competitors
Sentiment analysis is essential to determine whether spikes in discussion about your brand are triggered by a well-received campaign, an exceptional customer experience that has gone viral, a complaint, a negative review, or incident that your organization needs to rectify or communicate about.
To get a thorough understanding of brand sentiment and what it means, you should :
Compare the share of voice (SOV) between positive and negative messages
Determine the net sentiment to get a fair impression: the difference, over a given period, between the volume of positive mentions and the volume of negative mentions
Monitor the evolution of net sentiment over your reference periods (crisis, campaign...)
Identify who is expressing what kind of sentiment; are customers simply complaining about a secondary experience or is a group of activists mobilizing to get attention on social media?
Compare feelings towards the brand before, during, and after the crisis; has the controversy died down, and have users forgiven your brand for the incident?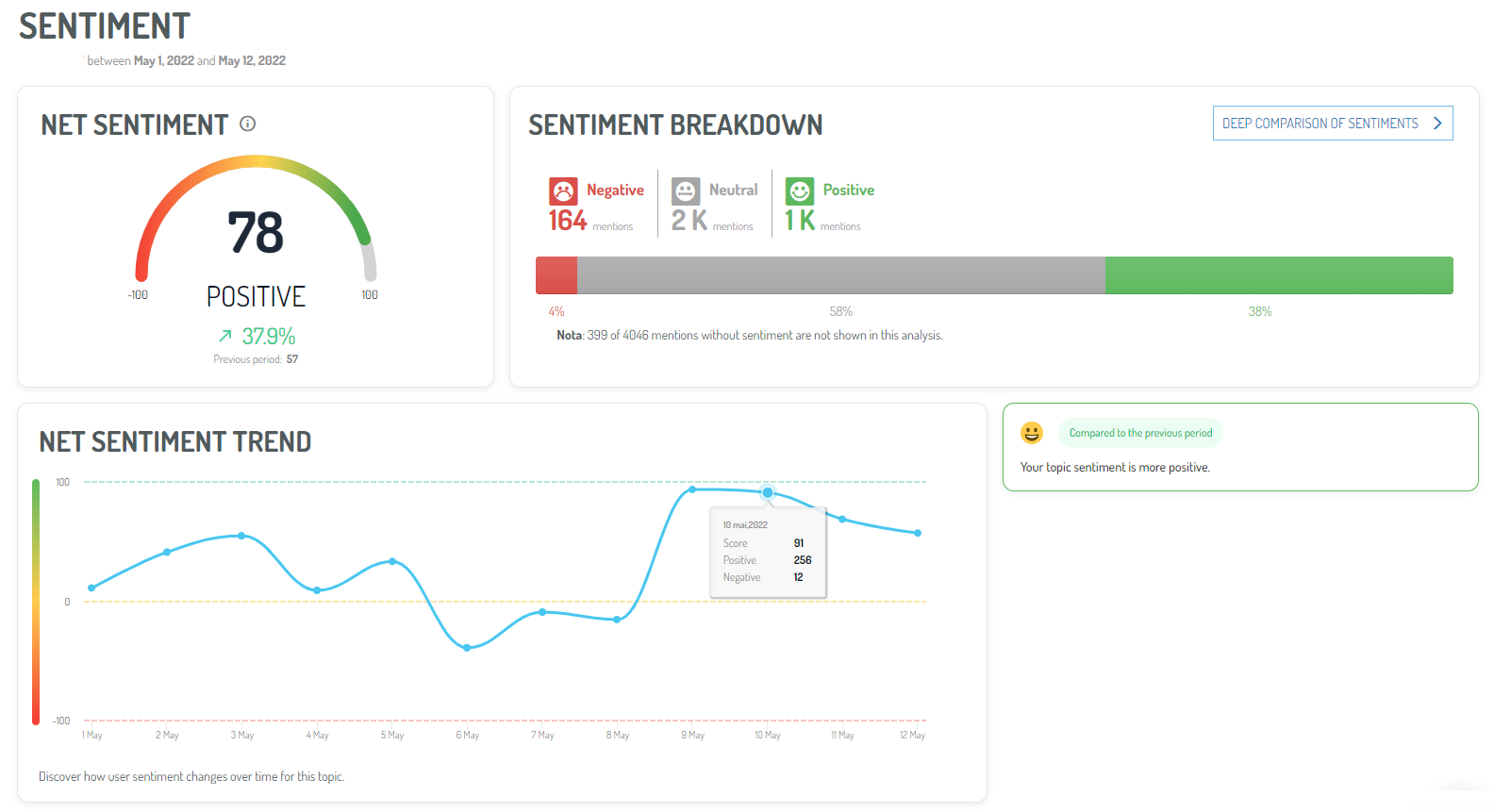 Net sentiment monitoring dashboard. After a bad buzz, the net sentiment of this brand
again moved towards positive indicators
To get a more holistic view of your brand's reputation, you can also benchmark yourself against your competitors to see where you really stand in terms of consumer perception. If your brand is poorly positioned in this aspect, it's a sign that the crisis has had a negative impact which means your PR and communications team should certainly react. You should also segment and compare sentiments by product or service dimensions as accurately as possible (e.g. reception, waiting time, luggage, punctuality, comfort, food, etc.).
2. Emotions
Beyond negative or positive feelings, which can be abstract as the range of feelings towards a brand can be so complex (rational criticism vs. emotional outrage for example). It is necessary to analyze the spectrum of emotions associated with your brand and its evolution.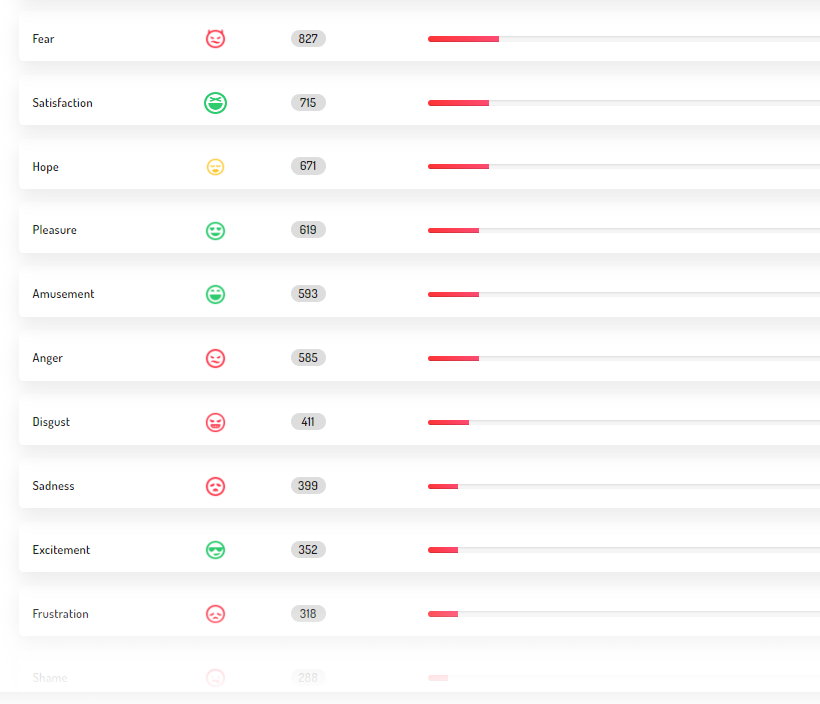 Emotions associated with airline services
Sentiments, their evolution, their benchmark with competitors or with other criteria, emotions... There are still emoticons (emojis) to be analyzed to complete the registration of the perception of your brand.
The use of emojis
Emojis are used massively in social media posts and messages (e.g. Facebook announced an average of more than 5 billion emojis sent every day on Messenger). They are a crucial aspect of how we communicate with our friends and talk about different trends and brands. For Generation Z, it is a key aspect of product and brand feedback that needs to be analyzed.
Emojis are subject to interpretation and are therefore not as simple as they may seem. Therefore, you should not only look at the best emojis used but also analyze how they are used. This is important to determine exactly how people talk about your brand. An emoji that cries with laughter is positive for certain age groups. So the same emoji, depending on the type of sender and the situation being commented on, can have different meanings.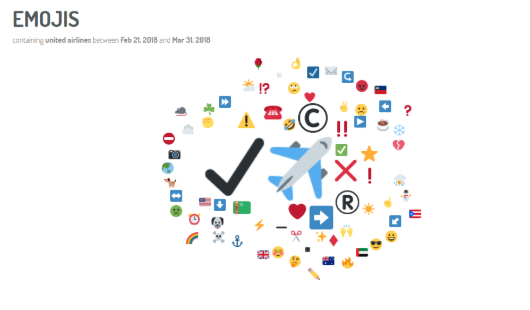 The most influential emojis during the second United Airlines crisis
was used to highlight criticism of the airline.
Although the Tick emoji usually has a positive connotation, we can see that it represents in the critics' messages all the boxes UA ticked in its failures ✔✔✔ , including past fiascos involving the forced ejection of a passenger the previous year. People also used the symbol to ask others to share their negative opinions on Twitter.
III. Criteria and sensitive issues
To anticipate a crisis or a strong propagation, it is necessary to consider certain subjects with a strong potential for crisis.
Examples of sensitive topics:
Everything related to ethics and, more generally, to the values of governance and civic commitment of an organization (company, association, administration):
Abusive working conditions
Animal testing involved in product development (and animal cruelty)
Management and employee values undermined
Human-related issues such as health or human dignity
Issues relating to forms of discrimination: sexism, racism, religion
Real or perceived unfairness to consumers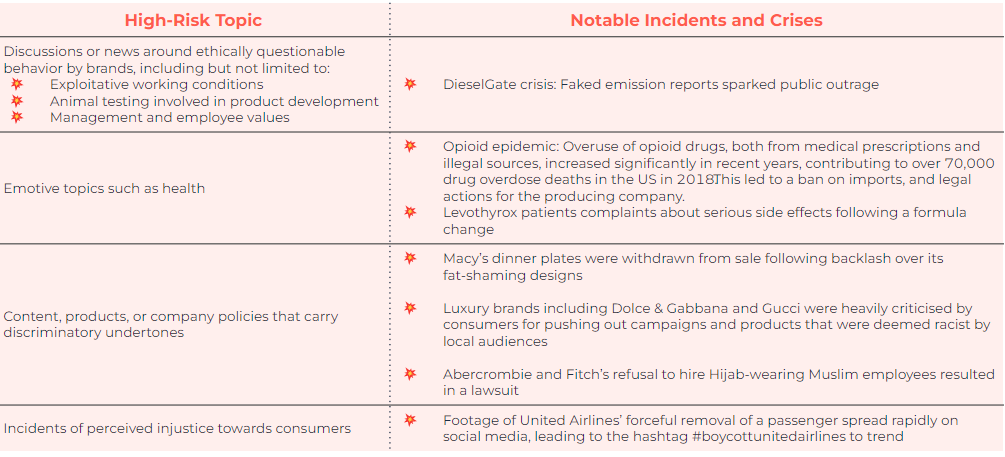 Sensitive topics that can lead to a crisis. Source: 20 Social Listening Strategies for Crisis Management
If a leader, executive, or public figure touches on any of these topics, be cautious because it could be a slippery slope. A single sentence can set the world on fire. This is what happened to an entrepreneur running a successful food supplement company in early May 2022.
Interviewed for a podcast dedicated to the company, the director complains about the difficulties of recruiting trainees, whom she finds very difficult to find. One remark made internet users jump: the director criticized trainees who can only work 35 hours, judging that "in the world I live in, if I don't work 80 hours a week, there is very little chance that I will have a flat, a second home".
His statement unfortunately ticks the boxes of the above-mentioned sensitive issues related to the working conditions and values of management and employees.
The results: a bad buzz that was as sudden as it was brief, with more than 63,000 tweets over three days, often humorous, with diversions and parodies (proof that the subject is making an impression), and then, unfortunately, "ordinary" aggressive messages on social networks. Not only did the director's statements create negative conversations online, but there were also thousands of negative reviews on Google My Business pages. The declarations of the director, therefore, have a very strong echo and, if the peaks of tweets will ultimately leave relatively few traces, the opinions on Google web pages and press and blog articles are more problematic in the long term.
This extreme example shows that every organization needs to analyze and dissect all the dimensions (drivers) that make up and can make or break its reputation. This is to limit as much as possible written or oral statements, unfortunate speeches, or potentially offensive positions. And then there is common sense: announcing publicly that you are seeking to depart from the legal rules on working hours can never lead to anything positive.
Let us return to the airline crisis. Among the criteria for satisfaction, dissatisfaction, and therefore potentially sensitive for the customers of this European airline, the subject of punctuality (timeliness) is by far the most discussed. Of course, given the variety of discussions on social media, you can analyze hundreds of other criteria of your choice, related to reputation, products, and customer service for example. You should therefore collect and analyze consumer opinions and customer insights as quickly as possible, in real-time.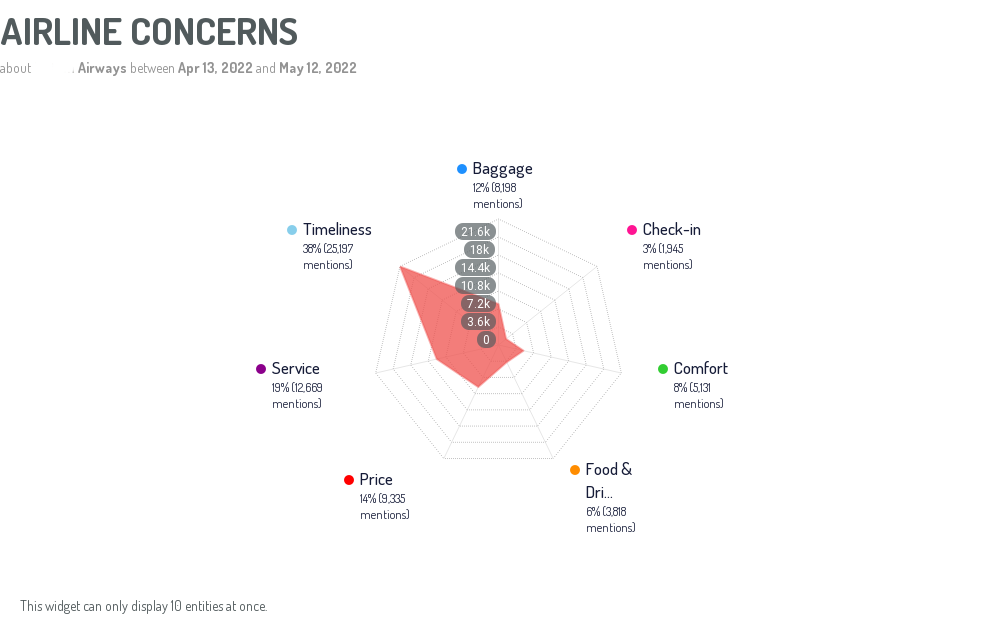 Analysis of the most discussed service criteria on social media by airline customers. Via Digimind Social
If we consider that the subject of punctuality is by far the one that generates the most negative feelings for this airline, it's obvious that any statement made by managers and executives on this subject will be scrutinized and commented on by customers via emotions, not necessarily rational ones.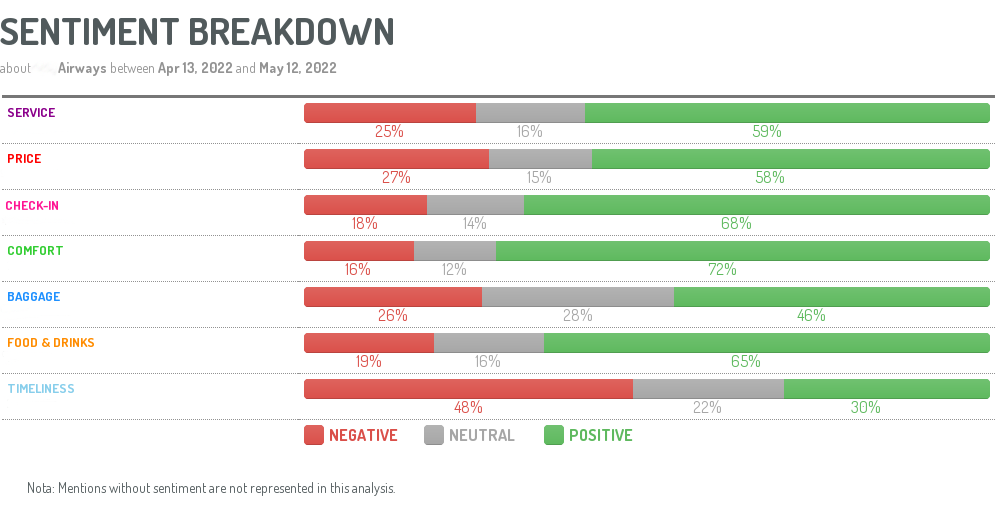 Sentiment analysis related to the most discussed services on social media by airline customers.
Monitoring your brand's reputation after a crisis
Internet users rarely "forgive and forget" and in the age of embedded social media in your pocket, new incidents can look like mistakes made by a brand. Analyzing consumer perception is important to preserve your brand's position with customers in the long term.
It is important to continue monitoring the impact of the crisis after the first wave of discussion has ended. Consumer sentiment analysis can help brands calibrate post-crisis strategies by :
Determining whether your brand has fully recovered from the crisis
Identifying customer concerns in the short, medium, and long term
List of drivers and sensitive issues for your brand and company
Creating targeted and personalized communications to address these concerns.