How to Get, Analyze, and Use Consumer Insights from Social Media
A holistic consumer insights strategy should attain and analyze data from multiple sources such as focus groups, surveys, website data, sales data, and social media. This article will focus on social media as a source for consumer insights due to its omnipresence, dynamism, and complementarity.
The ubiquitousness of social media has enabled consumer discussions to spread and evolve, adding a new channel of valuable insights for brands. With millions of discussions happening across social media networks in real time, the potential of listening to your consumers on social media cannot be understated.
Detecting and analyzing consumer insights from social media enables marketers to better understand what consumers want. Analysis of behavioral data, for example, surfaces new or unmet needs and preferences, which can be further comprehended through analyzing social conversations.
🤔 Why is it Necessary to Gather and Understand Consumer Insights?
A social insight is defined as a consumer insight from social networks such as Facebook, Twitter, or Instagram. Social insights are obtained by observing and analyzing social conversations about a brand, product, or even an unmet need or problem.
Detecting and analyzing consumer insights from social media enables marketers to better tackle these issues. Analysis of behavioral data, for example, surfaces new needs and preferences which can be further detected through analyzing social conversations.
The analysis of consumer insights is, of course, one of the many possible uses of social media intelligence.
Omnipresent
Consumer insights are ever present not only in structured platforms like review sites and forums, but also throughout social media networks. Therefore it is necessary to analyze online discussions across multiple sites, social media, as well as through data gathered from search engine keyword trends associated with your brand and products, to get a more well-rounded understanding of your customers' attitudes and perceptions.
Dynamic
Aside from its omnipresence, consumer insights are also ever evolving as internauts post actively about their opinions and experiences online.
Furthermore, these insights are widely read by other consumers throughout the purchase journey. A survey by Podium revealed that 82% of consumers read reviews before making a purchase decision, suggesting consumers trust peer reviews.
In another study by Kantar TNS, at least 50% of internauts aged 18–24 years old shared photos of their food, while 39% of women aged 18–35 years old shared their opinions on F&B brands and products.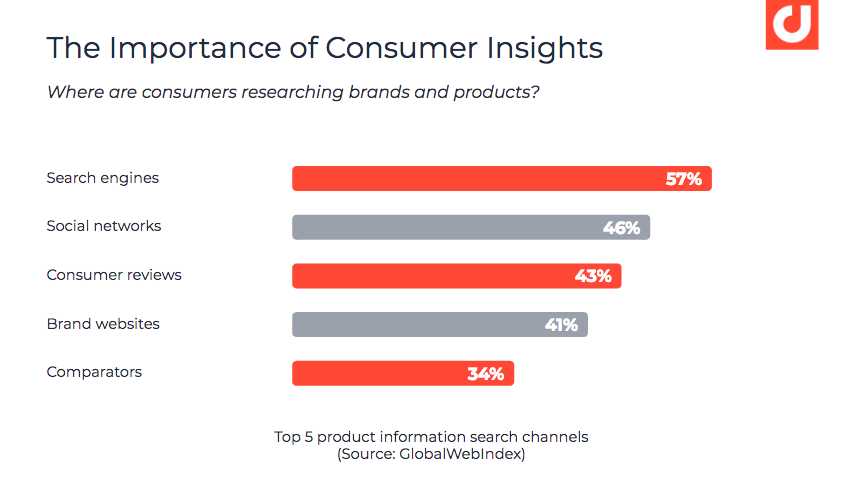 With consumers typically turning to search engines, social networks, and customer review sites like TripAdvisor and Yelp during the research phase, it is important to actively monitor these channels via a social media listening tool.
Complementarity
Another factor that reinforces the importance of collecting consumer insights, is its complementarity with "traditional" market research. Contrary to popular belief, the analysis of social insights and market research are not opposed; but rather, complement each other perfectly.
Market research allows an analyst to answer specific questions and give their opinions. Consumer insights from social media allows them to capture what a brand's key customer uses, consumes, and purchases. Specifically, the spontaneity behind messages posted allows analysts to contextualize user generated content through the geolocation, products mentioned, visuals, comments, and hashtags present.
💰 The Key Benefits of Consumer Insights
Consumer insights help you:
Understand customers' expectations and behaviors through gathering and analyzing key discussion topics and interests on the web and social media.

Avoid additional costs of consumer studies or focus groups by helping to give an initial direction to such projects

Collect spontaneous information in real-time

Improve user experience through intelligence collected at various stages in the customer journey

Multiply opportunities for analyzing and optimizing campaigns, product development, and adapting your company's offer
We will explore these benefits of collecting and using consumer insights on social media through 10 concrete examples.
🎯 10 Proven Ways to Use Consumer Insights from Social Networks
#1. Identify Consumption Habits to Optimize Communication
Listening to consumer conversations allows marketers to get a better understanding of consumption habits. A study conducted by Digimind for the packaged snacks industry in Asia Pacific, France, and Latin America, found desserts made with biscuit brands, or recipes featuring them as ingredients, were the leading topics for consumer discussions and user generated content. Based on this trend, marketers for packaged snack brands can focus their communications and offers around recipe centric topics.
#2. Understand Consumer Communities to Improve Targeting
To better understand consumer trends across 180 markets, a major international alcohol brand monitored 30 entities (vodka, beers, whiskeys) on social media. This allowed them to collect accurate real-time insights on consumers' consumption preferences by country, alcohol type, and flavor according to behavioral and local criteria.
After launching a new type of whiskey, the marketing team realized that 63% of conversations stemmed from the vegan community, and only 20% of discussions included the gluten-free offering. This allowed them to better target the product based on their understanding of expectations in a potential new customer segment.
#3. Exploit Consumer Feedback for Product Optimization
A leading provider of driver assistance and geolocation services monitors discussions around its products online. In addition to measuring brand reputation and product sentiment the company also wanted to improve their product features. Monitoring consumer opinions on social media enabled the brand to optimize product specifications by analyzing the most discussed features of their current lineup on social media, and user demographics.
Following this, the marketing team benchmarked their competitors' products to identify the most popular features to adapt and improve their own offerings.
The main challenge was to filter out "noise" from social chatter in order to understand the actual use of specific functions to inform product development priorities.
Using findings from social discussions, the company developed and launched a a new product that included the return of physical buttons instead of a purely touchscreen device, and a permanent speed limit display on the screen.
#4. Capture Opinions to Renew Communication
A major international group of alcohol brands sought to integrate consumer opinions and interests expressed on the web and social media into future marketing campaigns.
In particular, the group monitored social media reactions to current political events to understand what news topics received the most attention from their audience, the sentiment for each story, and specific keywords or phrases frequently used by their audience. Using Digimind, the group identified Russia (including their collusion with President Trump) was a hot topic that stirred negative sentiment amongst North American consumers.
The company's portfolio contained vodka brands that are perceived by consumers as Russian, when they are in fact produced in the USA. This data led the marketing team to formulate a communication campaign with the claim, "Made in America. But we would be happy to talk about our ties with Russia under oath". As a result, that vodka's online share-of-voice increased from five times to ten times within one week of the launch, compared to daily averages.


#5. Understand Moments of Consumption to Adapt Offers and Communications
At least 25% of F&B brand related discussions center around the "moment" of consumption. Internauts often share the time and context of their consumption, such as breakfast, snacks, etc.
Capturing such insights allows brands to:
Better understand consumer profiles

Identify associated products to adapt content and offer

Integrate targeting strategies, or even adapt offers and packaging to consumption trends and contexts
#6. Evaluate the Purchase Journey to Improve the Customer Experience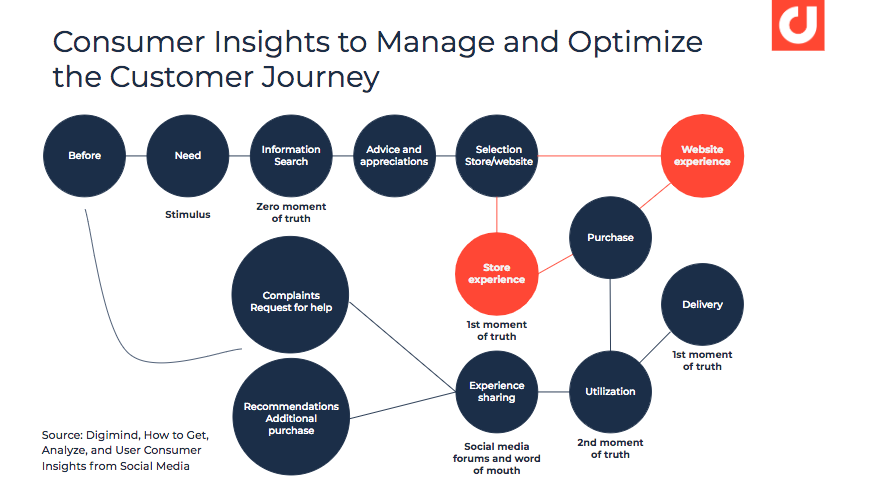 Consumer insights can help you understand the different steps of your customer's journey.
Social media listening tools such as Digimind Social allow you to capture consumer insights and organize them by major stages of the customer journey, specific to your sector of activity.
#7. Benchmark Against Competitors
Social media insights can also be used for benchmarking your brand against competitors. Knowing your company's position and performance in relation to competitors allows you to develop more effective business strategies.
It is essential to capture both quantitative and qualitative data on your competitors, so you can compare product performance and brand perception across your sector:
Drivers of satisfaction and dissatisfaction towards your products

Consumer sentiment towards your competitors or a particular type of product
Prior to the launch of a new insurance product, a European insurance company listened to and analyzed opinions of Internet users around similar contracts offered by their main competitors. Complaints shared by a large number of Internet users about certain clauses and practices were collected and identified. Using this insight, the company was able to modify their contract, avoid the mistakes made by their competitors, and attract customers with a differentiated offer.
#8. Identify New Influencers
A manufacturer of high tech products and computers developed a range of products designed for passionate gamers seeking an optimal gaming experience. The brand listened to the local gaming community in each key market to detect potential influencers.
At the start of the social listening project, the marketing team realized, through analysis of conversations between players and enthusiasts, that many communities had migrated from video publishing platforms like Youtube and Vimeo, to live streaming platforms, namely Twitch. To keep up with this trend, they invested more efforts in live streaming platforms and related influencer marketing campaigns. The company then used these influencers to push major gaming events like eSports tournaments.
#9. Collect Insights on Trends to Nurture Creation and Content Marketing
One of the key outcomes of a marketing and communication strategy should be to connect a brand with consumer trends, by capturing and analyzing them. A trend watch first goes through a macro level, where it is discussed by think tanks, consulting firms, institutes, and opinion leaders. Then as we get closer to a micro analysis, to identify lifestyles, behaviors and consumption habits of specific communities, the analysis of the messages carried by the appropriate influencers, in these groups, is necessary.

The creative and content managers of a leading consumer technology brand wanted to access the latest trends amongst millennials, such as lifestyle, fashion, and food. They needed new ideas to bridge technology and other popular trends. To do this, they listened to conversations of 500 qualified influencers, and analyzed trends around their posts. The company used this pool of new ideas to feed its "fashion tech" trends and propose new content strategies for campaigns (wearable technology, virtual reality, etc.) in order to increase the brand's visibility with targeted online communities such as fashion.
#10. Optimize Campaigns
A major consumer technology manufacturer was looking to launch a new gaming technology. However, numerous challenges abounded for their entry into a new market, such as perception of the technology in question as a toy rather than a real application. To optimize the launch, the brand gathered data on trending topics, interests, and influencers, and analyzed consumer sentiment around the initial launch, with the goal of tailoring messages to their target audience and the press to adjust public perceptions. It was important that these new messages were backed by social media data to define relevant trends, and deliver the right message to consumers.
The company therefore listened and analyzed consumer insights to:
Determine how the product was perceived by the media, fans and different communities

Develop content, targeting, media buying, PR / communication strategy

Identify key opinion leaders and influencers with the greatest reach, to collaborate with

Identify promising trends around the gaming genre to align and amplify communication
🍰 In Summary
Considering the abundance, and real-time nature of consumer insights on social media, brands can no longer afford to ignore this treasure trove of information. Integrating data into your marketing strategies, and distributing relevant insights to non-marketing departments such as product development and customer experience, is equally critical for companies to truly adopt a data-driven mindset.
To see how you can gather and apply these insights for your company, schedule a free demo with our social listening experts!
Melissa is a digital advocate who loves diving into the latest trends in digital and social media. Since joining Digimind's marketing team in 2015, she has written studies for over 15 industries in Asia Pacific. When she is not telling stories about data, Melissa can be found exploring her favourite cafes and hangouts on Instagram @chuepachups.