What Factors Cause Bad Buzz and Crises on Social Networks?
65% of companies who have experienced a reputation crisis say that social media made their crisis more difficult to manage; however, 55% feel social media aided their recovery. How has social media impacted the spread of bad buzz or crises? This article focuses on factors that can promote the outset and spread of bad buzz into a crisis.
While it is impossible to predict the content, scale, and evolution of an entire crisis, it is possible to identify factors that rouse social media crises by understanding what subject matters are potentially sensitive, as well as what other factors can impact the spread of news.
1. Sensitive Subjects
Here are a list of the most common topics that constitute a high crisis risk to your business:
This list is non-exhaustive. If there are any other points you think should be included, leave us a comment below!
Nearly 60% of marketing managers globally have been involved in crisis communications management around sensitive topics. Topics that they most frequently dealt with include: income gaps, data security, and sexual harassment (1).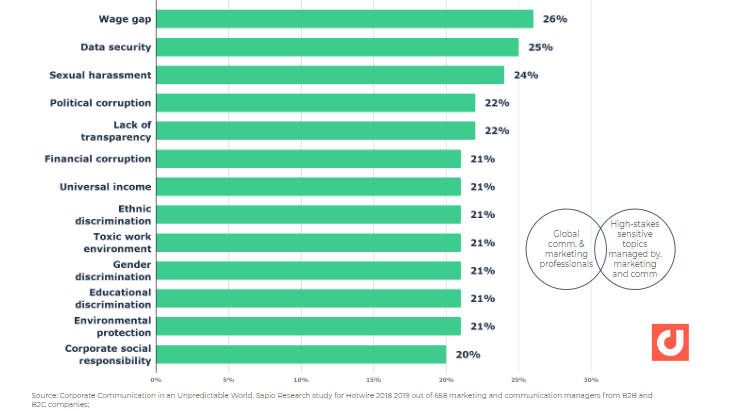 ↑ High-stake, sensitive topics managed by marketing and communication managers
2. Propagation Factors: What Criteria to Examine
Handling a crisis can prove stressful, especially having to rapidly deliver accurate information to top management to allow them to take strategic actions.
7 criteria to keep note of when dealing with a crisis.
Time Period

Brand and Company History

Visual Media

Brand Status

Media Pick-up

The Source

Additional factors
Time Period
Depending on the situation, holiday periods can either neutralize or amplify a crisis. They can be beneficial in mitigating bad buzz due to the lack of public and media activity. Conversely, they can negatively impact the situation by highlighting subjects that would have otherwise gone unnoticed (e.g. Black Friday Walmart Stampede)
Weekends and Friday nights can also be sensitive days in the event of a crisis. The absence or smaller number of customer service representatives and decision-makers available, combined with the increased availability of consumers, encourages bad buzz to spread and a crisis to break.
Brand and Company History
If a brand regularly encounters bad buzz or crises, the media and public tend to place the company "under surveillance". The slightest deviation from satisfaction would be scrutinized and potentially brought to light much quicker than it would with other brands (e.g. United Airlines, H&M, etc.).
Visual Media
Although not always the case in the spread of bad buzz, photos and videos facilitate viral spread due to their ease of comprehension, visibility, and emotional reaction. (e.g. video of United Airlines dragging doctor, Watergate scandal)
Brand Status
Being famous is a double edged sword. While it helps with brand awareness and consumer trust, it also leaves little room for errors. When a renowned consumer brand encounters a slip-up, major news outlets are more likely to pick up the story in comparison to a slip-up by a lesser-known brand.
Nevertheless, this does not mean smaller brands should not have a crisis management strategy in place. Nowadays, with user-generated content and reviews so widely available online, B2B or small B2C brands can experience a negative testimonials transform into bad buzz.
Media Pick-up
Sometimes bad buzz develops into crises only when picked up by mainstream media or influencers, as they ensure an increase in reach and therefore visibility on the topic.
In the case of the Levothyroxine crisis, it took two months before the crisis ensued in August 2017. Negative reviews about the formula had been earlier confined to specialized health media, Facebook groups, and health forums such as Living without Thyroid. However patients started a petition against the side effects of the new formula on exchange.org. These petitions were picked up and reported by several regional news sources, causing the floodgates to open.
The publication of news on different types of media can also encourage the development of buzz:
Online media known for their interest in bad buzz (e.g. Huffington Post)
Investigative media (e.g. CNN, FOX, NY Times)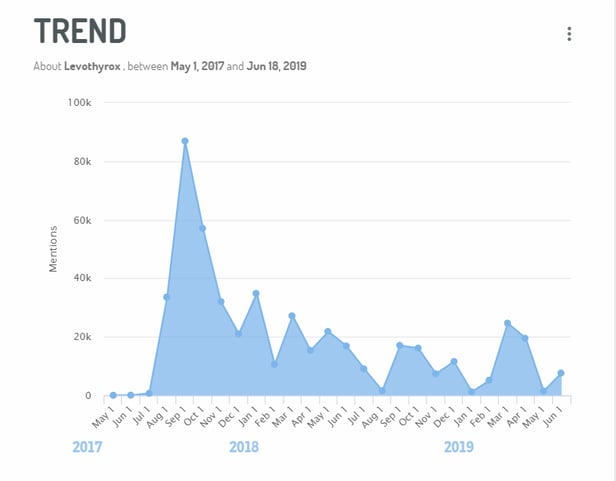 ↑ Evolution of mentions on the web and networks -Facebook, Instagram, Twitter-about Levothyrox over the last 24 months (via Digimind Historical Search)
The Source
Audience size plays a large part in the speed that news spreads. The number of readers or followers a publication or influencer has will largely impact the reach of their statement. This is especially true for bad buzz.
If the initiator of bad buzz has a large audience (several tens of thousands of subscribers), or if a macro-influencer weighs in on a topic (via visuals for example), the news will most likely be shared faster and with a stronger impact.
Additional Amplifying Factors
Having a crisis response strategy is a critical factor for crisis management. In an age where the consumer opinions and voices are stronger than ever, tone-deaf responses from organizations can further inflame a crisis. Such instances include: the use of legal services against the person complaining, absence of excuses, aggression, silence, or questioning the "victims" (e.g. United Airlines crisis).
Let's take a look at a recent example:
In 2019, Boeing found itself in a crisis after two Boeing 737 MAX airplanes, one of their newest aircraft models, crashed minutes after take-off, taking the life of all passengers and crew on board. The second crash occured on March 10, 2019 in Ethiopia, 5 months following the first. The fact that this second crash was equally tragic, made waves amongst citizens around the world, and raised questions about the plane's safety. This resulted in numerous airlines around the world grounding 393 Boeing 737 MAX aircrafts, and more than 40 countries banning the 737 Max from their airspace.
This crisis relayed over social networks and websites globally. Using Digimind's Historical Search, we can analyze the media breakdown, influencers, and sentiments of the crisis.
The media breakdown below shows a comparison between the top media channels by audience and mentions. In this example, although Twitter has the most mentions, TV has the largest potential audience. This means that focusing your crisis management efforts primarily on Twitter might not prove strategic.


Having an overview of who is talking about your crisis is critical. It will not just help to identify detractors, but also anybody who is supporting your brand throughout the crisis. The chart below shows mentions about Boeing 737 on key channels in the US by interactions, so you can see whose posts and articles are gaining the most traction amongst audiences.

At the same time, having a comparison of sentiments across time, allows you to see the impact of a crisis on your brand reputation, allowing you to stay alert for bad buzz. This will also be helpful to aid with post-crisis evaluation so you can determine how long it takes for your brand to recover from the crisis.

Want to prepare yourself for a potential crisis situation? Book a demo to leverage insights with our Digimind Social tool.
(1) Corporate Communication in an Unpredictable World Sapio Research Study for Hotwire 2018 2019
With a background in consumer economics, marketing, and international business, Alina is a Digiminder passionate about global market insights. In her free time, you can find her reading historical fiction or re-watching old star trek episodes.