How to Measure Your Online Brand Reputation?
Online brand reputation is the image of your company seen by the internet users. Various factors like online reviews, consumer forums, news articles, social behavior, and visibility in search results impact your brand reputation.
Creating a positive brand reputation helps you build trust with your audience and boost your profits. People will pay 22% more for certain products if the company has a good reputation. That's why it is crucial to track and manage your online reputation effectively.
By the end of this guide, you will better understand how to measure your online brand reputation. Let's have a closer look at which metrics to track.
1. Online customer reviews
Customer reviews have a major impact on consumer trust and brand credibility. A survey by Podium found that online reviews impact purchasing decisions for over 93% of consumers.
That's understandable. One of the first things we do when researching a company is read consumer reviews. People will form an impression of your brand based on what they encounter.

Negative reviews will cause you to lose customers, while positive reviews aid customer acquisition. It's such an important part of the purchasing process that most large eCommerce marketplaces make reviews a core part of the product page. They often include reviews on the checkout page too.
Etsy, a global online marketplace, displays customer reviews on every product page. Additionally, they allow users to click on a thumb-up icon if they find the review helpful.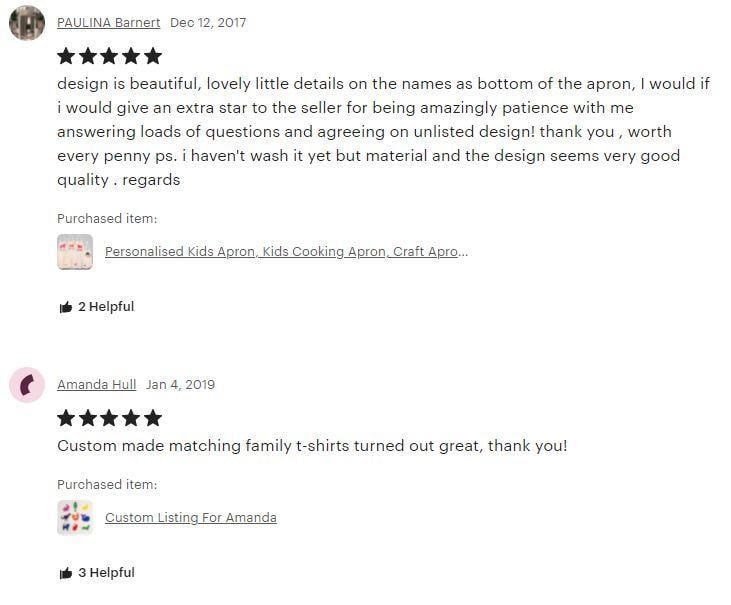 You need a system in place to monitor and respond to customer reviews. You should:
List places where you are collecting reviews
Create templates for responding to positive and negative reviews
Nominate a person in the company to monitor and respond to reviews
Put a system in place to address negative reviews
Design a system that incentivizes happy customers to leave reviews


A system like the one listed above will help you monitor and act on customer reviews.
Or alternatively, you could use Social Listening. It helps consolidate all the reviews in one place and categorize them based on the sentiment, key topics, key influencers, and a lot of other things. It saves a lot of time so you can just focus on the actions you wanna take based on those insights.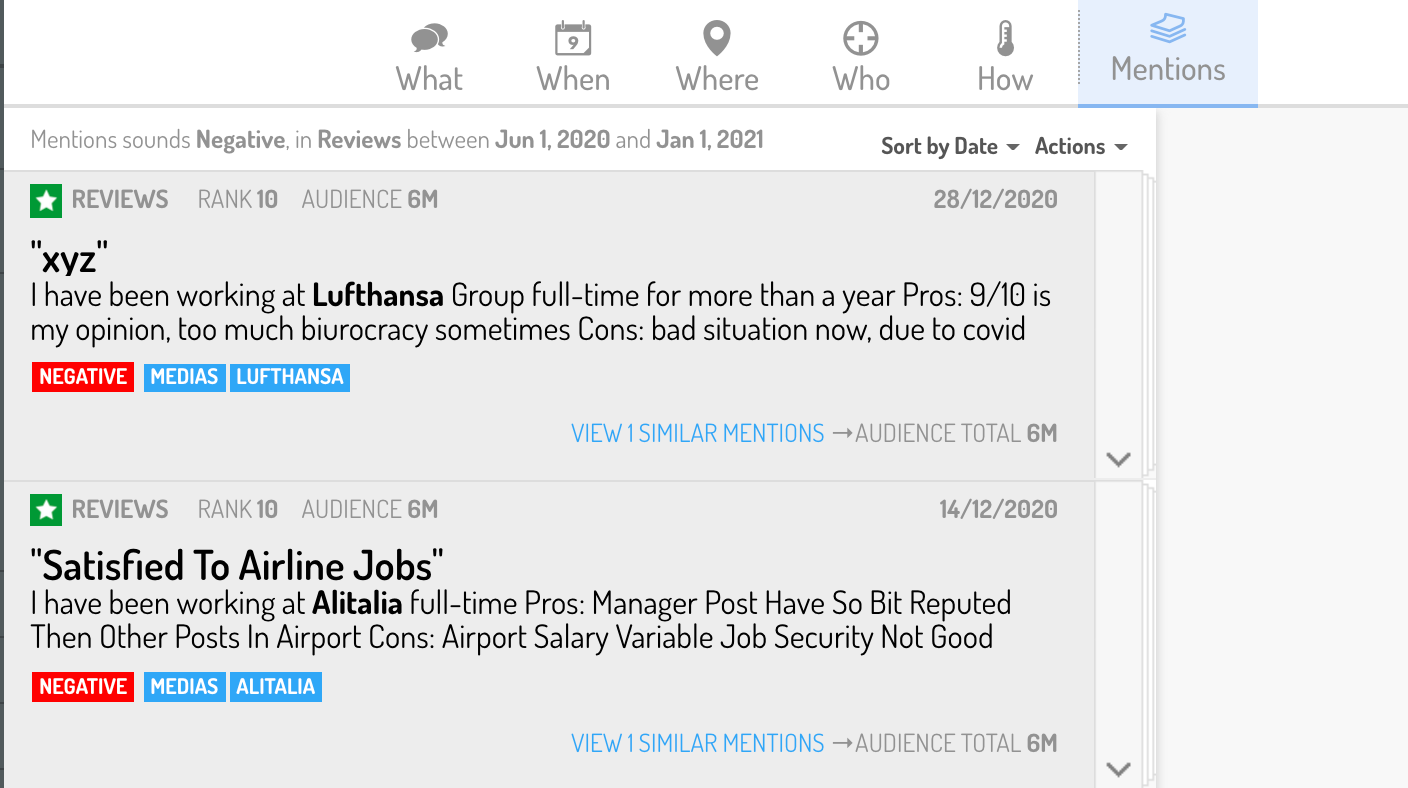 No matter what kind of review you are getting, always thank the person. Responding to positive as well as negative reviews is important. When dealing with a negative review, always be polite. Make sure to address the underlying issues that people highlight too.
You can use the Google Alerts tool to keep track of brand mentions. Paid brand monitoring tools will help you do this. Aside from using Google Alerts and monitoring Yelp and other review pages, use social media monitoring tools for social listening.
2. Branded search
A branded keyword, or a branded search, is any query through a search engine that includes your company's name. In other words, a branded search includes your brand name as part of it.
Ideally, your branded search results should be consistently increasing over time. The sentiment of those branded searches should be positive as well.
The easiest way to monitor your branded search results is with a tool like Google Search Console. In Search Console, do the following:
Press on "Performance"
Select "New" from the top menu
Select "Query" and add your company name
Choose "Queries containing"
Review the results and search volumes in queries


The screenshot below shows the first part of this process.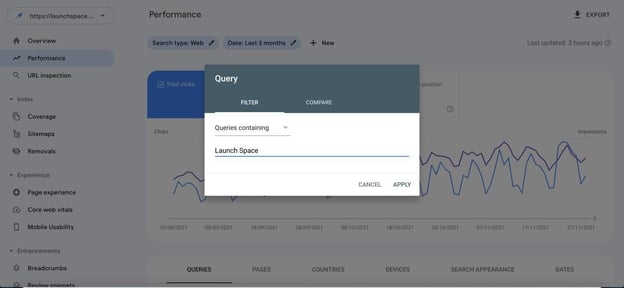 The screenshot below reveals the branded search results for Launch Space.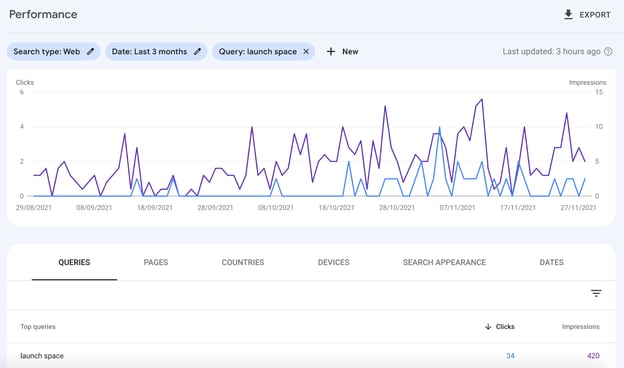 Monitoring your branded search results reveals how many people search for your company and what search terms they use. You can use this data to gain insights into the brand associations your audience is making.
Here's an example of branded search results for Levis in the US.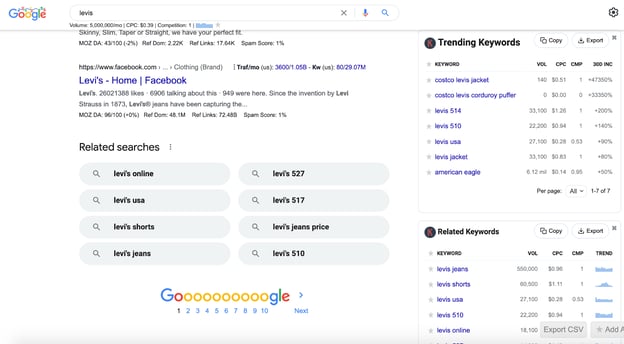 The screenshot above reveals the types of branded terms people are using. You can see from that list, popular items the company sells that people want. That's valuable information for any sales and marketing campaign.
Understanding what people search for can help you improve the user journey.
For example, you can optimize the search results for the most commonly used branded searches. Here's an example by the retail company Luks, which uses the knowledge panel to optimize the appearance of branded site search results.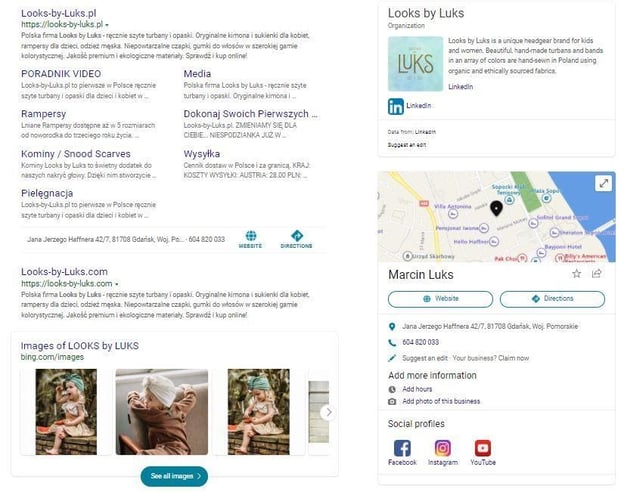 On the other hand, you could optimize those landing pages for customers if you know certain products are getting a high branded search volume. That can help you improve the impression you leave returning customers.
Any negative branded searches need to be monitored and dealt with. You should put in place a similar system for tracking and monitoring branded search results as you use for online customer reviews.
You can also use social listening tools such as Digimind to track branded social engagement. For example, you can monitor how often people use branded keywords or hashtags. By counting the searches for your branded hashtags and monitoring the conversations that use them, you can track the effectiveness of your marketing campaigns. You can also gain valuable insights into customer sentiment.
3. Social media profiles
Consumers are using social platforms more than ever. It's a place to engage, research, and talk about your brand. You must take advantage of that.
One way of monitoring your reputation through social media channels is using social listening tools to track your social reach. Social reach refers to the number of people who search for your company. The basic formula for calculating reach is impressions divided by frequency (reach = impressions/frequency).
Knowing your brand's social reach will help you:
track your social media efforts
measure performance
learn about your social media brand awareness
Most social media platforms have analytical tools for tracking brand mentions and engagement. Here's an example of a weekly performance screen of an Instagram account: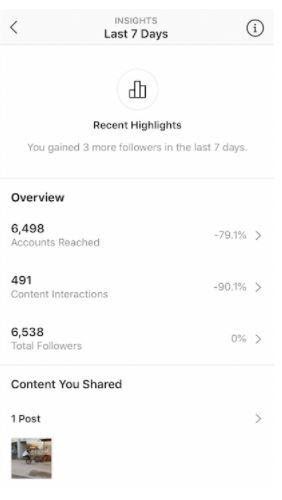 You can also use social listening tools like Digimind to track your social reach. You can also track engagement across different stages of the customer journey. You can use brand monitoring tools to track mentions and measure audience sentiment.
By monitoring your performance on social media, analyzing the data, and acting on those insights, you have a better grasp of your audience's sentiments about your brand.
The most preferred solution is to use social listening and intelligence tools to monitor your own brand social profiles and that of competitors. You can use these tools to discover opportunities to engage with potential leads. You can also discover what people like and dislike about you and your competitors.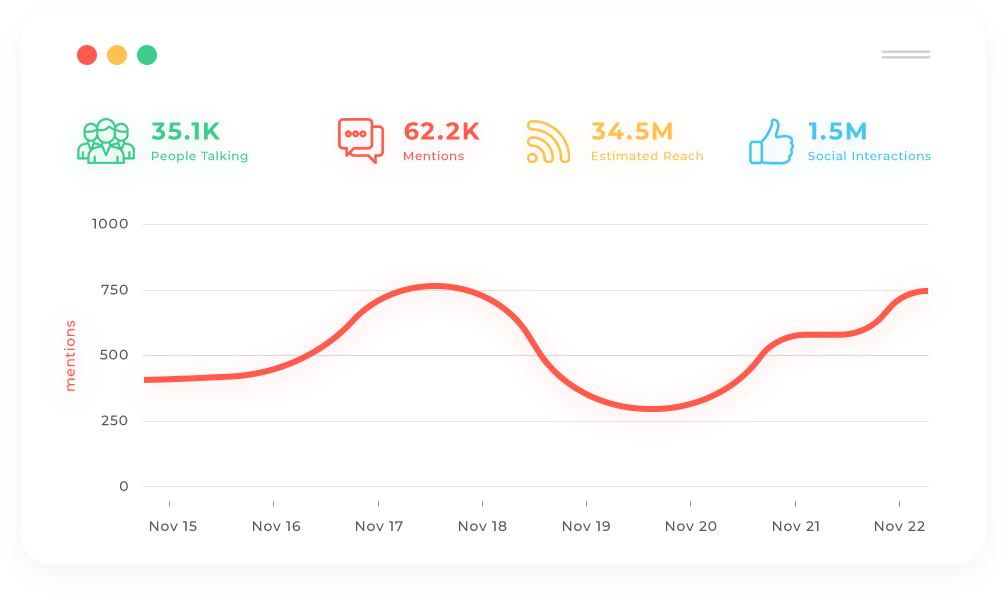 4. Conversion metrics
Your conversion rate can provide some useful insights into your brand reputation and the overall brand experience. Metrics like Customer Lifetime Value (CLV) and customer churn can help you understand your brand reputation.
For example, a low customer churn rate means that most of your existing customers are happy with your service. That would imply a positive brand reputation. The reverse is also true.
Try to gather as much relevant information about your audience as possible. You can use that data to devise more engaging sales and marketing campaigns. To that end, encourage new customers to fill in questionnaires in the weeks following their purchase.
You need reliable information to make good business decisions. To get information, you need to collect data and transform it into a form that you can use.
Utilizing valuable customer data will help your company make better business decisions. If your organization makes heavy use of data, make sure to define relevant data quality metrics.
5. Site traffic
Website traffic is another means of measuring your brand reputation. You should properly segment and track site traffic. One of the most important metrics you want to measure is the number of returning visitors. If you have many returning visitors, you are leaving a positive impression on your audience.
Other metrics you might want to track include:
Traffic sources
Time on page

Bounce rate
A tool like Google Analytics makes it easy to monitor your site traffic data. Again, the idea is to identify trends, either positive or negative. When you identify an issue, you need to put in place a plan to deal with the problem. If you notice a positive trend, you should take more of those positive actions.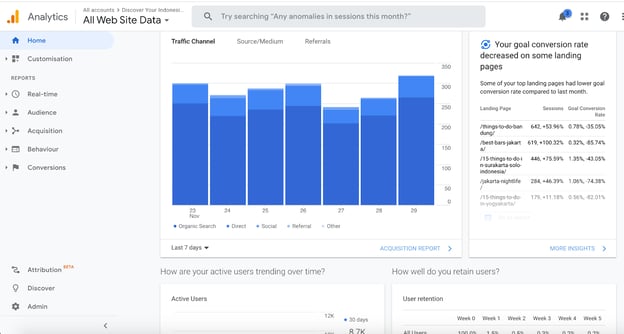 In general, focus on providing information and resources that solve the readers' pain points. Companies that focus on helping their audience are generally rewarded with a positive brand reputation.
In Closing
Putting together a clearer picture of your brand reputation means considering the role of each element that results in shaping and defining your online image. A good online rep can act as a shield against bad reviews, harmful press, and other negative mentions. You will identify and hopefully resolve issues your company faces faster. That can help you manage humps in your brand's development more effectively.
Online reputation should be your top marketing priority. Now you know how to measure it, you'll be able to focus on the right strategy for your brand. Reputation isn't just about making your business look good. It's about ensuring that your business survives among big brands and continues to grow. You should take your reputation seriously and consider it as part of your marketing strategy.
Go on and generate great new consumer reviews. Engage, respond, and share positive comments from satisfied customers. Make your brand's reputation strong and make it spotless.
Banner Image source: https://unsplash.com/@kristianegelund
Nico is a content marketing consultant and the founder of Launch Space, a SaaS marketing and SEO agency. He works with clients that range from Fortune 500 companies to startups providing them with insights that help generate more traffic to their site and increase sales.