Shine on Social: 5 Social Listening Strategies for Luxury Brands in Asia Pacific
Consumers flock to social media to share their opinions and experiences, as well as discover the latest and greatest trends in everything from technology to holiday destinations. For this reason the power of social for engaging customers and gathering consumer insights for the luxury industry cannot be understated.
Furthermore, the evolution into the Empathy Economy has resulted in a seismic shift in the brand-consumer relationship. Consumers demand that companies need to connect with them on an inspirational and emotional level, in order to motivate them to seek out their products. The luxury market is no exception to this transformation.
The luxury market has embraced a digital mindset, with livestreams of key fashion shows and social content becoming a core part of marketing activities. However, much potential remains for brands to further elevate their marketing and communications strategies, especially in the online sphere.
By deploying real-time insights from social media, luxury marketers can elevate their marketing strategies and maintain their online positioning by:
Creating a 360 brand experience by bridging online and offline channels

Evolving store formats and special events

Adapting international launches to local markets

Detecting and managing potential crises

Identifying content formats and distribution channels that resonate well with target audiences
1. Create a 360 Brand Experience by Bridging Online and Offline Channels
A report by Digimind which studied key discussion trends around the 10 most valuable luxury brands, found that consumers are most engaged with a brand on social media when they:
Visit a physical store – flagship, pop-up or concept

See their favorite celebrity appear with luxury products at a red carpet event or on a campaign
By identifying how consumers interact with your brand at various points of the purchase journey, you can work towards delivering a consistent brand experience across different channels to optimize your brand positioning. This is especially so during the purchase and post-purchase stages, when luxury customers flaunt their buys on social.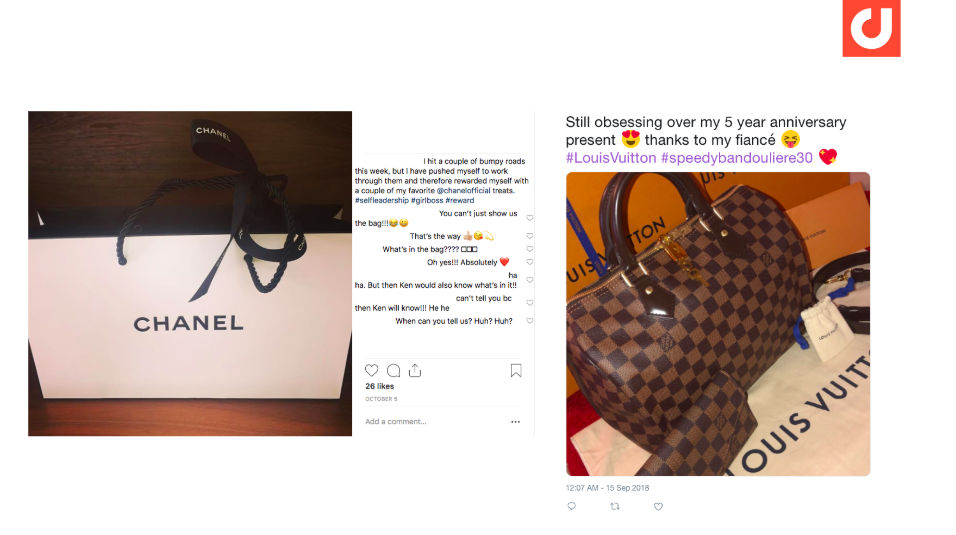 For example, a livestream of a fashion show during Paris Fashion Week, can go a long way in reaching and engaging consumers in other regions with "an exclusive first look". At the same keeping track of comments, shares and likes of looks featured can help the company to understand preferences by region so that they can plan their in-store inventory.
2. Evolve Store Formats and Special Events
By 2024, customer experiences will be the main differentiator for retail brands, ahead of price and product. Store visits are an integral part of the brand experience, especially in Australia and Singapore, where the Louis Vuitton flagship stores turned out to be popular spots for customers and tourists alike.
[video width="1920" height="1080" mp4="https://blog.digimind.com/wp-content/uploads/2019/01/Luxury-Report-LinkedIn-with-URL.mp4"][/video]
Special store formats such as pop-up stores, and event partnerships with relevant partners, are some ways the luxury market can build buzz and reinvent their customer experience. By monitoring consumer discussions, marketers can detect and prioritize key store features, as well as optimize pop up stores and other seasonal activities to create experiences that truly resonate and delight.
Pro tip: Monitor posts tagged at your store locations on Instagram and identify trends in these posts. Social listening tools like Digimind Social allow you to configure dashboards to automatically collect such data.
3. Adapt International Launches to Local Markets
The power of celebrities for strengthening the prestige and appeal of luxury brands in Asia Pacific cannot be understated. In addition to global campaigns, engage local celebrities and influencers to reach a targeted audience in individual markets.
Use social data to identify popular and relevant figures to collaborate with, or invite to your events to increase hype among their fans. In the study aforementioned, Digimind found the appearance of K-pop celebrity Kai (frontman of EXO) appearing at fashion shows, led to fervent discussion in Indonesia and The Philippines.

4. Identify Content Formats and Distribution Channels that Resonate
In an age of fickle-minded consumers and fast changing trends, it is important for the luxury market to retain its position at the forefront of fashion and lifestyle trends. By engaging consumers on an emotional level through well-targeted content, brands stand a higher chance of propelling followers further down the purchase funnel.
Based on Digimind's analysis of luxury branded content, luxury consumers respond well to content that is:
Consistent: Christian Dior, Gucci, Hermès, and Rolex focused their content strategies on images and themes that resonate closely with their followers. For example, Rolex appealed to watch hobbyists on Instagram with their closeup photos of timepieces that were often accompanied by detailed technical specifications.

Curated: Quality, not quantity, is the key to standing out on social. Hermès streamlined their Twitter content strategy, by focusing exclusively on promoting their Spring Summer 2019 collection.

Star-studded: The widespread appeal of international celebrities is not only essential for engaging a brand's own followers, but also fans of the artistes' themselves. Christian Dior curated a celebrity lookbook from their fashion shows on Instagram, while staying on point with their positioning as a prestigious fashion brand.
Pro-tip: Analyze online channels where your online audience are most active, and prioritize those channels for distributing content.
5. Detect and Manage Potential Crises
As Warren Buffet put it, "It takes 20 years to build a reputation and five minutes to ruin it."
Last month, the impact of internauts on luxury fashion house, Dolce & Gabbana came to light. The brand was forced to cancel a flagship event in China and post a public apology due to accusations of racism.
With millions of conversations occurring daily on social media, the impact of social networks and online channels on a luxury brand's perception and purchase journey is immense.
A luxury brand's reputation can be vulnerable to controversies on social media, even if they do not directly involve the brand itself. In another incident, Australian politician Stuart Robert's acceptance of a Rolex watch from a Chinese businessman, was seen as inappropriate. Therefore it is important to detect and manage potential controversies before they escalate.
Using a social media monitoring tool can help brands quickly sieve through countless mentions on social media, to identify and monitor potentially problematic incidents online.
In Summary
With 40% of luxury purchases influenced by a consumer's digital experience, the impact of social media and social intelligence cannot be understated.
Brands now have unprecedented access to rich, real-time consumer insights across various markets. With this power, it is important for luxury brands to utilize social networks as a channel for:
Managing and optimizing brand perception

Extending the brand values and experiences that have stood the test of time

Understanding consumer sentiment, trends, and expectations
Melissa is a digital advocate who loves diving into the latest trends in digital and social media. Since joining Digimind's marketing team in 2015, she has written studies for over 15 industries in Asia Pacific. When she is not telling stories about data, Melissa can be found exploring her favourite cafes and hangouts on Instagram @chuepachups.