How to Effectively Increase Social Media Engagement in 2022
Social media engagement is more than just giveaways, paid ads, and regular postings. It is about understanding your audience and engaging them in ways that have your brand stand out amongst your competitors.
Social media's complicated. You did everything right – created every social media account for your brand, posted regularly, and invested in paid ads – but what is it that's not sticking? Apart from the mild spikes in followers from your seasonal giveaways, nothing much seemed to have changed.
Yes, the aforementioned are great strategies for increasing your followers and mentions, but significant, consistent social media engagement requires much more. Knowing your audience, relating to them, and establishing a community is what truly encourages new and existing customers to keep coming back.
Cue the dramatic music – because herein now lies the ultimate 2022 guide on how to (really) increase social media engagement for your brand.
Aim for an Organic Following
With a myriad of options for paid ads made easily available for businesses, organic reach is on a steep decline. According to Hootsuite, only about one in every 19 followers sees a page's non-promoted content.
Don't get me wrong – paid ads are great for gaining followers and getting your brand out there. Still, organic reach is a great indicator that you have intentional followings, and are hitting the right spots with relatable posts. Having shareable content enables you to connect better and create trusting relationships with your audience. Establishing authenticity into your social messaging ensures a stable base of followers for years to come – ones who will believe in your product or service and help improve your conversion funnel.
Find your Target Audience
90% of consumers who follow a brand on social media are likely to end up making a purchase. However, more often than not, the main difficulty lies in reaching out to the right consumers – consumers that would buy into your product or service.
Having a clear definition of your target audience is essential; knowing who constitutes the main proportion of your consumers is the first key to every great social media marketing strategy. Think about your brand image and the message you want to convey to your audience on social media: is it at all consistent with what your target market would relate to the most?
Here are some guiding questions to get you started:
What kind of an image do I want my brand to portray?
Who does my brand image relate to the most?
Which specific consumers benefit most from my product or service?
To better define your target audience, you would need to lay the necessary groundwork:
This year, we're done with generalities – remember to keep your target audience specific and concise. Create a clear picture of the type of demographics, psychographics, geographics, and personas your brand desires to attract.
Check out our extensive guide on how you can better define and understand your target audience with social listening and market research.
Be on the Right Platforms
Are you on social media platforms that your target audience frequents the most? Many businesses set up an account on every social networking site available in hopes of targeting "anyone and everyone."
While that is one way to leverage brand presence on social media, targeting marketing-qualified leads on suitable platforms gives you the best bang for the buck and ensures that you are channeling your resources into mediums that can generate maximum returns. Place your eggs in the right baskets because you only have so many!
In order to decide on which platforms to be on, first have an understanding of the different platforms available and what best suits your brand based on your marketing objectives and target audience demographics.
Find out which social media platform is best for your business here.
The Type of Content Matters
Now that we've set the right precedents, we're ready to craft a social media strategy.
Sure, get the fundamentals out of the way: create a social media calendar, plan a lineup of original content, and plan to post at optimal timings, but also keep in mind the quality of posts. Focusing on the type of content to deliver is crucial to how great your organic posts and reach are.
Creating meaningful content adds value to your viewers. It could be about advice on getting through day-to-day life or even the smallest icks that your audience could relate to. Consumers on social media are not looking to follow brands that post heaps of content but rather one that speaks to them personally. Your brand should create each social post with the intention to convince your followers on why they should listen to what your brand has to say.
User-generated content (UGC) is another excellent way to recycle your social media mentions and recognize the level of engagement your social campaigns are generating. UGC is original content – in the forms of text, audio, posts, images, videos, reviews, etc. – created and published by consumers on social media. UGC can help propel you significantly and remain top-of-mind amongst consumers, especially when they can't stop talking about you. In fact, 55% of consumers trust UGC compared to other forms of marketing.
eCommerce platform Shopee garnered great engagement by encouraging their consumers to share their Shopee purchases online. Buyers often look to social media for existing product ratings and reviews before committing to a purchase or patronizing an eCommerce vendor. Organically sharing such customer information helped Shopee generate brand-related discussions and significantly increased its brand awareness.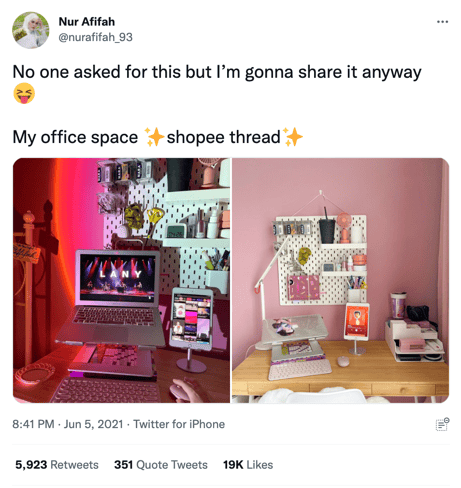 Talk, but Listen More Too
Great, you're posting regularly, but successful social media marketing campaigns also take into account what matters to their audience. Market trends are extremely pliant in today's day and age, and it is imperative that brands listen more so that they can relate to and understand their audiences in kind.
Active social listening is an effective way for brands and marketers to have a more proactive rather than reactive strategy. Being proactive means that you are in line with top trends, keeping up with your competitors, and are involved in conversations that center your audience.
By listening to their audiences first hand, leading brands can receive a holistic understanding of what is important to their consumers and stay resonant with their messaging and offerings.
AI-powered social listening tools, such as Digimind Social, enable you to gain the latest consumer data and insights, check-in on real-time market trends, and be in tune with your competitive environment. The social analytics provided in Digimind Social can help you optimize your content and sieve out vital topics in the social landscape. Generating the right content can help your brand see significant improvements in organic audience engagement and social following numbers.
BONUS: Find out how top consumer brands in APAC maintain and increase their social media engagement with our 2021 consumer insights report.
Involve Your Audience
Create polls, start conversations, and ask for feedback. According to research, 46% of consumers think that engaging with your audience on social media is what makes a brand stand out online. Leverage social media features to engage with your viewers and have them know that their opinions matter to you. By involving your audience in topics that are firstmost important to them, you would build a sense of community and encourage conversations that revolve around your brand.
Don't Just Sell Products; Sell Your Brand
Your product or service offerings are fantastic – but take heed that your brand values matter too. With the social media landscape already crowded with businesses looking to sell the latest or best product, there is warranted concern about what a brand stands for and whether it is worthy of their support and attention. Through social listening, enterprising brands are afforded more data to glean consumer pain points and truly align their values to their own consumers.
Dove demonstrated this profoundly by having American pop icon Lizzo, who passionately advocates body positivity, announce her partnership with the brand. As consumers of the FMCG industry become increasingly focused on redefining beauty standards, Dove was able to jump in on the opportunity to reiterate what the brand stands for and establish brand relevance.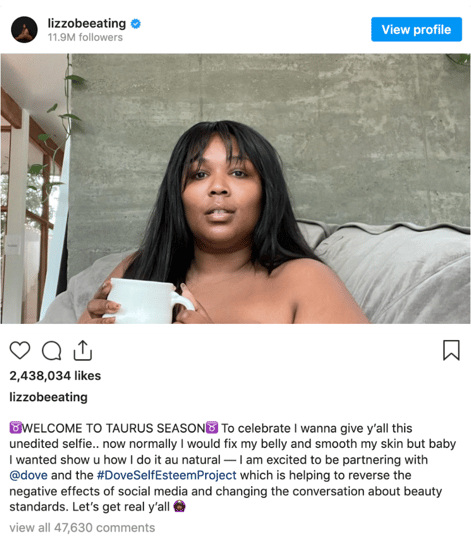 Finding that X-Factor
While posting regularly and investing in paid ads or giveaways are great ways to increase your following, organic social media engagement requires a fundamental understanding of your audience and finding the 'X-factor' that defines your brand. By listening, analyzing, and engaging with your audience, you would get potential followers on the same page and give them a reason to support your brand.
Significant social media engagement is not an overnight success. It requires substantial research, brainstorming sessions, and frequent reviews to perfect your content and brand image online. Businesses need to look to other brands and learn from their progress before implementing strategies that have been proven effective.
This means that a considerable amount of market research and competitive analysis has to be done. Luckily for you, we've looked over the online visibility of 200 brands in APAC in 2021 and collated all of our findings into a topline consumer insights report.
Discover how the different top consumer brands in APAC have increased their social media engagement and explore learnings that could bring forth significant online engagement for your brand in 2022.
Edrea is a member of the APAC marketing team at Digimind. Her fervor towards Marketing Communications has led her to her exploration of MarTech and Social Analytics – a world that could quite possibly tame her wildly curious, extra-extraverted disposition towards all things that tickle her fancy.