Digimind Winter '22 Release: Unlock the past, upgrade your insights coverage with Historical Search, LinkedIn and TikTok Monitoring, and Dead Links Management.
Once again, the season of mistletoe, reindeers, stockings, and Santa Claus is here! As the holiday season comes with the company of a cold winter breeze, we're ready and bundled up for the arrival of Q1. May you be decorating a tree, wrapping gifts, or just cuddling up in a warm, thick blanket, we're here to wish you a joyful holiday season.
Christmas came early for Digiminders this year as we unwrapped several new features in the first half of December. The halls are decked with groundbreaking features that will totally transform the way market research and competitor analysis are conducted. You'll be celebrating non-stop starting from the integration of Historical Search - a new and unique integrated feature to the ability to monitor LinkedIn Company Pages and Tiktok.
Sneak a peek into the past with Historical Search Freemium
Accessing historical data is crucial when you want to research or monitor a new topic. As popular trends come and go, it's difficult to keep up with information that is still relevant to your consumers. Having access to insights from valuable events that happened in the past will allow you to better define the direction of your strategy.

With this in mind, Digimind is very proud to announce the latest release of Historical Search - a unique module that allows Digimind customers complimentary access to the industry's largest social media archive. With Historical Search, you're empowered to search an unlimited number of topics, on any subject and get results instantly!

This game-changing feature will enable you to effectively define new market trends, better anticipate crises and identify influencers on any subject, even the ones you have never monitored before.

This feature is easily accessible from the Listening module, just search any keywords such as brands, products, campaigns, or just any keyword like and benefit from Digimind's comprehensive analysis. You can then conveniently share the insights within your organization with easy export options or save your query for future monitoring.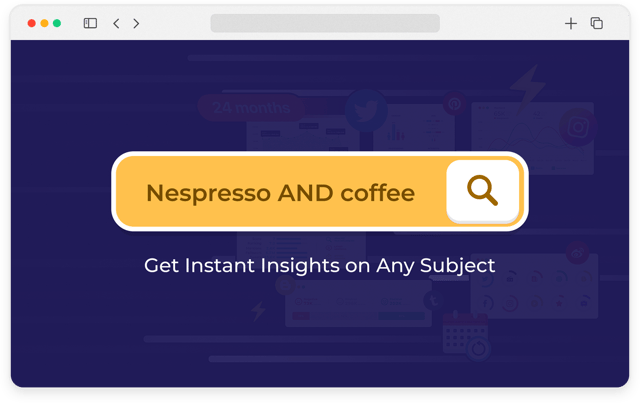 24 months of archived data right at your fingertips!
It's not magic! It's new importable types of media! And to make the user interface more magical, we also equipped Historical Search with a dark mode option. So, you can do your research in whichever lighting you like!
Gain Competitive Advantage with Historical Search Compare



A good marketer knows that success is always relative. Performance should not only be good, but it must also be better than everyone else's. Thus, staying on top of your competitors by tracking and benchmarking your performance against theirs is a must. However, the vast amounts of social media data make it complex to create a succinct comparison of different companies' shares of voice, campaigns and reach.

Historical Search offers a game-changing comparison feature that will allow you to analyze multiple queries simultaneously. Thanks to Compare, you can now easily benchmark different concepts, themes, brands, people, or campaigns in terms of shares of voice, sentiments, the number of mentions, reach, and engagement across different media types or different countries.

Having this in your toolbox gives you the ability to deeply understand your consumers and better segment your products based on their interests and demographics. And if that isn't enough, you can also increase your competitive intelligence by comparing the performance of your competitors and seeing in how and what ways they measure up to yours.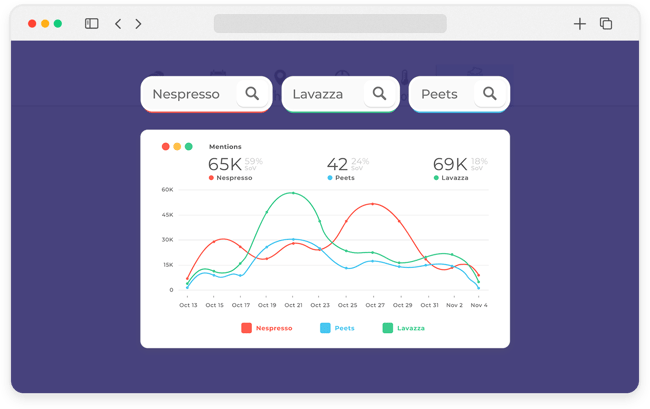 Want to analyze different searches? Compare multiple queries for succinct analysis!
Explore options with Historical Search, then Save the best query to your Listening project
When starting research on a new topic, it's significant to know how accurate your query is. The query defines the result of your project and it could be tricky to ensure that you're collecting relevant data, which is why it's important to explore, then select the most accurate query from the start.
Along with other amazing features, Historical Search also has a Save Query feature that makes ensuring query accuracy much more efficient by giving you the option to save a query from Historical Search directly to your listening projects, allowing you to continuously monitor the topic and improve the accuracy of your monitoring result. So, you can build your listening projects more effectively.

Now you can explore queries through Historical Search for initial checking, refine them as needed and save the most relevant one to your existing topic. This will not only optimize your query by reducing the collection of unnecessary but it will also save you some setup time in developing your listening projects.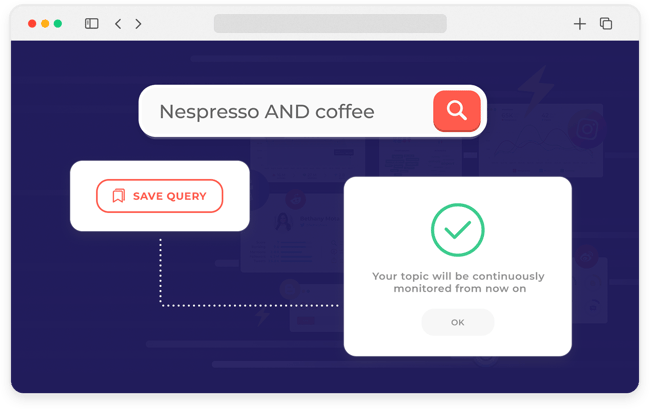 No need for extra effort, save your search directly from HIstorical Search
Anticipate Your Competitors' Strategy with LinkedIn Company Monitoring
LinkedIn is a rich source for competitive intelligence. It's the largest professional network with more than 730 million active users worldwide. Through Linkedin's network, you can access a plethora of information about your competitors, the industry, and its complementing sectors. However, with the huge amount of data, it's challenging to track all relevant information.
LinkedIn Company Monitoring is a powerful tool that will revamp your competitive intelligence game and help you monitor and collect new posts from competitors or partners. Learn and anticipate their strategy, closely follow the overall industry trends and new innovation and discover how consumers engage with your competitors' posts, and analyze who is responding and how they feel about it.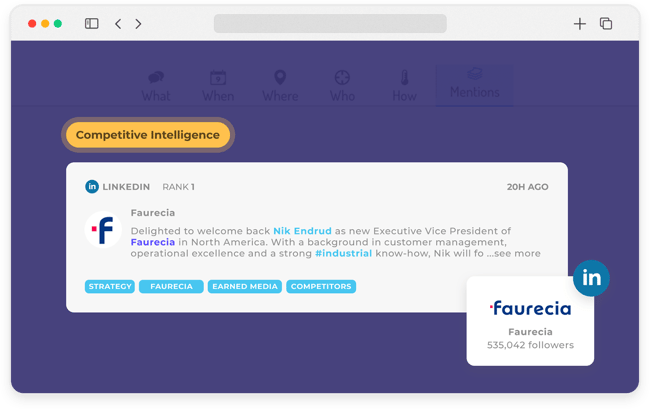 Monitor your competitor's company pages
Track Trending topics and boost your marketing strategies on TikTok with TikTok Monitoring



With over 800 million active users worldwide, Tiktok has become one of the most rapidly growing social networks. Its short-form video content has attracted such a massive following especially from the younger age group - generation Z. As such, businesses are now realizing the value of Tiktok to their marketing strategy.

As one of the leading social intelligence platforms, Digimind understands how beneficial it is to extract insights from the fastest-growing social network. That's why we introduced Tiktok Monitoring which will enable you to obtain relevant and valuable insights to drive your marketing strategy.

By monitoring TikTok, you will be able to track and analyze consumer insights. Stay up-to-date with brands and benchmark your competitor's marketing strategy on the platform compared to yours. Monitor your earned media campaign performance, improve audience engagement, and identify the top-ranked influencers on the platform for effective brand collaborations.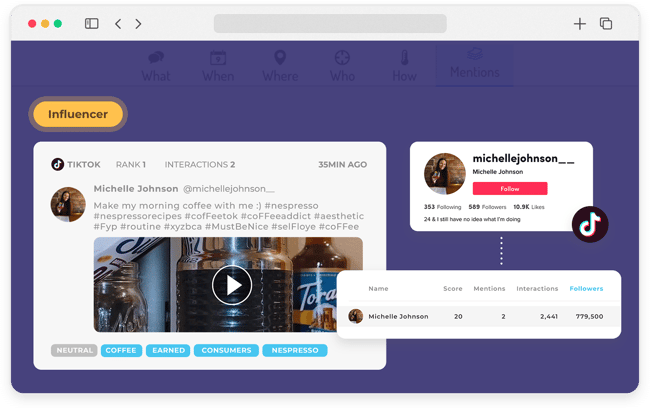 Be updated on all the latest consumer trends with Tiktok Monitoring!
Optimize your sources monitoring with Smart Dead Link Alerts via Dashboard
Staying competitive requires tracking and capturing every competitors' movements or market changes on a global level. This requires a robust feature that enables you to manage all of your competitors and industry sources in real-time.

This is why previously, Digimind provided the ability to detect non-working links via Dashboard. Today, we're coming up with a new version of the Smart Dead Link Alerts feature with enhanced accuracy in detecting non-functioning links and new functionalities to make your setup process become much easier.

This enhanced version will allow you to have better control of all monitored sources and get alerted when there's a non-functioning source so that you can update them in real-time. With this, you can be certain not to miss any important information communicated by your competitors, partners, or customers.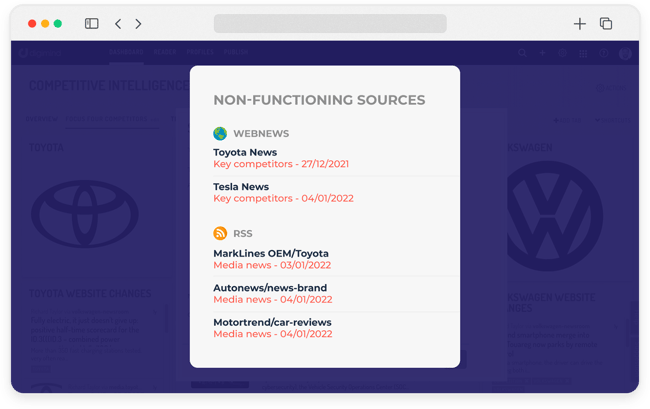 Manage your dead links to ensure full monitoring.
Never Stop Improving. Never Stop Digiminding.
We're always looking for new ways to improve our platform. Our new features will support you in your fight to tackle the big challenges and problems of a new, digital future! Keep in touch and stay up-to-date with more features and Digimind news coming your way very soon!
Hailing from beautiful Vietnam, Louise brings her trusted experience and eye for detail to her role as the Product Marketing Manager with Digimind! With a strong background in Market Analysis and years of success, Louise offers her Digimind family a new way to promote Digimind features and products. When she's not busy exploring her new home of Paris, France, you can find Louise getting lost in a new book, enjoying some hot tea, or trying a new recipe.