Optimizing Consumer Insights with Social Listening
This blog will take you through an essential, but often overlooked, use of social media listening and analytics: gathering and analyzing consumer insights.
Whether you want to know about the latest Japanese beauty craze, sentiments about cruelty-free cosmetics, what people look out for when buying a car in USA, Singaporean millennials perceptions about museums, consumer opinions about top sunglass brands, or opinions for and against Brexit or vaccines; the internet and social media is teeming with discussions, reviews, and opinions about consumer preferences and consumer behaviours.

This blog will take a look at some examples of how companies use social media listening and monitoring to better understand and optimize consumer insights for more consumer-centric strategies through the following sections:
Why are Consumer Insights Important?

The Power of Social Media Listening in Capturing Consumer Insights

Key Uses for Consumer Insights
1. Why are Consumer Insights Important?
Consumer insights should play a significant role in informing your digital marketing and business strategies. Just like how you would gift your friends things you know they would like, companies need to understand customer's needs and wants so they can deliver products and services they will like.

While it's possible to derive consumer insights from many different places, reviews are often a great starting point as this information is shared by people who have actually encountered your product. In fact, consumer reviews are the 3rd most popular channel for product and service research (43% of Internet users), behind search engines and social networks.

Consumers read them at different points of their purchase journey to inform their decisions.
What's the difference between 'Consumer Insights' and 'Social Insights'?
Consumer Insights encompasses the opinions, consumption styles, behaviours, or expectations of a product or service among consumers, whether as a whole or in a specific segment. It is used to feed and drive marketing, communications, and sales strategies.

A Social Insight is a consumer insight derived from social media. Social insights are established from observing and analyzing social media conversations around a brand, need, or issue. As such, social media insights are highly complementary with market research, surveys and opinion polls.
↑ Consumer insights can be derived from research, social media, and search engine queries.
While market research allows researchers to get more direct feedback from respondents and ask questions to delve in deeper, insights from social media allow you to see what people buy and consume, and how they use various products and services.
Furthermore, as social insights is more cost-effective, it is particularly useful for setting a targeted direction for your primary research.

2. The Power of Social Media Listening in Capturing Consumer Insights
Consumer Insights Are Everywhere
Consumer insights are ubiquitous and can be found outside consumer conversations, forums, and opinion sites. It is therefore necessary to not only analyze multi-sector review sites like Amazon, but also sites dedicated to specific verticals relevant to your company, such as TripAdvisor.

Similarly, it's important to consider user generated content (UGC) from social networks such as Twitter (330 million active users per month), Instagram (1 billion monthly active users), Facebook (2.4 billion monthly active users), and YouTube (2 billion active users per month).

Search trends associated with your brands and products on Google are equally essential, given that about 50% of online shoppers start their purchase journeys on search engines.

It's important to expand your definition of social media past traditional social media channels and take into account all kinds of potential conversation spaces, such as general and specialized forums, blog comments, etc.

Aside from general social networks, you should also identify key consumer opinion sites related to your sector. For example, TripAdvisor for hotels and restaurants, Yelp for local businesses, and Glassdoor for human resource and recruitment teams.

These sites are just some of the key channels to gather consumer insights for your company. A wealth of opinions can also be found on general review sites and platforms including Amazon, eBay, Apple Store, Google Play, and Google Maps, all of which can be monitored with our social media listening platform, Digimind Social.
More: Find out how you can boost consumer insights with social media listening
Getting to Know the Silent Majority With Search Data
Traditional studies and social media listening allow us to derive insights about consumer expectations and opinions. However it only gives us access to insights from those who choose to express themselves. What about the "silent majority"? How can you capture their concerns?
Analyzing key trends in search terms used in search engines, such as Google, allows you to detect questions, concerns, and needs that consumers have so you are better able to address them and deliver a customer journey with less friction. For example, many tech devices these days no longer come with detailed instruction manuals but are instead designed to be easily set up and used, with a digital manual readily available. If there are a large number of searches for product setup or manuals, this could indicate that people are struggling to set up your device.
Furthermore, understanding changes in these search terms over time, will give you more insights into changing needs and perceptions among consumers. You can gather and analyze such insights using Digimind Social's proprietary Top Reputation module.
.
3. Key Uses for Consumer Insights
The beauty of social insights is that once collected, it can be used in a myriad of ways depending on your company needs. Here are some key objectives you can achieve with the help of consumer insights.
Improve customer experiences to develop buyer personas and inform customer journeys

Capture concerns of Internet users who do not express themselves via surveys and social media, by analyzing Google search data

Benchmark brand perception against competitors to identify areas for improvement or opportunity
Keep up with consumer and market trends to identify unmet customer needs and new opportunities
Enhance customer relationships and increase loyalty by responding to feedback and engaging with them on social media and review sites

Remove friction to purchase by identifying and removing "irritants" at each stage of the customer journey.

Optimize product development, advertising campaigns, and product messaging and content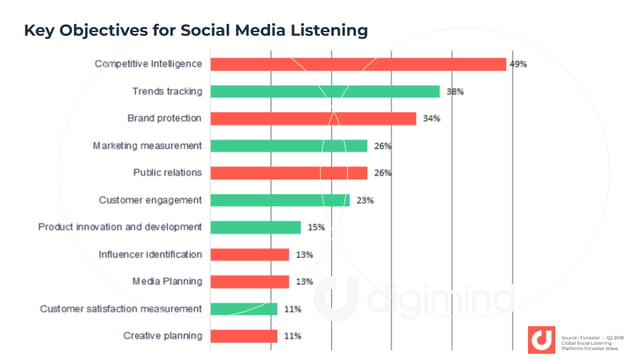 ↑ Key objectives for social listening platforms, according to Forrester. Collecting consumer insights through social listening helps companies achieve the following objectives and KPIs as highlighted in green: customer satisfaction measurement, consumer engagement, marketing measurement, trends tracking, and product innovation and development.
Download this guide to find out how you can supercharge consumer insights with the help of social listening
With a background in marketing and psychology, Sophia loves to analyze and understand consumer behaviour through observations and data. After hours you'll find her practicing yoga or baking sourdough.