How Pharmaceutical Brands in APAC and the US are Building Their Brand Reputation on Social Media
Social media has become the cornerstone of most brand development and customer engagement strategies. This is even more so as consumers become increasingly engaged with brands, from sharing feedback, to seeking customer support. However, the pharma industry has often been deterred from engaging consumers in open dialogues the same way other consumer industries like travel, retail, and hospitality have. While this is often the result of complex regulations, pharmaceutical companies are becoming more and more aware of the importance of building a positive brand image on social media.
The age of patient empowerment has resulted in a rising demand for conversational interactions through social platforms. In turn, this poses a challenge to companies to adjust their approach to pharmaceutical marketing, and establish a more meaningful dialogue with healthcare professionals (HCPs), patients, and stakeholders.
Due to the generally negative image the pharmaceutical industry has garnered throughout the decades, pharma companies' reputations are constantly being challenged. Thus brand managers have turned to social media as a channel for earning consumers' trust and strengthening brand reputation.
With that in mind, here are some key pharmaceutical marketing strategies we observed brands using for their online reputation management in Asia Pacific and the United States:
Using inspirational content to build consumers' trust on social media

Partnering with relatable influencers

Participating actively in social media conversations

Adopting a structured approach to social media engagement to pharma brands

Deploying social media channels as extensions for customer service
---
Using Inspirational Content to Build Consumers' Trust on Social Media
Globally, content posted by majority of pharmaceutical companies exceeded the average engagement rate of all the companies studied.
A thriving brand engagement rate indicates an online community that is thriving, and most importantly, trusting and receptive towards pharma products and services. Analysis of high performing social content by pharmaceutical companies in our study indicates three key characteristics that are effective for communicating to a broader audience:
Human-centric: Social posts that highlighted individual patients, HCPs, or company employees helped to position the brand in a humane and inspirational light. Disease research and drug development were also depicted as a mission-driven by people for people, as opposed to profits.
Compelling narratives: Top performing brands established an emotional connection with their followers by employing storytelling elements in their content, especially videos.
Educational: Visual elements like infographics, videos, and animations helped convey information about diseases and research updates in a clear and digestible format.
A great example of this is Novartis' Instagram posts during LGBT Pride Month in June. The company highlighted personal endeavors of LGBT employees, and their relation to Pride Month. Chronicling their journeys both as sexual minorities and employees of Novartis, helped to boost engagement rates and shape the company as a forward-thinking organization during this period.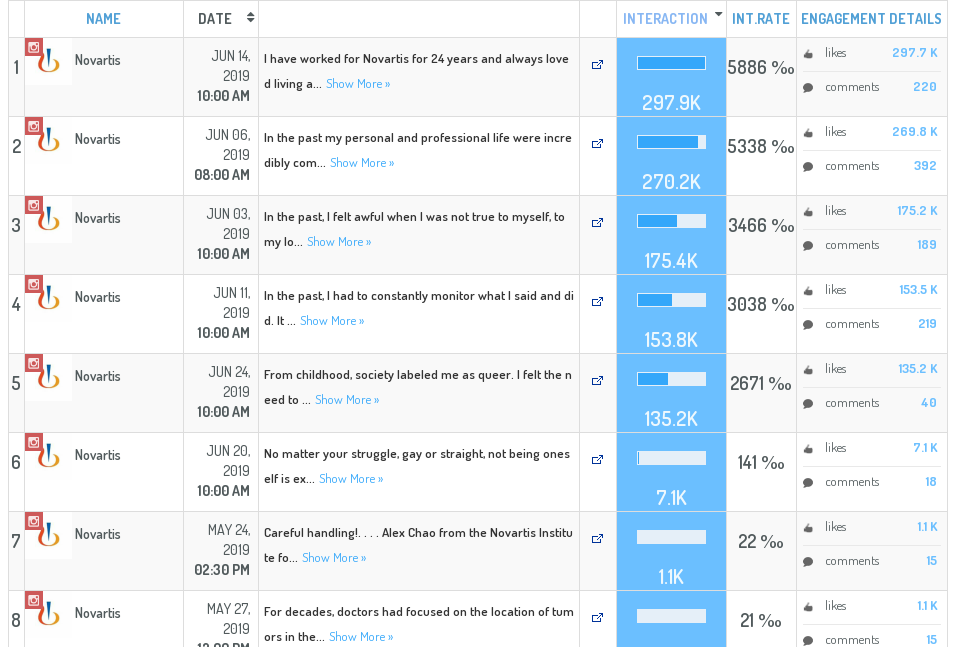 Source: Digimind Social
Of course, building this trust does not come easy, and companies need to be wary of the fine line they are already walking on. According to a 2019 survey by Olapic, 51% of respondents trust user images as they are more authentic and trustworthy than branded content.
Nowadays, the media and public are quick to react to negative feedback and news that paint an unfavorable light of the entire organization. Thus a strong crisis management strategy is critical to pharma marketing teams.
Bonus: Read more about these 3 elements in our industry report dissecting Asia Pacific's pharmaceutical and healthcare market.
Working with Relatable Influencers
Similar to other industries, key opinion leaders (KOLs) play a huge role in the persuasion, promotion, and the attractiveness of a product. Consumers tend to listen more to well-versed individuals that are respected in their given field, much more so than a company expressing positive things about their own products and services.
While word of mouth through influencers provides huge benefits for most consumer industries, the pharma industry is a little different. Due to its regulatory nature, as well as intricately complicated topics, consumers commonly associate pharmaceutical KOLs with HCPs, caregivers, scientists, and the like.
Although these types of influencers are vital, pharmaceutical companies are starting to garner a new type of influencer. By targeting social media influencers from a specific niche, brands can utilize them to spread their message more effectively.
Johnson & Johnson is one such brand that successfully leveraged influencers on Instagram. The company reached out to female social media influencers to push their products and values. As a result, of the top 10 posts on Instagram by interactions and audience reach, J&J sponsored ads accounted for six of them.
Participating Actively in Social Media Conversations
Pharmaceutical companies are beginning to understand the importance of social media as a platform for effective communication.
In our study of the pharmaceutical and healthcare industry, we observed brands leveraging social networks to support their public relations (PR) activities, while complying with regulations surrounding adverse events.
Pharmaceutical companies are leveraging more of what social media has to offer by crafting an authentic social presence that includes real-time conversations with patients, HCPs, and potential consumers. This includes answering their questions and engaging in public conversations and through the use of chatbots.
Combined with creating inspirational, narrative-driven content, an active social media presence is essential for humanizing the brand.
It also provides suffering patients with a voice of their own, as well as the opportunity to connect with others who are in similar situations. T This peer-to-peer support system is critical for chronic patients' well-being and it is vital that pharma companies learn how-to strategize and nurture it.
In these Twitter posts, Boehringer Ingelheim actively engages followers by holding polls and answering patients' queries.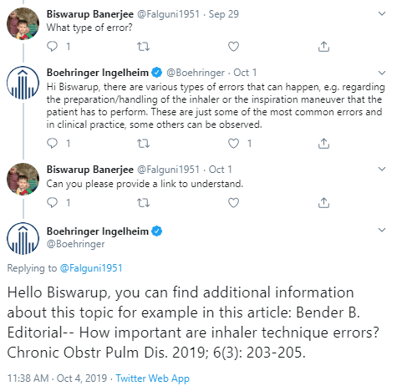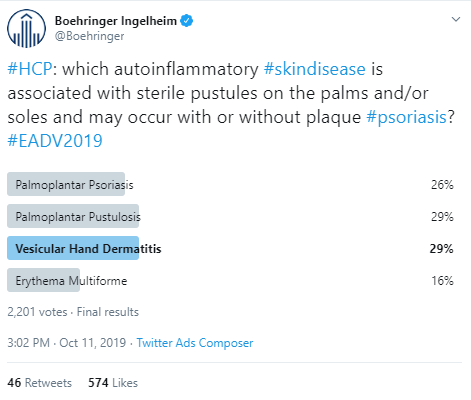 Adopting a Structured Approach to Social Media Engagement for Pharma Brands
More often than not, when dealing with pharma brands, the topics discussed can often become complex due to the technical aspects related to the industry. You have different disease states, epidemiologies, corporate content, career profiles, and branded communities, and the message can be jumbled up if not correctly segmented. This is why across the majority of the top pharma brands studied in Asia Pacific and the US, we see that they all have various social profiles dedicated to publishing content under a specific category.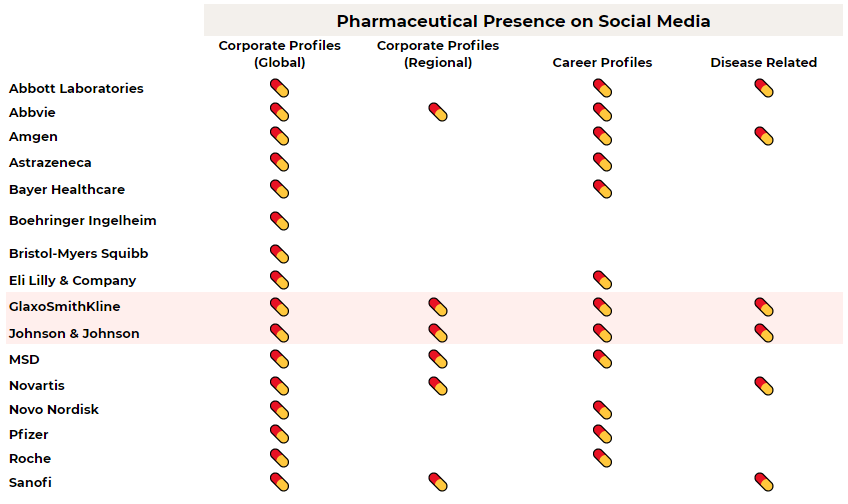 By segmenting their social media presence into clearly defined scopes, pharmaceutical companies can break down information conveyed in a way that allows their audience to easily digest and understand them. This approach has proven effective, as it:
Helps to spread a company's presence

Allow more in-depth communication about a specific subject

Makes the brand much more relatable to the specific markets and niches they operate in
Deploying Social Media Channels as Extensions for Customer Service
Consumers are starting to demand more social customer service and increased dialogue from brands. Majority of retailers and service organizations now offer social customer service, where customers can reach out via a comment or post on the product page and be contacted directly and instantly. The pharmaceutical industry is becoming much more cognizant of this. Companies are starting to develop a stronger social customer service strategy that mimics these other industries, while remaining compliant with local regulations and pharmacovigilance laws.
Overall, as much good as pharmaceutical companies do to ease the pain and suffering of patients around the globe, there are still prominent issues that affect the industry such as escalating drug costs, insurance coverages, and ongoing litigation of competing biosimilars and generics from entering the market. With constant shifts in healthcare worldwide and regulatory changes, the public is understandably concerned and wary about what all of this can mean to themselves and their families.
Pharmaceutical companies should be proactive at managing how consumers perceive them and in turn, their brand reputation. Social media listening tools like Digimind Social can help pharmaceutical brands peer into disease-state and brand communities. They can also better anticipate issues and resolve them before they escalate into a full-blown crisis. Early detection and an apt crisis management strategy are critical to helping pharma companies protect themselves from PR disasters.
Furthermore, consumers are increasingly gravitating towards brands that take a clear stand on causes in the age of the Empathy Economy. It is important for brands to connect with individuals both on an inspirational and emotional level. Such content marketing strategies can prove effective for building an authentic image that attracts consumers and talent.
Keen to discover how you can deploy social media listening to achieve all of this? Request a free one-on-one with our team of experts!
With experience in the pharmaceutical and biotechnology sector, Kevin is eager to discover new technology and methods to transcend patient healthcare. In his downtime, he enjoys traveling and playing video games.