Consumer Insights and Trends for Pharmaceutical Brands in Asia Pacific
Similar to other industries, the pharmaceutical and healthcare sector is saturated with consumer insights and trends. In the age of social media, consumers often express their sentiments and concerns online, and openly discuss hotly debated topics at a given time.
Key Social Channels Pharmaceutical Companies Should Monitor to Get Consumer Data
So what platforms do healthcare consumers utilize the most in Asia Pacific (APAC) ? Compared to other regions in the world, the distribution of public healthcare related discussions on social channels varies much more, according to our recent study.
For example, in the US, Twitter dominates all social channels with 85.7% of discussions originating from it. But when dealing with the APAC market (i.e. Australia, Hong Kong, Indonesia, Malaysia, Singapore, and The Philippines), we see news, blogs, and web sources as the dominant source of discussions, with Twitter, Facebook, Instagram, and Youtube following behind it, respectively.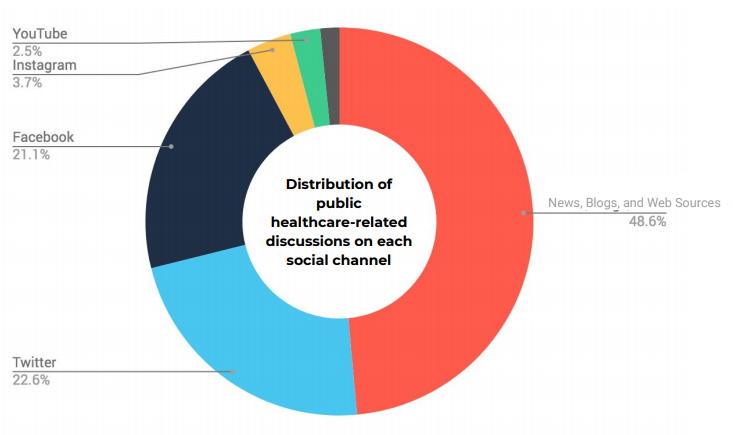 Source: APAC Pharma Report
News, blogs, and websites (48.6%) are key sources of a wide range of information on competitors, as they publish news about new drug releases, scientific breakthroughs, and other updates related to the industry. Brands can further boost analysis of local markets by monitoring updates in public healthcare policies through digital sources.
Public Twitter posts (22.6%) and forums (1.6%) are rife with consumers sharing articles and opinions on various healthcare topics, making them valuable channels for market research. Companies that manage their own social profiles, also win several opportunities to engage and communicate with consumers, by posting content about their their latest drug discovery and development, as well as other innovations and announcements.
From education to cancer screening, lab services to immunization, Maama Maria and her clinic do it all! Without her, Kagoma women wouldn't be able to access these critical health services. Learn more ➡️ https://t.co/VlVYqZ6HtB #IDM2019 pic.twitter.com/wNlHimcuCB

— Johnson & Johnson Global Health (@JNJGlobalHealth) May 6, 2019
Public Facebook posts (21.1%) are dominated by news sites promoting healthcare-related articles on social, healthcare consumer groups sharing articles related to different concerns, and patients of chronic diseases journaling their recovery journeys.
While Instagram (3.7%) accounts for a comparatively low volume of mentions, healthcare organizations and pharmaceutical companies alike should not discount its potential as a monitoring channel. Top engaging media on this channel tends to be posted by prominent influencers in travel, lifestyle, and even health spaces. Such profiles leverage their influence to stimulate discussions for or against health companies and public policies among their followers.
Top Discussed Ailments and Concerns Discussed by Healthcare Consumers
As with any region on the globe, health issues remain a priority among consumers, and the APAC region is no different. When analyzing disease-related discussions, we see the distribution of diseases as they relate to each country individually.
Cancer remains the top concern in all regions monitored, making up approximately 1/5th of disease-related discussions across all individual markets.

Cancer is becoming an increasingly important health problem in the low to middle range income countries in Asia Pacific, as well as the high-income countries due to aging populations and changes in lifestyle associated with economic development and epidemiologic transition.

Also, when comparing discussions of cancer relating to demographics, the male audience appears to be more concerned with lung cancer and brain cancer, while the female audience concerns were of breast and cervical cancer.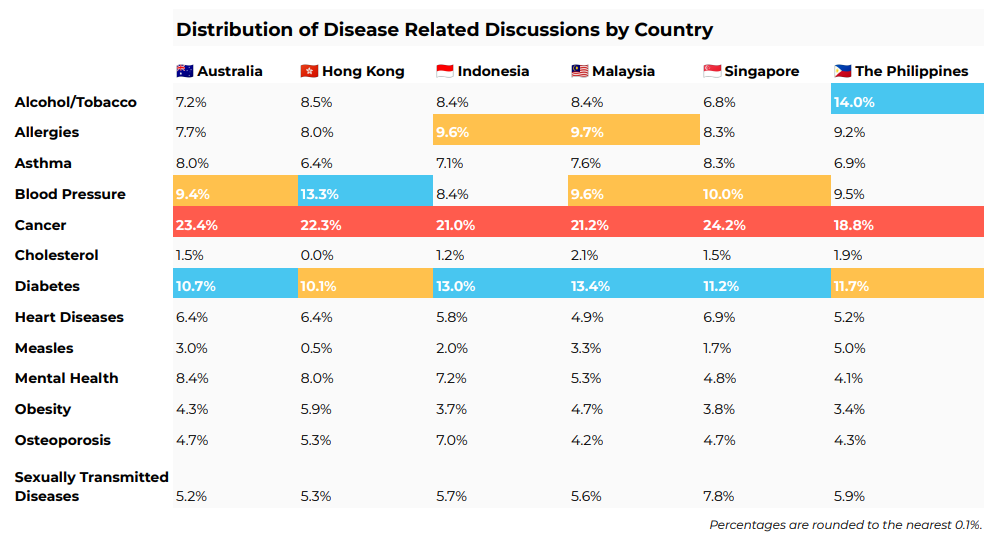 Source: APAC Pharma report
Social Media: A Channel for Patient to Patient Solidarity
Although social media channels studied in our report were rife with different disease-related topics, one thing that remained consistent across all conversations were consumers often seeking solidarity on the Internet. Sharing personal patient experiences with certain drugs and treatments has become a common practice, especially on Twitter.
Patients are actively reaching out to one another and discussing progress updates on their illness, efficacy and side effects of certain drugs and treatments prescribed, with disdain towards high treatment costs a common topic of discussion.
Companies need to leverage these insights and monitor these peer to peer discussions carefully, as it can provide valuable secondary insight into the efficacy of a brand's product and service. A social media listening tool like Digimind Social can help pharmaceutical companies do the following:
Identify consumers that have concerns with your brand and address them (if the local legislature allows)

Discover key opinion leaders on a given topic

Anticipate potential crises before they become a larger issue

Detect and manage potential adverse events (AE)
When dealing with the APAC region, the biggest concern that consumers have is affordability and accessibility. Even though longer life expectancy, advances in medical technology, and access to healthcare services are increasingly improving, the healthcare market in Asia Pacific still faces significant growing challenges such as:
Primary healthcare should be focused on equality and not disparity. Governments in these regions need to take responsibility for effective and adequate financing that is efficiently allocated to expansive coverage, and access to the most essential services. By committing to reforms in health financing, increased investments in public health, and reduction in consumer out-of-pocket spending, only then will we be able to see a region transformed for the betterment.

To discover more about the latest trends and concerns within the pharma/healthcare space, check out our Dissecting Trends and Opportunities in Asia Pacific's Pharmaceutical and Healthcare Industry report!
Enriching Traditional Pharmaceutical Market Research with Social Media Listening
In an ever changing environment where laws are regularly shifting from country to country, it is important to monitor not only laws and regulations but to lend an ear to the wider audience and understand and hear their concerns.
Although we can see how social media listening can provide value to the pharmaceutical and healthcare industry, there is also a myriad of issues in why it hasn't been fully implemented yet.
Owing to legal obligations to report potential cases of adverse drug reactions (ADRs) whenever detected on any channel, the pharmaceutical and healthcare industry has been hesitant to embrace social listening as part of their digital arsenal. However, the potential gains for bridging gaps in competitive and market intelligence using real-time consumer insights on social media, far outweigh the risks. When combined with traditional data sets such as clinical trials, medical journals, and internal databases, social media intelligence can be an invaluable channel for market research.
With experience in the pharmaceutical and biotechnology sector, Kevin is eager to discover new technology and methods to transcend patient healthcare. In his downtime, he enjoys traveling and playing video games.