5 Impactful Social & Content Trends For Your Marketing Strategy
With new marketing trends and innovations taking shape every day, how can you identify and invest in the ones that will benefit your company the most? From chatbots and social commerce to augmented and virtual reality, which of 2019's key social and content trends should you prioritize in your marketing strategies?
Over 50 high level marketers from brands such as Abbott, AIA, Watsons, Zalora, and more, joined us at Socialize Singapore for an intimate evening of learning, networking, and drinks at Ogilvy Singapore. Presentations focused on the impact of key trends and innovations on marketing strategies, and how companies can cultivate innovation across departments to win the future.
✅ Key Marketing Trends and Innovations Impacting Brands' Strategies in 2019
Matt Collette and Lukas Snioka, Executive Group Director and Senior Strategist of Ogilvy's Social and Content Studio, kicked off the event with an overview of the five key trends that brands should leverage for marketing and customer engagement strategies in 2019.
🛍 Rebirth of Social Commerce
Social media platforms have and will continue to play a critical role in allowing consumers to discover and evaluate purchases. 89% of consumers in Southeast Asia cite Instagram as a key influence on their purchase decisions, and 34% purchase a product directly after seeing it on social.
Social commerce is so far proving itself to be a promising form of content marketing that converts. The evolution of platforms such as Instagram Shopping and Pinterest Lens has allowed brands to not just engage target audiences more, but also offer a seamless transition from product discovery to purchase. These platforms have seen an increase in mentions since 2018, implying that consumers are open to using them for social commerce.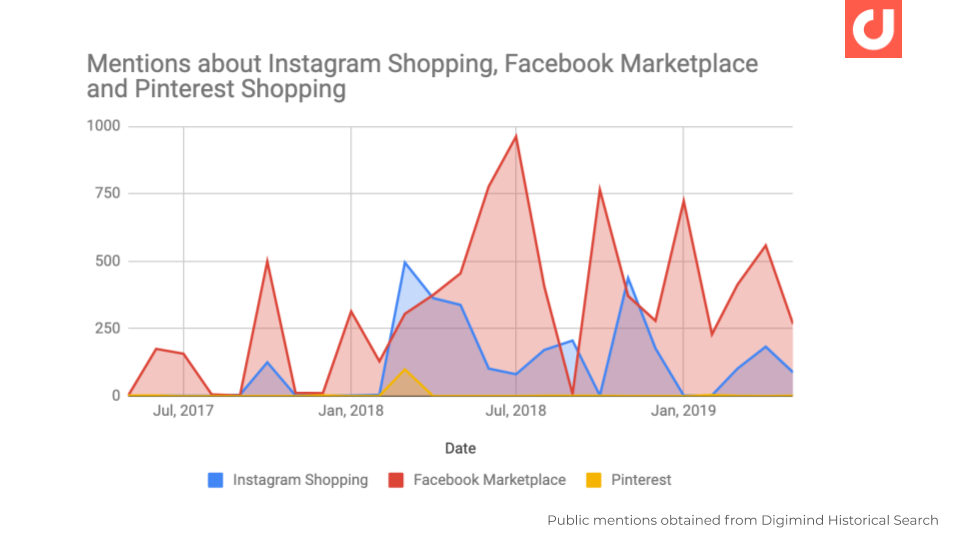 Pro tip: Use a social media monitoring tool like Digimind Social to get insights on consumers' behaviour, attitudes, and more to understand and optimize your customer journey.
💡Synthetic Realities are Here
Once upon a time, Photoshop was viewed as a ground-breaking technology that allowed us to manipulate photos in any way our imagination (or skills) allowed. It made us question: 'What is real?'
Today, the advancement of CGI technology has raised the question once again with the development of technologies such as deepfake, and virtual celebrities and influencers.
The latter presents a new creative marketing tool for brands to develop engaging and unique content for their target markets. Lil Miquela and Perl are two robots who have already collaborated with international brands and celebrities, such as Prada and Gigi Hadid. With the rise of virtual personalities on social media, marketers have a newfound opportunity to reframe what is authentic, and exercise more creative control over influencer marketing campaigns.
👓 The Rise of Augmented Reality (AR) and Virtual Reality (VR)
The combined AR/VR headset market has been projected to reach more than 100 million devices by 2022. The adoption of AR is set to grow exponentially, with mobile AR and smart glasses reaching an installed base of 3.5 billion in 2022.
The visual centric nature of AR technology is a significant value-add for e-commerce, especially in situations where customers may not have access to the physical products they are considering. Consumer industries that can benefit the most from leveraging AR technology include fashion, consumer electronics, automotive, and furniture.
Brands looking to adopt AR and VR technologies in their marketing plans will need to create innovative experiences that demonstrate product value to potential customers while making smart use of the technology in question.
📺 Passive Viewing is a Thing of the Past
Social video is exploding with tremendous opportunities for brands. 81% of 55 to 64-year-olds are watching videos online each month. At the same time, one in three social video viewers watch videos made by brands every month.
Brands needs to adapt their video content to platforms where their target audiences are. The increased use of Instagram Stories among consumers has led to a surge in vertical video formats. Interactive features in Stories, such as polls, questions, and meters, allow brands to explore new methods of engaging consumers in an interactive manner.
Taking the concept of interactive videos one step further, Black Mirror: Bandersnatch, a choose-your-own adventure film on Netflix, proved audiences want to engage with videos. Interactive video formats can be a powerful medium that serves dual purposes for brands, such as:
Delivering hyper-personalized content to specific groups of audiences
Gather consumer's data based on their interactions and selections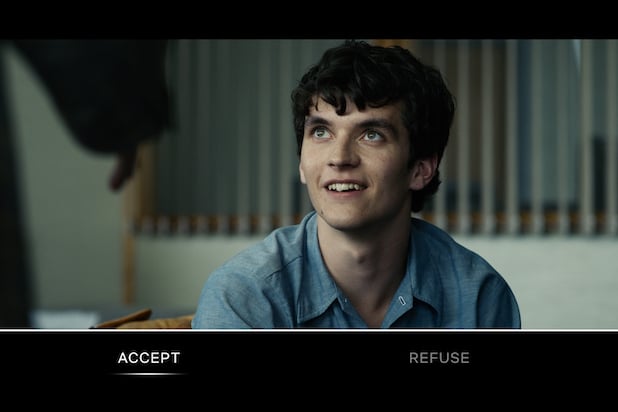 🤖 Personalization at Scale Becomes a Reality with Chatbots
A poll amongst attendees showed personalization through chatbots was a trend Singaporean marketers were keen to explore implementing this year.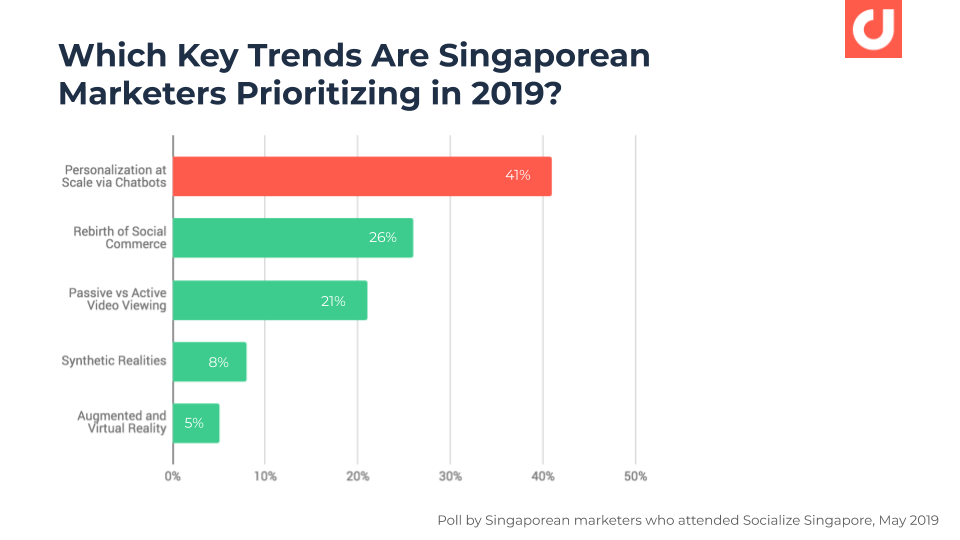 Indeed, chatbots have evolved from "shiny objects" to vital tools that promote a wide range of functionality: from customer service to facilitating pre-orders and deliveries. According to Gartner, in 2020 the average person will have more daily conversations with bots than they will with their spouses. Chatbots can also be useful for delivering personalized content to subscribers based on their needs.
To unlock their full potential, companies must fully understand their customers' expectations, and where the chatbot medium sits within their communications and customer experience strategies.
💬 Tips for Using Chatbots to Deliver Engaging, Personalized Customer Experiences
Chatbots have the potential to save companies USD $8 billion in organizational costs annually. With popular platforms such as Facebook Messenger supporting chatbots, implementation is a strategy away.
Furthermore, with new developments in artificial intelligence, machine learning, and natural language processing, chatbot technology can not just provide customer support, but also play a vital role in automating day-to-day operations.
Bruce Li, Asia Pacific Digital Lead for Vaccines at MSD, shared the key advantages of intelligent chatbots for brands:
Facilitate content discovery while allowing easier navigating of product or service information, by recognizing key topics or phrases input from customers
Deliver personalized and relevant content based on key topics customers have interacted with the most
Serve as an alternate channel to emails for timely circulation of information
Optimize the marketing funnel by gathering data points from various interactions for content and customer engagement strategies
All in all, with trends coming and going like the wind, having access to relevant market research and consumer data is critical to develop informed marketing efforts that will resonate and delight audiences' ever-changing needs. A social listening tool that integrates with existing software will ensure data collected is not kept in silos and that your company can access market trends and consumer insights in real time.
Thanks to our organizing partner, Ogilvy, and our guests and speakers for making #SocializeSingapore a success!
Want to know more about how else a social listening tool can help you and your team identify trends and track marketing performance? Schedule a chat with our social intelligence experts today.
Melissa is a digital advocate who loves diving into the latest trends in digital and social media. Since joining Digimind's marketing team in 2015, she has written studies for over 15 industries in Asia Pacific. When she is not telling stories about data, Melissa can be found exploring her favourite cafes and hangouts on Instagram @chuepachups.