Asia Pacific's Key Gaming Personas: Who Are They and How Can You Engage Them?
The gaming and eSports scene in Asia Pacific is home to some of the most engaged, impassioned, and vocal consumers you can come across. Peek into any conversation between gamers on social media, and you'll find a wide variety of subcultures, fan groups, and opinions shared that occur almost spontaneously.
Whether you are an established or new player in the gaming tech industry, or a company looking to hit a new high score in reaching and engaging a new target audience, it's important to first equip yourself with a thorough understanding of the following to ensure you don't come across tone-deaf in your communications:


Who are Asia Pacific's key gaming personas?
Where are they conversing and engaging on social media?
What gets them up and rallying behind their favorite brand or eSports team?


After all, understanding your target customers' behaviors, needs, and wants, is key to paving your way into their hearts – and wallets.
In a market as huge and culturally fragmented as Asia Pacific, it's even more important to localize your marketing strategy, so that you can strengthen your brand's relationship with your customers, and create a product or service that delivers and delights.
Who Are Asia Pacific's 5 Key Gaming Personas on Social Media?
So who are Asia Pacific's key player personas, that brands like yours can meet and engage on social media? According to research from Digimind's latest study, here are the five marketing personas in Asia Pacific's gaming and eSports industry!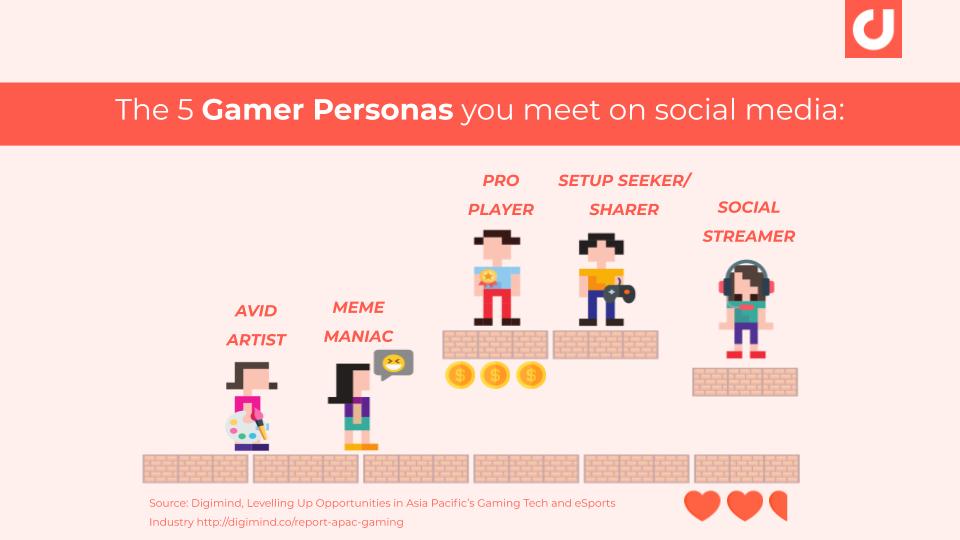 Gaming Persona #1: The Avid Artist 🎨
Avid Artists share their love of video games through fanart and cosplay. Among the most common types of fanart, are conceptual skins and outfits for game avatars and characters.
For game producers, the Avid Artist is a rich source of user generated content (UGC), and a potential avenue for collaborating with the gaming community. Partnering with the Avid Artist to create limited edition in-game outfits, can be a great way of nurturing relationships with and activating this niche circle of creators on social media.


The Overwatch community has been asking Blizzard to create a charity skin to raise awareness and help fight the wildfires devasting Australia.

While there's nothing official yet, artist Armando Gonzalez-Dorta has made a great concept art for a "Firefighter Roadhog" skin. pic.twitter.com/qqJVWnugtH

— akshonesports (@akshonesports) January 15, 2020
Gaming Persona #2: The Meme Maniac 😝
Here's one that derives fun from being "in" on the joke. True to its name, the Meme Maniac discusses games and other life moments predominantly through memes. This gaming persona is also highly attuned to pop culture, and expresses his or her reactions and opinions through humorous, often satirical, visual means.
One brand that has mastered this "language of gamers" is MSI. Not only did the gaming tech brand take on the #DollyPartonChallenge which went viral on Instagram, it even adapted specific parts of the meme to local audiences in Australia, Indonesia, and Malaysia.
Bonus: Discover how you can deliver personalized content marketing campaigns and more in our Guide to Personalizing Your Campaigns with Social Media Intelligence.
Gaming Persona #3: The Pro Player 🏆
Rub shoulders with some of eSports' biggest celebrities! Having been involved with eSports on a professional level, the Pro Player is a major personality that fans and other players rally behind, both in and out of the arena.
Whether active or retired, Pro Players are vocal and opinionated about current events and updates of the games they compete in. Because of their considerable reach and influence, they are able to activate their followers to participate in eSports events….or spark off discussions on social media.
Gaming Persona #4: The Setup Seeker/ Sharer 🎮
"Should I get the newest gaming mouse, or stick with the one I have?"
"How do your headphones stack up against mine?"
Setup Seekers or Sharers do not often post on social media, but when they do, it's to seek technical expertise from fellow gamers on building the ultimate gaming setup. High-performing products are crucial assets for curating the gaming experience of their dreams, which they have invested both money and physical space in.
Gaming tech companies can greatly benefit from monitoring online conversations and posts by Setup Seekers and Sharers. For one, understanding what features gamers crave the most in their setups, can go a long way in accelerating and fine-tuning product development.
For another, social media listening tools like Digimind can help you detect which stage of the purchase journey customers are most vocal in, which you can then use to calibrate communication strategies for your marketing and sales team.
Gaming Persona #5: The Social Streamer 🎧
If Pro Players are the celebrities of the eSports world, you can think of Social Streamers as influencers and content creators for games.
Similar to the Pro Player, the Social Streamer is capable of rallying followers on social media. You can expect to see a variety of their content across multiple channels, from gaming clips on Instagram, to live Q&A sessions on Twitch. Moreover, the fact that these Social Streamers often stream themselves playing the same games, on an almost daily basis, means their followers are highly targeted and engaged.
While Australian streamers commonly share their gaming streams on Twitter, Facebook Gaming is where most of Southeast Asia's leading streamers can be found. These individuals are often part of Gen Z, with many Indonesian and Filipino players streaming in their native language. With their high activity and engaged following among fellow Gen Z audiences, these influencers may just be the answer to luring this ever elusive generation to Facebook.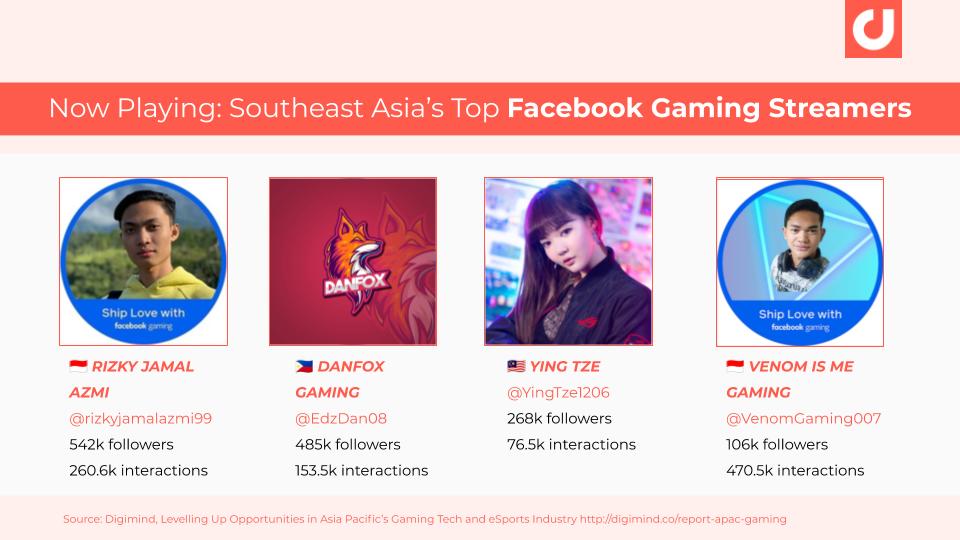 Pro tip: Partnering with an influencer, whether for a product launch or sponsorship, can help elevate your brand's positioning with local audiences. However, it's also important to optimize your influencer marketing strategy by mapping different levels of key opinion leaders (KOLs) and content creators to your campaigns.
With the help of tools such as Digimind Influencers, companies like yours can easily identify potential influencers to partner with for brand campaigns, based on factors such as author interest and content topics.
Creating Customer Personas to Win Market Share and Customer Loyalty
In the Age of the Customer, cookie cutter campaigns just won't cut it anymore. Creating buyer personas is important for helping you to visualize who your ideal customers are, what gets them up and rallying behind your brand, and most importantly, buying from you and becoming loyal customers.
With this data, you can not only identify key clusters of customer personas and their drivers. But also re-calibrate your marketing and engagement strategies to activate a specific segment of your audience to its fullest potential.
Unlock more insights and level up product and marketing opportunities from Asia Pacific's gaming and eSports industry! Download our report.
Melissa is a digital advocate who loves diving into the latest trends in digital and social media. Since joining Digimind's marketing team in 2015, she has written studies for over 15 industries in Asia Pacific. When she is not telling stories about data, Melissa can be found exploring her favourite cafes and hangouts on Instagram @chuepachups.