Content is (Tiger) King: An Analysis of Streaming Trends During The Age Of Coronavirus
The Vast Landscape of Streaming Services
Streaming services, though not considered "essential" by governmental guidelines in the US, are definitely considered as such by most people stuck at home with a working internet connection and running electricity. And yet, so many of us currently seem to believe that their strongest values lie squarely in the availability and affordability of streaming services, and less on how and why they're so strongly regarded.
The service of streaming media - pre-Coronavirus - provides subscribed consumers with varying degrees of access to shows, movies, documentaries, and other content without the need of additional charges - beyond the monthly or annual fee. The industry had never been healthier, and before our current situation it produced some incredible numbers:
Over the last 10 years, streaming service platforms have collectively attracted 613.3 million subscribers worldwide.
Exponential growth in business growth trends have analysts predicting that by 2022, the industry will be worth $30.6 billion dollars.
Beginning in 2007 with just Netflix and its shift from DVD deliveries to VOD, now there are over 100 companies offering streaming services.
Broken down by top players. and their subscription numbers, and the optics are impressive: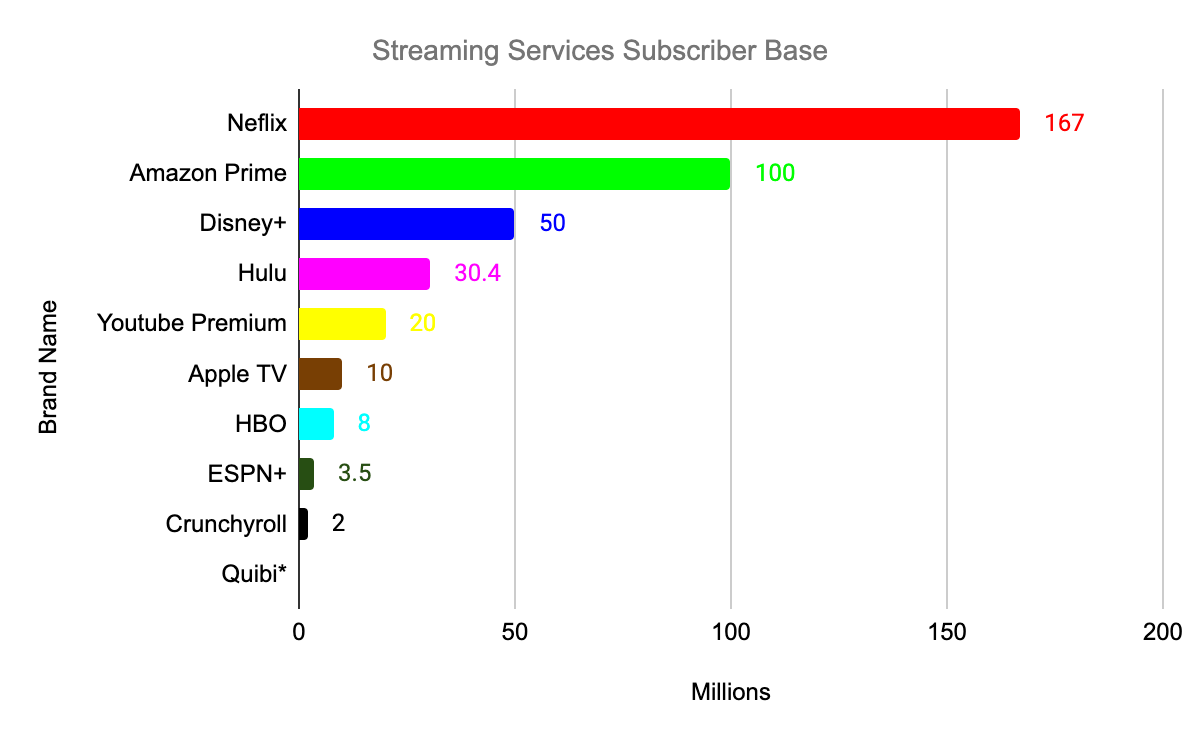 Streaming service subscribers as shown in the millions.
(Sourced from multiple web resources)
*Quibi - Data Not Available Yet.
Now that everyone is stuck inside, brands like Netflix, Amazon, Disney, and even newcomers like Quibi and Peacock (NBCUniversal), are taking account of this "how and why", and understanding that shows - and our underlying behavior and reaction to them on social media - are king. Speaking of which…
🐯 Netflix Struck Gold With Tiger King
One cannot discuss streaming services and content without starting with Netflix, the entertainment juggernaut that had its start in 1997, originally founded on the concept of a mass DVD delivery mailing service.
Making up the lions (or dare we say tigers) share of the pie when it comes to annual revenue - accruing $1.36 billion at the beginning of the last decade, to now raking in a total of $15.8 billion on the backs of 150 million customers since last year alone. With a simplistic business model - offering three subscription plans of varying perks and offerings - Netflix can garner anywhere from $9 to $16 per person, with family members sharing accounts not unheard of.
Looking deeper on public sentiment regarding this leader in digital entertainment distribution, it's clear that positive mentions outweigh negative mentions. With 111K positive mentions at the beginning of the month (analyzed between April 1st-April 20th), just the term "Netflix" clearly is trending in good graces in this time of stay-at-home entertainment seeking.

Digimind Analysis shows how positive sentiment towards Netflix content largely outweighs negative conversations on social media.
And although there is a lot of popularly trending content on the platform at this time, much of that buzz can be attributed to their most recent hot documentary feature release: Tiger King. Also this guy: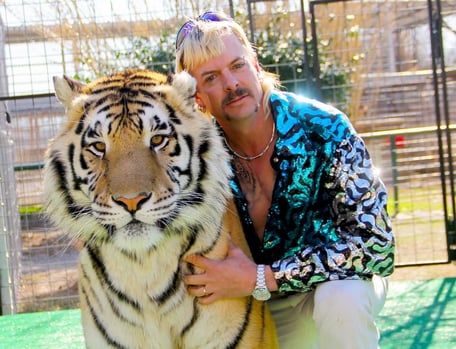 Joe Exotic, the star of the hit Netflix Docuseries, Tiger King.
Picture Sourced: https://www.pghcitypaper.com
This is Joe Exotic, the currently incarcerated - as of last year - former "zoo keeper" and "big cat activist" who starred with a cast of misfits and criminals in the much-talked-about Netflix docuseries that took the internet by storm.
To explain this phenomenon, one needn't look far: schadenfreude. Netflix arguably hit gold with the documentary show, sharing a wild, crazy story that we could all get lost in, while also helping us collectively feel better about our less-than-ideal situations. Satisfaction with the wild hijinks of a few hillbillies was not the only culprit that kept people glued to their screens - genuine concern for animal welfare became a large hot topic on Twitter, with hashtags like #IamNotOkayWithThis listed at #72 on the top trending hashtags.
Netflix continues to trend on social media with shows like Ozark, Money Heist, Riverdale, and the action film Extraction, vying for mentions through sheer entertainment and star power alone.
Key concepts that were highlighted from a Digimind Social search regarding Netflix content.
🎥 Disney+ Jedi Minds The Market With Early Releases And Comfort
Initially started as an endeavor to retain viewers and revenue for their various Disney movies and shows, while also creating a perfect launching pad for newer content related to acquired properties like Star Wars, Marvel Entertainment and ostensibly everything that used to be 20th Century Fox Entertainment, Disney+ is entering the market during a time when people are looking for comfort.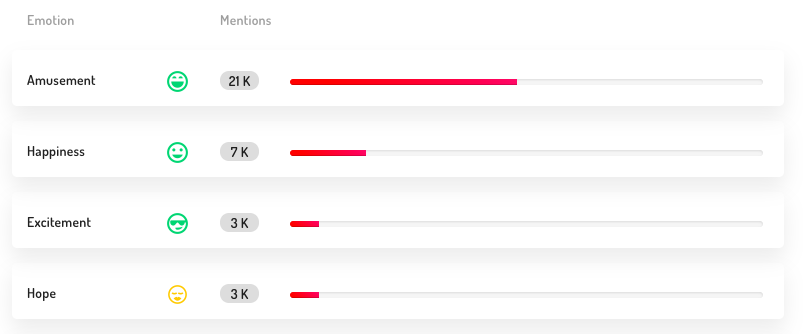 A Digimind analysis of Social Media posts shows overwhelming "Amusement" and "Happiness" when discussing Disney+
Launched five months ago, Disney+ provided its service to North American and Dutch audiences with promising responses by consumers and tech critics, while also experiencing some unprofessional growing pains for a company of that size and notoriety. Since then it has launched its streaming service on many other continents, including Europe, Asia and the Middle East.
At slightly lower than their larger competitors, like Amazon and Netflix, users can comfortably enjoy over 7,000+ television episodes and 500+ movies for the price of $7 monthly. And it is comfort that they're seeking when signing up, with the Disney brand staunchly opposed to anything beyond a PG-13 movie rating or an M-TV rating. As the family-values champion in entertainment, consumers can easily adopt Disney+ with kids stuck at home. Was it just coincidence that Frozen 2 released early on-demand just last month (March 13)? And Olaf isn't the only one strategically aware of the socioeconomic landscape at this time - Rei and her friends from a galaxy far, far away have come to Disney+ early as well.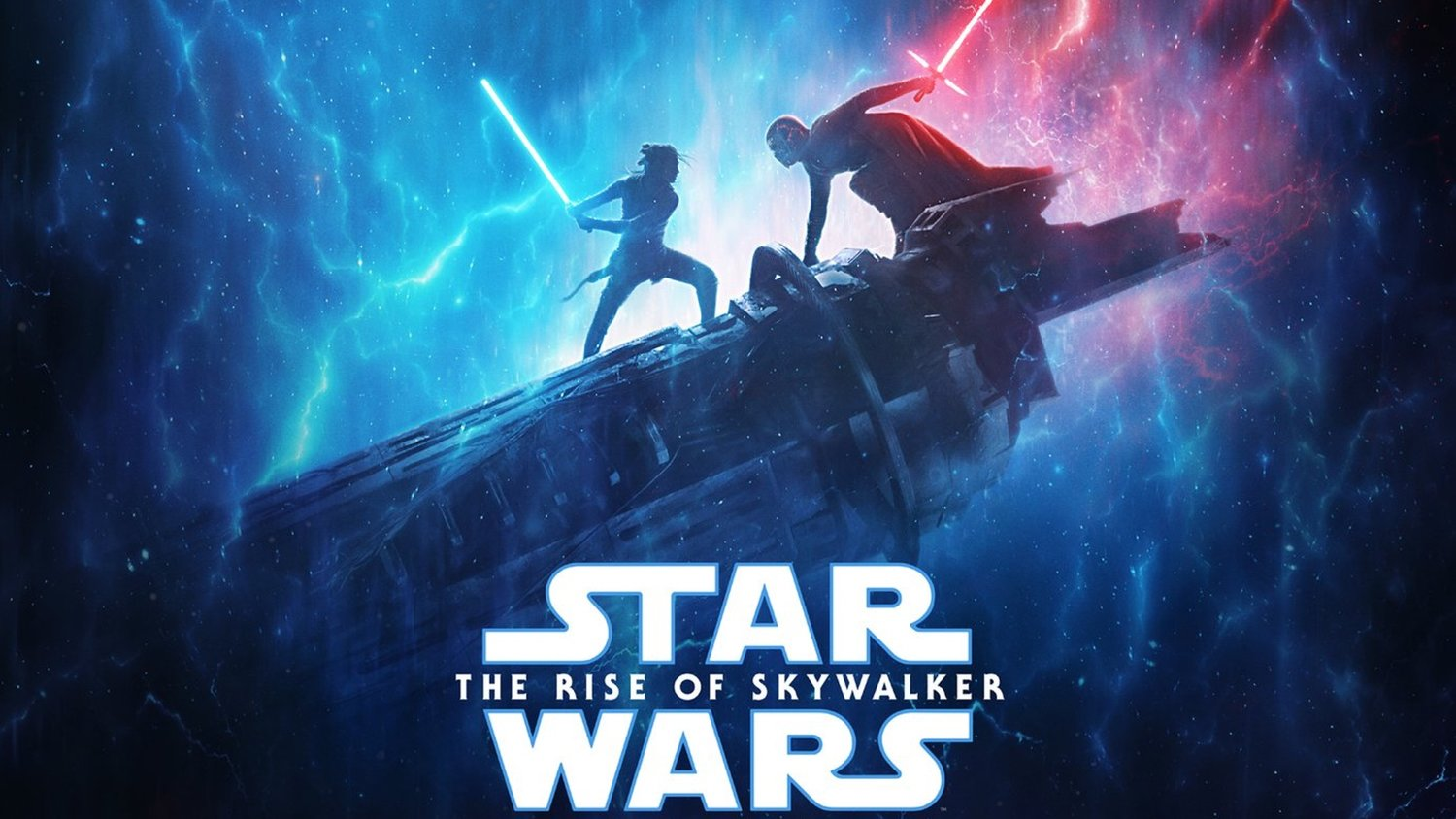 Star Wars: The Rise of Skywalker came to Disney+ earlier than reported due to the nationwide stay-at-home orders.
Picture Sourced: https://www.dailymail.co.uk
Sensing the worry and restlessness of its consumer base, Disney carefully reacted - people wanted a blanket to protect them and their families, and a familiar friend to do so with. Star Wars: The Rise of Skywalker came to Disney+ days before it was initially supposed to.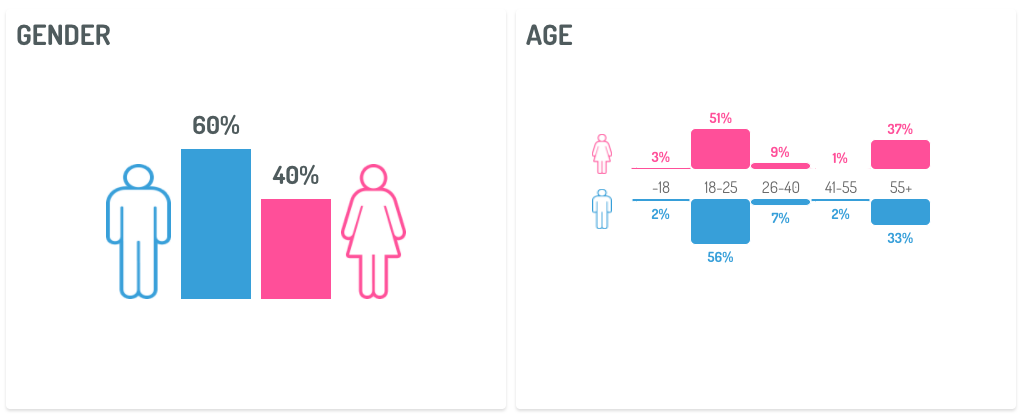 Digimind audience listening shows conclusively how men more than women sought comfort with Disney+, particularly younger consumers between the ages of 18-25.
Other shows that found a foothold in the social media conversation included the rest of the Star Wars franchise (including previously mentioned The Mandalorian), Pixar (films, like earlier release Onward), and perhaps unsurprisingly, 90's cult-classic The Goofy Movie. Talk about nostalgia as comfort food.
📺 Prime Video (Amazon) Doubles Down On Alleviation From Depression
Prime Video, also marketed as Amazon Prime Video, is Amazon's primary streaming service that competes with Netflix as the 2nd largest platform on the market. Part of the reason for this success stems from the offer Amazon Prime members receive when signing up - providing an ample user base to begin with - which in turn syncs with their proprietary smart speaker technology, the ever-popular Alexa.
Learn More About The Smart Speaker Industry With Digimind's Comprehensive Industry Report!
Debuting in 2011 as Amazon Instant Video, the platform offered users 5,000 movies and tv shows off the bat, and buffered by original content that's won numerous awards and accolades, with prominent star power and Hollywood industry power behind it.
Yet beyond the various perks and benefits that are marketed to tempt consumers to subscribe to Prime Video, there is a highly intelligent, behavior-driven strategy that promises customers premium content from a successful brand that offers sanctuary from depressing times and negative emotions - proven all the more evident with the kinds of shows that are trending on social media discussions.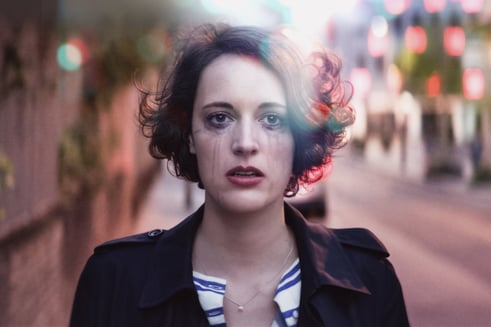 Fleabag, both the name of the show and the titular character, were picked up for streaming by Amazon Prime Video.
Picture Sourced: https://www.nytimes.com
Overlap of Amazon Prime members and Prime Video subscribers is impressive, with one study showing that 64% of said members also have the service, which (as shown above in our chart) is still over 100 million people. The picture is vast for who these people are, but one very key figure that has been researched on Amazon Prime Video during the age of Coronavirus, is the professions of those who utilize the service.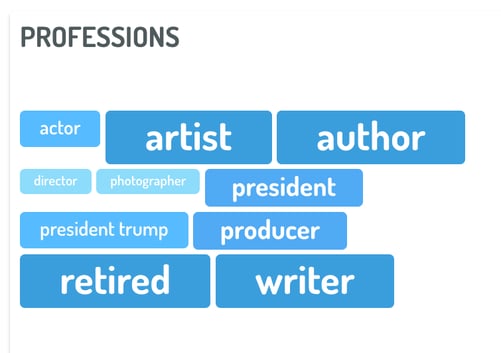 A Digimind Analysis shows how conversations on social media regarding Amazon Prime Video are held primarily by actors, artists, and authors.
Yes, apparently the president enjoys his British dramedies like the rest of us, but more importantly than that, the individuals who are mentioning Prime Video on social media skew towards the arts, with actors, authors, photographers, and writers fitting the mold of those holding the most conversations about what's showing currently. This is not surprising as artists have been hit considerably hard by the unemployment surge due to the pandemic.
With more time on people's hands to cope with feelings of anxiety and stress, Amazon has strategically catered to basic emotional desire for escapism and lighthearted fare. It's not surprising then that hit shows and movies like Fleabag, Tales From The Loop, The Galaxy Quest documentary trend most on social media discussions for the platform.
☕ Hulu Hones In On Keeping Consumers Happy
Started in 2007 as an amalgamation of large networks (Comcast, The Walt Disney Company, AOL, and 21st Century Fox) banding together in response to the increasing popularity of Netflix, Hulu launched in 2007 as a platform for syndicated television shows to air for a monthly fee online. Since that time it's amassed a dedicated audience and a revenue stream of over $1 billion dollars.
Starting at plans of only $5.99/month, Hulu has provided a dependable streaming service that offers not just network fare, but movie offerings as well. That this catering to user happiness has translated into happy social media discussions about Hulu is no surprise; emojis reviewed by the Digimind platform help to illustrate this point through a focused social listening metric that arranged these visual icons into an easy-to-understand mood board.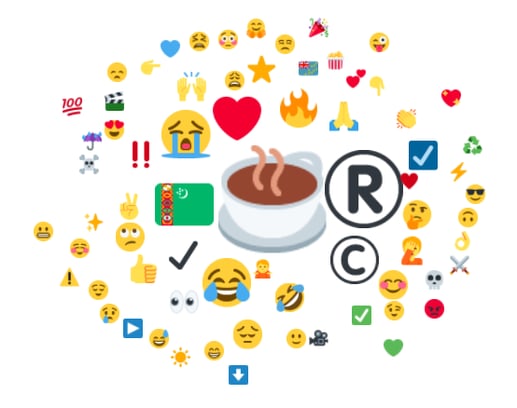 A Digimind Analysis that reflects the emoji usage on social media when discussing Hulu and its content.
With only Hulu as the keyword processed through Digimind, we were able to better highlight some of the underlying emotional imprints that customers posted online. Larger icons like the Cry Happy Emoji and the Heart Emoji represent satisfaction and joy with Hulu's output, while the Coffee Cup emoji refers to the #TwinPeaksWatchParty that's trending on Twitter.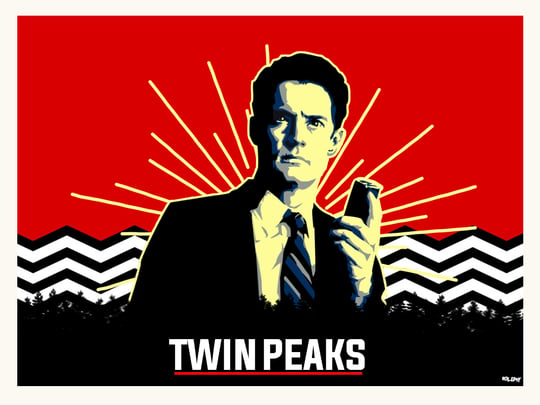 Twin Peaks continued its run from the 1990's with its 3rd season in 2017, now shown on Hulu.
Picture Sourced: https://www.reddit.com
Trending shows and movies on Hulu that have been trending on social media, as of late, include fan favorites that speak to keeping consumers happy during quarantine, such as: Twin Peaks, Little Fires Everywhere, Devs and the recent Oscar-winner, Parasite by Bong Joon-Ho.
💻 HBO Impresses: Wants To Be More Than Just Friends
Ever evolving and reorganizing as a platform, HBO NOW, and it's mobile-friendly variant HBO GO, brings a slate of premium quality content to consumers with beloved series such as The Sopranos, Boardwalk Empire, and of course, Game of Thrones.
Now with a relaunch of sorts, HBO MAX is a completely new streaming service, that includes all programming from WarnerMedia (as well as non-WarnerMedia entertainment), impressing soon-to-be subscribers with an avalanche of viewing options. All of this comes at a time - whether coincidental or not - when competitors are looking for ways to reach audiences and sway consumers of Netflix and Disney+ towards more adult fare.
To its credit, HBO has marketed itself with key content geared to sway the minds of nostalgic viewers on social media. Case-in-point: Friends.
The Friends cast set to reunite for exclusive HBO Max Special 👏👏👏👏 #FriendsReunion https://t.co/89kTTKSREa pic.twitter.com/hRKIElVxvj

— HBO Max (@hbomax) February 21, 2020
HBO announced the streaming release of the hit sitcom, Friends, on their official HBO MAX Twitter channel.
Playing to our collective love of the show, HBO MAX looks to be succeeding in its attempt to impress people into signing up for the service with positive impressions on Twitter and 35 Million views.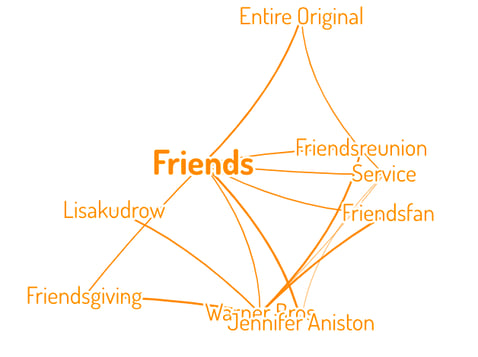 Digimind cluster cloud analysis from millions of social media posts regarding the term "Friends" illuminates how strong and positive the shows fanbase remains during this time of stay-at-home. Friendsreunion and Friendsfan stand out as pretty evident of this.
Other shows and movies that have continued to showcase HBO's success in impressing audiences are illustrated by increased buzz on Twitter over the exclusive HBO movie Bad Education, and the latest season of shows WestWorld and Silicon Valley - all relatively new and preceding the hype train of HBO MAX to great effect.
🖥️ The Rest Of The Stay-At-Home Selections
The field of streaming services is diverse and ever-growing, as large companies put their hats into the ring to see how they can vie for consumer attention and tap into sentiments of loneliness, boredom and isolation. Apple+, Crunchyroll, Youtube Premium, ESPN+, and the recently released Quibi, all round out the landscape of entertainment platforms.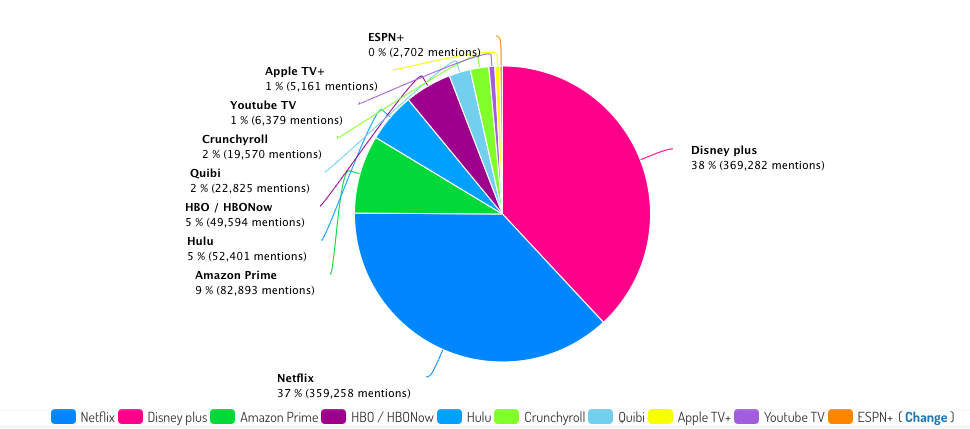 Results from the Digimind Social Analysis research regarding overall mentions on social media and web.
While important to distinguish between social media mentions and actual subscription numbers, what's key to understanding with the above Digimind produced pie chart of all streaming services, is that stark correlation can be found between company size and social media conversation size - Netflix and Disney+ are particularly standout in this regard.
With a background in creative writing, advertising, and psychology, Micah is a copywriter in name and a Digiminder at heart. When he's not developing content for agencies, you can find him crafting novels, cooking and running around in Brooklyn, NY.