3 Recent Social Media Trends In The Cart For Top E-Commerce Brands
Shopping Online During The Age Of Coronavirus
Back in April of 2020, at the beginning of the global pandemic of the Coronavirus - and its debilitating effects on the economy had set in - a NYTimes article titled "
The Death of the Department Store: 'Very Few Are Likely to Survive
'" was published along with numerous others contemplating the same pressing issue. In the article certain predictions for the demise of flagship stores and companies (that make the majority of their revenue from in-store retail) began raising red flags for many consumers, fearful for where they'd get their common goods and consumables necessary to survive what would come next. Though it wasn't a "War of the Worlds"-level of hysteria, it and other hyperbolic articles kicked up quite a storm of fears that we were all done for without our
J.Crews and Sur Le Tables
.

The fall of civilization was woefully overreported, but conversely the online sales since the beginning of 2020 have exploded significantly, with a reported $700 bil+ sales for the year alone - and an increase from last year with a whopping 18%. These numbers represent a fair-sized group of digital shopping brands that have benefited greatly from the COVID-19 lockdown, brands like:
Amazon
eBay
Walmart
Shopify
Freshdirect
Etsy
Instacart
Peapod
And more.
With insight from both the current markets, and the comprehensive data compiled for Digimind's Stay-At-Home Industry report (developed in partnership with Socialbakers), it's clear there are a few key players in this field, specifically Amazon, Walmart, and eBay. Let's look at Amazon then, as it's the biggest and most talked-about brand out of those key players. Despite negative publicity for its anti-union, less-than-stellar treatment of shipment workers, and failure to fully protect employees with PPE, Amazon, with its $75.5 bil first quarter revenue earnings, has been able to attract positive sentiment on social media alongside its runner-up competitors, a sign that heavy reliance on e-commerce was solid before the pandemic, and will continue to grow exponentially as the retail market rapidly shrinks in its shadow.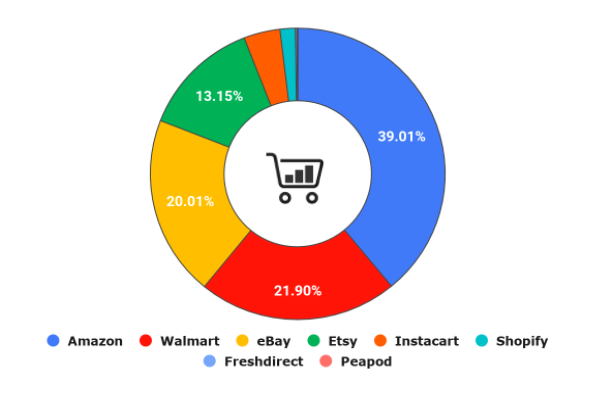 Top most discussed e-commerce brands online. The top four brands include: Amazon, Walmart, eBay, and Etsy, respectively.
Amazon, Walmart, And eBay Are The Most Discussed Brands On Social Media
E-Commerce is the most discussed industry on social media, as of recent, and that trend doesn't appear to be slowing down anytime soon. This shift online follows the insight uncovered in Digimind's report that brands within the activity group of "entertainment" garnered the most buzz - as shopping/sharing deals and promotions on social media are a thoroughly established function of marketing online, this trend makes sense. After e-commerce, brands in live streaming, gaming and food delivery made up the following largest segments of most-talked about industries online.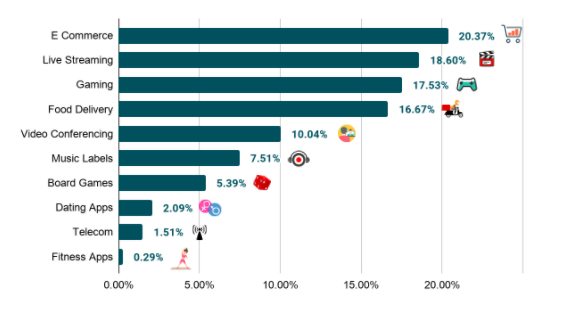 The top 4 industries talked-about on social media include e-commerce, live streaming, gaming, and fast food delivery respectively.
In the case of the top three brands previously mentioned, issues related to negative discussions on social media have been mostly attributed to workers, shipping unions, and the issues related to difficulties operating on such a large scale to accommodate the explosive growth of online orders. Positive discussions on social media are mostly related to customer satisfaction, consumer loyalty, and sporadic coverage of goodwill that companies like Amazon and Walmart have demonstrated for their employees during the pandemic. Good or bad, the conversations are prevalent and point towards a significant increase in insightful trends, of which we will cover examples for each brand mentioned.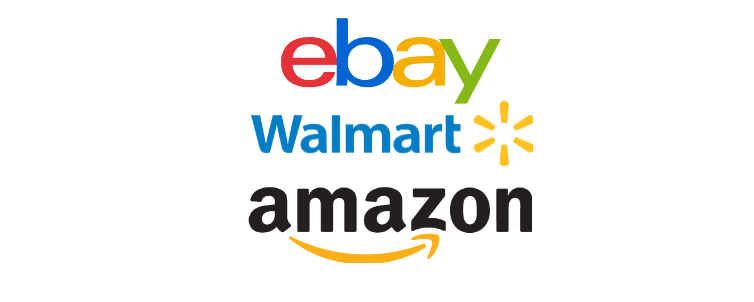 1. Amazon Improves Health Workers Lives & Brand Image On Social Media
In terms of their branding track record, Amazon has seen its fair share of both mistakes and successes, with their disastrous PR decision to fire a warehouse worker who'd been organizing a workers walkout at their Staten Island, NY shipment center, to their more selfless corporate act of devoting $4 bil for coronavirus-related costs. Nonetheless, Amazon can attribute their dominance of the conversation on social media to their ability to maintain their expediency and normal operating functions despite the pandemic.

A positive mention derived from Digimind's social listening tool to illustrate consumers' overall satisfaction with Amazon's job.
This example pulled from the Stay-At-Home Industry report shows how Amazon's ability to deliver (no pun intended) the goods - literally and figuratively - easily moved the general sentiment on the company's brand due to its perceived necessity at a time when there are few other options aside from digital commerce. Looking back at the example mentioned for the company spending $4 bil on "coronavirus-related costs", those costs amounted to PPE purchases and pay increases for their hundreds of thousands of workers who put themselves on the front lines and in risky work environments in order to protect a key component of their bottom line. It's no wonder then that Amazon largely saw glowing conversations on social media that highlighted these efforts and translated the broad dialogue about their practices and efforts into increased profit margins in the first and second quarters of 2020.
Doing the smart thing, Amazon has learned from their lessons regarding the good that can come for their brand by acting altruistically, through a comprehensive COVID-19 list of pledges and policies that wouldn't have otherwise been implemented had the windfall from the consumer insights informed them of their best course of action. The main takeaway: investing in the welfare and wellbeing of your workforce is not only important to maintain operation functionality, but also to ensure customers that the business they're doing business with is not without a heart.
2. Walmart Promotes Bulk Instant Ramen, Discounted Toilet Paper, And Employee Accountability After Worker Complaint On Social Media
Walmart, the famous US-based all-your-shopping-needs-in-one-place business has continued its successes as the second largest e-commerce brand in the Americas, after Amazon, despite the pandemic. Though only 8% of their total sales in 2019 were digital, e-commerce rose to over 11% of their total sales in 2020, a clear sign that as the Coronavirus affects more and more people, revenue moves further and further into the digital markets. This hasn't come without preparation, and with Walmart shifting their priorities into e-commerce from in-store shopping, they've reaped the benefits immensely, with 74% increase in business online, and a steady spot at #2 with online conversations.
Very much like Amazon and other mass shopping goods distributors, Walmart has been inundated with calls for better protection for their workers and employees, especially front line workers, deliverers, and shipping professionals. At the height of their conversational spike on social media, a specific tweet produced by a Ms. Diana Budds, a Walmart employee, criticized the company for their initial failings when it came to protecting their workers - something that had indeed been reported upon to support the validity of said complaint.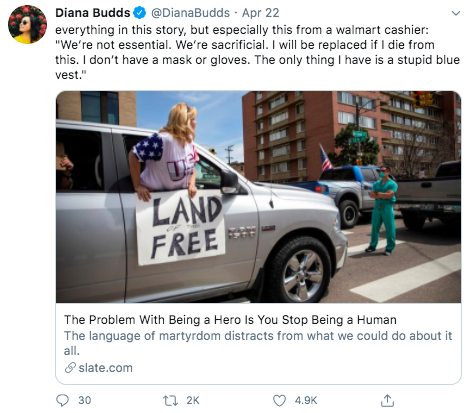 A Twitter post by Diana Budds calling for greater support and protections for Walmart employees.
After being reached out to by the press, this story drummed up a bit of a PR headache for Walmart, and prompted them to address the issue with stronger efforts, including the specifics of the tweet, like better protection for workers by making more readily available PPE, and creating fairer working environments for their teams on the frontline. With the negativity surrounding Walmart's brand, they listened to the buzz on social media and put into place a similar set of protective policies, like Amazon, that guaranteed - among other things - work bonuses and sanitation guidelines for all their stores and warehouses.
3. eBay Shuts Down Scammer And Saves Self From Online Screeds
eBay, the popular online shopping and price-bidding website founded in the mid-90's, has benefitted, like Amazon and Walmart, from increased online shopping and the closure of most retail stores across the globe. What's different about eBay is the noticeable decline in revenue and net income in the first quarter of 2020, along with a decrease in active shoppers and sellers on the website. eBay has seen both positive and negative sentiments online regarding their brand image during the Coronavirus, but one key insight regarding their handling of the pandemic came from a particular post report dealing with their uneven relationship with shoppers.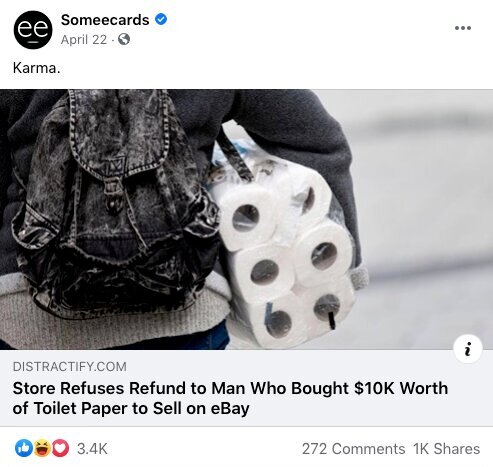 A Facebook post responding to a report of a man looking to take advantage of out-of-stock consumer goods (in this case toilet paper) in order to make a profit on eBay and failing to get a refund when that didn't work.
The important takeaway from this post involved eBay's business decision to promptly shutting down the would-be grifter's sellers account as a means of following their "user seller guidelines", and more importantly than that, preventing a serious brand debacle through swift administrative responsibility. Understanding the wave of unscrupulous con artists trying to take advantage of the low supply situation, with price gouging as a main venue of criminality, eBay saw the writing on the wall - or at least all across social media - and prevented its platform from being labeled a hotspot for shopping scams.
Overall though, eBay, with its less regulated shopping experience and business built wholly on independent sellers operating partly unchecked, it's not hard to see how the conversation on social media hasn't tilted mostly positive with predators scouring the market. But this also introduces eBay to an incredible PR opportunity to put their best foot forward, like with their independent sellers initiative called "eBay Mini Stories" to drive home the message that they care about the communities they serve, and will do everything in their power to support shoppers by paying it forward.
The Future Of The E-Commerce Industry
Despite the massive gains that the e-commerce industry has acquired during the new (though basically the norm now) coronavirus economy, there are still challenges that face brands, like Amazon, Walmart, and eBay, especially if the rate of unemployment goes up and the economy continues to stagnate. If one very important consumer insight can be gleaned from these previous examples, it's that failing to maintain a continual support system for those most vulnerable - and vocal on social media - can lead to financial problems that ultimately affect growth.
These highly profitable online companies are encouraged to go above and beyond the basic fundamental minimum when it comes to ensuring safety and security - allow for employee off-hours flexibility essential for illness and family emergencies, put funds away into an account for both old and new hirees in order to better develop a viable safety net when layoffs occur, and foster an environment of positivity and support so that the only complaint consumers make in relation to an e-commerce brand is the lateness of a package, and not a scathing criticism regarding a lack of empathy and common decency.
With a background in creative writing, advertising, and psychology, Micah is a copywriter in name and a Digiminder at heart. When he's not developing content for agencies, you can find him crafting novels, cooking and running around in Brooklyn, NY.