What is Social Listening? 10 Tools Marketing & Insights Professionals Need to Check Out
What is Social Listening?
Social Listening is a complex, yet easy-to-use AI-backed software that provides you and your team with valuable information based on data-driven insights. As a means of data-acquisition, social listening is specially designed to comb through massive amounts of social media conversations, posts, and trends, in order to paint a digital picture of the current consumer landscape for awesome people like you. You're smart, talented, and doggone it you deserve the best tools available when it comes to getting results for your next big marketing campaign.
Are there benefits to social listening compared to other methods?
Unlike the conventional means of trying to glean the general mindset and psychology for a particular brand, product, or marketing campaign (like surveys and cold calling), social listening has the benefit of intrinsically knowing what consumer wants, needs, and feelings are based on proven analytical science.
"But why do I need social intelligence to support my marketing and analytics efforts? I can just wing it because I'm so good", is perhaps something you're thinking to yourself right now. Hold up. Let's face it, you're good, but you're not THAT good! You and other professionals need these platforms to understand consumer behavior on social media in ways you can't perfectly replicate with intuition and good looks. Customer sentiments based around your brand are subtle, nuanced results found from research, and to assume you're capable of fully grocking the millions and billions of conversations online, and the keywords that are essential for coming to effective conclusions is definitely beyond your capabilities, it's just a fact. And why should you deny yourself access to such helpful software? Hundreds of other companies, agencies, and marketing firms all take advantage of social listening tools, and it's helped them avoid reputational crises, improve their communication with potential new groups of consumers through curated content, and better position their business and marketing priorities for whatever comes next. To ignore these vital digital assisters is beneath someone as bright as you, if not downright dangerous and haphazard in general!
Primarily with social listening, you can enhance:
Brand Reputation -Protect and improve your brands reputation through monitoring key trends and better position your marketing efforts to avoid and prevent crises.
Competitive Intelligence - Build an accurate body of data which can help you develop digital strategies to stay one step ahead of the competition and industry new-comers.
Consumer Insights - Create new ways to engage consumers with content influenced by the sentiments and behaviors gleaned from consumer insights.
Influencer Identification - Discover through social data, key influencers your brand can partner with for new and exciting ways to attract new consumers.
The current landscape of social listening tools is vast, and somewhat daunting if you've never endeavored to research the good, the bad, and the not-worth-your-time players of social intelligence platforms. Thankfully we like you A LOT, and want you to keep on doing what you do best: succeed, outperform your competition like a pro, and win that $20 bet with Donald in Accounting that it's TOTES possible to do your job without breaking a sweat! So sit back, relax, and check out our list of dependable social listening tools, so you can pick the best one that's right for your project and needs. And speaking of best…
Clients like Dove and Vanderbilt University are just a few of the very satisfied list of high-profile companies that have teamed up with Agorapulse, a social listening software company with an emphasis on social media management. Marketed mainly at social media managers, Agorapulse markets its platform as an innovative tool that anyone and their mothers can use in order to schedule and monitor content, review reports of engagement with ROIs, and collaborate with others in real-time. What makes their tool so intuitive is their suite of features, one of which that sticks out the most - their Power Reports tool.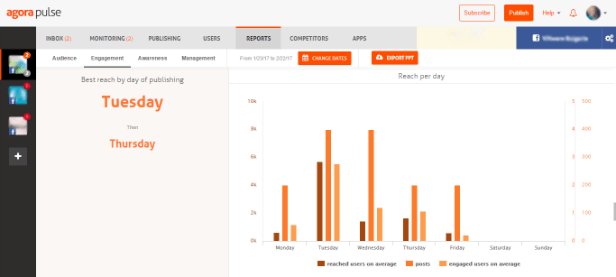 Perfect for the social media-focused among marketers and insights professionals, Agorapulse continues to shine with constant new helpful offerings that elevate it above the pack. You can learn more about their platform on their online site.
Geared more towards marketers who focus on content insights and content monitoring, BuzzSumo is still a tool that most marketing professionals can work with in order to monitor social media conversations, analyze consumer engagement in real time, and identify influencers for potential boosts to brands and campaigns. They offer four key features: data research, content discovery, trend monitoring, and influencer outreach. Combined, they offer a serious platform that's attracted the likes of Expedia.com, BuzzFeed, Ogilvy, Digitas, and many more. What's great about BuzzSumo is that in addition to their suite of features, they also provide marketers with prebuilt reporting tools and client dashboards for superior social listening service.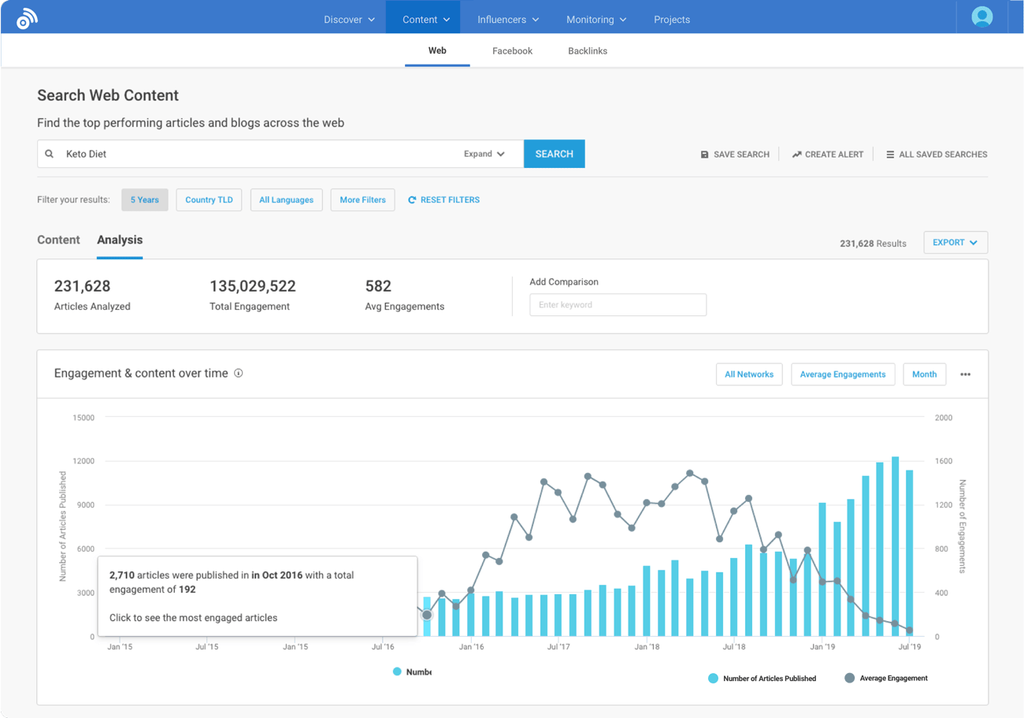 BuzzSumo, like it's namesake, is a strong tool for social intelligence work, so there's really no reason not to investigate the company and discover if what they're offering fits your specific assignment needs. Such research can be accomplished directly on their online website with a free 30-day free trial.
Named an Industry Leader in 2020 by the Forrester Industry review for both Customer Feedback Management Platforms and AI-Based Text Analytics Platforms, Clarabridge is one of the top social listening tools available on the market. Celebrated for its exemplary customer experience services, and consistent rollout of new, groundbreaking features for its platform, this one-of-a-kind software can lay claim to helping companies like Adobe, United Airlines, KitchenAid, TD Bank, Capital One, and Crate & Barrel. If you're looking to boost your social listening reach, monitor key analytics, and better prepare for potential crises, then you'd be hard pressed to do better than Clarabridge.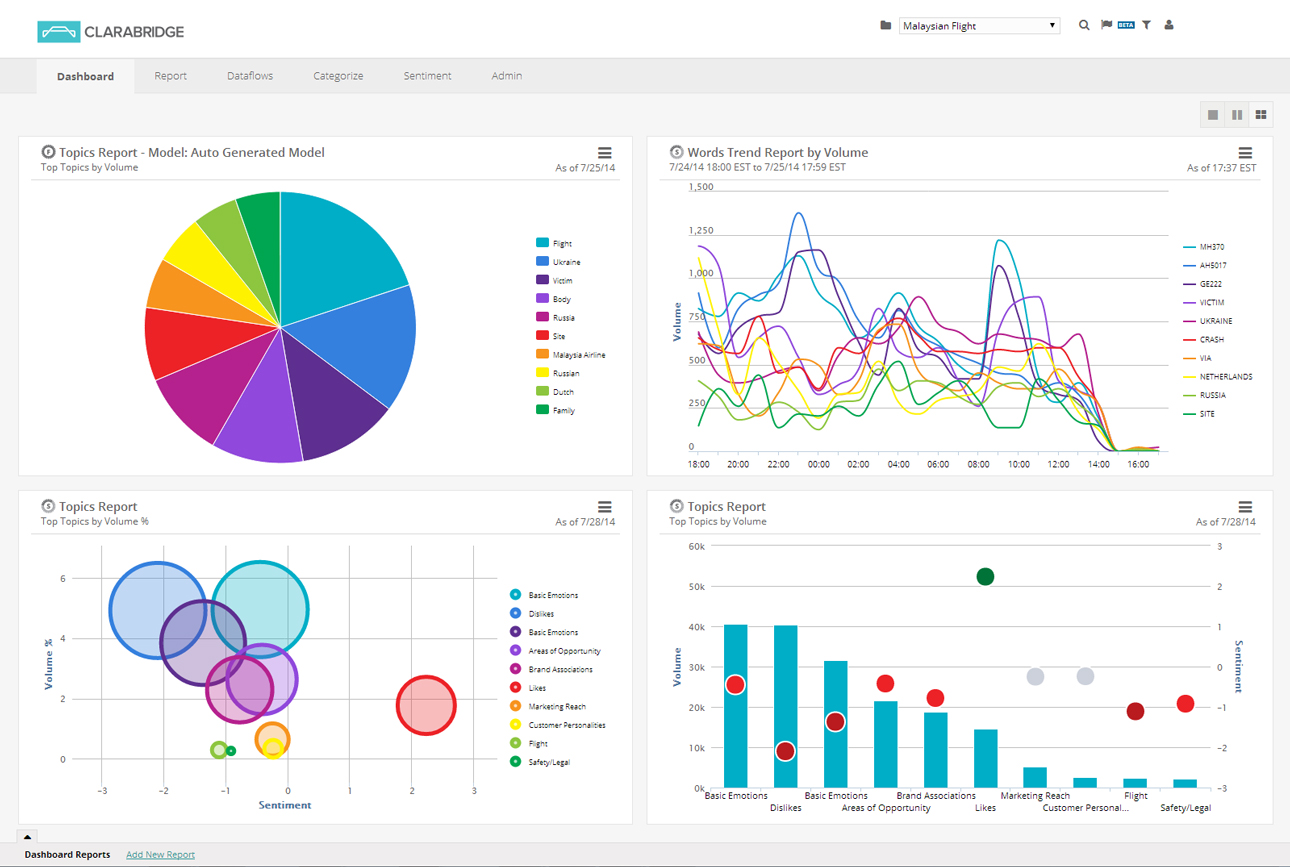 Whether it's banking, retail, hospitality, digital media, or healthcare, Clarabridge is a tool that fits any marketing campaign or consumer insights strategy. Check out their website for more details on a free consultation regarding their services.
With its years of marketing experience and bevy of important clients, such as McDonalds, Audi, FujiFilm, Macy's, and more, Digimind has cemented itself as one of the most trusted, social intelligence companies on the market today. Bestowed the title of Strong Performer, in Forrester's latest review of social listening tools, Digimind continues to offer one of the best suite of data analysis services currently, with offerings like real-time conversation monitoring, Digimind Social Analytics for in-depth performance reviewal, and reputation models for 360º consumer sentiment analysis. On top of all of that, Digimind also provides marketing and insights professionals the option to utilize 3rd-part software integrations for even more data support and services! Whether it's Hootsuite or Socialbakers, Digimind can share valuable data and supplement it's already impressive suite of tools with an even stronger arsenal or analysis, content management, and data visualization platforms!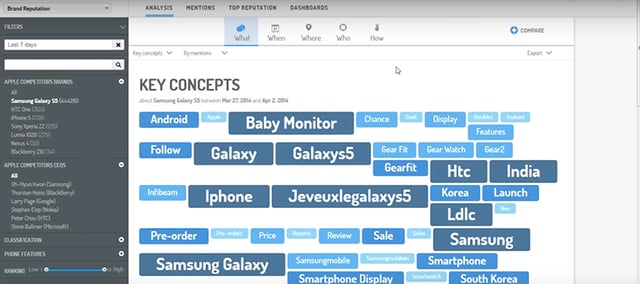 For those who're looking for both an easy-to-use, yet deep tool, Digimind offers world-class customer service for both newcomers and veterans of social listening. You can find out more about how to book a free demo here; browse the site further for more info on what Digimind can offer you and your team.
Hootsuite is a great tool for marketers and insights professionals who might be new or somewhat unfamiliar with social listening, with features and price/business plans to fit any teams needs when it comes to digital strategy. Whether it's big technology, like Nokia, to cultural institutions like The British Museum, Hootsuite is broadly developed and well suited for all kinds of social intelligence needs. It's no wonder then that the platform has been awarded many times for its incredible customer engagement, social media monitoring, and content management options. If you decide to adopt Hootsuite for your next big marketing campaign, or just to use for all your future marketing strategy needs, you won't be disappointed.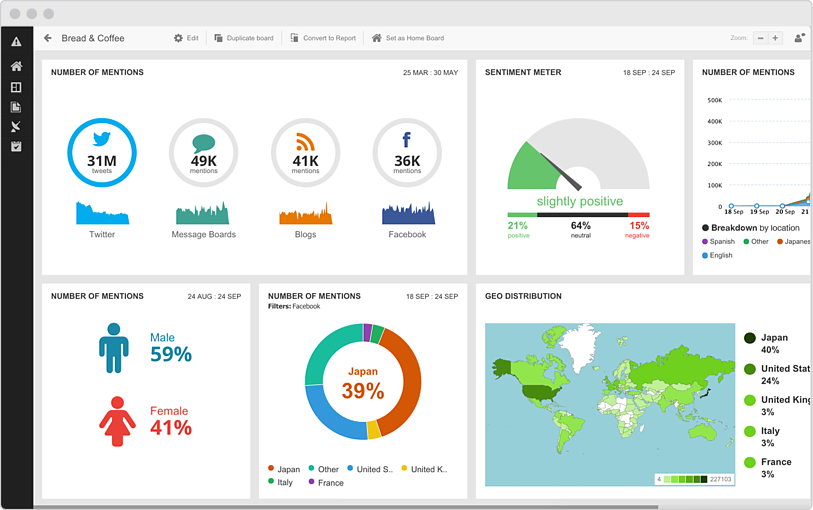 Not fully convinced? Try a trial of the Hootsuite toolset, and learn if they're right for you.
Part of NUVI's messaging claims that "We are here to help you grow", and with their advanced customer experience management tool and top-notch social media analytics software, it's a claim that's certainly got significant weight behind it. Leading brands like Costco and Krispy Kreme Donuts can't both be wrong, and in fact just represent the tip of the iceberg when it comes to NUVI's success in the social listening game. Marketers and insights professionals who've had experience with other lesser platforms, and are seeking something with greater reach, flexibility, and more tangible insight results, would do well to look into NUVI's varied offerings in order to better improve their future digital campaign efforts.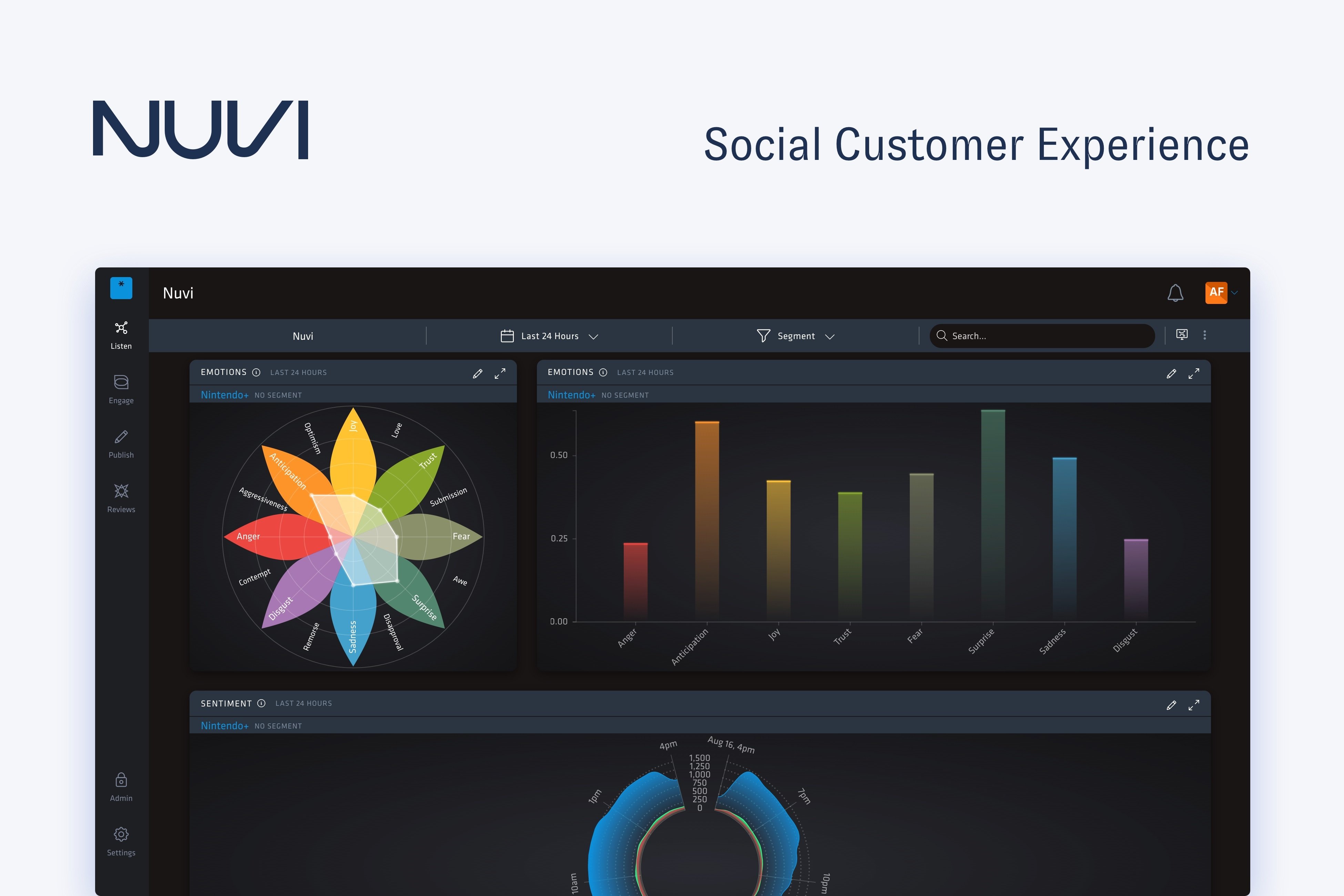 With four 2020 Crozdesk industry awards under their belt for quality, trust, customer satisfaction, and leadership in the social intelligence field, NUVI is a rising star that's not to be overlooked. But don't take it from us. You can learn more about what this tool has to offer without spending too much time on their online homepage.
You don't deliver a 360% ROI in 6 months with employee advocacy for a company like Fujitsu, or drive 13x the conversation for a firm like Capco, unless you're an exceptional platform for social listening, and Oktopost definitely is. This B2B social media management company offers marketing professionals an impressive body of options to choose from. Oktopost can seemingly do it all, whether its comprehensive social analytics for campaigns and posts, to social engagement to build better connections with consumers, to everything in between.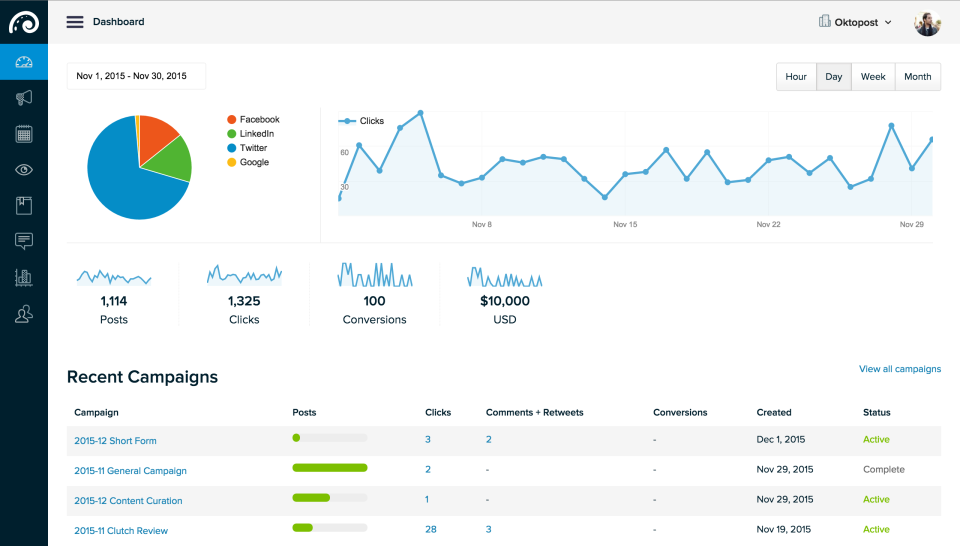 Perhaps the best thing about this tool? Its seamless integration with a plethora of various other platforms, such as Hubspot, Zapier, Salesforce, and many others! Learning more and deciding if Oktopost's B2B focus is right for your goals and needs is a piece of cake with their easy-to-navigate website, and demo-booking option.
Socialbakers truly puts the "Social" in Social Listening, with their more-than impressive set of features and former clients, such as Walmart, National Geographic, Samsung, and Heineken, to name a few. Not just another AI-powered software, Socialbakers has years of experience with their team and customer care, making them one of the most balanced, yet versatile platforms on this list. Marketers can take advantage of their audience-listening, their competitive social media monitoring tool, or their unique influencer matching option, which connects the data gleaned from a social listening search, and tie it to an applicable influencer who could potentially partner with your brand for increased consumer engagement and better brand awareness.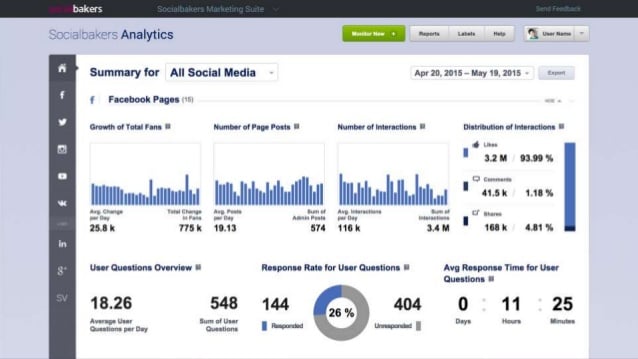 With flexible price models and a team of resourceful specialists at your command, Socialbakers never fails to impress those that are savvy enough to try out a demo. For those that want to take the software for a spin, you can visit their website for more details on setting up a free trial.
SproutSocial is a solid social listening tool through and through, with marketing professionals across the expertise spectrum being able to confidently utilize all of the features on its platform in order to do everything, from managing social content and communicating with audiences directly, to obtaining digital insights via key metrics and analytics. Subaru, Vice, Shopify, Loews, and many others have subscribed to the SproutSocial platform with great success, and if you and your team are looking for a social listening software tool that can always deliver the right data from social media, then this is the company to connect and work with.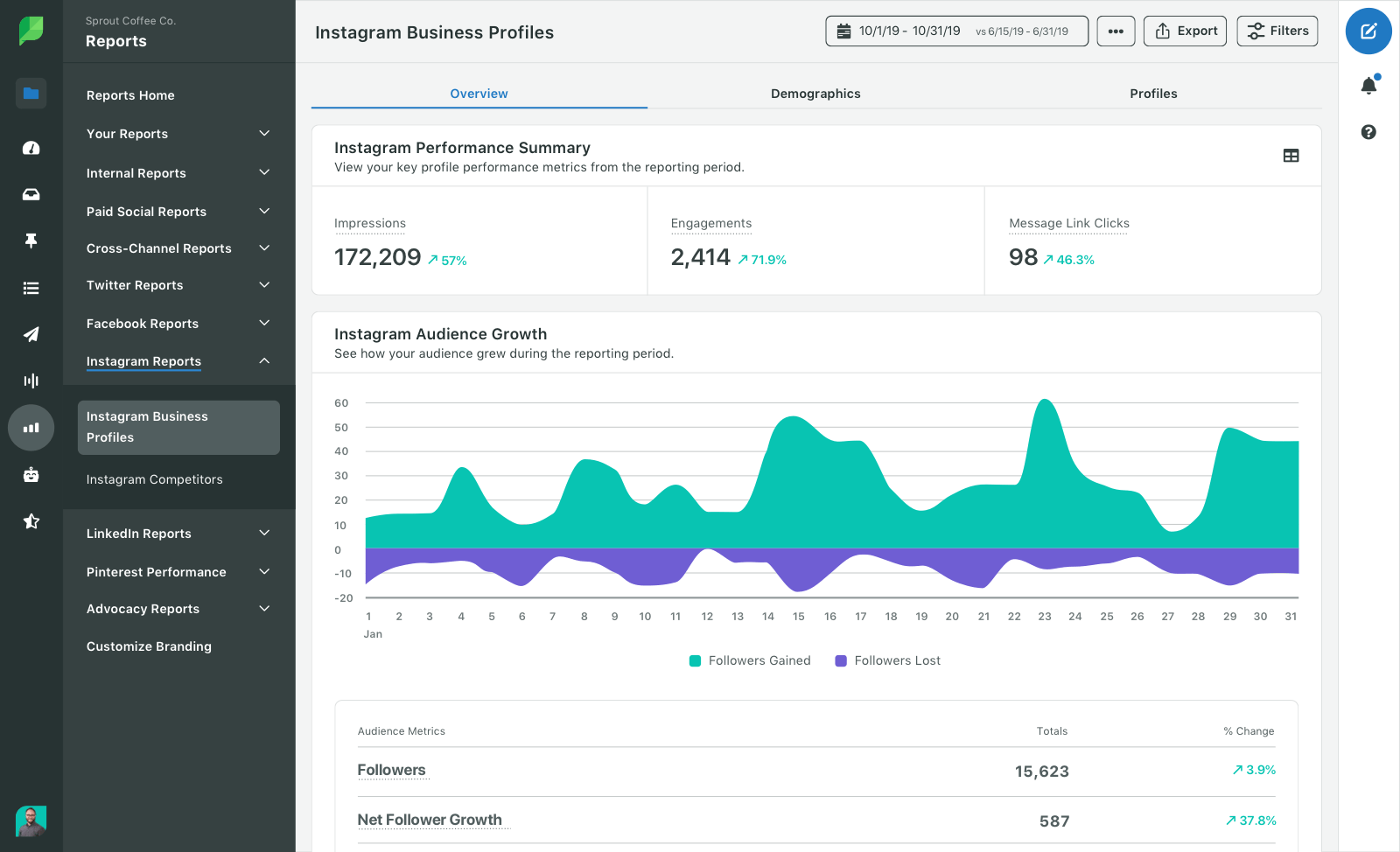 Since it's such a versatile tool that can cater to businesses large and small, as well as agencies and various industries, professionals like social strategists and content managers can join the ranks of marketers and insights professionals in order to bolster their output and optimize their results. SproutSocial also offers a free trial, which can be obtained from their website.
Social intelligence with a twist, YouScan's proprietary software gives social listening professionals a unique edge with Image Recognition technology, on top of social media monitoring for marketing professionals. Called Visual Analysis, YouScan reveals sentiments, consumer insights, and even customer preferences with the simple scan of an image or sequence of pictures gleaned from social media. If you take the plunge and see what everyone is talking about with this marriage of technology and marketing, then you'll be in such good company as other clientele, like Google, L'Oreal, Coca Cola, Adidas, Unilever, Nestle and Ikea.
Know what you're looking for and understand that, although effective, Image Recognition software is still developing and advancing every year. Thankfully YouScan is smart enough to offer free trials, and you can (and should) take them up on that offer if you and your team wish to seize the future of marketing with the latest in visual imaging innovation.

With a background in creative writing, advertising, and psychology, Micah is a copywriter in name and a Digiminder at heart. When he's not developing content for agencies, you can find him crafting novels, cooking and running around in Brooklyn, NY.