Up Your Social Media Analytics Game With These Top 7 Free & Paid Tools
Look at you, all dressed up and ready to seize the day for your brand through social listening. Well that's swell, but when you get to the computer *GASP* you realize that you're without a proper social media analytics tool at your disposal. Oh no! Also, you're not wearing any pants! And you didn't study for the big zoom meeting today! E-Gads! Luckily for you, you don't need pants, because like the rest of us you don't wear any during important zoom meetings from home, and also it was all just a bad dream. Phew! But you need to wake up and get with the program if you're not already utilizing social media analytics tools in your everyday marketing work, because tackling the arduous task of gathering key data from social media platforms is incredibly risky without software-backed assurances.
But why? Why is social media analytics so important? Well, that's a good question. Answer: unlike social media management tools, which help marketing and insights professionals create and schedule brand-based content on sites like Facebook, Instagram, and Twitter, Social Media Analytics brings you the necessary information that's crucial for establishing vital insights, such as:
Emotional and behavioral consumer sentiments
Whether a brand is in risk of a serious brand crisis
Which influencer would be most advantageous to partner up with
What a brand's target customer demographic is
And much more!
So in the interest of turning your future social media campaign from a nightmare, into an engagement-filled fantasy that you won't want to wake up from, we've found the top six paid and free social media analytics tools that you don't want to ignore moving forward. So sit back, relax, and get social!
Digimind marries social listening and social media analytics in such a way that both services on the platform perfectly supplement each other for the best results and marketing insights that will help your brand outperform the competition like no other company on the market! Whether it's targeting specific consumer groups with laser accuracy, and analyzing their social media conversations in real time, or measuring the performance of specific content through user emotional sentiments, Digimind effortlessly allows marketing and insights professionals to tackles the hardest social media analytics challenges without all the hassle. On top of providing incredible integrations with it's partners, like Hootsuite and Socialbakers, this is most certainly a product you won't want to miss!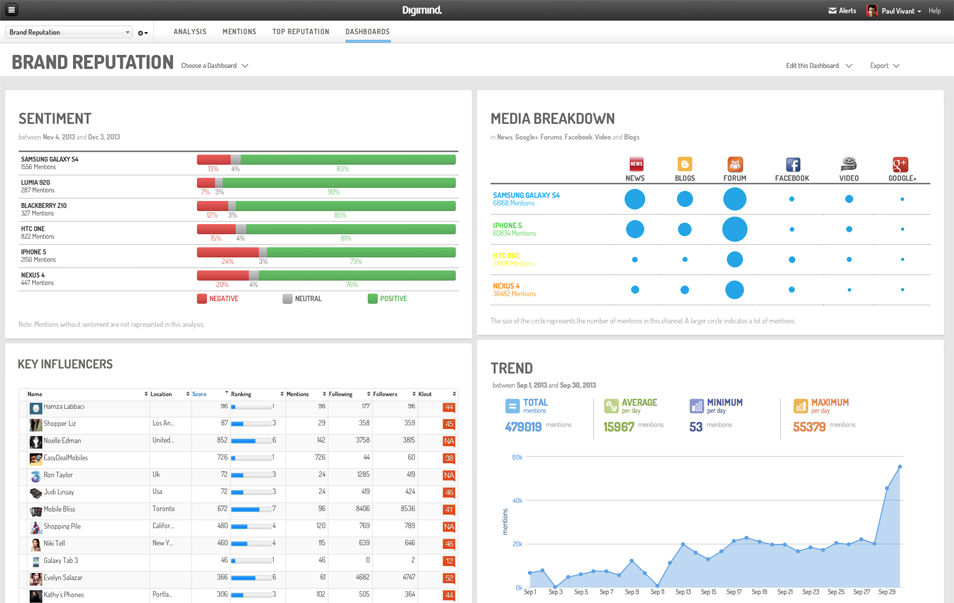 Having been named a Strong Performer by The Forrester Wave, 2020 industry review in the Analytics criterion, Digimind offers one-of-a-kind, game-changing tools and services that many companies and brands rely on, such as McDonald's, Audi, Canon, Macy's, Deloitte, Nike, L'Oreal, Johnson & Johnson, and many more! Do yourself a favor and check them out!
Hootsuite is an excellent social media analytics tool that boasts an impressive database of analyzable metrics that are fully integrated across a string of high-profile social media platforms, like Facebook, Twitter, Instagram, Youtube, LinkedIn, Pinterest, and more! Trusted by a plethora of Fortune 500 companies, such as Nokia, Amway, Melia Hotels International, Spectrum Health, and UNESCO, Hootsuite makes a solid argument for why you should trust their professionally trained advisory team with your next big project. Whether it's planning, curating, and publishing content, or discovering important data points that can inform those content plans, this service is truly a standout software, and one that's not to be missed.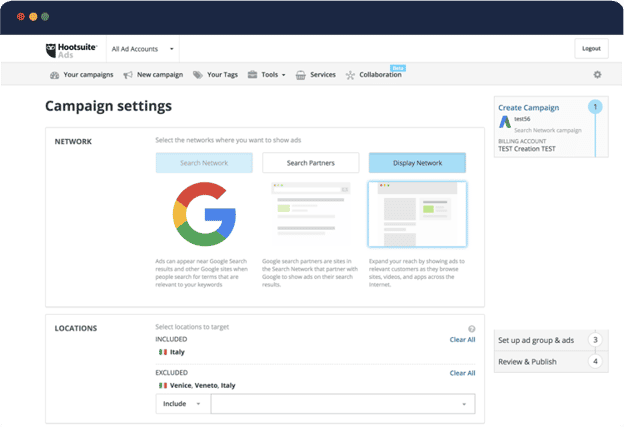 Awarded a 2019 "New Wave Leader" in the same social listening software review as Digimind - by social intelligence specialists, Forrester - Hootsuite manages to pull off unbelievable insights for both developing and live content, with real time impressions that make this social media analytics tool a great choice for pros of any experience level and team size!
If you're looking for a social media analytics tool that offers brand and event monitoring, conversation tracking, influencer marketing, and campaign reporting, then Keyhole is your kind of software! With experience serving such prominent businesses, like SoapBox, Jellybeans, OmnicomMediaGroup, and 5,000 + other brands and agencies, Keyhole stands out amongst the fray of similarly marketed services with its unique fast-tracked social media research process. Design your query based around case, industry, or platform, and let Keyhole do the rest. This tool even makes built-in suggestions to your ongoing social media content strategies as it builds off of the metrics that develop from their reporting system. Seeing is believing, and you should definitely try their Free Trial option if you're still unconvinced.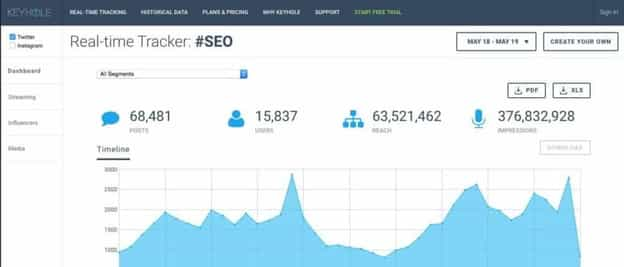 What's great about this software is that it never asks you to relearn the whole alphabet of social media analytics, instead it works within the parameters of your given research efforts, and grows off of that with both speed and accuracy, making Keyhole a one-of-a-kind analytical tool.
4. Klear

- Free (With Custom Price Options)
Always with these kinds of pieces we find 1 or 2 tools that specialize in a particular niche market or field, in order to spice things up and provide potential options for marketers who're seeking something a bit more specialized with their social media analytics tools. Ladies and Gentlemen, may we then introduce to you Klear, the Influencer-matching software that's both free, and also available with a paid option for teams looking for more out of their software. Having served such big names like Microsoft, Kayak, Adidas, Unilever, Coca-Cola, Nike and L'Occitane, Klear makes discovering a possible match-made-in-heaven pairing for brands and influencers a breeze. With helpful filters like audience demographics and channels, Klear makes it clear (pun intended) that they're the best game in town to team up with for this particular analytical objective.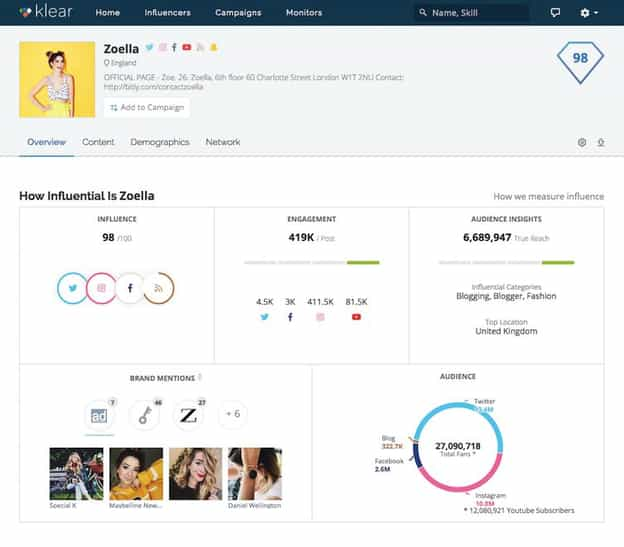 Explore a better way to search for appropriately aligned influencers with Klear, and never forget about the necessary social media analytics tools that can offer more than just the same old same old. With the initial platform being free without pay, you're welcome to try it out, risk-free, and see what all the hub-bubs about.
5. Sendible

- Free (For 14-Day Trial)
Another hybrid platform with both content scheduling and social listening capabilities, Sendible makes a strong argument for its usage by most marketing and insight professionals, simply by streamlining their offerings through their complex, all-accessible UX launchpad, and delivering something that not every company on this list does: human support as opposed to bots. Having the backing of fully trained human beings, and understanding how this can impact the total reach of your social media content strategy over the long term is definitely an incredible feat, and something that's not to be ignored when reviewing similar softwares. Sure it's not truly free - they offer a 14-day trial, which is half the amount of customary time that was offered by previously listed social media analytics tool, Sprout Social - but it's paid subscription plans are well within the realm of affordability for most mid-sized agencies and businesses.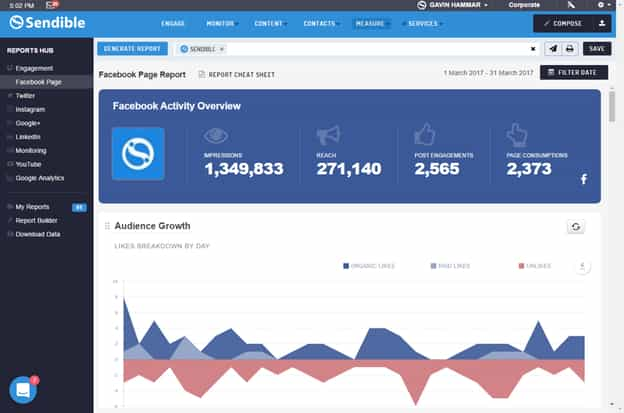 Navigate groups and groups of segmented data with ease utilizing Sendible's easy-to-approach and easy-to-use software; there's more than meets the eye when it comes to Sendible's additional offerings, like in-team collaboration apps, on-the-go mobile options, and access to the Sensible podcast. Take a chance with this exemplary social media analytics tool, and you won't be sorry you did!
Socialbakers.is a great addition to this list, as it offers an impressive AI-backed platform that caters to marketers specific social listening needs. Understand your audience like it's no ones business through 360° view of the various categories that compose said groups. Don't just take it from us though! Heineken, McDonald's, National Geographic, AirBus, Nestle, and Samsung, all take advantage of the Socialbakers platform, helping to optimize their presence on social media, and improve their standing with potential new consumers. This can also be your success story, but you've got to pay a bit, as the service is not free (though there is a temporary trial you can sign up for).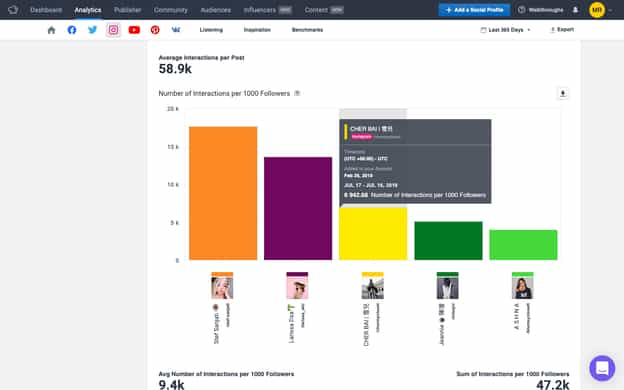 Imagine a world of social media insights at your fingertips, with reams of information, both theoretical and analytical, with which to outgame your competition, increase engagement on popular social media sites, and build a better overall brand through sheer data. This is what Socialbakers can provide you, and it just doesn't get much better than that when it comes to social media analytics tools, can it?
Sprout Social, though a pay-to-use service by nature, is flexible enough as a company to offer marketing teams a free 30-day trial that demonstrates the software's immense research capabilities, via robust social listening offerings that are backed by AI-supported technology. Like the tool listed before this one, Sprout Social also offers supplementary services, like content scheduling and planning, but the key difference here, however, is Sprout's high-tech performance metrics, which glean almost all the vital data from a subject, group, or tracked trend, by utilizing all-in-one analytics. When you've got big companies like Shopify, LOEWS Hotels, Edelman, Subaru, and Evernote, that rely on Sprout Social, you know you've hit the golden standard of social media analytics tools.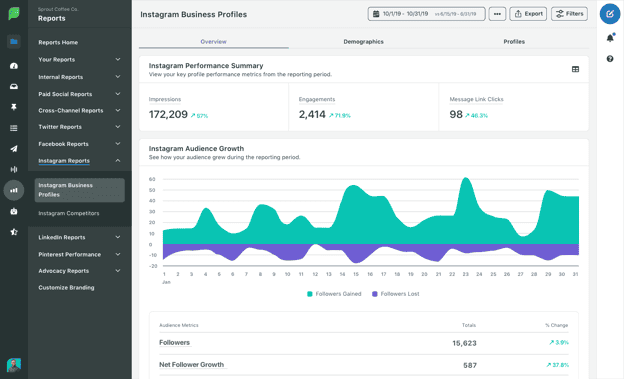 Understand your team's needs before researching this potential social media service, as their pricing model - after the 30-day demo has expired - can get a bit pricey for some smaller agencies' budgets. But finding a plan that accommodates your project is doable if you're willing to accept a comprehensive social media analytics subscription that offers less overall services.
With a background in creative writing, advertising, and psychology, Micah is a copywriter in name and a Digiminder at heart. When he's not developing content for agencies, you can find him crafting novels, cooking and running around in Brooklyn, NY.