Supercharge Your Digimind Workflows With Zapier Integrations
The field of marketing is an ever-growing, and ever-changing field, with various tools, apps, and platforms needed in order to juggle the multiple needs of your brand. Whether it's social media content scheduling software, or a market research tool for scrubbing data on a certain target demographic, marketers these days are responsible for a never-ending slew of tools. This back and forth between various services and applications can be time consuming, and quite tedious, leaving professionals with less time to devote to their priority work and dragging down the overall quality of their projects. Aligning all these tools together so that they sync with each other, and share data seamlessly for a smoother work process is something that's needed now more than ever, and it's why we're excited to discuss with you the use of Zapier integrations with Digimind, for all its clients and their needs!
But what exactly is Zapier, you might ask? To put it simply, Zapier is a means by which businesses can integrate their various online applications with each other in order to cut down on time and resources wasted repeating the same task, and increase productivity. Through the Digimind Marketplace, you can access a whole world of valuable business and marketing tools that can cross-interface, allowing for easier data sharing, stronger market intelligence workflow, and better social listening outcomes. In these trying times it's important to have the best of the best at your fingertips, and Zapier integrations with Digimind is the next level of efficient internal work processes.
How Zapier Functions: Welcome To The New World Of Workflow
Imagine, if you will, the arduous job of juggling between various tasks that require certain programs and apps. Maddening, no? But take all of that away, simplify the system that oversees all of those various services, and puts them all under one roof where they can coordinate and share together seamlessly through automation, and you've got Zapier. With over 3000 apps available to access through integrations, Zapier proves itself as one of the most premier tools available to marketers today. Basically, when you use Zapier to simplify things you just can't go wrong!
The process has been perfected and streamlined for optimal use, and it's much less convoluted than it appears to be when actually put in use. Basically, the underlying process works in three steps:
Integrate: Through the Digimind Market, you can link up Digimind with various web apps, such as Qualtrics, Microsoft Teams, and Slack, in order for them to share data.
Automate: The sharing of said data is processed between the apps through workflows called Zaps (more on these in a second).
Innovate: The data is finally shared between the apps, and the cross-tool process is complete.
What's great about this method, is that Zaps can automatically activate through customizable actions called "Triggers", which can complete various tasks while you focus on more important work! On paper the idea may seem a bit overwhelming to newcomers, but in practice this system caters to all levels of professional experience. Seriously, no joke!
And the benefits of streamlining all of your Zaps into one place? Well, you can look forward to:
Increased productivity through automation between Digimind and your existing work environment apps
Fostering internal collaboration through shared metrics and mentions from within your company to available online collaborative platforms or external dashboards
Expanding your range of market research with "Voice of the Consumer (VoC)" data surveys and customer service data!
Increasing your data collection capabilities for all of your marketing intelligence projects
And more!
Below we'll cover three sample integration use cases that'll hopefully give you a better, more thorough understanding of how Zapier Connector for Digimind will help you and your team run faster, more efficiently, and better prepared for whatever the market brings your way! Starting with...
Use Case #1: Expand Beyond Social Data With Voice of the Customer (VoC) Data And Field Intelligence
One great example of the fruitful symbiosis that can occur with basic Zaps involves Digimind and a number of apps that can assist with utilizing Voice of the Customer (VoC) data. By coordinating with an application, such as Qualtrics, you can feed Digimind valuable data from survey feedback derived from Qualtrics, SurveyMonkey, Typeform, or even Google Forms. This process can also be applied to email boxes as well, such as Microsoft Outlook or Gmail.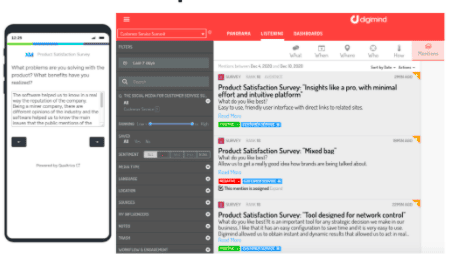 A use case sample demonstrating the connection between Digimind Social and Qualtrics forms. Through this integration, one can enrich their data collection with the feedback from consumers acquired from a customer survey.
By taking advantage of this Zap, a team - say a Customer Feedback team, for example - could automatically incorporate such feedback from something as innocuous as a product satisfaction survey, and into Digimind, providing marketing and insights professionals with complete comprehension of their target audience's preferences via solicited (e.g. a survey) and unsolicited (e.g. a social listening effort) insights. When you automate tasks you can more easily streamline the whole process.
The outcome is impressive in terms of quantifiable results for anyone focusing on market research, but the set up is much more approachable in reality:
Example of Qualtrics Zap in action for stronger use of VoC, with triggers and actions.
In the above image, you can see how the setup for this zap is very straightforward and approachable to most. Zaps like this can also come in handy when dealing with data entry tools, like Google Sheets.
Use Case #2: Improve Internal Team Collaborative Efforts
When needing to keep your team(s) in the loop regarding the changing market and business environment, it's important to also bring real time data to their attention - directly within their own active workflows. Take for example, Slack. Through this particular Zapier integration, by setting up a Zap that connects Digimind to online collaboration platforms like Microsoft Teams, Chatter, Yammer, CRMs or external dashboards, one can more easily communicate and share with the most appropriate individuals within their existing workplace. As one of the more popular Zaps, its implementation has helped many teams since being introduced.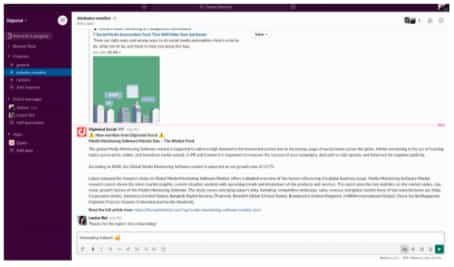 Slack operating with Digimind for optimal communication within an existing workplace.
This Zapier integration can provide a more useful means to share key information and foster stronger collaborative relationships that utilize feedback to deliver better intelligence deliverables. This can also be set up, as we discussed before, with triggers that allow team members to be alerted to important real time data as it gets shared through the Zap, thus improving customer satisfaction when properly implemented.
You owe it to yourself to end the constant flurry of missed messages, miscommunications, and wasted time jumping around. More than just an internal instant chat function, the connections made through a Zap such as this provides marketing and insights professionals the means to reach the right people at the right time within a huge company riddled with multiple teams that work on their own timelines.
An example of the Slack Zap in action providing better internal team communication for easier collaboration
The workflow shown above is great for setting up custom triggers which can alert team members automatically, without excessive oversight.
Use Case #3: Turn Insights Into Decisions With Data Visualization
Lastly, we'll explore a comprehensive way in which you and your team can make informed decisions by combining, correlating, and analyzing insights from internal and external data sources - like social listening metrics. By connecting Digimind to online data visualization platforms like Databox, Google Data Studio, Cyfe, Geckoboard, and Zoho Analytics, one can export and combine Digimind-scried data with third-party data and platforms (e.g. Google Analytics, Salesforce, Microsoft Dynamics and Hubspot).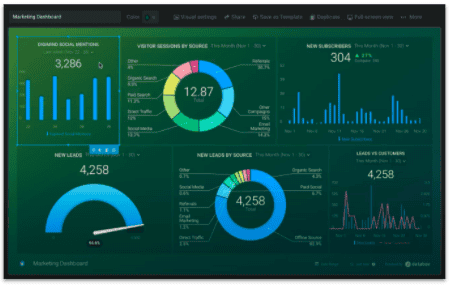 The data visualization features of a platform like Databox in action.
Through this method of combining data, the integration allows marketers to obtain a broader image of your researched subject, and thus gives you much more flexibility on data visualization and reporting. Through automation, this can help speed up the process by which your team makes vitally necessary decisions related to your brand's business and competitors, ultimately giving you an edge in the marketplace.
An example of a Zap utilizing Databox for better data visualization that can be shared between apps.
Another great use of these specific integrations is that for apps (like Cyfe) that require daily doses of data for their effective use, can now completely acquire constant feeds from Digimind for a more convenient report-building experience.
An example of a Cyfe Zap, which is helpful for marketers that utilize digimind social metrics and want to update their dashboards daily through automation.
Digimind's Zapier Integrations Are The Future, So Get On Board
Eliminate the frustration of balancing your multiple projects, and the various tools that operate under those projects, and the tedious manual updates you had to perform to run those various projects, and so on and so forth! Zapier Integration for Digimind is the new way of simplifying all of your various applications, making them work with one another effortlessly. There's no reason not to use Zapier!
To help you hit the ground running, you can find 17 of the top most-used pre-built integrations on the Digimind Marketplace, or you can also build your own on Zapier! Contact us to learn more!
Hailing from beautiful Vietnam, Louise brings her trusted experience and eye for detail to her role as the Product Marketing Manager with Digimind! With a strong background in Market Analysis and years of success, Louise offers her Digimind family a new way to promote Digimind features and products. When she's not busy exploring her new home of Paris, France, you can find Louise getting lost in a new book, enjoying some hot tea, or trying a new recipe.