Cosmetic Dynamics: Unveiling Gen Z's Influence and the Shifting Landscape of Fragrances and Color Cosmetics
Over the past few years, we've observed a significant trend in the fashion industry where renowned brands are actively broadening their product portfolios to include makeup and skincare lines, breaking away from their conventional emphasis solely on fragrances.
In 2022, brands and consumers alike witnessed a strategic shift in the fashion landscape, as esteemed fashion powerhouses like Carolina Herrera, Dries Van Noten, Off-White, and Stella McCartney boldly diversified their offerings, marking their entry into the makeup and skincare sectors. This calculated move follows the successful ventures of industry pioneers such as Victoria Beckham, who made a notable entry into the makeup segment in 2019, and Tom Ford, who forayed into the skincare sector during the same year, setting the stage for the fashion industry's foray into the beauty market. These calculated decisions not only solidify their brand presence but also serve as an accessible gateway for consumers who admire their products but might find their primary offerings financially out of reach.
To illustrate, the introduction of Dries Van Noten's lipsticks, marketed at a seemingly exclusive price of $78 (USD), has played a pivotal role in the strategic expansion of the brand's consumer base, particularly reigniting its allure within the younger demographic. This significant divergence is evident when compared to the brand's primary fashion line, featuring dresses that range in price from $350 to $3,050, catering to a more affluent customer segment.

The successful integration of the lipstick line has not only broadened Dries Van Noten's reach but has also fostered a deeper connection with a previously untapped market segment, facilitating the brand's evolution beyond its traditional fashion-focused image. By addressing the desires of a younger, more price-conscious audience, Dries Van Noten has effectively bolstered its market position and reinforced its resonance within the contemporary fashion landscape, showcasing a strategic alignment with evolving consumer preferences and market dynamics.
By introducing more affordable makeup and skincare lines, these esteemed fashion labels extend their appeal to a wider audience, allowing individuals to experience a slice of their luxurious brand world without committing to the higher price points typically associated with their main fashion lines, establishing a sustainable bridge between aspirational luxury and consumer accessibility.
The emergence of Generation Z as a prominent target audience has significantly influenced the strategies of various fashion brands, prompting them to expand their consumer base to cater to this demographic. Understanding the shopping habits of this generation provides crucial insights into their substantial impact on the market.
Gen Z as a consumer base
Jane Hertzmark Hudis, the Executive Group President at Estée Lauder Cos., highlights
Generation Z's emphasis on product performance has spurred the resurgence of overlooked products in the market, such as the renewed popularity of Clinique's Almost Lipstick in the shade Black Honey.
For this cohort, the emphasis lies in the efficacy of a product, and if it delivers on its promises, they are wholeheartedly invested.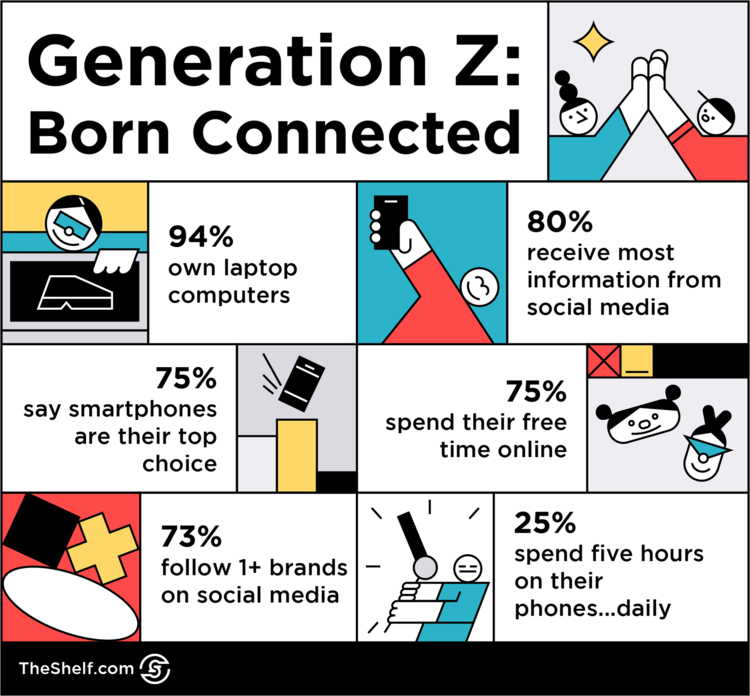 Images: The Shelf
By 2022, Generation Z already commanded a substantial share of nearly EUR 200 billion in the market, marking a significant leap from the 2016 figures, with projections indicating a potential doubling of this amount by 2026. What sets this generation apart is their commendable financial stability, with a striking 60% indicating their ability to manage personal expenses, indulge in luxury purchases, and concurrently bolster their savings. This financial confidence has translated into a notable inclination towards luxury beauty products, evident in the data from NielsenIQ, wherein 61 %of Gen Z shoppers are making luxury beauty purchases. Surpassing the shopping habits of preceding generations like Gen X and Baby Boomers, they trail only slightly behind Millennials, highlighting their influence in reshaping consumer trends. Moreover, their propensity to spend 15% more than other age groups has become a driving force behind the remarkable growth in the fashion sector. With an estimated global consumer base of approximately 60 million individuals, as reported by Mintel, this generation wields considerable purchasing power, shaping the direction of the industry.
Simultaneously, the interest of Gen Z in sustainability, brand purpose, and values propels them toward conscious consumption. Brands that align with their ethos of sustainability and demonstrate a genuine commitment to social and environmental causes are more likely to secure their loyalty, reiterating the importance of responsible business practices in capturing the hearts and wallets of this influential consumer segment.
Changing Trends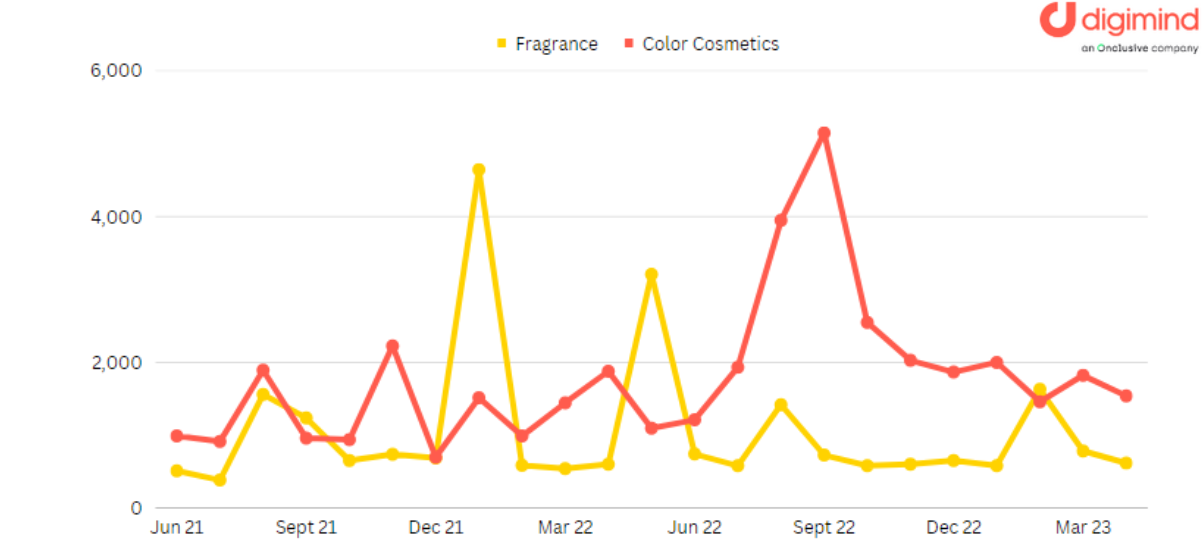 Evolution of mentions around "Hermes Fragrance and Color Cosmetics" between June 2021 to April 30 2023
Additionally, there has been a noticeable decrease in the appeal of fragrances. In the month of January 2022, discussions concerning color cosmetics and fragrances underwent considerable shifts. Both segments experienced substantial surges, with color cosmetics registering a notable increase of 68.06%, while fragrances displayed a more pronounced growth of 207.03%. Despite the greater percentage increase witnessed in the fragrance sector, color cosmetics sustained a stronger overall influence. This upsurge in online engagement reflects an encouraging transition in consumer preferences toward these specific product categories.

Throughout this three-year timeframe, color cosmetics have consistently maintained a lead over fragrances in terms of the total number of online mentions, highlighting their enduring appeal among consumers. Notably, it is crucial to acknowledge that fragrances demonstrate intermittent spikes in interest, as evidenced by a significant upswing recorded in November 2021, especially during festive holiday seasons.

On average, color cosmetics receive 1417 monthly mentions, with consistent and substantial engagement of consumers with color cosmetics as compared to fragrances which garner 920 mentions,

The data corresponds with the ongoing trend indicating that makeup products, specifically color cosmetics, and aligns with the strategic maneuvers undertaken by fashion houses, including Dries Van Noten and others in 2022, as previously highlighted, as they sought to tap into the growing younger consumer base.
Next Steps
As the trend persists, with more fashion brands venturing into the domains of makeup and skincare, color cosmetics emerge as a pivotal category for bolstering their market influence and establishing connections with a wider, younger demographic.
As businesses recognize the mounting traction of color cosmetics and their increasing relevance among the younger demographic, they can utilize this information to tailor their marketing strategies and product portfolios accordingly. Grasping the evolving preferences of Generation Z, who are actively contributing to the rise of color cosmetics while displaying a waning interest in fragrances, provides businesses with a strategic advantage in aligning their brand positioning and product development to cater to this influential consumer segment.
In the context of the decreasing popularity of fragrances, the application of social listening becomes essential in comprehending the underlying causes driving this trend. By actively monitoring online conversations and consumer sentiments, businesses can gain valuable insights into the changing preferences of consumers, especially the influential Generation Z cohort. This proactive utilization of social listening not only allows businesses to track the diminishing appeal of fragrances but also provides an understanding of the simultaneous ascent of color cosmetics, a trend strongly resonating with the inclinations of Generation Z.


By placing the data on fragrance decline and the concurrent surge in color cosmetics within the context of the preferences and behaviors of Generation Z, businesses can leverage the power of social listening to not only understand market dynamics but also anticipate and respond to evolving consumer demands. This approach enables businesses to proactively position themselves ahead of the competition, using the insights derived from social listening to craft targeted marketing campaigns, innovative product offerings, and engaging brand experiences tailored to the specific preferences and values of the Generation Z demographic.

Access Digimind's comprehensive industry report, delving into essential competitive insights within the luxury cosmetics sector. Stay ahead of the curve with valuable market data and analysis, providing a comprehensive understanding of the competitive landscape.