Best Practices for using Social Listening for PR
The PR industry is changing, and necessarily so. Gone are the days when PR consisted of sending out a press release to print papers, checking publications, cutting relevant mentions and sending timely responses thanking for the inclusion hoping to build a positive relationship and increase chances of being quoted again in the future. Print media is on the decline, often second place to its faster paced online digital counterparts, where news stories will break and the boundaries have been blurred between journalism and blogging, journalist and blogger. PR Social Listening or monitoring is as important as ever to keep on top of quantity of releases, measure quality and build relationships with new age digital influencers.
So how can the PR industry let in this overhaul of the industry and utilize on social media listening to enhance their practices?
Influencers
In the digital age, social media and online influencers can have as much clout as traditional journalists and publishers. It's hard to ignore that fact that influencer marketing, above any other online channel of marketing, averages a better ROI (Source: B2C). Social media monitoring allows you to identify these key influencers in relevant industry sectors, and understand how they tick in order to get closer to them and build a rewarding relationship.
81% of marketers already using influencer marketing name it as an effective strategy (Source: eMarketer).
Discovering who is writing about a particular topic and connecting with these individuals can help to ensure your clients' brands are at the forefront of their mind when an idea for a story arises, see Clique Media Group for example. Social listening tools also allow you to judge the ranking of particular sources talking about your brand and thus analyze the potential impact of the mentions and allowing you to quantify your results.

For example, one influencer on Twitter may Tweet less about your client but if they have a higher ranking, based on followers (and thus potential audience reached) and the quality of the coverage will increase its worth.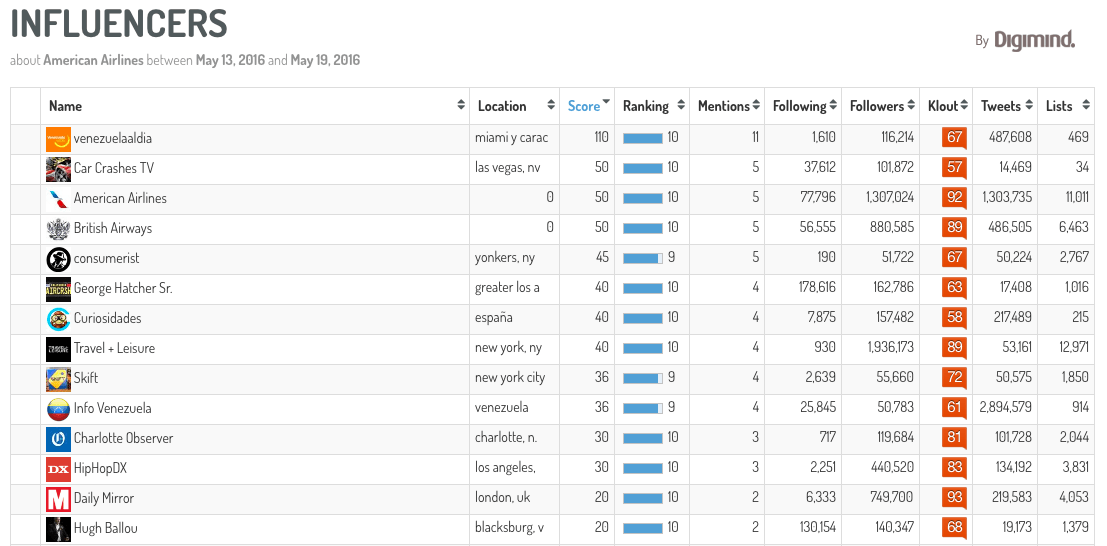 Reputation Management
People have always said good and bad things about brands, allowing the PR industry to exist and flourish in its role. Social media can be fuel to the fire escalating crisis with its fast-paced developments.
28% of crises spread internationally within one hour, but it takes hours for companies to respond effectively (source:Hootsuite)
Compare this to the finding by Convince and Convert finding that those seeking customer support through social media, 32% expect a response within 30 minutes and 42% expect a response within 60 minutes (Convince & Convert). With the free open nature of social media giving people an ideal platform to publish these views, and also with the viral potential of content, social monitoring is essential to aid in reputation management. By staying on top of mentions on social media you can instantly be aware of any negative comments that will have a detrimental impact on a client. With crisis management timing is key and with real-time alerts reaction and response can be made even more effective. Furthermore, in a prolonged crisis, social media makes it possible to send out multiple updates, keeping audiences in the loop and limiting anger at a lack of information. It is also a platform for transparency. Users take to social to offer personal honest opinions, whether positive or negative and appreciate honesty in return. A release with a concise honest explanation of the issue at hand will go a long way to improving client relationship management in a crisis.
Conversation Tracking
Having a social listening tool means you can spend less time hunting down what has been written and said about your brands and clients, compiling all the mentions you need into one invaluable resource. PR is about staying on top of conversation in a fast paced industry where from one mention to the next sentiment and reactions can change. A PR Social listening tool can provide you with real-time alerts of all you need to know, allowing you to pass this onto relevant teams and clients at the drop of a hat. Real-time activities at real-time speed. Monitoring industry keywords will help you stay on top of trends and innovations. Allowing you to create targeted press releases that will ensure audiences will engage with your brands and advise clients on their next moves surrounding effective PR strategy.
Conversation tracking also essentially allows you to measure brand exposure. Generating reports based on the number of mentions, quality of publications, and who picked it up and where will help to demonstrate the success of a campaign and keep clients up-to-date and satisfied with their ROI.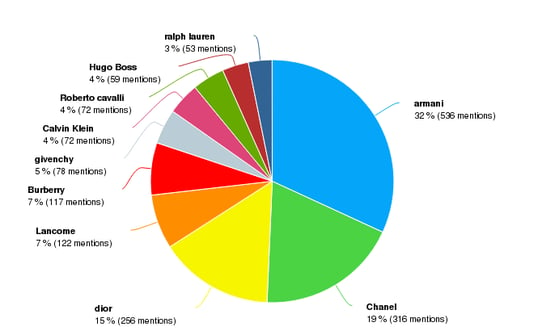 Competitor Analysis
Social media monitoring can also be used to benchmark your client against competitors in their industry, and for you to measure the level of exposure and engagement of your PR efforts in comparison to these brands. Set up your tool to receive alerts based on your competitors as well as your own clients to stay ahead of the pack, and maybe even steal some ideas for successful exposure for yourself. From comparing the number of mentions to measuring sentiment against competitors, this will allow you to see where your brand stands in the market and create PR efforts according to improvements that can be made to ensure you are a key player.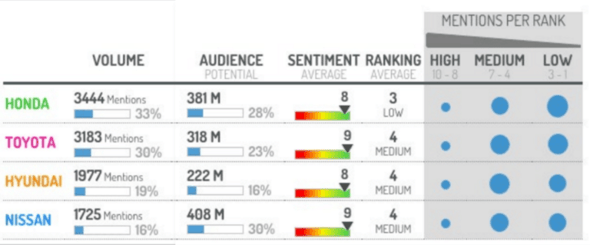 Data evaluation
With the mass of data that can be pulled from social listening, PR firms have a plethora of insights that can be fed into creative content creation. Brands hire PR companies to tell their audience what they need to hear about their brand and with social listening PR companies can ensure time is not wasted and that they can provide these customers with what they want to hear. With data such as demographic insights, geolocation understanding top cities mentioning brands, sentiment analysis opening up to how people are discussing brands, when people have been discussing topics peaking around certain events, and on what online media PR agencies can create highly-targeted content released in places with a higher likelihood of reaching the people who will be most responsive and engaged.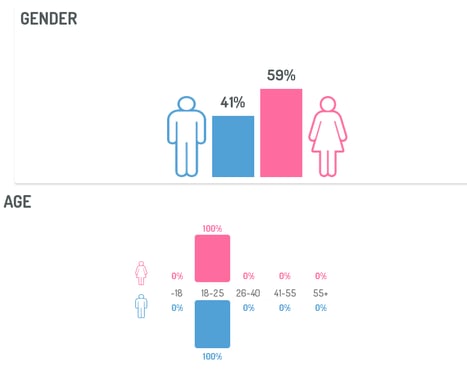 Ultimately it is clear that with the mass resources of information available to agencies online the PR industry can undeniably benefit from a social listening. Why continue along a strategic path that's not working? With social media, you can evaluate, adapt or move on. Social media also allows a more rounded ability to determine the success of your efforts, allowing you to track campaigns and reaction more easily ensuring your PR is delivering results.
Marketing Manager @digimindci. Passionate about big data & social marketing. Photography, music and hiking lover