First rate Social Media Strategies for US Retailers
Content is the word on everybody's lips, but who's made it large in the retail industry by being original and creative with their strategies? In this blog post we will explore the top ways Social Media retail strategies have won over online users and gained successful engagement.
1. 'How to' your way to the hearts of your customers
Getting consumers to buy your products is one thing, but once they return with a new product in hand it is sometimes a struggle to get a handle on how to put it together or use it: particularly when it comes to DIY.
Home Depot has found solutions in their Social Media strategy, by providing users with an array of video content, giving them 'How to's' to aid them in the construction and creation of their products, which previously increased their earnings per share by 22.6%.
The retailer has developed and marketed itself through several channels (Facebook, Twitter), but it is the visual content that has probably been the most notable in terms of reach. Not only can their customers save time on reading lengthy instructions, they also have a visual aid for complex constructions!
Their playlists cover everything from 'Homeowner Basics' to 'Outdoor projects' among many other handy things, check out their 'Projects from our commercials' playlist below:
This type of strategy was no doubt inspired by social engagement and feedback from their other channels. Simply put, if your clients are asking the same questions, try something new that aims to answer them. Or even better be the leader and show them the best way to do it.
2. Capitalizing on celebrations
Global celebrations are a time for family and friends, but they are also a great time to increase your brand awareness. Macy's did just that when they brought out the hashtag campaign #MacysLovesMoms in the run up to Mother's Day. Not only did it increase consumer engagement with their brand, highlighting their understanding of the social 'throwback' cult, but it also promoted them as being the place to get the perfect Mother's Day gift.
By donating $3 per each image uploaded with the #MacysLovesMoms hashtag, they increased the shareability or virality of the campaign, creating a social circle for their consumers to engage with and massively increased their Share of Voice online at a crucial time for ROI at their retail stores.
Consumers love to share what they love and hate, so by instigating a campaign with a topic that is very rarely surrounded by negative associations, Macy's were onto a winner with getting their customers to talk about their moms. It also allowed them to pave the way to promote other features of the brand, such as 'Macy's by appointment Service' for personal shopping, opening up other opportunities to be the leader within your field and to continue the campaign into the 'Thank A Mom' it is today.
3. Brand ethos is everything
TOMS is one of the brands leading the way when it comes to turning business into charity, with the entire ethos of the company being based on their 'One for One' campaign. This means that when their consumers make a purchase they are not only buying a product, but also physically buying into the brands ethos.
Their video strategy allows them to show firstly how to wear some of their products, but also where the money goes when their consumers invest in the brand, and with over 40 thousand subscribers and 4.5 million views it's clear to see they're engaging in social spaces where they can reach the consumers in an effective and impactful way.
One of the most watched videos 'One Day Without Shoes' was a call for action for people to participate in a global event which holds the company ethos at its heart. This set off massive engagement with many celebrities taking part and creating a ripple effect from TOM's social channels.
TOMs other social channels replicate the same ecological theme. They are known for insightful and inspiring quotes, promotion of charitable initiatives and for being personal such as the Founder often directly re-tweeting the consumers.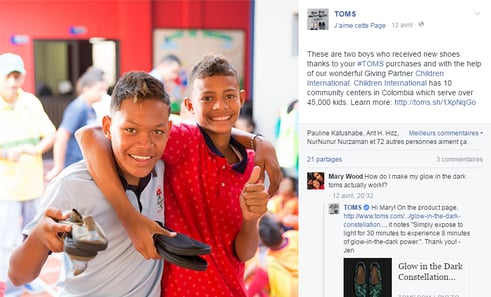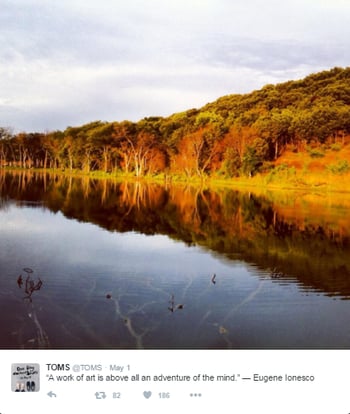 The takeaway here is to really use the right channels for your brand, if there is a meaning, purpose or story which goes beyond simply the brand name you've got to tell it in the right way to get the engagement, awareness and turnover it deserves.
4. Know your product and have fun with it!
Social Media is effectively an extension of a store, with produce being brought to life online to be recreated at home. Whole Foods Market for example, whose Twitter account has their largest following of all their social media channels, does just this. The content on their site promotes recipes, with tempting images and concise videos, showcasing how Whole Foods inspired quick and simple dishes can be transported straight from store to plate. By building these strategies around their top-performing social accounts, Whole Foods creates a strategic link to their company blog or youtube channel.
Knowing how to creatively play with your brand image is also key, and Whole Foods have got it down when it comes to brand image and responsiveness across media platforms.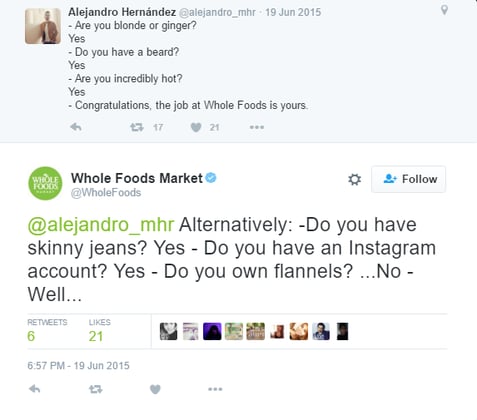 Playing with your brand, having fun, and tapping into reactive trends is also great for showing how you link your product concepts to everything else happening in the world of social. It's also a great way to create positive engagement around products. Whole Foods took the film Fifty Shades of Grey and whipped it up into a social food success.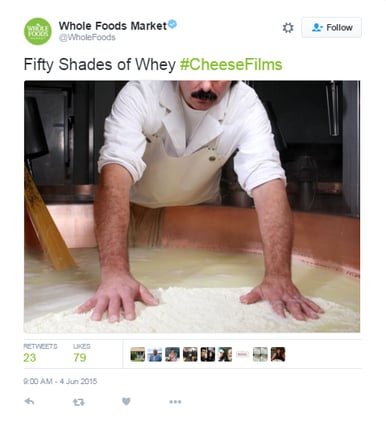 5. Honesty is the best policy
Seeing really is believing and companies can't rely on positive press releases to convince their consumers of their credibility; they have to see it to believe it. 'Process not Processed', a series on Chipotle's assorted youtube channel expands their positive messaging and marketing surrounding the production of their food. Audiences can see the full process of creation of some of their key products that, coming from a large corporate company, could be expected to be mass produced and processed.
Chipotle produced an original four-part comedy series that was aired on Hulu titled "Farmed and Dangerous". The satirical series aimed to mock the factory-farming industry and highlight Chipotle's commitment to tackling sustainable agriculture and the mistreatment of animals. And, of course not forgetting the Scarecrow. Praised as an innovative piece of marketing the advert pulls on the heart-strings cultivating the idea that Chipotle care about the source and production of their produce, whilst simultaneously promoting an anti-factory-farming message. It won a D&AD award, and has now been viewed on youtube over 15.5 million times. This creative and alternative approach to traditional marketing works in Chipotle's favour, as whether it is taken well or criticized for certain levels of hypocrisy, it still has people buzzing about their advertising.
Adapting your retail strategy on social is becoming more important than ever, and with video having a consitently bigger impact on how your online content performs, it is key to have a strategy that fits your brand, but that also creates awareness and engagement.
Marketing Manager @digimindci. Passionate about big data & social marketing. Photography, music and hiking lover