5 Signs Indicating You Need a Social Media Listening Software
Social listening software—also known as social media monitoring or e-reputation intelligence software—is a tool that allows you to listen to what users say about your brands, products, directors, and employees, whether it be the media, clients, prospects, fans, or critics.
The best of these web and social media monitoring tools can also measure the performance of your own social media accounts (Twitter, Facebook, Instagram, etc.) which you manage internally.
As a digital marketer, brand manager, or social media manager, if you find yourself encountering any of these 10 signs in your day-to-day work routine, it may be time to invest in a Social media listening tool 😉
1. There Is More and More Talk About Your Brand on the Web, Yet You Can't "Listen" to Any of It
You already know there are conversations surfacing about your brand on the web and social networks. While you are able to "identify" a few articles and see some messages on Twitter or Facebook, you have no idea of the overall volume and sentiment tone expressed by users, and that's not counting all the important messages that you missed.
What's more, it seems there's talk going down about you on forums, Instagram, blogs, and even YouTube but you have no way of finding or analyzing it. In addition, the executives have reportedly been speaking about your company on LinkedIn groups. However, your team does not have the time to juggle through all these platforms, or manually enter all your brand names to screen these conversations.
With a social media monitoring tool, overseeing the web and social media is automatic, covering all existing channels from social media channels like Twitter to Tumblr, to even review sites or RSS feeds. This monitoring is done via keywords and phrases about your brand, your products, your opinion leaders, and your market, which are defined by you at the point of set-up.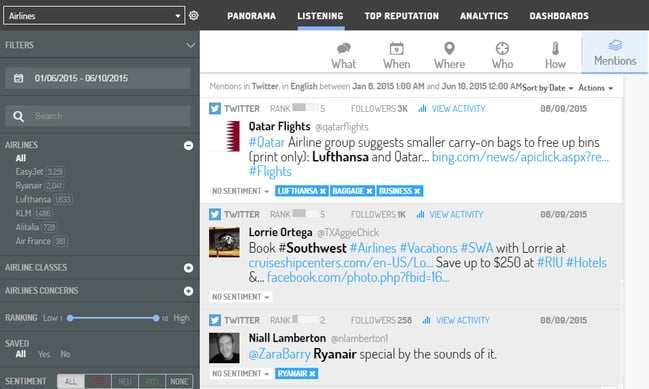 2. Creating Reports of All Your Social Media Accounts Is Taking Too Much Time
Imagine this: your social media manager has to manage two Twitter accounts (corporate and after-sales service), a Facebook account, a Pinterest account, an Instagram account, LinkedIn, and YouTube. Crazy!
Each week, there is a backlog of counting, calculating, and reporting on community developments (fans, subscribers), interactions (Like, retweets, comments, shares, etc.) on all the most successful publications. All this takes them hours, and over a day for the monthly reporting. Everything has to be manually inputted into an Excel sheet and is often prone to creating errors. In the meantime, while all that is happening the social media manager is not watching and monitoring the social networks! The horror!
A social media monitoring tool with an analytics module allows you to automate repetitive tasks such as reporting (development of communities, interaction, publications) and automatically produces graphs and dynamic dashboards that will auto-update with new data every day. In addition, you can organize your social accounts by product and country!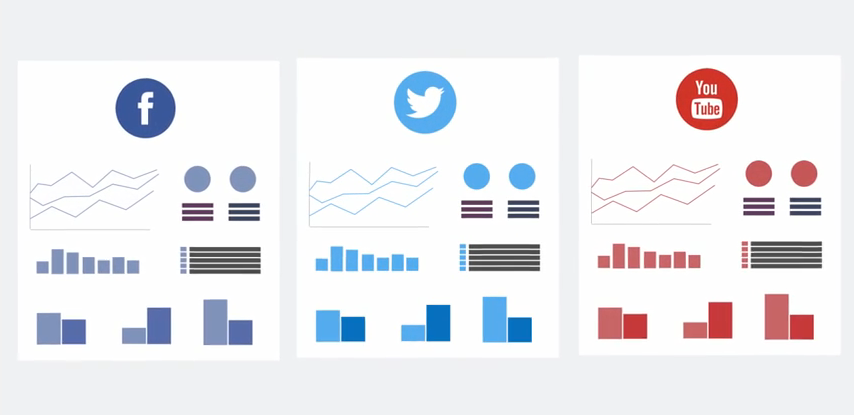 3. You Are Unable to Detect and Respond Effectively to Leads On Social Networks
You are contacted more and more, often through social networks, with inquiries about your product range. But without an automated way of tracking and alerting, by the time you find these leads, it's already too late or the opportunities are missed altogether. Alas, you realized that these social users even mentioned competing products or sought advice about your product type without knowing your competitors in the market.
You should be able to detect these applications and provide those leads to the sales department!
A social media listening tool allows you to automate social selling—where you can regularly monitor users who might ask questions about your products or services, but also those who have checked out your competitors too!
For example, a tweet requesting advice on efficient fryers, which is one of your main products. With your social media monitoring tool and its connection to your CRM tool, you have the ability to transform this message into a lead and pass on their details to your favorite business development officer.
4. You Don't Know Your Position in Relation to Your Active Competitors on Social Networks
You have three front-end competitors, of which two are particularly active on social networks, like you. You have these questions at the back of your mind:
Are they doing it better than you?
Are you a social networking leader? On every platform?
Do your competitors generate more engagement on their social networks? If so, on which channels?
Are their fan and follower communities bigger in influence and more active in terms of sharing?
What type of competitor Facebook posts and tweets produced the most interaction?
So many of these questions can be answered with a social media listening software; allowing you to monitor and analyze both earned media (online conversations and web media mentioning your brand) and owned media (your social accounts, but also all those of your competitors), allowing you to position yourself hour-after-hour, week-after-week and set your progress goals.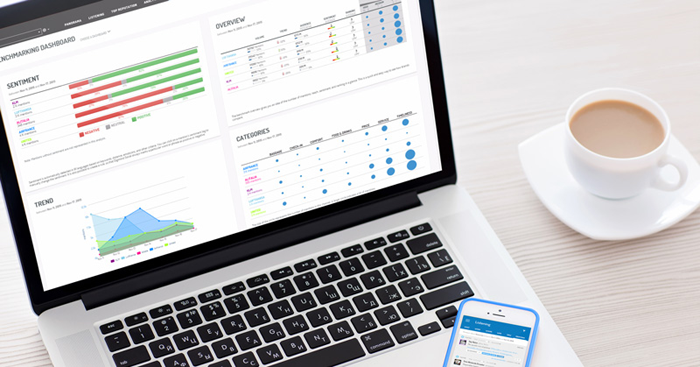 5. You Don't Know the Impact of Your Marketing and Communication Actions
You have launched several web campaigns, and also press and poster campaigns. You only have a few quantitative surveys for the digital campaigns but no web impact measure for your offline campaigns.
A social media monitoring tool brings you quantitative, but also qualitative data for your digital campaigns:
The total volume of mentions quoting your campaign (or hashtags)
Potential audience
Message sentiment
Online user demographics and campaign 'influencers'
You can also measure and analyze all messages that speak about your offline campaigns (mentions, audience) and the sentiments associated with them. The tool will also display the channels creating the most user buzz (blogs, Twitter, Instagram) and the precise sources of the mentions. It is also possible to use it for comparing your campaign performances to similar or closely competing campaigns in terms of target and channels.


Are you experiencing any of these symptoms? If yes, maybe it's time you thought about investing in a Social Listening platform!