Digimind A Constant Leader on G2: Why Companies Love Us
The world's largest customer review institution for business software and services, G2, has named Digimind a leader in its latest quarterly report for the 14th time consecutively.
G2 is where businesses can discover, review and manage the technologies available in the market to match their enterprises' needs. The business software review platform conveys the voices of real users who uphold high standards for the technology used for their companies. The honest and in-depth reflections help corporations of any size find the best technological solutions to solve real business problems.
Named in 16 categories from the G2 Quarterly Report, users have consistently ranked Digimind better than our competitors in data management and analysis, reports, user interface, and overall experience.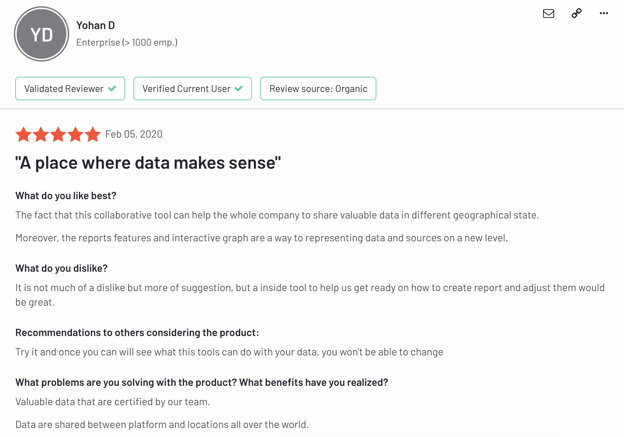 G2 provides a more comprehensive understanding of users' software options through their informed reports and user reviews.


Why Do Users Love Digimind Social as Their Social Listening Tool?
The All-in-One Social Listening Tool 👊
Whether you're an intern or managing your team, our platform has the tools to fulfill each role's specific needs. Digimind is well-equipped with different tools that can help you arrive at various business solutions, from tracking online conversations to conducting research.
Here's what our users have to say:
"Best part about Digimind is how different publications are put together under one page for easy access … I like the ease with which I can share, print or translate information with just a click. " - Intern

"Digimind is capable of tracking conversations in many different languages, including languages that any other competitors don't support in the Southeast Asia region. Finally it is easy to use, has a simple user experience and allows deep diving analysis." - Regional Digital Manager

"Digimind provides us a complete picture of the industry share of voice both on a global scale and country specific. Its capability to track every mentions and sentiments online is incredible and provide us an ability to create insightful reports." - APAC Digital Marketing Manager
When it comes to integrating organizational applications, such as Microsoft Teams, Salesforce, and Google Analytics with social listening proprietary, Digimind is unrivaled for its out-of-the-box integrations. Special mentions go to Zapier, which allows integrations of up to 3000 applications to seamlessly create a smooth workflow from exporting dashboards into work reports. Sharing insights within the organization may feel more intuitive and fuss-free than fiddling with external tools to find the best fit for your needs.
Smooth User Experience & Interface 💁‍♀️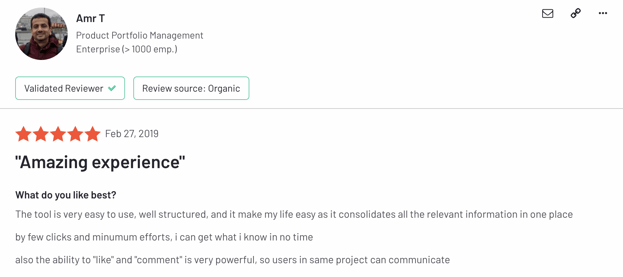 Review of Digimind Social on G2.
Our user-friendly interface is known to be straightforward and well-structured. Not only that, but it also gives you the flexibility to pick and choose the features you need to match your objectives. Even our users can attest to that! If you're still facing difficulties, our support team is always ready to assist you with our live chat feature.
"I frequently use Digimind and I prefer it over any other platform. I really like the interface of the platform, I also love the graphs, the functionalities that can be used for a million purposes, I love that Digimind offers so much information at a click."- Social Media Analyst

"The tool is super easy to use, with a fantastic support team" - Marketing Strategist

"The UX of Digimind Social is by far the best available on the market. This is pretty important when you want to have as many of your colleagues as possible also using the tool."- Administrator

"I like best the fact that I can create models for reports and export them easily...." - Senior Community Manager
Strong Analytic Features 🔎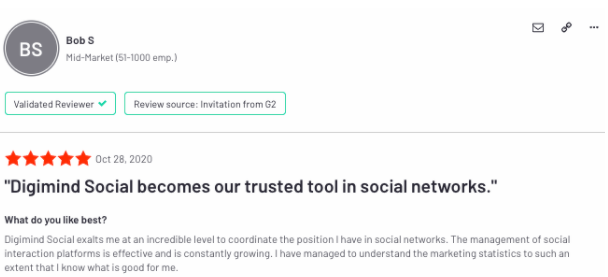 Review of Digimind Social on G2.
From customized insights reports to competitive intelligence, our platform provides users with a chock-full of actionable data to help them evaluate their brand performance using modern KPIs, benchmark against similar competitors, and fine-tune their strategies.
Exactly how does Digimind help them? Just ask our users:
"The benchmarking capabilities of the tool are endless. Comparing how we perform in a specific segment of our market against competitors, comparing how our customers react to our campaigns on different channels among particular communities are just a few examples." - Senior Business Analyst

"​​Digimind's Social Listening platform has improved my social listening capabilities and provided me with better reporting. It's a good addition in order to optimize marketing campaigns through a ranking system for influencers, sentiment analysis, prevention of any digital identity crisis, and generating all kinds of reports." - Project Manager

"I like that Digimind combines social listening with search keyword monitoring as this helps with our overall media strategy and planning along with social monitoring. It's a simple and user friendly tool. It's great that the queries can be customized effectively and Digimind is quite flexible to make changes to suit our needs." - Client Success Director
Wide range of sources 📚

Review of Digimind Social on G2.
Digimind Social incorporates a diverse profile of data sources that include market research, surveys, focus groups, and online communities. Based on reviews accumulated since 2014, this has been a feature that our users have loved over the years.
We asked what our users like best about Digimind Social and here's what they said:
A Researcher and Teaching Assistant highlighted, "the amount of information that Digimind recovers from the networks and its capacity of transform or solve the information into a dashboard."

"The Digimind platform tracks both earned and owned media performances, it is tracking accurately the necessary data across various Social Media Platforms (Facebook, Twitter, Instagram, YouTube, Trip Advisor, Blogs, News Platforms, etc...)" - Regional Digital Manager

"The types of charts and graphics it creates are great for reporting. It covers Instagram, Pinterest, and Google+, so we're getting a lot better coverage of the newer social media platforms." - Social Media Manager
Digimind is known for its exhaustive data coverage, providing our customers access to over 850 million sources across 20+ media types. Our source packs come loaded with global and regional media sources, namely social media, blogs, review sites, google search data, including offline sources such as TV, Radio, and surveys. In addition, international brands and agencies working with global clients have the flexibility to monitor projects across multiple business environments in over 190 countries and 200 languages.
Dependable Support Team 💪🏼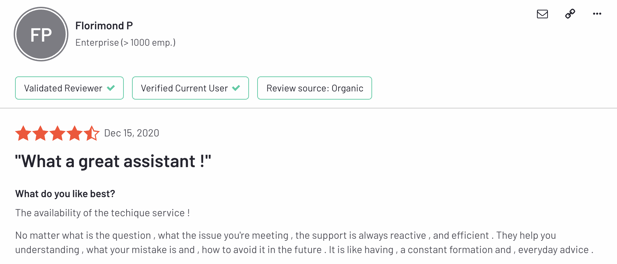 Review of Digimind Social on G2.
Whether you have a question or need help setting up your platform, our reliable support team will always be ready to assist you. Besides helping you get over your obstacles, we will be sure to let you in on some tips and tricks in navigating our platform. Our goal has always been to guide you in a way that you'll be able to retrieve any information you need without trouble independently.
Don't believe us? Ask our users!
"The initial training and set up was very useful… Our consultant tried his best to help us to optimize the queries to collect all the possible publications." - Data Business Analyst
While we are a data technology company, we value human-level approaches when meeting business solutions as it always benefits our customers in their user experience. Our professional services team is well-versed in guiding our customers from the very first day of onboarding, providing the necessary training for building reliable, accurate data.
A Market Intelligence & Business Process Specialist said that the Customer Support team at Digimind "is so much fun to work with and they have a very personal/authentic approach to their customers. They provide training and consultancy to help you set-up the tool in the most efficient way. There is a suggestion box in the portal to give feedback to Digimind about the features in the tool which is very convenient to use."
In addition, Digimind's support team is available 24/7 through our live chat feature, giving our customers peace of mind when accessing our software without any hiccups for long.
"Support team is always available and they really focus on sorting your queries out." - PR & Social Media Manager
Ready to Uncover Consumer Insights with Digimind? 🖐🏽
The consumer experience is now more essential than ever to get right, as the power is with consumers to pick and filter information according to their needs and fancy. Therefore, brand reputation is critical in this social media era for cementing customer loyalty and circumventing brand crises down the line.

Social media continues to be a gold mine for lead generation and online traffic, and it's on the onus of brand and content marketers to deliver more incisive messaging across social and web channels for lasting impact.

With 38% of content marketers rating their strategy only as "Average," it is more evident than ever to spark innovation internally, and it is only possible through having more information to work with based on consumer data.
As the leading social intelligence company for brands and agencies, Digimind helps businesses transform social and online data into actionable business insights. We are thankful for the trust earned from the happy clients we continue to serve today, and we hope to continue building innovative solutions to help businesses understand the world as it is.
Don't just take our word for it; we invite you to book a demo with us and experience social listening the right way.
With a background in writing and public relations, Ardini's passion for stories drives her journey in marketing and communications. After hours, you can find her chasing sunsets, staying active, or socializing.