Understanding the Social Media Landscape in China
For enterprises wanting to anchor their footprint in the social media domain, China is undoubtedly a goldmine for audience growth, considering it is the largest populated country with close to a billion social media users.
The Chinese market is vast and filled with opportunities for any global businesses or multinational corporations (MNCs) looking to expand. However, China's unique social media ecosystem is a compelling challenge for brands to adapt their marketing strategy and brand messaging while trying to understand the local narrative.
Advertising and interacting with consumers on Instagram, Facebook, Twitter or even TikTok (The international version of Douyin) is the norm for most international brands. However, Chinese audiences gather on a completely different set of social media channels. Datareportal found that social media users in China spend the most time interacting with friends or brands on WeChat, Weibo, Douyin, QQ, working with their own kind of internet language, memes, influencers, and trends that foreign companies might miss out on catching.
As more social media users spend increasing amounts of time on social media, China is becoming a hotbed for social e-Commerce. Top Chinese social media platforms are building a closed-looped ecosystem to convert users directly into sales within the platform.
Besides the mainstream platforms, there are also emerging new social media gaining in popularity that brands have to take note of:
Xiaohongshu

(RED) is a social network that incorporates many functions typical of online shops. Users can post product reviews, stories related to lifestyle and everyday life through an infinite catalog of possible purchases and creative materials.
Bilibili

is another emerging social network for sharing clips focused on entertainment, primarily games, animation, and comics. The formats used by subscribers range from live streaming to in-depth videos—all characterized by the display of its users' high technical quality and channeled to community segments interested in the same topics.

This article will help you understand the online behavioral traits of China's largest and growing consumer groups, helping you to stay on top of trends and consumer sentiments for localized brand building and reputation management through social media.
🐉 There Are Over 350 Million Millennials in China, That's More Than the Entire Population of the USA
According to QuestMobile in their recent China Mobile Internet report, Millennials in China spent most of their free time (46 hours a month) on social media. Short-form video content attracts them like "a moth to light," and they find themselves hooked for more than 40 hours a month. Producing entertaining and branded short videos on platforms like douyin is an important marketing strategy for businesses in the battle for attention.

The attention spent on social media has translated into online sales for many socially active businesses and luxury brands. Chinese millennials discover and share brand information actively via online channels such as social media, official websites, and search engines. They do so to accumulate social capital in the pursuit of a higher standard of living, where an often overlooked behavior is that they are highly disposed to shopping impulsively for the latest luxury fashion and lifestyle products.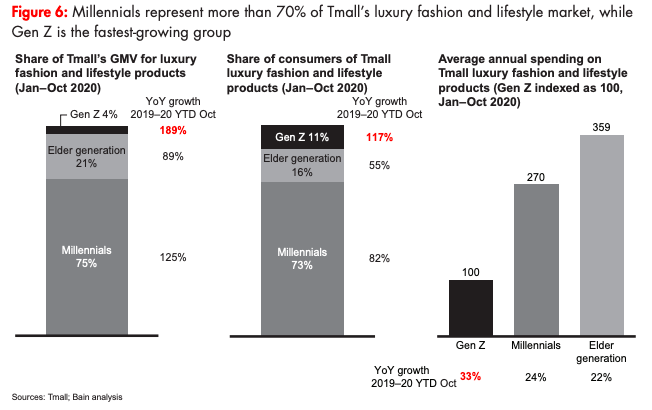 Luxury shopping behavior across generations by Bain & Company.
Social Media Marketing to Millennials
Promoting user-generated content and encouraging social sharing from online loots can make brand marketing more genuine to overcome their sensitivity to blatant advertising. Millennials in China are not afraid to voice their opinions on social media. Therefore it is vital to keep a constant lookout for social brand mentions as they arise and create consistency in developing active brand engagement.
If millennials are your target audience, you should get on Xiaohongshu, which has over 300 million subscribers and more than 100 million active local users every month, 72% of whom are millennials.


🔎 Look Out for the Emerging Gen Z Audience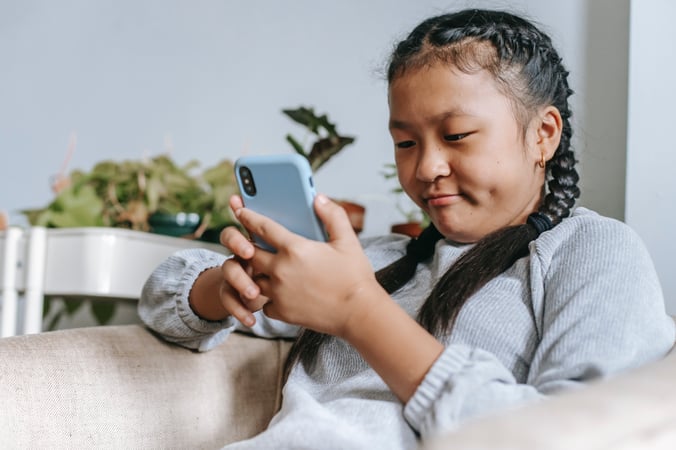 Gen Z is an up-and-coming consumer group high on social media.
Gen Zs make up about 15% of China's population and represent the next era of consumption growth. They are the first generation that grew up around rapid growth in technological advancements and devices. As such, they become instinctively familiar with technology as a form of social communication and entertainment.
McKinsey mentioned that online word-of-mouth drives China's Gen Z purchases. More than half of them say that official social media accounts of consumer brands are one of their top three sources of influence, while 44% count bloggers and online influencers among their top three sources of influence. Gen Zs value these sources of information more than millennials and Gen Xs. On the other hand, traditional word-of-mouth, or listening to friends and family offline, is decreasing in importance.


👦👧 Social Media Marketing to Gen Zs
Collaborate with social media influencers, Key Opinion Leaders (KOLs), or "wanghongs" (网红) to produce content and boost brand affinity with Gen Zs. Gamification and exclusivity are attractive to this new generation. Social platforms like WeChat have mini-programs that offer value-add features, such as exclusive bookings and promotions, online events, mobile games, and other loyalty-building services.
An excellent platform to build brand awareness with the younger audience would be Bilibili. It is populated mainly by younger users (78% aged between 18 and 35) and attracts over 1 billion views every day, delivering 4.9 billion interactions every month.
📲 Gather Actionable Insights From Social Media
Social media has taken up most of the attention span and is a significant influencer for millennials and Gen Zs in their daily lives. It would make sense for brands to gather insights from the vast trove of social conversations and gather brand sentiments daily on the Chinese social channels.
New brands looking to enter China would experience a big gap to overcome when dealing with a new set of social media channels. Also, listening to brand mentions and trending social conversations on top of trying to understand a non-native language comes with another set of challenges.

That is why a social listening platform armed with easy-to-understand dashboards is effective for delivering real-time actionable insights to important stakeholders. In addition, it is vital within internal communication to help break down organizational silos and impart informed strategies across teams. Further still, it enables you to spot trends, measure campaigns, and prevent crises from escalating too quickly before contingencies are implemented.


🎉🍾 Leverage on Chinese Online Festivals for Social Boost
Shopping online is becoming a way of life for the Chinese, especially on special days denoted by major e-Commerce platforms. The eCommerce market in China is expected to reach more than US$1.5 billion in 2021, with an annual growth rate of 6.65% by 2025.
Participate in the list of festivals below to generate brand awareness. Prepare special promotions to entice potential customers and utilize live streaming content to entertain and engage with fans.
💬 Stay Ahead Of Your Consumers
Social listening tools like Digimind Social allow you to identify online conversations and rethink brand messaging with your consumers in mind. Doing so can result in a more strategic and meaningful approach to cater to the ever-changing consumer needs. In these trying times, the goal is not just to survive but to thrive. By achieving that, you would learn the role that consumers play in your business journey.
Unlock key analyses to help you 'Find Certainty in Asia Pacific's "new normal" with Consumer Trends and Top Brands on Social Media.