4 Ways to Manage and Optimize Your Customer's Journey with Social Media Intelligence
Social Networks are Essential to the Retail Customer Journey. According to research by loyalty analytics company Aimia,
56% of consumers who follow brands on social, do so to view products

31% of consumers use social channels to browse for new items to buy
Social media networks like Facebook, Twitter, and Instagram, have evolved from communications channels, into platforms for consumers to discover products during the research phase. Furthermore, Boston Retail Partners also found that 69% of retailers see opportunities to use social media to enhance the customer experience.
The importance of social in the customer's journey cannot be understated. As the path to purchase has transformed from linear to multifaceted, brands must not only ensure all possible touch points are fully optimized for customer engagement and purchase, but also put their ears on the ground to find out how customers and prospects perceive and interact with them.
Insights to Capture with Social Media Monitoring
In the discovery and search phases of products and services, search engines, TV ads, consumer reviews, recommendations by friends, "peers" and finally social networks, are the five most used sources by consumers according to the GWi Institute. Social channels and the web are therefore essential to analyze in order to better understand the retail customer experience.
Watching, Discovery, and Research Phases
Search engines
57% of consumers utilize search engines in the research phase, during which first contact with the brand is initiated, for the following:
Search for brands offering the desired product

Compare features and prices

Check in-stock availability

Check the proximity of a physical point of sale or delivery times for an online purchase
To capture insights on this essential phase, sometimes known as the Zero Moment of Truth, it is important to analyze the most searched queries on popular search engines, such as Google. This will help you understand keywords most associated with brands and what people are looking for around your brand.
Social listening chart displaying the top French search queries associated with fast fashion brand, H&M. Here, the top four key words indicate research on maternity wear, sales, and their loyalty club are strong and new trends among fast fashion consumers. Based on this data, the brand could adapt their site's and social media content to address these major concerns and interests.
Consumer Opinions and Social Networks
43% of consumers rely on consumer opinion sites, while 46% turn to social networks to gather information about a brand. At the same time, brands should also extend collection of consumer insights to retail or price comparator sites (used by 34% of consumers) , which often contain comments from users, and brand sites command (41%)
In general, it is necessary to expand the sources of collection. This is because internauts visit an average of 7.5 websites when researching a product or service.

The customer journey is thus multi-site and mobile, typically starting with a Google search, before moving to a price comparison, and finally peer reviews on Facebook and Twitter.
To capture and analyze the customer journey, consider expanding your scope of monitoring to include competing brands and similar products. Thus, if a consumer begins research on the clothing brand Zara, he or she may continue looking at similar brands in the fast fashion category, like Forever 21 and H&M. Similarly, if a consumer starts searching for information on a brand of hiking shoes, he or she might go on to search about sports shoes.
a. Brand selection phase
Once a preference has been identified, the consumer will seek advice from personal friends or anonymous feedback on social networks.
During this phase, the consumer will refine knowledge based on the characteristics of the product to reduce risk and post-purchase cognitive dissonance (price, quality, design, delivery, payment terms, return policies, technical performance, etc.).
He may also seek advice at a nearby physical store, a retail site, or a speciality store. In this case, delivery time will become a key factor in where the purchase is made.
b. Product Contact Phase: The User Experience
The user experience begins with site navigation, payment, or in-store experience. It continues with delivery (or collection in the store in the case of an online purchase).
During this phase it is important to go beyond Facebook and Twitter to examine review sites, where customers often develop and share honest feedback about a brand or service. Reason being, Facebook lacks the option of anonymity often offered by forums, while certain reviews or experience sharing may be restricted by Twitter's character limitations.
The customer experience also concerns various points of contact with digital marketing, including: contests, coupons on social networks and websites, trying or testing via virtual reality.
The product's user experience begins upon first physical contact with the product, also known as the First Moment of Truth in the store, or during unboxing. The second contact occurs during its first use.
For this phase, visual centric social networks are becoming increasingly important: consumers will post their favorite product, or proof of purchase in the case of a complaint, damaged or defective product. Thus, Instagram and Facebook, followed by Twitter, would be the key channels a brand should monitor.
c. Post Purchase Phase: Recommendations and Complaints
After using the product, comes the after-sales services (refunds, complaints, product feedback), recommendations and user feedback.
Here, again, consumers will use social networks and forums to express themselves. This often occurs beyond the direct channels of customer relationship with the brand when he or she is particularly satisfied or dissatisfied and enters a phase of recommendation (the final step being the transformation of a satisfied customer into an ambassador). Visual social networks, product rating sites, and consumer opinion sites should be included in your "customer journey" monitoring. In this phase of feedback, the brand's sites are also highly utilized by customers. Thus it is necessary to monitor the discussions occurring on these sites, should they exist.

1. Segment Your Step-By-Step Analysis of the Customer Journey and Retail Themes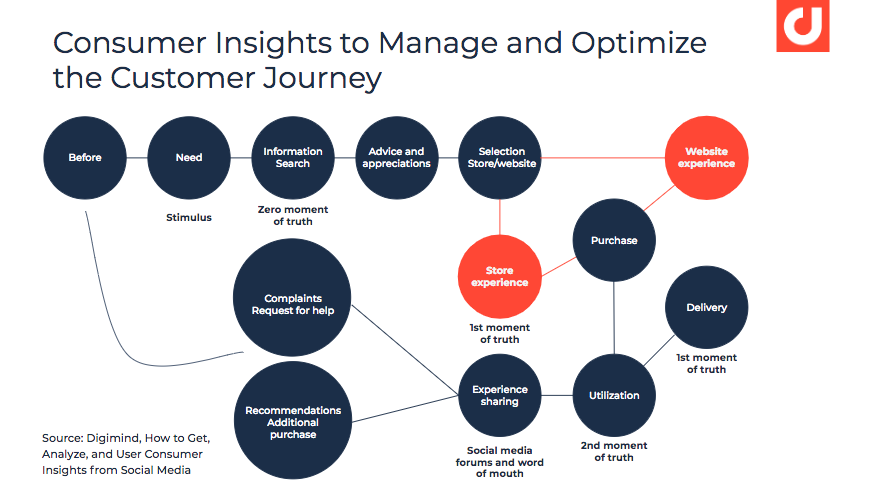 With feedback published across multiple social networks and review channels, the customer journey is no longer linear.
As you can see, you will be capturing hundreds - if not thousands - of messages about the retail customer journey in different phases. It is thus helpful to segment data obtained according to stages of the customer's journey and retail themes, before translating them into actionable insights:
Customer journey phases can be segmented into:
Research

Purchase

Use

Feedback
Retail themes:
In-store (store purchase or click-and-collect)

Store reception, layout, showrooms, digital interfaces

Sales personnel advice

Tests, fittings, and pricing

Payment

Packaging

Conditions of return and refunds

After-sales services
E-retail themes:
Shopping microsites or apps

Accessibility

Ergonomics of user interface

Performances of onsite search engines (keywords, criteria of refinement, filters)

Product selection

Benchmark or compare of products and prices

Payment interface

After-sales services

Delivery

Collection points

Inventory indicators

Delivery tracking capabilities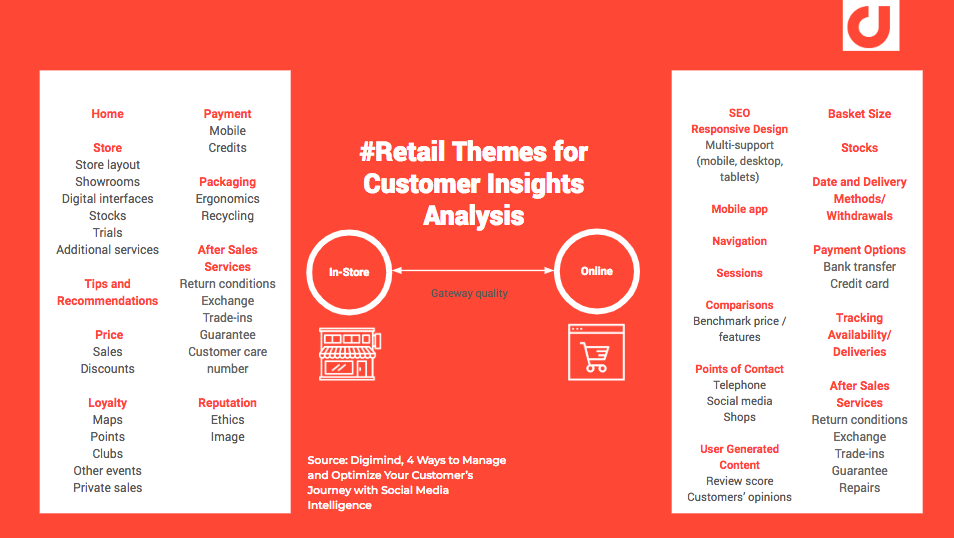 Collect, filter, and analyze data based on specific keywords used by your consumers when interacting with different touchpoints of your brand. For example, do your consumers refer to your outlets as a "store", "boutique", or "shop"? Are your sales personnel referred to as "hostesses" or "salespeople"? Doing so can help you paint a more accurate, complete picture of your brand's perception.
2. Measure Satisfaction
Another key analysis for your customer journey is: consumer satisfaction. For each phase, it will be necessary to evaluate the customer satisfaction by qualifying, automatically or manually, the message as positive, negative or neutral.
3. Segment by Channel and Geo-location
Retail customer experience analysis must also be segmented by social media channel and geo-location. Using a social media monitoring tool like Digimind Social will allow you to filter insights collected based on the aforementioned characteristics, thanks to all the metadata present in social media profiles and messages.
4. Social Profiling of the Customer
Furthermore, it is possible for you to segment data collected according to socio-demographic characteristics: age, profession, gender, and topics of interest.
Thanks to social media intelligence, you can map and feed your customer journey with real-time insights. This is namely through crossing the stages of the retail customer journey with analyses of various retail themes and even socio-demographic characteristics of your customers.
Bonus: Discover more tips on using social media intelligence to optimize your retail customer's journey! Get the guide.

Melissa is a digital advocate who loves diving into the latest trends in digital and social media. Since joining Digimind's marketing team in 2015, she has written studies for over 15 industries in Asia Pacific. When she is not telling stories about data, Melissa can be found exploring her favourite cafes and hangouts on Instagram @chuepachups.