Understanding Consumer Trends By Leveraging Historical Social Data
"For the most important decisions in your life, trust your intuition, and then work with everything you have to prove it right," said Tim Cook, CEO of Apple. Interestingly, this advice applies to using data to guide business strategies as well.
Data, a paramount component in the digital age, allows individuals and businesses to make sense out of brand new environments. As Kelly Clark, CEO of GroupM mentioned, "Winning a pitch is the ability of the agency team to offer a compelling solution that is based on deep insights on consumers and the market." Unarguably, data is key at deriving deep insights.
As data continues to churn endlessly, it is important that businesses are equipped with data analytics skills to derive actionable insights. Effective data analysis will allow businesses to better understand their economic environment, as well as current opportunities and threats.
This blog contains examples of ways companies can make use of past social data effectively to:
Understand trends and put matters into perspective
Detect the evolution of consumer trends and insights
Evaluate the impact of influencers
Essentially, having a trove of historical data allows us to look into the past to derive the best strategies for both present and future. It allows us to pose the question, and answer: What consumer trends are worth looking into?
I. The Challenge: Time Taken to Collect Data
The challenge, however, is to gather relevant data in the least possible amount of time for efficient decision-making and to demonstrate value-added processes and recommendations. According to Mckinsey Global Institute, marketers take up an average of 3.55 hours per week for the collection, organization, and analysis of social data from different sources. This goes alongside daily tasks such as email marketing, social media management as well as optimizing web pages.
Aakash Sahney, Google's Product Manager for Gmail, recalls "studies have shown that employees spend up to 8 hours per week searching for or consolidating information".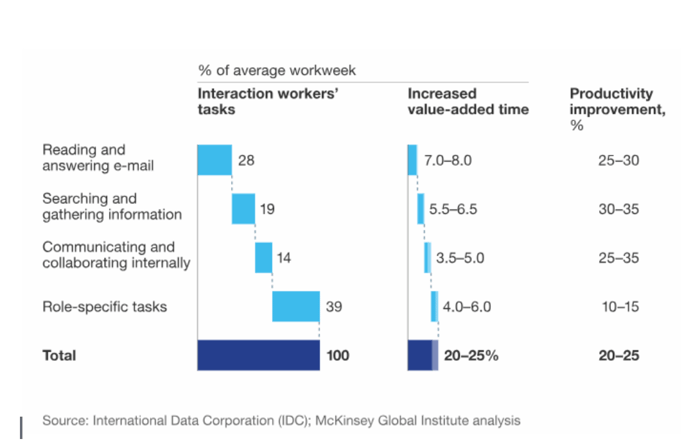 How much time spent in business to search and consolidate information
With social listening platforms, marketers can retrieve and filter relevant real time data efficiently, allowing them to dedicate time to other value-adding activities such as data analysis and recommendations.
II. Understanding Trends
1. Capturing a large dataset
The analysis of historical data on the web allows businesses to understand:
The present (unexpected trends)
Detect historical evolutions (consumption trends)
Compare and contrast (impact of campaigns)
Get perspectives (the real impact of bad buzz, a boycott, etc.) and
Feed predictive analyses in the future
Tools like Google Trends can help companies analyze search data over past periods of time. However, as 3 out of 4 active internet users globally are also active social media users, companies will miss out on the abundance of information about trends, opinions and products that are shared on social networks everyday.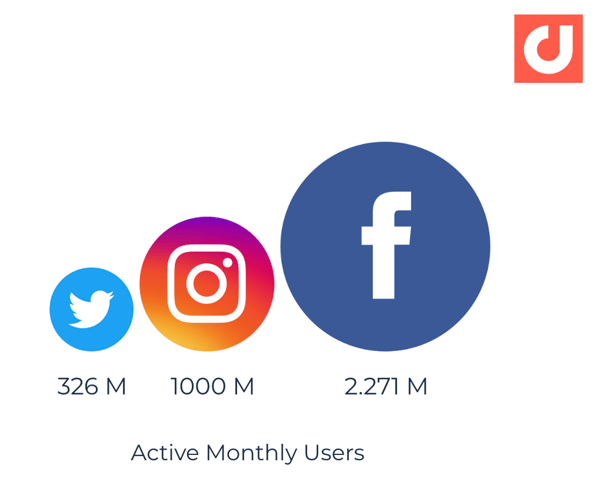 Data from Global Digital Report 2019 - We Are Social
It is indeed necessary to be able to capture and organize relevant historical data on the internet, which includes the social networks, forums, blogs, and news where there are millions of active users each month.
2. Detect the Evolution of A Trend
Take the simple example of smart homes. By 2030, the industry is expected to reach $400 billion worldwide, with Asia Pacific accounting for 25% of it. Through historical data, companies can gain an overview of upcoming trends, and decide if and how they should be leveraged. Based on the trend graph below, mentions related to smart homes in APAC has seen an upwards trend, with regular spikes in mentions over the years due to news and innovations. The increase in number of mentions portrays the growing trend and interest in the use of smart home technologies. Companies can leverage on key concepts from these mentions and conversations to develop customer-centric marketing and communications strategies to gain a slice of the pie.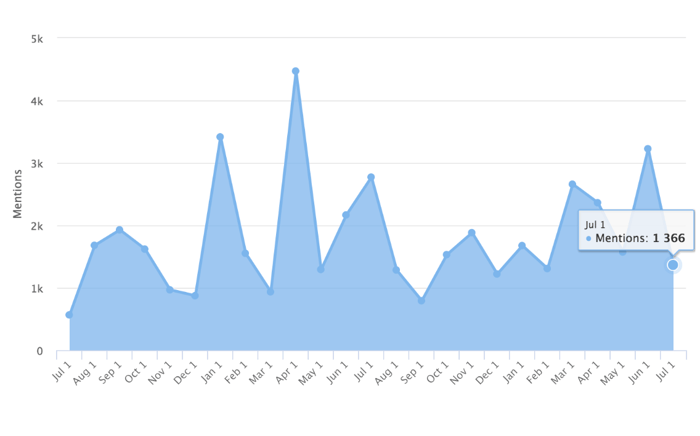 Mentions on Smart Homes in APAC - Singapore, Malaysia, Indonesia, The Philippines, Hong Kong & Australia. [July 2017 - July 2019]
III. Nike's Controversial Colin Kaepernick Ad Campaign
Analyzing data also allows us to gain deeper insights into the impact of communications campaigns. Take the Colin Kaepernick case for instance, in early September 2018, Nike launched a campaign that featured the former NFL player. Kaepernick is known for his political activism in a boycott of the American national anthem as a protest against the country's treatment of racial minorities. Nike's engagement of Colin attracted many critics, especially from the American population. Some started burning their Nike shoes and many took to social media platforms to voice out their discontentment. With that, the hashtag #BoycottNike started trending.
1. What was the impact of #BoycottNike?
On the day after the campaign, September 4th, there were more than 2.13 million mentions on Nike and more than 17 million mentions accumulated in a single week. 17 million mentions?! What does this really mean?
By looking through historical trends in mentions about the brand on social channels, using Digimind Historical Search, we were able to observe that over the last 2 years, Nike generated an average of 2.3 million mentions per month. Hence, 17 million mentions in a week is a considerably large amount; probably the most chatter Nike has had in awhile. As expected, most mentions took place on social media platforms.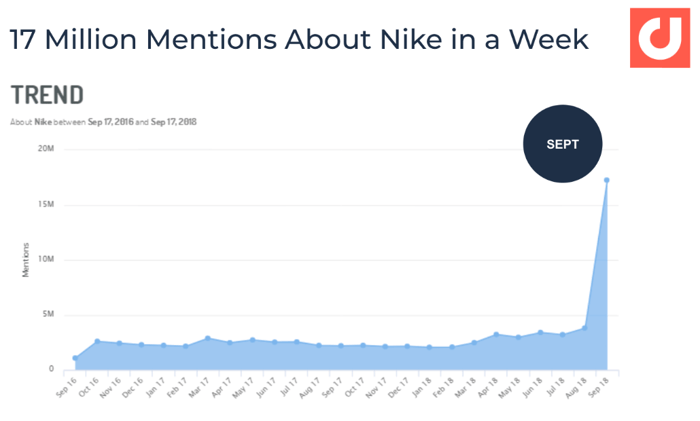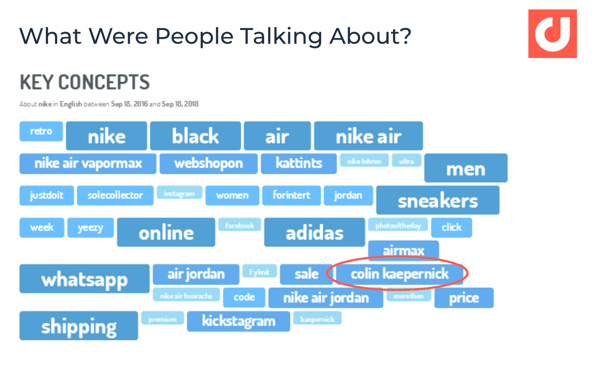 Analysis of Historical Data: The Impact on Social Media of the Nike-Kaepernick Campaign
Interestingly, the outburst of mentions, regardless of sentiment, helped Nike's sales greatly. The Edison Trends firm estimated that the campaign resulted in exploded sales. Between Sunday and Tuesday – September 4 a day after the campaign was launched – online sales grew by 31%, while last year, they had only 17% growth over the whole season.
Nike also saw an increase in the number of visits to its site and interactions on social networks following the launch of this campaign and The Nike stock closed on September 12 at 83.49 dollars (+ 0.02%), a level never reached since its IPO in 1980. According to Edison Trends, "sales accelerated in states seen as more left-wing, like Maryland, New Jersey, and Delaware, while declines were noted in more conservative regions, Idaho, Wyoming and Montana in particular."
IV. Detect the evolution of consumer insights
Analysis on past social data can also help businesses better understand consumer behaviour - why they act the way they do. Consumer insights derived from big social data are valuable pieces of information to comprehend the wants, needs, and pains of relevant stakeholders.
In sectors such as retail, fashion, or beauty, consumer conversations captured on social networks can value-add to the different stages of the customer journey. These phases can be segmented into research, purchase, use and feedback.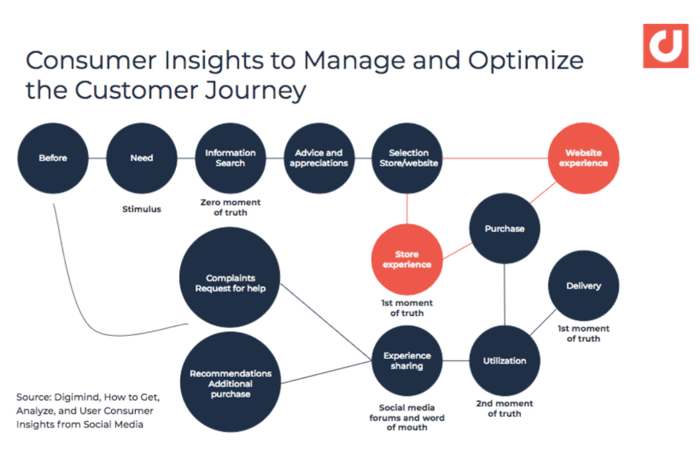 VI. Identify & Engage the Right Influencers
In the age of social media, influencer marketing has become a key component of businesses' marketing strategies. But the question many marketers struggle with is how can you identify the right influencers for your business and campaign objectives?
Let's say you have shortlisted a handful of influencers for your campaign. You have analyzed their quantitative performance, as well as carried out qualitative assessment. But how will this influencer evolve in the short-term and long-term? What outcome can you expect? By examining the nature of an influencer's engagements, and the resonance of their content over two years, you can better refine your selection criteria, as well as anticipate future changes to influencers you work with based on metrics such as online visibility and interactions earned for brand collaborations.
1. Gigi Hadid vs Anwar Hadid
Reality star and model Gigi Hadid, who has 44.7 million followers on Instagram, generates continuous visibility as a result of a considerable volume of online chatter. In comparison, Anwar Hadid, an up-and-coming model and younger brother of Gigi Hadid, has a smaller follower count on the same platform at 2.4 million. His impact is concentrated mainly on the fashion sector, however his visibility has grown steadily over the year.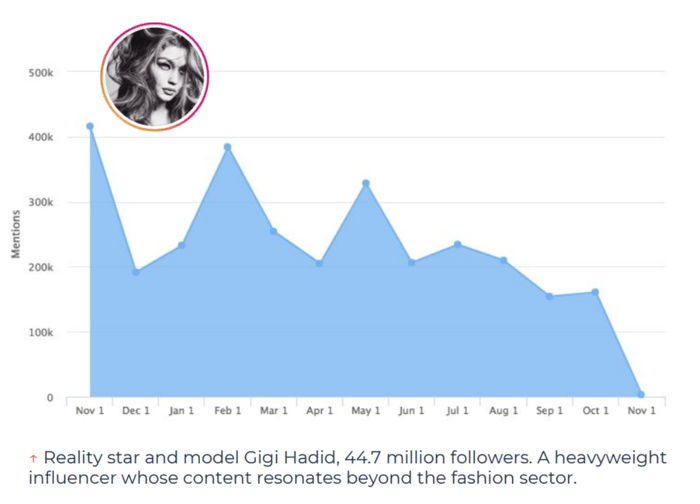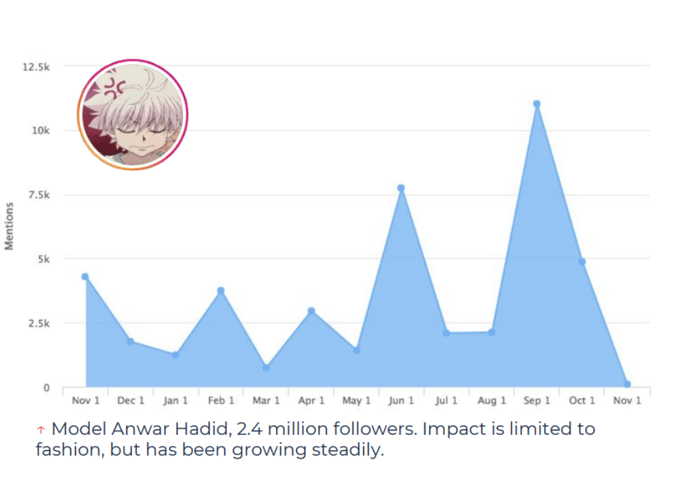 With the proliferation of social media and the internet in our day to day lives, social data is the pulse of daily work for agencies, marketers, and digital teams. However, one question dominates: why not take advantage of all this data, conversations, and insights from social media to support market research, understand consumer markets, and drive revenue? Leveraging such knowledge would help strengthen pitches and campaigns, identify business opportunities, and foster consumer loyalty.
What uses would you have of historical data on social media and the web? Get a demo of Digimind Historical Search today to get your answers!