What is utility marketing and why you should use it
We spoke to marketing gurus Ekaterina Walter and Jessica Gioglio about their book, The Laws of Brand Storytelling. You don't need prior knowledge of brand storytelling to enjoy the book (or this post), but you can get a bit of background and a definition of brand storytelling by reading our other post about the book.
⚙️ The Utility Law and Utility Marketing
One of the laws most marketers struggle with is the utility law. Walter and Gioglio define utility marketing as, "providing would-be customers with something useful while also delivering your marketing message." Get this, it doesn't matter if they've spent money because utility marketing is about making lives better.
🤓 Utility Marketing Case Studies
Where has Utility Marketing been used before? When has it been successful?
A great example of utility marketing is Planned Parenthood's Spot On phone app. Planned Parenthood, a non-profit government-funded organization, is controversial in the United States because it provides abortions along with countless other vital medical services. Spot On is a very useful app for women who want to track their menstrual cycle. You can add symptoms each day to see trends over time. The data can be exported to Google Drive so you can assist your doctor in assessing your health and making any diagnosis. The app sends reminders for when to take your pill (if you take one), when your period begins, and your fertility window. The app also has a resource section with information about periods, sex, and birth control options. All of this information empowers women to take control of their bodies. You don't have to use Planned Parenthood services or even make an account to use the app.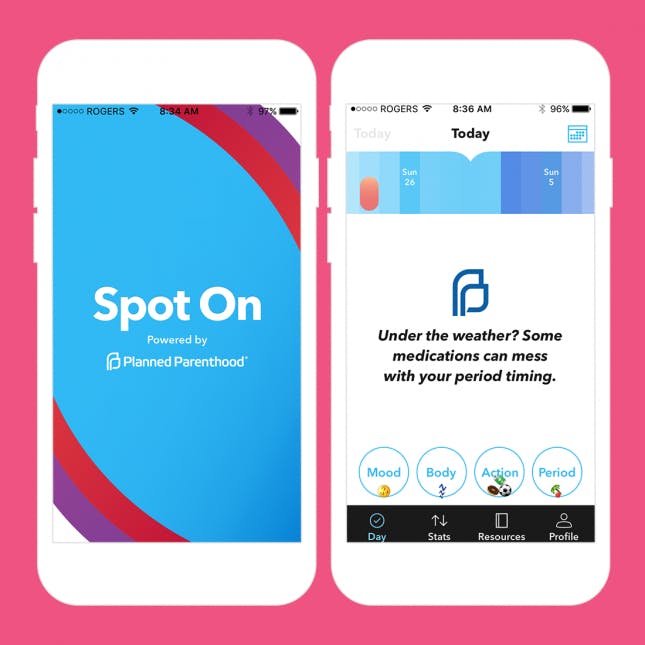 Photo from Brit + Co.
Although Planned Parenthood is an American organization, Spot On users live all over the world, in more than 160 countries. This utility marketing tactic was successful for two reasons. Firstly, Planned Parenthood went all in. The app's design is simple and elegant. Its intuitive layout makes it accessible to Millennials and Luddites alike. It's clear that Planned Parenthood put forth a significant amount of time and effort to get the app just right. They knew people with periods didn't want a tone-deaf design with glitter and flowers since having a period is not all rainbows and butterflies. The simple color scheme of white, purple, blue, and red, and the gender-neutral mascot, a dinosaur, make the app trans-inclusive. Spot On was executed so well that Planned Parenthood was an honoree at Fast Company's Innovation by Design Awards in 2017. Their article, "People Love That It's Not Pink", explains what differentiates Spot On from similar apps. The second reason Planned Parenthood's Spot On app was so successful is simple-it fits. Walter and Gioglio explain that in order for utility marketing to be successful it has to have a raison d'être besides marketing. The company's reason should be "to serve their customers or their community, but also to fulfill each organization's mission and purpose, further validating their necessity."
| | |
| --- | --- |
| | |
Photos from App Advice
Planned Parenthood's mission is fourfold and highlights providing healthcare, educating the public, advocating public policy, and promoting research. These can be separated by their two targets, individuals and society at large. First, to ensure individuals are educated about reproductive healthcare and have access to it. Secondly, to ensure that we as a society protect these rights and improve our understanding of reproductive health through research. Part of this research includes developing technology to improve reproductive healthcare, which is exactly what Planned Parenthood did when they created Spot On.
Utility marketing doesn't have to be in the form of an award-winning app, it can be as simple as giving out a branded umbrella during a rainstorm. Although I didn't buy anything that trip, you can be sure I have since then. How does an umbrella align with a brand's story? Well, designer footwear brand, Cole Haan, is all about comfort and style. The company is famous for its ability to fuse these two opposites. Cole Haan has done extensive research on human anatomy and designed the Grand O.S. sole, "An operating system for the foot's considerable demands." They somehow managed to marry this comfy footbed with their classic wingtip loafer to create amazing shoes. In a similar fashion, Cole Haan's umbrella kept me comfortably dry during the downpour and with its fun purple color, I was certainly stylish.
👩‍🏫 Utility Marketing according to the expert
We asked Jessica Gioglio to share a utility marketing definition along with some examples.
There is a new phenomenon sweeping the world of marketing: utilitarianism marketing — providing would-be customers with something useful while also delivering your marketing message. Utilitarianism marketing provides a valuable service to customers, whether they spend money with the company or not. It is a truly selfless look at what people might need and taking an action to help make their lives better.

There are many great examples of brands who have mastered this approach. As a bacon lover (I always asked my Mom growing up for bacon in my birthday breakfast!), Oscar Meyer had a limited time app called Sizzl, a dating app for bacon lovers. The purpose was to unite singles with a love for bacon! I did join, but sadly did not find my fellow bacon-loving match through the app!

Photo from Review Weekly

Unilever has a YouTube channel called, "All Things Hair." The channel was inspired by the fact that there are one billion Google searches relating to hair care every month, but no company in the hair care sector had invested in YouTube tutorials to help women. By taking this approach to teach and add value - versus sell - Unilever's All Things Hair has become the most-subscribed hair brand channel globally. Since its launch, the company has also gone on to invest in All Things Hair channels by country as well, allowing them to provide more personalized and locally relevant content and ultimately, deeper value to its customers.

Lastly, I also love the Hilton Suggests Online concierge on Twitter. Hilton Suggests is a social media concierge, available for everyone traveling to or around more than 115 cities worldwide, regardless of if they are staying at a Hilton property. Hilton launched the initiative in 2009, through a collection of Hilton employees who volunteer their best local advice with the aim of surprising and delighting travelers on Twitter.

While these are all B2C examples, you could very easily adapt these for B2B. For example, Adobe owns and runs CMO.com, allowing them to share thought leadership and dig into topics of interest for senior-level marketers. The concept of an advice concierge also lends itself perfectly for a B2B brand, prompting the question of, how could you best leverage your SMEs (subject matter experts) within your company?
🤨 Why you should use utility marketing
Isn't that awesome? Why don't more companies integrate utility marketing strategies in their business plans? Well, in short, it's not as glamorous within the company. As Walter and Gioglio put it, "These offerings may not show management immediate benefits or attractive numbers, but the inspiration, value, and positive impact on their current and prospective customer base will no doubt play long term dividends."
One of the reasons why this was my favorite section in the book is because this law is so obvious to consumers and yet, once we marketers sit behind our desks, they seem to forget about it. For many companies, short-term gains are more important than creating a positive reputation for their brands. These companies will have to have a change of heart to satisfy the modern customer. Walter and Gioglio drive this point home with statistics.
Utilitarian marketing, when done correctly, does more than just provide a valuable service to customers: it powers remarkable customer experiences. Which is critical if you take into consideration the research we shared from Gartner highlighting how 89 percent of companies now compete primarily on customer experience.
With the help of Digimind's software and expert consultation, you can discover what your customers want from your company. We can help you bring utility to your customers and optimize your customer experiences.