REPORT: The Top 50 US Universities on Social Media
With the largest demographic on social media as their key target audience, how are universities drawing in large online communities and ensuring high levels of engagement from their publications?
Traditional sources such as university websites and prospectus' are still relevant, but we now live in a digital age where students automatically look to social media platforms to gain information about their potential universities. Whether it's because of their large following, or through providing their community - whatever size it may be - with relatable, insightful and interactive content, being online is as important as ever for Universities to prove they're the top choice for candidates.
We wanted to know if academic standing correlates to large communities and strong engagement on social media. Our free report monitored and ranked the Top Universities in the U.S. - such as the academic giants like Princeton and Harvard - by the size of their community, number of interactions, and volume of publications. This list was then distilled down to the top 50 Universities on Social Media, whose presence extends far beyond their online platforms, reaching audiences around the globe.
In this report you will discover:
How Harvard are the leading University on multiple social media channels
What boosted California Institute of Technology's interaction levels

Does a high volume of publications guarantee strong engagement?

The power of image-centric platforms, such as Instagram and Youtube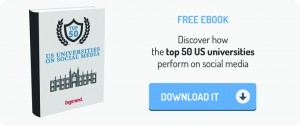 Marketing Manager @digimindci. Passionate about big data & social marketing. Photography, music and hiking lover