Digimind ranked as the leader in G2 Crowd's Fall 2016 Top Social Media Monitoring Software Report
G2 Crowd is a world leading business software review platform, and has recently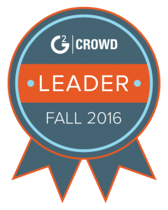 released its Top Social Media Monitoring Software Products Grid Report. This report ranks social media monitoring software according to vetted user's reviews. The purpose of the Grid Report is two-fold:
Give technology buyers a resource to easily rank available software
Give vendors, media, investors, and analysts benchmarks for product comparison
Results
Digimind Social was ranked #1 in the Social Media Monitoring category based on its high customer Satisfaction score and having a large Market Presence.


Report's Key Findings:
Digimind received the highest Satisfaction score among Social Media Monitoring products
98% of users rated it 4 or 5 stars
95% of users believe it is headed in the right direction
Users said they would be likely to recommend Digimind at a rate of 93%
When surveying software customers, asking current users if they would recommend the software to their peers is known as "the most important question". According to Joseph H.A.M. Rodenberg in his book Strategic Intelligence in Future Perspectives, a positive answer to this question is paramount due to the fact that in requires the user puts their own reputation 'on the line'--the ultimate display of loyalty and belief in a product. This extremely high rate of recommendation among our users is just one of the many reasons we at Digimind are so proud of this result.
Digimind is easy to use, has a simple user experience and allows deep diving analysis. Thanks to Digimind, I have tracked Social Media performances for many brands before pitching for a business.

-Nicolas Brosse, Digital Project Manager at Grey Digital
Ranked Categories
The software featured in G2 Crowd's report is ranked by the following categories:
Meets Requirements
Does the software address all of the needs of this user/company?
Ease of Admin
How simple is it to administer and maintain the overall product, user creation, credential management, etc.
Ease of Doing Business
Does the vendor organization have any arduous or extraneous purchasing policies?
Quality of Support
Are support requests resolved quickly and sufficiently?
Ease of Setup
Is it simple to deploy new users, from "user creation to report generation".
Ease of Use
Do users find the software intuitive and understandable?
Digimind makes it incredibly easy to filter, segment and drill down into your data from anywhere in the tool. The support team behind Digimind is great, always friendly and very attentive to our needs.

-Stephen Tracy, Insight & Analytics Lead at Waggener Edstrom
Methodology
The list is based on reviews by actual software users. The methodology dictates that ranked products each receive 20 or more reviews from verified products users, products are then ranked in order of highest satisfaction score, with the top 25 products showcased in the list. Customer satisfaction scores are determined based on reviewers' likeliness to recommend the product to a friend or colleague.
We've enjoyed working with Digimind to better understand our growth on social as well as opportunities for future growth. We use analytics platform to track followers and engagement, and pace ourselves against our competitors.

-Jessica Blumenthal, Director of Consumer Insights at Clique Media Group
Digimind is proud of this fantastic recognition from our customers, as it is an indication that we are on the right track for achieving our goals in both service for our clients and effectiveness as a product.
We also send a huge thank you to all of our customers for this fantastic review! We feel great knowing that our clients appreciate all the hard work we've put into our software, and take the time to send reviews like this!
"Digimind is proud to be ranked as a leader in G2 Crowd's social media monitoring category. We continually invest in research and development to ensure that our software is an industry leader, and that we are able to implement our client's desired features on a regular basis. I especially want to thank those clients that helped us achieve this ranking."

-Paul Vivant, CEO of Digimind

"The Fall 2016 Social Media Monitoring Grid Report features Digimind Social as a Leader based on the highest satisfaction rating in the report, as well as a strong market presence. Digimind Social rated above the category average in every satisfaction measure on the report. When comparing product features, Digimind Social again scored above the category average in all areas."

-Marty Duffy, Director of Research, G2 Crowd
Marketing Manager @digimindci. Passionate about big data & social marketing. Photography, music and hiking lover