Watch: 10 Questions About Social Media ROI with Jim Guzman of MRM//McCann
Social media ROI is critical for tracking and measuring the performance of your social media activities. For brands that are expanding into social for their digital initiatives, how can they align it with their overall business goals?
Last month, we covered 10 questions about social media marketing; this time, we speak with MRM//McCann's Head of Social, Jim Guzman, on the next step: how to effectively measure your social media ROI:
https://www.youtube.com/watch?v=4CII1g9aAsc
What is social media ROI?
Being able to track and measure the performance of your social media activities, and seeing whether it answers your client's objectives, i.e. the success of the brand.
How can brands measure social media ROI?
Be clear with what your KPIs are. Are you looking to increase your brand awareness? Or are you trying to drive sales to your online store from your social media channels? Tracking social ROI as a whole, as well as within individual platforms, is key to gaining an all rounded perspective of your campaign's performance, using all data available.
What are the 3 key metrics marketers should pay attention to?
Reach: Are your content and campaigns reaching a wider audience on social?
Engagement: These days, it's not just about the number of followers on your social media channels, but how many are actually regularly engaged by your content.
Influence: How much did your initiatives affect the mindset - or the purchase behaviour - of your audience on social?
How can marketers boost their social ROI?
Understanding the role of social in the marketing mix is key. Only then can marketers pinpoint which platform to activate for each campaign.
Social media listening can also glean a wealth of information about a brand's customers and online reputation, both on their owned social media channels as well as on the web. With these added insights, marketers can optimize their social strategies.
What are the 3 social media platforms brands should pay attention to?
Twitter: Twitter has been changing rapidly, adding new features such as Periscope and Moments. While still emphasising on real-time content, it has evolved to offer more insights that can be leveraged on.
Snapchat: Because of its unique feature of hosting content for only 24 hours, marketers will need to understand its mechanisms, both on the user and business front.
Instagram: On top of recent changes to the platform, i.e. Stories and newsfeed algorithm, it has also opened up to paid media.
And there you have it! The ins and outs of mastering your social media marketing, from conceptualising to measuring ROI.
Don't miss these top tips and more. Take our free guide, 20 Essential KPIs for your Social Media ROI to go for your next marketing campaign: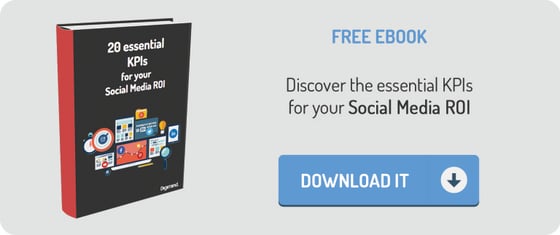 Melissa is a digital advocate who loves diving into the latest trends in digital and social media. Since joining Digimind's marketing team in 2015, she has written studies for over 15 industries in Asia Pacific. When she is not telling stories about data, Melissa can be found exploring her favourite cafes and hangouts on Instagram @chuepachups.