What is The Purpose of Competitive Intelligence?
The marketplace is replete with people offering similar if not identical products and services. No wonder knowing the right direction your business is going in can be quite the task. You will need to keep up with market trends, consumer needs, brand representation, and, most importantly, your competitors. This is where competitive intelligence comes into place.
A whole lot of information can be discovered about your competitors online. As a business owner, you need to align your business with certain standards if you want to make the best choices and keep your customers satisfied. Oftentimes, most businesses do not perform due diligence when it comes to checking out the competition or what exactly is going on in the industry. To give your business that edge, you need to have the right data that will help you make informed business decisions. This data can be found in your competitive intelligence report and contains all the necessary metrics with deep insights into all there is to know about the market, your competitors, and even consumers. First, let us find out exactly what competitive intelligence means.
Competitive Intelligence can be defined as the data obtained and analyzed from various legal sources on market trends, competitors, and consumers that can give a business a competitive advantage. Competitive intelligence is necessary to help businesses understand their business environment, challenges, and the opportunities present in this space.
The information gathered can be used to set up efficient business practices and standards for your business.
Competitive Intelligence, also known as Corporate Intelligence, is very different from Corporate or Industrial Espionage. In competitive intelligence, all data and information gotten and used are obtained from public sources and are legal.
Collecting information on competitors goes beyond the superficial level of monitoring their social media feeds, likes, mentions, and so on. It is a deep process that involves making use of several tools and cuts across different parts of a business. Competitive intelligence features actionable information that can change the sphere of any business. A simple internet search will not suffice since you will need to look through various databases for more relevant information.
Competitive intelligence can be categorized into Strategic Intelligence and Tactical Intelligence.
For short-term goals and decisions, tactical intelligence is employed. It gives you insights into recent happenings and issues such as how to increase revenue within the shortest time frame. Strategic intelligence, on the other hand, deals with long-term issues that forecast future events. These long-term goals may include risk and opportunity assessment for the business.
Both cases involve taking a deeper look into data and metrics surrounding one's business both online and offline.
How To perform Competitive Intelligence
At the starting phase of a new business, most business owners and members of staff claim to conduct competitive intelligence before full operations commence.
This isn't usually the case because what is often done is monitoring or simply a superficial form of competitive intelligence.
The common mistake businesses make is that they carry out their competitive intelligence through social media platforms alone. Now, while the information received through these platforms can be very useful, it is often not enough.
Every successful business involves the use of competitive intelligence by scouring information through various published and unpublished sources, ethically and legally. This information provides businesses with a good idea of the market scope so as to adequately anticipate challenges and risks and create an appropriate response before they emerge.
The simple saying "Keep your friends close but your enemies closer" can be used to describe the notion of competitive intelligence.
However, it goes beyond spying on your competitors, or should we say "enemies," but involves uncovering the dynamics of your competitors, the kind of customers they cater to, their business model, and their mode of operation. Apart from your competitors, competitive intelligence also looks at events and how they disrupt the marketplace, including business rivals. Competitive intelligence also analyzes the impact of circumstances or events on major stakeholders and distributors in the marketplace, and how they use of technologies in a business can change an entire perspective and outcome of things.
Using social listening, brands track brand mentions, relevant hashtags, industry trends, and competitor mentions on professional social platforms such as LinkedIn, apart from tracking conversations within forums, and mentions in news posts and blogs. This helps them stay abreast of the competition, make improvements within their own processes and marketing plans, and strategize for the future.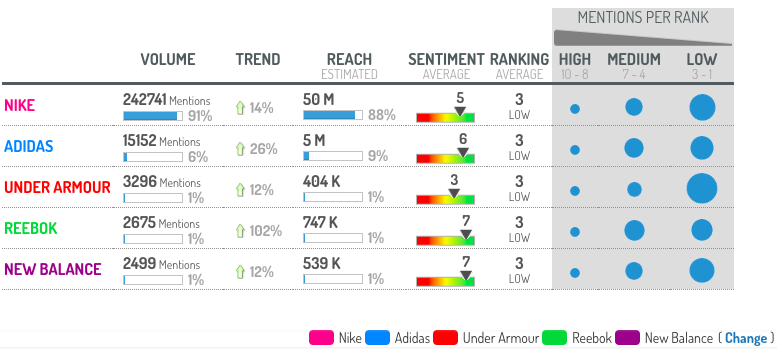 The Purpose of Competitive Intelligence
The main purpose of conducting competitive intelligence is to ensure you stay one or many steps ahead of the competition. Not knowing what to do with the data from your competitive analysis is just as bad as not conducting any in the first place.
Proper analysis of the data is key to making the best decisions for your business.
Competitive analysis helps you with product growth. Knowing what products your competitors are pushing out, how they solve the problems of consumers or cater to their needs, and how these products compare to yours can help you fill in the blanks.
It is not only about comparing products but taking a deep dive into how your product can be better and at par with some of the best out there. Conducting competitive analysis in this sense helps you also know when to release your products, what days are better, the kind of message to craft around the products, and how the product will be marketed to your consumers. All this information can be gotten through competitive analysis by subscribing to the newsletters of your competitors and keeping tabs on them in real-time.
For a business to thrive, there has to be a standard benchmark to measure the success of that business. Conducting competitive analysis will help you set the right benchmarks for your business and will let you know if you are being too comfortable with your current state. You are constantly on your toes so your brand meets up with industry standards. Competitive analysis tells you the current situation of trends in the industry and any possible changes that may cause a shift now or in the future.
Another essential thing you get from the competitive analysis is knowing where to invest time and resources within your company. Based on the information received from your competitors, you are able to evaluate whether certain departments or strategies are working or not.
When you monitor the hiring rates of your competitors, who they are hiring, and what sectors of the company they are beefing up, you are better informed of what may be lacking in your business. This helps the re-evaluation and assessment of the different sectors of the company so you know what areas to invest in as well. Whatever areas your competitors are hiring more from is the section they are focusing on. This could be more sales reps to boost sales, or top executives to make better critical decisions that can move the company forward. Be sure to look inwards and have your team in order.
Mentions and conversations surrounding your business, products, services, competitors, and customers are also worth tracking. Now, as mentioned earlier, this is not the sole step in competitive analysis, but it is definitely an important one. Doing this will also need to go beyond the top surface of metrics provided by social media platforms and involve the use of third-party tools that provide more information. Digimind's competitive intelligence platform allows you to monitor everything and anything – from blogs to social media feeds, employee's feeds, newsletters, and so on to give you deeper insights as to what the competition is up to.
Conclusion
The basic purpose of a competitive analysis is to be proactive in business. It helps you stay several steps ahead of the competition and also provides the opportunity for you to get in front of any issues even before they arise. With competitive analysis, you are able to predict challenges, risks, and opportunities even before they present themselves. Now, you can make well-informed decisions based on valuable data and research conducted that have a positive impact on the outcome of your business. You save energy and resources when you know what to invest in, where to invest, and when to make these investments. In the world of business, timing is key. Too early and you miss the mark. Too late and you may lose the opportunity.
A way to make your competitive intelligence effective and with the time and resources spent is to have a specific person or team that conducts this research. The main job will be to constantly keep tabs on what is changing, what isn't, and how it affects the business. Having a specific individual or team eliminates distractions and ensures they are not overwhelmed with other tasks. This way you know full attention and focus is given to gathering, analyzing, and reporting your competitive intelligence. Social listening tools make it easier to keep a tab on the latest updates from competitors and market trends.
In making the right decisions, you need the right information which a dedicated team can provide for you. It is never too late to commence your competitive intelligence, even if you are a few tiers down the line in business. Consider taking a step back to assess and evaluate the situation of things that will help your business in the long run. Taking the time out to conduct proper competitive intelligence will surely be worth it for your business in the end.