A Social Listening Approach to Competitor Analysis
A company's competitor analysis is among its most important tools. Information from multiple sources and messages (from an article to a formalized tweet) allows you to conduct a powerful and original analysis of your competitors on social media and the web, completing essential field monitoring (exhibitions, visits, business meetings). In the following list, you will find some of the best practices to follow.
1. Explore competitors' employee conversations on social media
Let's start with a story from one of our clients in the communications industry, let's call them ComSociety. ComSociety responds to a call for tenders from a large group, which will be called SuperLaitier. At the end of a defense, the principal informs him that there are only 2 companies in the running: ComSociety and another competitor not revealed. ComSociety sales engineers think of ConcurrentA or ConcurrentB. The day after the defense, a consultant from ComSociety comes to see the EMEA commercial director: "Did you see the tweet from Robert, commercial at ConcurrentC? He was at SuperDairy yesterday and tweeted a photo of the reception hall". Yes, a business engineer from the competing company, the last in the running with ComSociety, couldn't resist posting, out of pride, the photo of the magnificent hall of SuperLaitier.
For ComSociety, this changes everything: Competitor C, unlike Competitors A and B, is notably very efficient in terms of support from consultants and has a higher price range. ComSociety then adopts an aggressive response strategy on the strengths of ConcurrentC, and wins the call for tenders. Perhaps ComSociety would have won the case without this information, or maybe not!
Also, remember to identify your competitors' employees on social networks and not just members of the upper management and senior executives.
2. Segment your competitors
Similar to your prospects, segment your competitors based on their profile: Direct competitors, frontal competitors, partial competitors, and potential competitors. It's designed for segmenting data collection and analysis based on the specifics of the competition. Prepare the analysis as soon as it has been collected by avoiding the collection of hundreds of data in one single file. Prioritize information in line with the importance and threat of the competitor.
3. Choose sources that are appropriate for your industry
Don't solely rely on traditional sources: Conduct an exploratory watch and speak to salespeople or consultants about these potential expression spaces. Beyond the heavyweight and generalist social networks such as Facebook, Instagram, Twitter, WeChat, Pinterest, or LinkedIn, identify specialized forums and conversation sites: Trip Advisor, for hotels and restaurants, Yelp for businesses, Glassdoor for the employer brand, Opinion Assurances for insurance companies, etc. Furthermore, consumers can consult guides and comparison sites during their purchase or information searches. All these spaces constitute as many sources to locate your competitors on social media.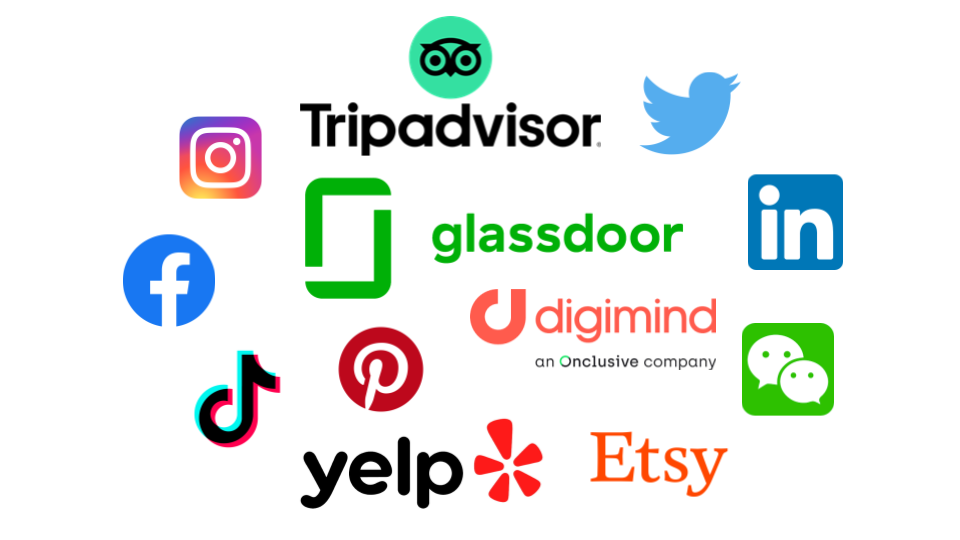 Competitors on social media: examples of sites and conversation spaces to analyze
4. Explore interactions with your competitors on social media
The information published by your competition on social media, whether general or specialized, is extremely valuable. Social media will also bring you additional data: Consumer or prospect insights, i.e. all the interactions (questions, remarks, opinions) of consumers online about the brands concerned. You need to pay close attention to the conversation spaces where your competitors' customers express themselves like forums, social networks, review sites, discussion threads in articles, marketplaces, etc.
5. Prepare your axes of analysis
The amount of data collected can be quite extensive and overwhelming. This is why we segment the competition. As a result, it's necessary to sort the data according to the topics discussed.
Example: you can automatically qualify if you have the chance to use an effective social media monitoring tool to the messages according to the themes related to the events: Awards, fundraising, capital increase, contracts, mergers & acquisitions, legal, appointments, innovations, financial results, recruitment, R&D, technological investments, partnerships, fairs and conferences, openings/closings of factories, agencies, product launches, and more.
What are the most suitable axes of analysis to use? It's ideal to derive these from strategic objectives: For example, if you want to collect information about the opening of future factories by competitors before the first announcements in the press, you can gather offers of employment opportunities and analyze them based on country and function. Based on the profiles of engineers recruited in South America, a client determined the opening of future production sites.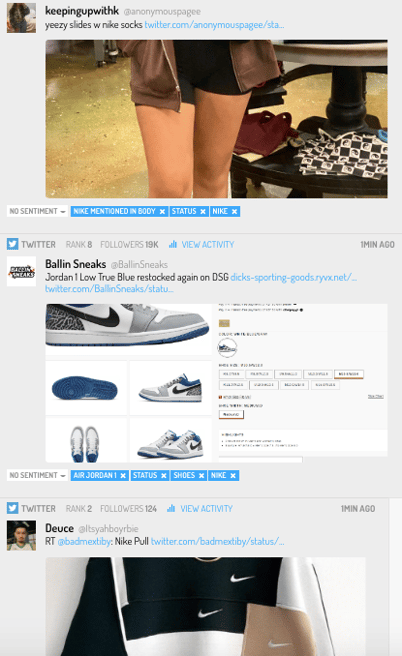 Retail: Example of consumer insights-orientated analysis themes
Other types of possible competitive analysis: By themes-orientated consumer insights. For example, you can classify information in the field of retail on the subject of sales, ethics, price, quality, reception in-store, advice, after-sales services, digital services, etc.
6. Look beyond competitors: Industry sources
Your monitoring should extend beyond the names of competitors, their products, and their leaders. This should include sources in your industry, which may publish studies and rankings, compare and describe some of your competitors, and announce potential competitors in the future.
It's necessary to make a precise selection of market research sites, companies, and consultants specializing in trends, forecasting, and sector analysis. Think of large generalist firms (Gartner, Forrester, McKinsey), specialized consulting firms, research institutes and companies, and white papers from companies linked to the sector.
7. Identify experts and opinion leaders
You should also identify experts who write articles, participate in conferences, contribute to forums, and publish studies about your industry. This will enable you to expand your competitive intelligence beyond the names of your competitors. Twitter and LinkedIn are two very useful social media platforms for finding these experts. On LinkedIn, many specialists publish their analysis and expertise posts. On Twitter, a watch including the name of your sector, or a list of 3 or 4 of your competitors can allow you to continuously discover experts.
On Twitter, you can simply group these experts into thematic lists. Examples: e-Commerce experts, specialist mass distribution experts, etc. Don't limit yourself to your country or markets: Your future competitors may come from another country or sector.
8. Synthesize your information into reports and dynamic dashboards
The axes of analysis make it possible to sort and avoid being drowned in information. It's necessary to restore these different axes in the form of an organized report or dashboard. Depending on the nature of your internal recipient customers, you will have to focus on this or that competitor and favor a certain type of data: The upper management will be fond of strategic information, and the sales representatives of tactical and operational information in the short term.
Don't forget: This competitive analysis is only valuable if the results and analysis are transmitted to the right people and receive feedback.