8 Tips to Easily Build a Strong Competitor Analysis
Competitive intelligence is one of the most common types of business intelligence used by companies to leverage data aimed to help understand their competitive positioning within their market. The abundance of information and messages on social media and the web makes competitor analysis more accessible and arguably, more effective. This complements field monitoring data taken from trade shows, visits, and sales meetings, which remains essential.
Bonus: Read more about how market research is evolving with social media intelligence.
In this post, you will find 8 good practices. Don't hesitate to share your experience with us under the comments or on Twitter: @digimindci.
1. Explore Competitors' Employee Conversations on Social Media
Let's start with a story from one of our clients (that we will call ComSociety) in the communication sector. ComSociety answers a call for tender from a large group, which we will call SuperDairy. At the end of a presentation, the client announces that there are only 2 companies left: ComSociety and another, undisclosed competitor. ComSociety's sales engineers think about Competitor A or Competitor B.
The day after the presentation, a ComSociety consultant comes to the EMEA sales manager asking: "Did you see the tweet from Robert, a salesman at Competitor C? He was at SuperDairy yesterday and tweeted the picture of the reception hall." Yes, a business engineer from the competitor company, the last one in the race with ComSociety, couldn't help but post a picture of SuperDairy's beautiful lobby out of pride.
For Comsociety, this changes everything: Competitor C, unlike Competitors A and B, is very efficient in terms of consultant support and has a higher price range.
Then, ComSociety adopts an aggressive response strategy on the strengths of Competitor C. And wins the tender. Would ComSociety have won without this information?
This story is an example of how you should think about monitoring relevant employees of your competitors on their social networks. You should not only look at the executives in senior management but those who directly impact the affairs of the business operations and overall strategy.
2. Segment Your Competitors
As for your prospects or your target media, segment your competitors by profile and priority: direct, potential, indirect, future, and replacement competitors.
Before starting your data collection, an excellent tip to organize your data is to avoid piling all your competitor analyses in one single view. Classifying or segmenting your competitive data according to their profile will undoubtedly help you to analyze more efficiently, saving you time in evaluating the threat level of each competitor.
3. Choose the Sources Adapted to Your Sector
Go beyond traditional sources: conduct exploratory monitoring, and talk to sales representatives and consultants to gather information on these potential hotspots of discussion.

Beyond the heavyweight and general social networks such as TikTok, Facebook, Instagram, Twitter, WeChat, Pinterest, or LinkedIn, also pay close attention to discussions happening on public forums, review sites, and blogs. Among them are Tripadvisor, of course, for hotels and restaurants, Yelp for businesses, Glassdoor for the employer brand, Etsy for small businesses, and many more.

On one hand, as specialized sites are used by consumers to gather further product information or reviews, these online domains are sources to identify your competitors, therefore giving you an added dimension to conduct deeper competitive analysis.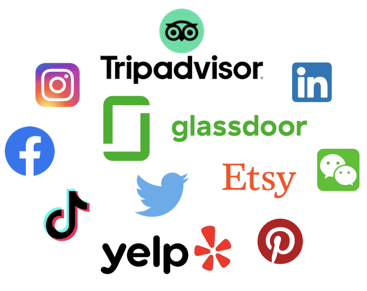 Competitors on social media: examples of sites and conversation spaces to analyze
4. Explore Interactions With Your Competitors on Social Media
The information published by your competitors on social media, whether general or specialized, is valuable. To stand out, you would need to go hyper-competitive.

Maximize how you handle social media and web data, and begin by processing additional information about your competitors through customer or prospect insights. These include all Internet users' interactions (likes, comments, remarks, and opinions) on brands in your competitor analysis.

That's why you need to scrutinize the conversation spaces where your competitors' customers express themselves: forums, social networks, review sites, article comments, and even marketplaces.
5. Prepare Your Analysis Axes
The data collected can be very voluminous. This is why you should be segmenting your competitors before beginning any intelligence-gathering project. Another approach is sorting the data according to specific topics that can concern your business.
If you are lucky enough to use an efficient social media monitoring and listening tool 😉, you can effectively collect mentions of your audience based on several themes. You can look for content related to:
Latest news: awards, Mergers & Acquisitions, product launches, partnerships, opening/closing of factories, agencies

Financing: fundraising, capital increase, financial results

Human resources: contracts, recruitments

Events: appointments, trade shows, and conferences

I

nnovations: technological investments, R&D


And so much more!

How to choose your competitor analysis axes? For example, if you intend to collect information on future base openings of competitors, in advance of the first announcements in the press, you absolutely can. You only need to collect competitive job offers and analyze them by country and function. One client determined future base openings based on the profiles of engineers recruited in South America.


Banks: Example of Consumer Insights themes

Other types of analysis are possible: by Consumer insights oriented themes. For example, you can classify information in the retail field on the following topics: sales, ethics, prices, quality, store welcome, advice, after-sales service, or digital services.
6. Look Beyond Your Competitors: Industry Sources
In addition to monitoring the names of competitors, their products, and their managers, it is advisable to broaden your monitoring to include sources in your sector. These may publish studies and rankings, comparing and describing some of your competitors, and especially announcing potential future competitors.

It is, therefore, necessary to make a precise selection of market research sites, consulting firms, and research institutes specializing in trends, forecasting, and sector analysis, like McKinsey, Accenture, or Gartner, who produce publicly available whitepapers and reviews.
7. Identify Experts and Opinion Leaders
To broaden your competitive intelligence beyond the names of your competitors, you also need to identify experts. Find the influential key opinion leaders that regularly participate in conferences, and publish opinions, articles, tribunes, or studies analyzing your sector.
Twitter and LinkedIn are two very useful social media to find these experts. On LinkedIn, many specialists publish their analysis and expertise on Pulse. On Twitter, a monitoring scope including the name of your sector, or a list of 3 or 4 of your competitors can allow you to detect experts in real-time. You can group these experts into thematic lists (i.e. e-Commerce and specialized retail experts).
Don't limit yourself to your country or your markets: your future competitors may come from another country or another sector.
8. Synthesize Your Information Into Reports and Dynamic Dashboards
The axes of analysis allow you to sort and avoid being drowned in information. But it is necessary to render these different axes in the form of organized reports and dashboards. Depending on the nature of your internal customers, you will have to focus on a particular competitor and favor a certain type of data. Your executive committee and keen stakeholders will be fond of strategic information, while salespeople will be interested in tactical, short-term operational information.
🚨Don't forget: this competitive intelligence is only of interest if its results and analyses are transmitted to the right people and are the subject of feedback.
If you don't have an efficient Social Media monitoring tool yet, and you want to easily create competitor analysis, request a free demo of Digimind Social!
Bonus: Download our CI Tool Evaluation Grid Template to identify key differentiating factors and questions to ask your potential market and competitive intelligence partner.
Léa is a French native with a double technological and managerial background who, in addition to being passionate about new technologies, loves working in an international environment. That's why, after professional experiences in the Netherlands or Spain, she joined Digimind Singapore to work on the APAC market.