Incorporating Modern Competitive Intelligence Tactics for Pharmaceutical Companies
Producing and manufacturing drugs and medical devices is an expensive business to be a part of. The global pharmaceutical industry in itself is highly competitive, driven by a constant need to innovate and discover new drugs. With the average drug life cycle spanning two decades, from drug development to approval and commercialization, all the more multinational drug companies have unique challenges in competitive intelligence (CI).
In the 1990s, globalization appeared to be the key, due to the fact that it reduced dependency on local markets where competition has increased. Global markets also offered drug companies a better return on investment, mostly due to aging populations and the overall increase in disposable incomes. But with pharma multinationals rapidly globalizing in the past decades, the gap between competitors is quickly diminishing.
Therefore, pharmaceutical companies and the like started to implement competitive intelligence platforms in order to gain an advantage over their competition. Practices such as wargaming, Porter's five forces, and ratio analysis became a staple within the pharmaceutical industry, and instilled itself as a common methodology that is still used to this day. But even though this is the case, CI in the pharmaceutical setting is vastly different than other industries.
Bonus: Download our industry guide on how to enhance competitive benchmarking strategies for pharmaceutical companies, using CI and social media listening.
---
1. How Does Competitive Intelligence for Pharmaceutical Companies Differ From Other Industries?
This is due to four key reasons:
Competitive nature

Regulated market environment

Complexity of consumers

Technical nature of drugs and other health products
1.1 Competitive Nature
The pharmaceutical industry is a highly competitive landscape. Competition is intense and complex, as drug companies compete for market share for each disease, disorder, and therapeutic area. Unlike other consumer industries, which aren't limited to epidemiological profiles and able to compete across product lines.
Partnerships and collaborations are another common theme, with drug companies often sharing the cost of drug development, production, research, and marketing, which adds another level of complexity to the situation.
1.2 Regulated Market Environment

Since the pharmaceutical industry is a heavily regulated environment, information on competitors is often published and available to everyone. Therefore, companies need to consider how much information to publish or keep private while respecting regulatory boundaries. On one hand, companies have a responsibility to publicize information to keep stakeholders informed and attract investors. On the other hand, publishing information too early can aid competitors in gathering information about a company's business strategies, which they can then use to respond with new products, and possibly take preemptive action to protect their market share.
1.3 Complexity of Consumers
Within the pharma industry, there are usually four distinct groups that make up the consumer base. The patient, insurance firm, health care provider (HCPs), and the government. Unlike other industries, there are certain rules and regulations that pharmaceutical companies need to abide by, which can affect the way they communicate their products and develop their strategies.
1.4 Technical Nature of Drugs
Pharmaceutical drugs are specific products that serve very specific indications, with a patent expiry shelf life that has the ability to deem even a blockbuster product null. Due to this, companies are constantly investing into R&D to discover new biologics, or executing mergers, acquisitions, and partnerships.
Thus it is important for pharmaceutical companies to be hyper-aware of their competitive landscape. Companies should have competitive intelligence processes that turn information into meaningful insights. But with the rise of social media in the past decade, traditional methods of gathering competitive intelligence is evolving.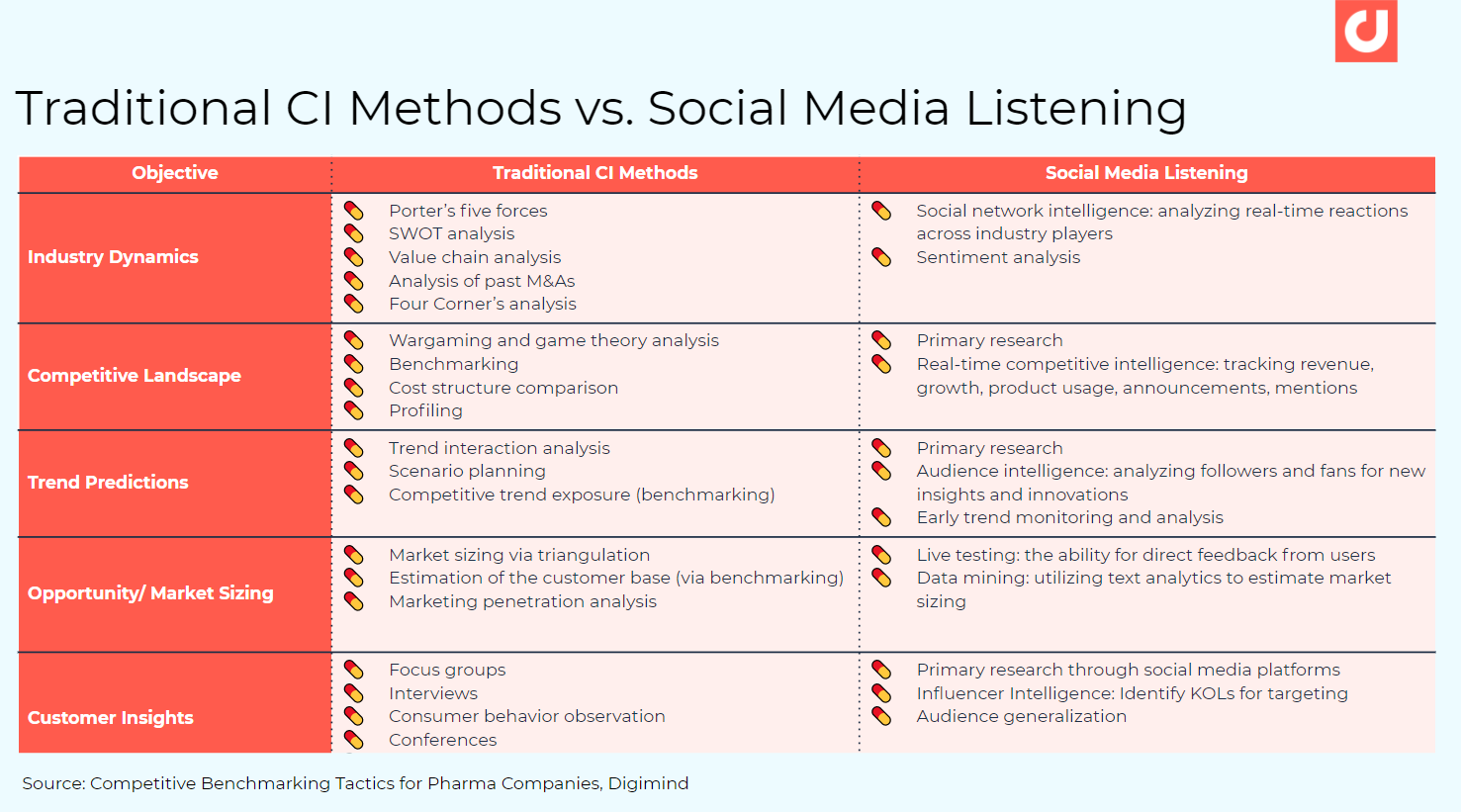 Typically, when dealing with CI for the pharmaceutical industry, there have been three main sources that yield the most useful information:
| | |
| --- | --- |
| Main sources of information | Added value of a competitive intelligence tool |
| | Keep track of hirings and hirees and internal/external movement within a company |
| Healthcare professionals (HCP)and key opinion leaders (KOLs) | Identify key opinion leaders and analyze their impact through various measures such as interaction, audience reach, influential score, and popularity ranking |
| Conferences, congresses, and trade shows | Stay up to date with the latest announcements on upcoming conferences and trade shows through customizable source packs, with the ability to send real-time alerts to notify key team members |
Although these methods are reliable and rich in information, historically, they can be straining on time and resources. Companies need to be aware of the methods they use when extracting information, and the ethical boundaries of the countries they are.
With the added presence of social media and other online networking platforms, a competitive intelligence software such as Digimind Intelligence can be critical in helping companies evaluate these criteria in an efficient and reliable manner.
2. Importance of Competitive Intelligence to Pharmaceutical Companies
Even though CI has been around for quite a while, we still see companies constantly failing to utilize it properly.
In July 2015, Novartis launched its new heart failure drug, Entrestorm. Earlier in 2014, Forbes predicted Entrestorm to become a blockbuster drug, with sales expected to exceed $10 billion annually, given a potential market of 5 million patients suffering from heart failure in the US. Eventually, the drug failed due to resistance from insurance companies and cardiologists to its price.
Drug companies often spend tens of millions of dollars preparing for drug launches. Thus this investment must be matched with commitment to updating their route to market strategies, to match the current reality of the drug market.
To succeed in the modern market, it is important for pharmaceutical companies to start thinking differently about how business, management, and strategic intelligence work. Instead of simply collecting information on the market and their competitors to devise strategies and plans, companies should utilize this data to generate insights to support their changing perspectives.
Strategizing various perspectives and outcomes with the insights gained is better suited to pharmaceutical companies' needs, than simply devising a single linear plan. To achieve this, preparation and inter-department collaboration is key to preparing for various outcomes.
Responsibility for strategizing competitive and business intelligence should not lie solely in the business intelligence unit. Rather, it should be a united effort by all departments it can potentially impact, such as sales, product management, legal, research and development, and human resources.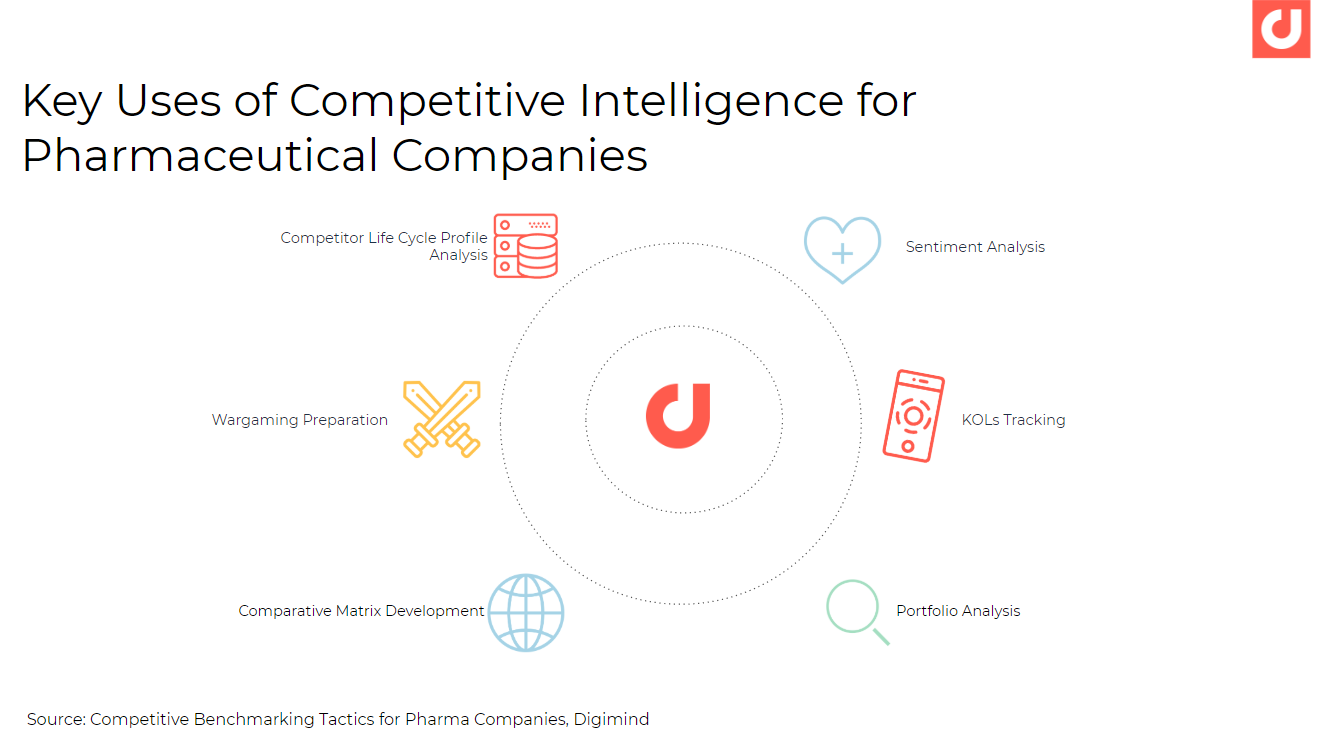 3. Three Crucial Steps for Incorporating Modern Competitive Intelligence Tactics
Therefore, in order for companies to gain an edge on their competitors, incorporating modern CI tactics, and implementing change in the culture is necessary. This solution is definitely easier said than done, but it all comes down to these three crucial steps:
Don't hate it, embrace it! Social media is here to stay and it will only make you and your company's life better if you listen actively to it. Use a social media listening platform like Digimind to strengthen your CI strategies and streamline time and resources for things like KOLs tracking, and audience and campaign analysis.
Change the way you use CI: Currently, companies treat CI primarily as a search and distribute information functionality. However, there is much potential for CI to be utilized more for insight management. By doing so this can encourage and foster an organizational culture that thrives on outsmarting stability-seeking competitors.
Cooperate, don't isolate: CI should be a group effort, with intelligence analysts granted constant access to collaborate with key decision makers in all departments involved.
We've outlined the necessary steps and key metrics to carry out a competitive analysis using CI and social media listening in our industry guide. Read it now!
With experience in the pharmaceutical and biotechnology sector, Kevin is eager to discover new technology and methods to transcend patient healthcare. In his downtime, he enjoys traveling and playing video games.