5 Benefits of Conducting a Competitive Analysis
Conducting a competitive analysis is an essential step for every successful brand. Briefly, a competitive analysis is a living document that identifies and evaluates your competitors strategies to determine their strengths and weaknesses in relation to your own products and services. More generally, understanding and applying the insights gained from a competitive analysis will help you identify strengths and weaknesses that relate to brand health, community management, content strategy, and more.
Here are 5 benefits that come from conducting a competitive analysis:
1. Fine-tune and Develop your Unique Selling Proposition (USP)
Why your brand? This question is the deciding factor in separating you from your competition. A competitive analysis will give you insight into what other brands define as their "why." When comparing your competitors USP to your own USP, clear talking points surrounding your brand will arise, helping distinguish you from the competition.
The best way to do this is to compare mission statements, products, services, integrations, and anything else that may yield distinguishable talking points that your brand can leverage over your competition.
Places to look: Mission Statements, Product Descriptions, Partnerships
2. Improve Owned Products and Services
As your brand expands so will your customers' needs and expectations. One way to anticipate those needs and expectations is to analyze owned customer reviews as well as your competitors' customer reviews. Comparing reviews will allow you to tap into market gaps and anticipate customers' needs and expectations as well as your competitors' pending improvements.
Places to look: FAQ Pages, Customer Reviews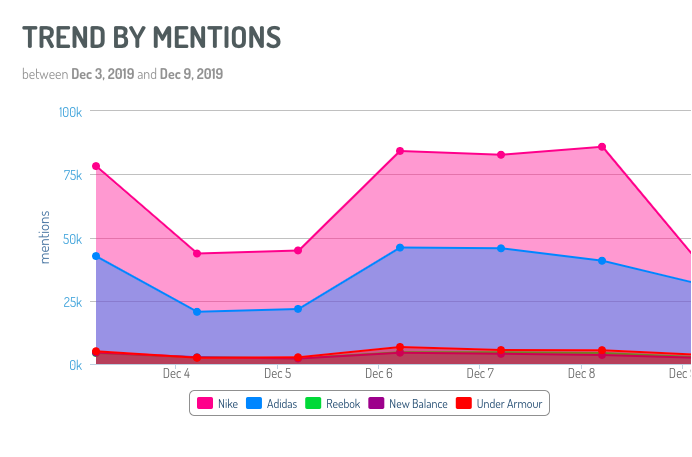 Sneaker Brand Trends Using Digimind Social
3. Establish a Brand Benchmark
Benchmarking as defined by Entrepreneur Magazine, is the process of building a foundation or point of reference for measuring growth. Both startups and established companies can benefit from benchmarking. With a competitive analysis unlock and analyze historical data that relates to how customers view you and your competitors. This will yield a greater understanding of your company's growth and scale.
Startups and established brands alike can utilize tools such as Digimind's historical search to gather historical data and understand how the market currently views you and your competitors. By understanding your brand's past and present you will be able to see where improvements can be made and increase ROI.
Places to look: Historical Data (using Digimind Historical Search)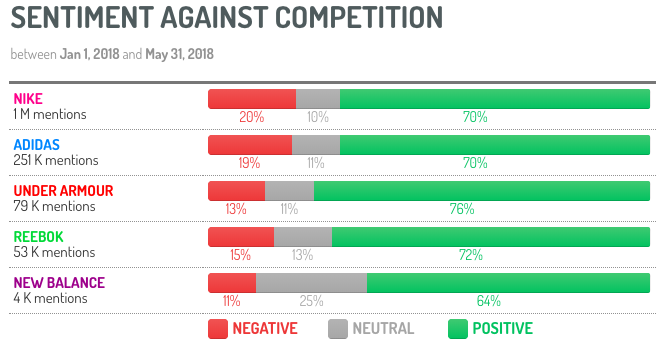 Sneaker Brand Sentiment Analysis
4. Identify Gaps in R&D and Hiring
A competitive analysis goes beyond customer feedback and consumer-centric content. According to Buffer, having an understanding of who your competitors are hiring as well as company expansions helps paints a larger picture of upcoming trends competitors are anticipating, workplace culture, and other important factors customers look at when considering brand loyalty.
Places to look: Job Sites, Job Review sites (Indeed, Glassdoor), Press Releases (all available through Digimind)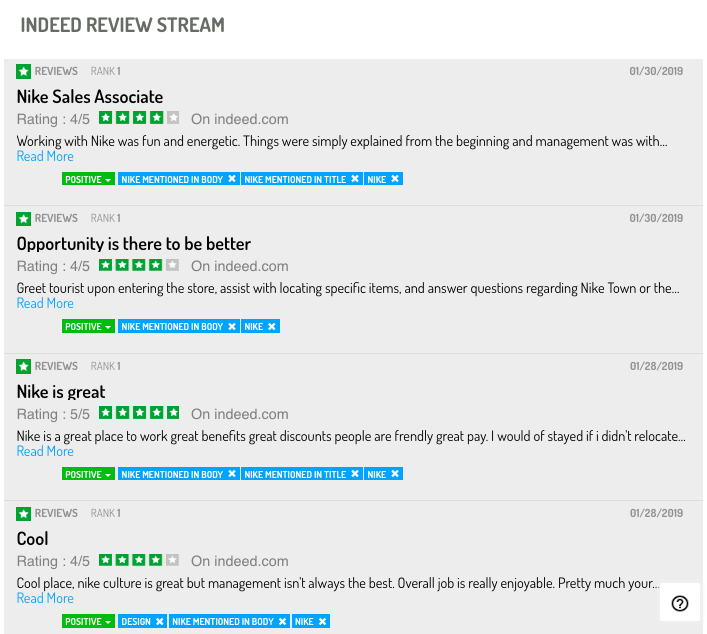 Digimind Social Job Review Insights
5. Discover Potential Threats
Due to the dynamic nature of a competitive analysis, you are able to update and chart challenges that your competitors and the market are facing. This will help you anticipate potential market changes, threats, and campaigns that can be rebutted.
Places to look: Social Media, Exclusives & Interviews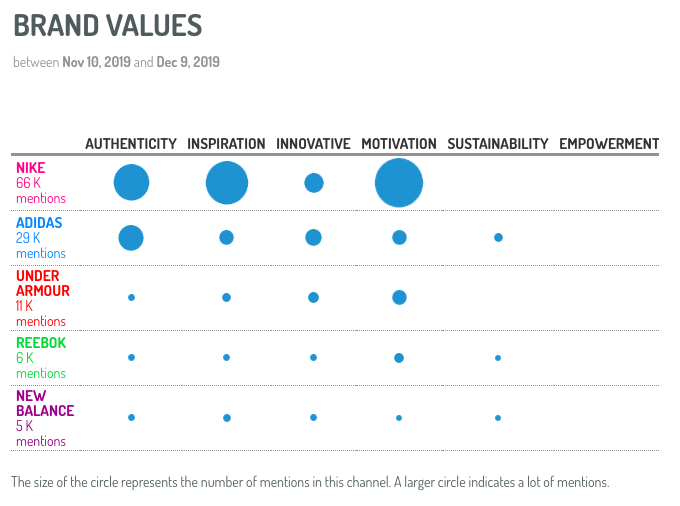 Sneaker Brand Value Analysis from Digimind Social
With Digimind's listening tools you can unlock insights that will enhance your competitive analysis. Digimind automates the data mining process and pulls from every channel in bulk, with options to customize sources.