How to Convince Your Management to Launch a Competitive Intelligence Project
You're convinced that Competitive Intelligence is critical to any organisation? Very well, but your management might not share your opinion.
The first step is to come up with the right arguments to convince the undecided! To help you, we gathered some valuable tips and strategies to overcome resistance and reluctance.
Incorporate Competitive Intelligence in a Strategic Vision
First and foremost, it is necessary to demonstrate how CI topics are aligned with the progression of your industry, as well as part of your company's strategic approach.
Regardless of the CI department's reporting lines in the organization, it cannot behave as an independent agent. Rather, it should be a collective effort that solves business challenges and work hand in hand with other key business units to monitor, gather specific needs and build a suitable Competitive Intelligence plan.
Ultimately, the CI expert's objective is to provide the right information to the right person at the right time.
In addition to gathering and distributing relevant information, Competitive Intelligence experts must synthesise and analyse this information to identify and contextualise weak signals; to help upper management make strategic decisions.
Understand the Impact of Competitive Intelligence on Each Business Unit

Competitive Intelligence is at the crossroads of all the strategic functions that make a company.

A study by ABDS determined that while CI is mostly used for monitoring competitors (72%), innovation (63%) and changes in regulations (51%), it also addresses all key functions of a business.
Identify Investments and Benefits Related to Competitive Intelligence
Before presenting your Competitive Intelligence project to upper management, it is necessary to identify the KPIs and expected benefits, and to anticipate the precise amount of investment required to fully justify the cost/benefit outcome.
What kind of investments should your upper management expect? According to Digimind's CI Practices' Barometer, 90% of CI professionals agree that lack of time is the main challenge, followed by lack of CI personnel, at 71.8% Thus, the estimated expense for your project can be determined by:
Procuring a professional CI software

Hiring CI specialists

Procuring a Professional CI Software
In our CI Practices' Barometer, CI experts indicated they spend between 15 to 17 hours per week searching for information on the web. Acquiring a professional CI software can free your team from repetitive, overwhelming tasks for higher valued tasks. Thus the benefits of procuring CI software offers advantages such as:
Time saving, by automating repetitive, time-consuming tasks

Broadening the scope of your CI project

Enabling your CI team to synthesise and analyse information collected more thoroughly.
Hiring CI Specialists
90% of CI professionals claim lack of time is the main issue encountered, followed by 71.8% who are experiencing a lack of personnel. Thus hiring CI specialists is another investment to consider when implementing a Competitive Intelligence project.
More and more organizations are hiring candidates with cross departmental skills, such as engineering and CI. Being familiar with the terminology and operations of the departments they will need to collaborate with makes it easier to understand their needs.
Educate Stakeholders About the Expected Benefits of CI
Expected benefits of Competitive Intelligence can be visualised in three stages:
Reduction of costs related to repetitive actions like collecting, sharing, cross-checking, and disseminating information

Quantitative and qualitative improvement of information flow and analysis

Emergence of a collaborative CI approach within the organisation, in which information is actively and closely shared
Anticipate and Prepare Key Questions
In order to convince decision makers to invest in Competitive Intelligence, it is critical to elaborate a full plan that encompasses the roll out, deployment and steering of the CI project.
Here are the key elements to include in your presentation:
Expected Benefits
Highlight how your company benefits from a structured, strategic CI process:
Exemplify previous experiences within your company: badly anticipated crises, difficulties in identifying new markets, etc.

Provide specific and concrete examples of how CI will drive knowledge at an operational level: market trends, product positioning, innovation and R&D, anticipation of crises etc.

List out the market intelligence topics that can be covered: competition, innovations, changes in regulations, etc.

Improved, more accurate data collection: what, where, how

More in-depth data analysis: types of analyses, restitution, data visualisation tools, etc.
Sharing and Distribution
Determine the deliverables, internal client groups, and frequency of your CI reports.
Project Organisation and Steering
Determine the overall organisation of the CI department.
Who will be the business experts?

Who will be the "champions" and power users?

Who will be involved in the CI project, and for how long? Will these people be permanent, or engaged for the duration of the project?
Who is this for? Determine how to clearly communicate the goals and progress of the initiative internally. Will it be through an annual activity report, catalog, internal user club, or a dedicated CI day?
Indicators and KPIs
Include the KPIs and objectives to evaluate your CI performance. Also state what the Project Success Indicators are for each objective.
In Summary
To successfully implement Competitive Intelligence projects, companies need to understand that market intelligence is the foundation of collective intelligence. A CI department working in a silos will be unable to understand the business challenges to their full extent, or inform executive management on market trends. Consequently, they will not be synonymous with creating value or new growth.
Having a structured and logical plan of action complete with KPIs and project success indicators will provide clear direction and instill confidence when implementing Competitive Intelligence projects.
Don't miss out on Digimind's upcoming webinar where you can learn how to meet your organization's goals, create deliverables, and engage your audience. Register now while there's still time!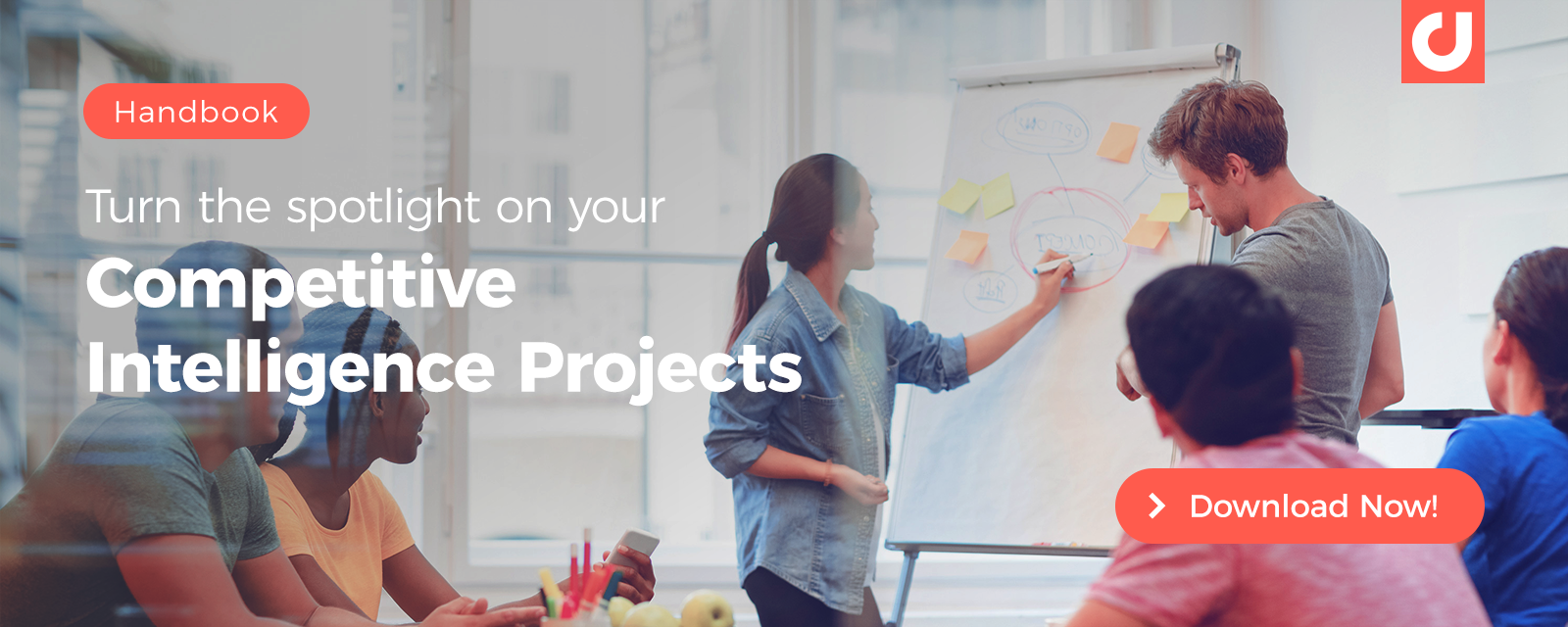 Vanessa is marketing manager at Digimind, and is looking after the CI market. Passionate about information technologies, digital marketing and B2B, Vanessa likes to debate the best strategies to help companies stand out in a highly competitive and rapidly changing market.