Digimind in Asia: Success in Singapore
In 2013, Digimind began the first phase of an international expansion plan, opening offices in the UK and Singapore in response to growing customer demand for its social media monitoring and competitive intelligence tools, Digimind Social and Digimind Intelligence respectively. Brands seeking to develop a comprehensive understanding of their competitive position and online presence are actively looking for top-of-the-range solutions. Digimind's exciting foray into the Singapore market has already seen substantial success. In less than a year, Digimind Singapore has built an strong roster of clients. Global brands including Intel, Lexus, INSEAD, Akamai, Shangri-La and Siemens trust Digimind to deliver on their social listening and competitive intelligence needs.
And it doesn't stop there: Digimind Singapore General Manager and resident social media expert, Stephen Dale, made his second appearance on Channel News Asia last week to share insights and analysis on social media trends, from the future of #selfies, to the manner in which Barcelona player Dani Alves' social media manager turned a racist attack into a major social success.
As a vibrant and growing digital market, and a hub for innovative online activity, Singapore has proved a market hungry for Digimind Social's advanced listening capabilities. Intense competition has made customer retention and engagement more important than ever - particularly in such a highly connected market. A 2013 survey estimated that 3 in every 4 Singaporeans was active on social media, ranking it amongst the world's most switched-on countries. Social in Asia as a whole is booming, with over 800 million users across the continent. Digimind Social users VML Qais have praised the tool's capabilities in tackling such a active social landscape, highlighting its "simple interface, easy-to-use analytics and reporting and the simple escalation and sentiment process".
To find out more, click here to book a demo with our social intelligence experts!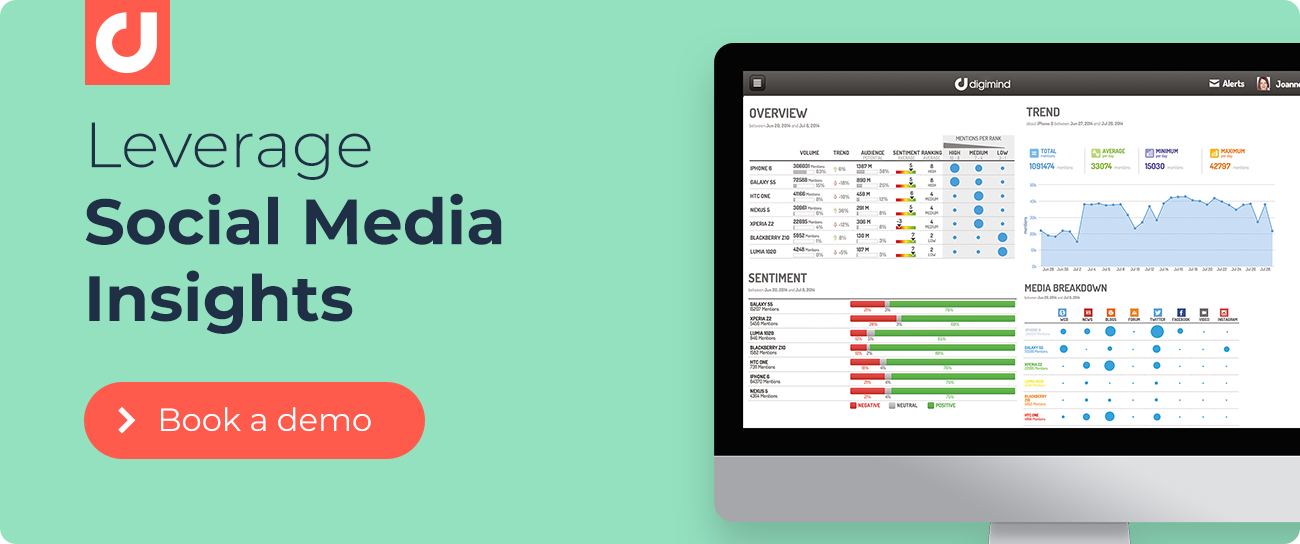 Melissa is a digital advocate who loves diving into the latest trends in digital and social media. Since joining Digimind's marketing team in 2015, she has written studies for over 15 industries in Asia Pacific. When she is not telling stories about data, Melissa can be found exploring her favourite cafes and hangouts on Instagram @chuepachups.