Sneaker Brands' Unique Opportunity in Social Listening
Since Michael Jordan first revolutionized the way athletic shoes were branded in the 90s, the sneaker industry has continued to steadily evolve over time. In the early 2000s, the retro boom within the industry (brands re-releasing designs and colorways that were previously discontinued) and the advancement of social media gave birth to a subculture of sneaker enthusiasts and collectors—"sneakerheads."
Once a sole interest of children and athletes (no pun intended), sneaker collecting became a passion for adults of various walks of life. As social media continues to expand, evidence of this indiscriminate hobby is becoming more abundant.
Exhibit A of that evidence is the fact that non-athletes like Kanye West, Kevin Hart, and Rihanna have major shoe deals with athletic companies like Adidas, Nike, and Puma. As brands recruit non-athletes to promote their sneakers, failed athlete, LaVar Ball—father of current athlete, Lonzo Ball—has found a way to up the ante and resonate with influencers by sidestepping the athletic industry altogether as an independent retailer. Ball's son will be entering the NBA next season sporting his father's Big Baller Brand.
Social listening would suggest that Lavar Ball's antics in bucking the system have gotten mixed reviews from influencers—athletically inclined or otherwise. Certain folks have mocked him, given the offbeat design and $495 price tag on the shoe. Others have offered their support of his goal to overthrow the major athletic brands of the world. The rest seem simply amused by the very concept of Big Baller Brand.
From comedians and Twitter personalities to writers at Bleacher Report, VICE, ESPN, and New York Magazine, social chatter has been non-stop concerning BBB.
text your bae "big baller" and if they dont reply "brand" they aint the one

— Desus Nice (@desusnice) April 28, 2017
no better feeling than your crush peeping u in that fresh big baller brand outfit

— Desus Nice (@desusnice) May 2, 2017
Ball ain't really life if you'd rather pay rent than cop some BBBs. Don't even come to the court bro smh. What you gon do next, get a job?

— big dread energy (@austinxwill) May 5, 2017
LaVar Ball sympathizers? Hey, I get it. I wanna see you all in them ZO2s. Support that man AND turn heads this summer w/ just one purchase

— brandon / jinx (@Jersey_Jinx) May 5, 2017
Lavar Ball is the real life Denzel from Fences.

— Ice (@OfficiallyIce) March 13, 2017
fyre festival and big baller brand are the same thing

— Rembert Browne (@rembert) April 28, 2017
Not one week ago this kid got dubbed by all the major sneaker companies and now we know why https://t.co/3qlsH3znVx

— Craig Bro Dude (@CraigSJ) May 4, 2017
Using Digimind Social's custom source option, Ball would be able to monitor these particular influencers and set filters for mentions of Big Baller Brand. Albeit tongue-in-cheek, these mentions do contribute to brand awareness.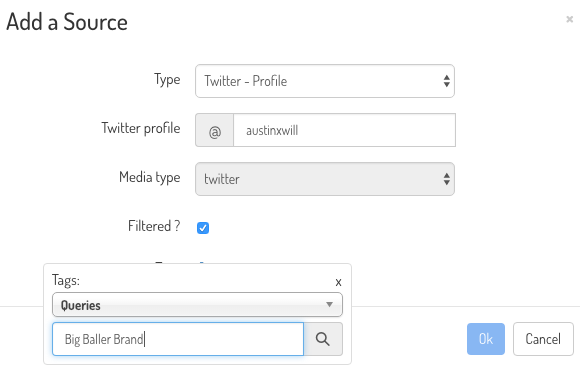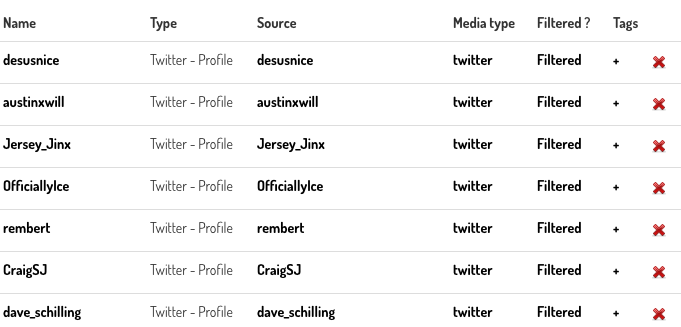 The most pronounced benefit of identifying an influencer and tracking his or her feed as a custom source is you now have the ability to monitor the volume at which they mention your brand and, more importantly, who they're mentioning the brand to—you track the leaders to track the followers.
What will LaVar Ball's next signature Big Baller Brand product be? #TheRightTime (@bomani_jones)

— ESPN Radio (@ESPNRadio) May 5, 2017
Custom sources allow you to construct a web of influencers to monitor. Given what was once considered a subculture is now a working component of pop culture, sneaker brands in particular could benefit greatly from constructing this web as opposed to relying on the sometimes randomized results of simply tracking a query.
In terms of competition, larger brands like Nike and Adidas would be wise to monitor the mentions of Big Baller Brand—especially the negative ones. Mistakes made by independent retailers, however admirable in ambition, might be key differentiators between them and the real big ballers.

A New York based writer and pop culture enthusiast, Austin is your best bet if you ever want to know about the MTA or Love & Hip Hop.