Digimind introduces PANORAMA: a global overview of online brand reputation in a snap
What's new in Digimind Social? We've combined the most powerful elements of Digimind Social into an all-in-one Panorama, to provide a brand's complete digital image in one menu. In a glance, you will be able to understand:
Owned Media: The impact of your own content and conversations
Earned Media: What the public and key influencers are saying about your brand
Search Engine Reputation: Google search behavior showing what's top of mind when it comes to your brand beyond social networks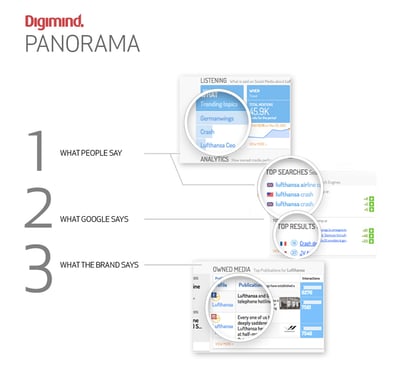 Agencies, social media managers, and digital marketers no longer need to struggle with running time-consuming analyses across multiple screens in order to maintain an overview of multiple clients or competitors. The KPIs displayed in Panorama signal emerging crises, competitor campaigns, important events, customer feedback, and more.
To see Panorama in action, request a free trial today! Further information is available in the press release.
https://www.youtube.com/watch?v=7rHfC_yJGIo
Marketing Manager @digimindci. Passionate about big data & social marketing. Photography, music and hiking lover