Beyond the Best and Worst Super Bowl Ads: Understanding the True Drivers of Advertisers' Success and Failure
From big-name home and car brands to smaller brands, this is the real impact this year's Super Bowl ads made on viewers
We all know that investing in a Super Bowl ad is anything but inexpensive. This year, the cost of a thirty second ad was five million dollars. That's five times more than Nick Foles base salary for the 2017 season. For any sort of offline marketing investment, especially something as costly as a Super Bowl ad placement, brands should be thinking beyond simple ad viewership numbers and the basic recaps of the best and worst ads to understand deeper indicators of the true ROI of their investment.
In the US, eighty five percent of TV viewers watch programs while simultaneously consuming and engaging with media through a second screen such as a laptop, tablet, or smartphone. This is exactly what consumers did during the Super Bowl last night. By tracking and analyzing mentions of a brand through all online and offline mediums, and pairing contextual insights like demographics, sentiment, and keywords to these mentions, brands can begin to build a sophisticated analysis of the true ROI of their investment.
As a social intelligence software, Digimind is designed to give brands a complete understanding of their brand reputation, consumer insights, and market trends. The tool combines 850 million online sources like social media channels, news sites, blogs and any custom web page with over 2,000 TV and radio sources to create in-depth insights about any brand or important topic.
Using Digimind, here are some examples of how the biggest Super Bowl advertisers can look beyond simple viewership numbers and recaps of the best and worst ads of the year, to create actionable insights that will drive smart business decisions.
Dodge RAM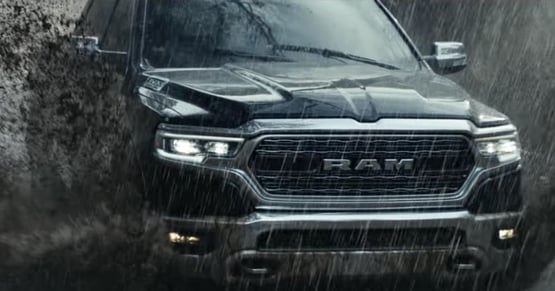 Dodge RAM has received widespread criticism for their ad featuring a speech by Dr. Martin Luther King Jr. Fifty percent of online and offline conversations about the Dodge RAM commercial were negative and only 37 percent were positive (the remainder were neutral). While the commercial certainly was a flop overall for Dodge, the damage to their bottom line may not be as severe as one may think.
The majority of negative coverage and conversations about the Dodge RAM ad take place in east coast and west coast cities like New York and Los Angeles, which are likely not their main geographic markets in terms of truck sales. Meanwhile, the majority of positive mentions of the brand were centralized in the midwest and south. Digging further into the data, it's clear that consumers who responded positively to the ad perceived it to have a powerful message about integrity and love, which they felt aligned with their own values.
In the future, Dodge Ram may not want to choose such a political message, but aligning to consumers' values may still pay off.
Tide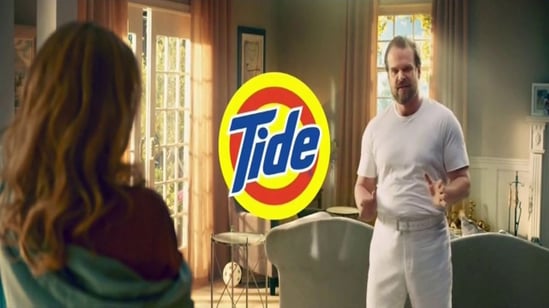 Tide is generally being praised as one of the best advertisers of the Super Bowl this year. Digimind insights confirm this - Tide has the most mentions of any advertiser and about 50 percent more mentions than Budweiser, the second most talked about brand of the event.
Seventy-three percent of mentions were positive, but digging a bit deeper reveal a few interesting insights beyond the initial acclaim. Only 35 percent of people talking about the Tide ads were women, and only one percent of the conversation was from people ages 41-55 years old. While Tide certainly sells to a broad range of consumers, they may want to explore further whether the add resonated specifically with a core audience of middle-aged women.
Tide did also receive some negative feedback toward their ads. About 17 percent of mentions were from people who did not like the ads. Looking further into the data reveals that the majority of these people were specifically upset because Tide did not address the Tide Pod Challenge fiasco. Although Tide did certainly boost overall positive feelings toward their brand, they will likely need to address Tide Pod safety with consumers in the future.
Groupon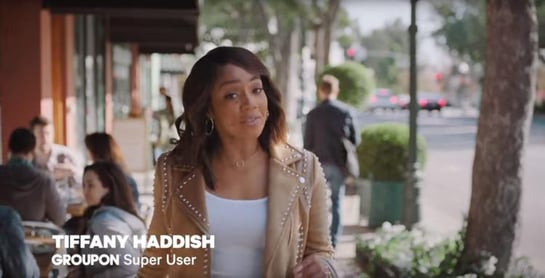 Groupon was one of the several relatively smaller brands who invested budget in a Super Bowl spot this year. This was their first ad in the Super Bowl since 2011, when they aired a controversial ad criticized for making light of the flight of the people of Tibet.
With a big return featuring celebrity spokesperson, Tiffany Haddish, Groupon has to be sure they are measuring the full return on their investment, which is likely a bigger percentage of their overall marketing budget than bigger brands like Pepsi or Amazon. For Groupon, it's important to understand that 239 offline TV channels have covered the ad since it aired Sunday night. Online, they've also reached an additional 149 million in audience size through social media mentions and online news sources. For a brand like GroupOn, additional amplifications like this helps the brand name stay top of mind for consumers past the 30-second ad spot.
More than three quarters of GroupOn mentions were positive, and data shows that consumers specifically thought Tiffany Haddish was hilarious, they liked the theme of supporting local business, and found the ad relatable.
There's no doubt that running television ads during the Super Bowl is the single best way to get in front of a large, captive audience. But for advertisers willing to invest the money, they must also be prepared to measure their success and failures based on robust, multi-channel insights. This is where tools that provide comprehensive social intelligence paired with offline data make justifying the large cost simple.