3 Ways to Identify the Right Influencers For Your Brand
With total brand spending on influencer marketing projected to reach $101 billion USD by 2020, the future for influencer marketing looks promising. However, while marketers understand the power of influencer marketing, 67% of marketers cited that their biggest challenge to working with influencers is identifying the right influencers for their brand.
This poses a huge problem for brands because selecting the wrong influencers could be detrimental to brand reputation and budget. Some brands place too much emphasis on an influencers' reach alone, and would readily work with influencers with the most number of followers. However, solely depending on vanity metrics like follower count is not a good indicator for selecting the best influencers for your brand as it does not accurately reflect the engagement and depth of interactions.
Here are some of the questions you should be asking instead:
Are they relevant?
Do their followers respond to the content shared?
Are they truly engaging with their followers?
Given these concerns, this blog will highlight social media intelligence tactics to enhance your influencer marketing strategies, and help your brand analyze influencers that best resonates with your target audiences.
Using examples from Digimind's Fast Fashion Industry Report, below are three ways to identify the most relevant influencers for your brand using social listening data visualization capabilities:
Social Authority (reach and engagement rates)
Relevance
Depth of Engagement
1. Social Authority (reach and level of engagement)
With a social analytics platform, you can easily set up an influencer dashboard to provide the most comprehensive and up-to-the-minute data visualizations of influencers' activities and statistics. For example, the influencers' dashboard below shortlists the top few Instagram users who are most active and relevant within the industry during the time period studied.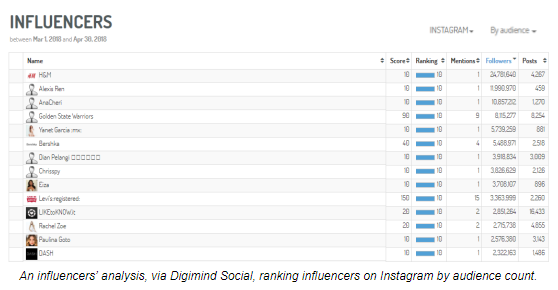 Take away the brands (i.e. H&M and Bershka), companies can analyze top influencers with a significant following. For example, if we click on Alexis Ren's account that is ranked second on this dashboard, we can see the level of engagement on her post about Levi's new store opening at Mexico City, which gathered 416.7K likes and 2.5K comments during the period of the study.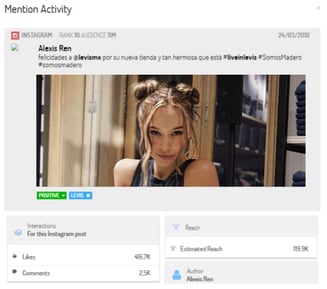 This suggests that engaging celebrity influencers like Alexis Ren may be ideal for brands to increase their visibility and awareness. This influencer strategy worked very well for Levi's as it greatly boosted their brand exposure and increased their reach with just one post.
Alternatively brands may look for micro-influencers who are able to highlight brands to their communities a little more. Although we tend to view strength in numbers, the quantity of impressions and engagements through celebrity endorsements would be irrelevant if consumers are disinterested in the endorsed product. Compared to impersonal communications through celebrities, micro-influencers connect with target audiences on a more personal level for the simple reason that both groups share similar demographics. This makes micro-influencers more relevant and relatable. Therefore, continued partnerships with micro-influencers can ensure that your campaign message is being promoted to an interested and engaged audience consistently.
2. Relevance
Demographic analyses are one of the many ways brands can better understand their industry and target audiences. With these demographic insights, brands can select influencers that are relevant and can resonate with their target audiences.
Based on the above example, global fashion brands should look for influencers aged between 18 - 25 as most of their target audiences are within that age group. Brands can also dig deeper into the various professions to discover the different types of influencers that fit within these categories, such as Youtubers, Bloggers or student micro-influencers. This could be interesting for brands to investigate as different types of influencers will be able to reach a different set of audiences.

3. Depth of Engagement
Understanding an influencer's network can help measure the audience potential of a user, accounting for common and reciprocal conversations, the visibility of a single user, and their ability to create relationships between other influentials.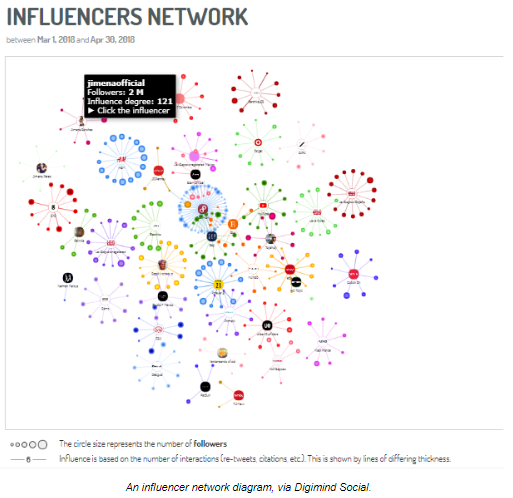 Using specialized tools like an influencer network, it is possible to sift out individuals who are most prominent and influential in your industry. Some tools even have dynamic filters which allows you to dive deep into data and analyze influencers at a more granular level by keyword, media type, account and country. These tools allow marketers to understand the strength of relationship and depth of engagement the influencers have with their followers.
Aligning Social Data with Qualitative Analysis
Even though the number of followers a person has is a good initial indicator of a person's influence, it is not the be-all and end-all. Other metrics like relevance, depth of engagement and overall social authority should be taken into account as well.

For any influencer marketing campaign to be successful, marketers must first clearly define their campaign objectives and target audiences, as it helps serve as a guideline when selecting the relevant influencers.

Social media analytics allow for brands to collect valuable consumer insights with listening, monitoring, and analysis of discussions happening across social media. Marketers can then turn these insights into actions by using the social listening platform to conduct qualitative analysis and ensure that the identified influencers will be a right fit for the respective campaigns.
See how social listening can help you track your brand reputation, customer perception, and more in real time.
With a background in marketing and psychology, Sophia loves to analyze and understand consumer behaviour through observations and data. After hours you'll find her practicing yoga or baking sourdough.